It's been 30 successful years since Asus started its business, and to celebrate the 30th anniversary, the Taiwanese company launched Zenbook Edition 30 UX334FL a couple of months back. Along with Zenbook Pro Duo, Asus showcased this 'Collector's Edition' in India, but the company has no plans to sell it. I was lucky to get my hands-on, and I'll be taking you through my experiences using it. Before we head to my review, let's take a look at its specifications first.
Zenbook Edition 30 UX334FL Specifications
CPU: Intel Core i7-8565U
OS: Windows 10 Pro
Display: 13.3-inch LED-backlit FHD (1920 x 1080)
Graphics: Nvidia GeForce MX250 with 2GB GDDR5 VRAM
Weight: 1.29kg
Memory: 8/16GB LPDDR3
Storage: 1TB SSD
Security: Windows Hello [Face Unlock]
Connectivity: Dual-band gigabit-class Wi-Fi 5, Bluetooth 5.0
Ports: DC-In, 1x USB 2.0 Type-A, 1x USB 3.1 Type-A, 1x USB 3.1 Gen 2 Type-C, 1x HDMI, MicroSD card reader, 1x audio combo jack
Audio: Harman Kardon-certified Asus SonicMaster Premium audio system
Battery: 50Wh, rated for 13.2 hours
Have you noticed it yet? The specifications are almost similar to the Zenbook 13 UX333 series, which Asus launched at the beginning of this year. However, some changes make it unique. To find out, let's head to my review.
Zenbook Edition 30 UX334FL Review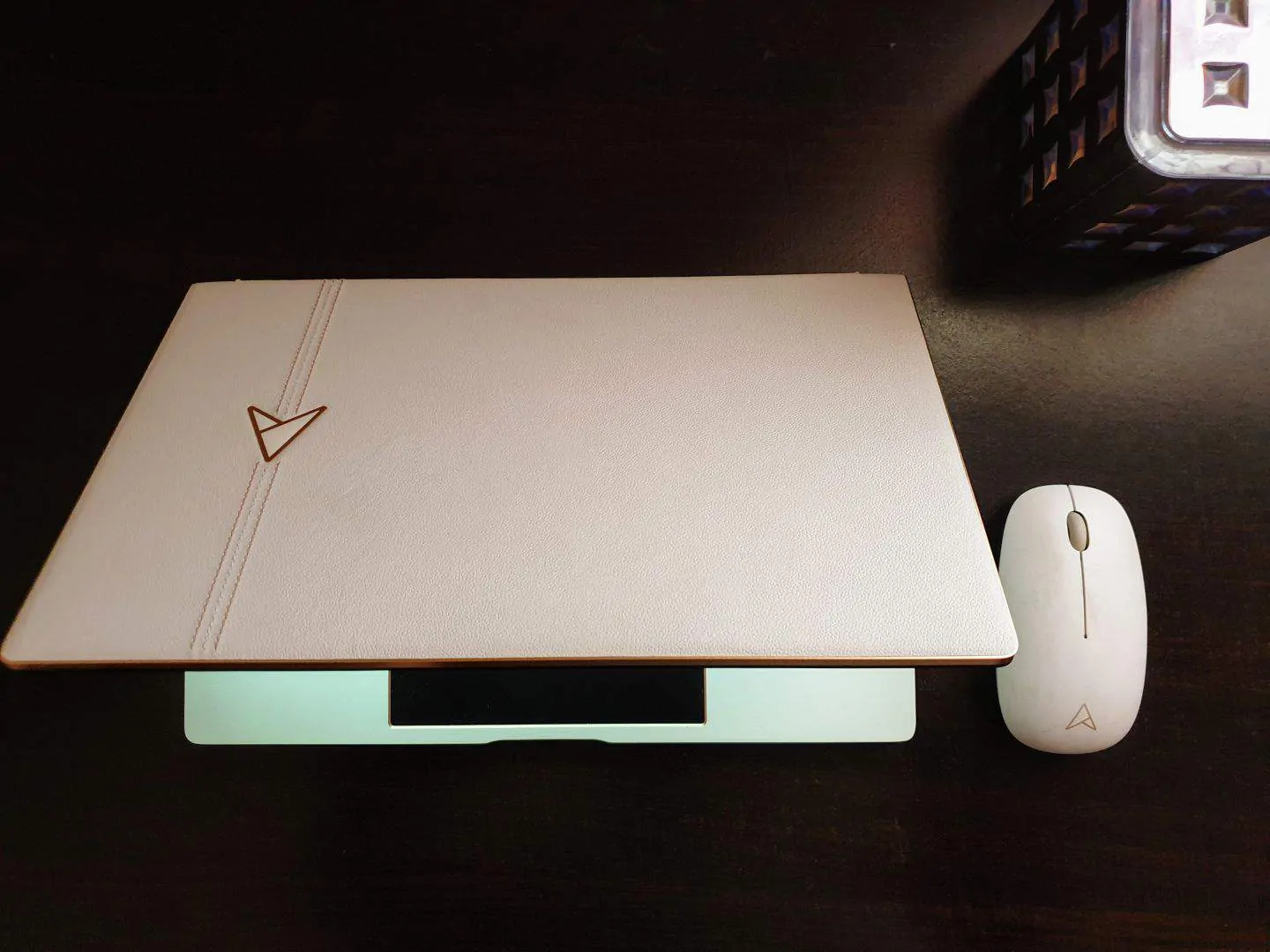 When I first got my hands-on, the first thing that I did is stare at it. I remember Asus has been producing S6F leather editions for quite a long now. This Zenbook Edition 30 is indeed an epitome of their craftsmanship. Let me discuss more in the design section.
Design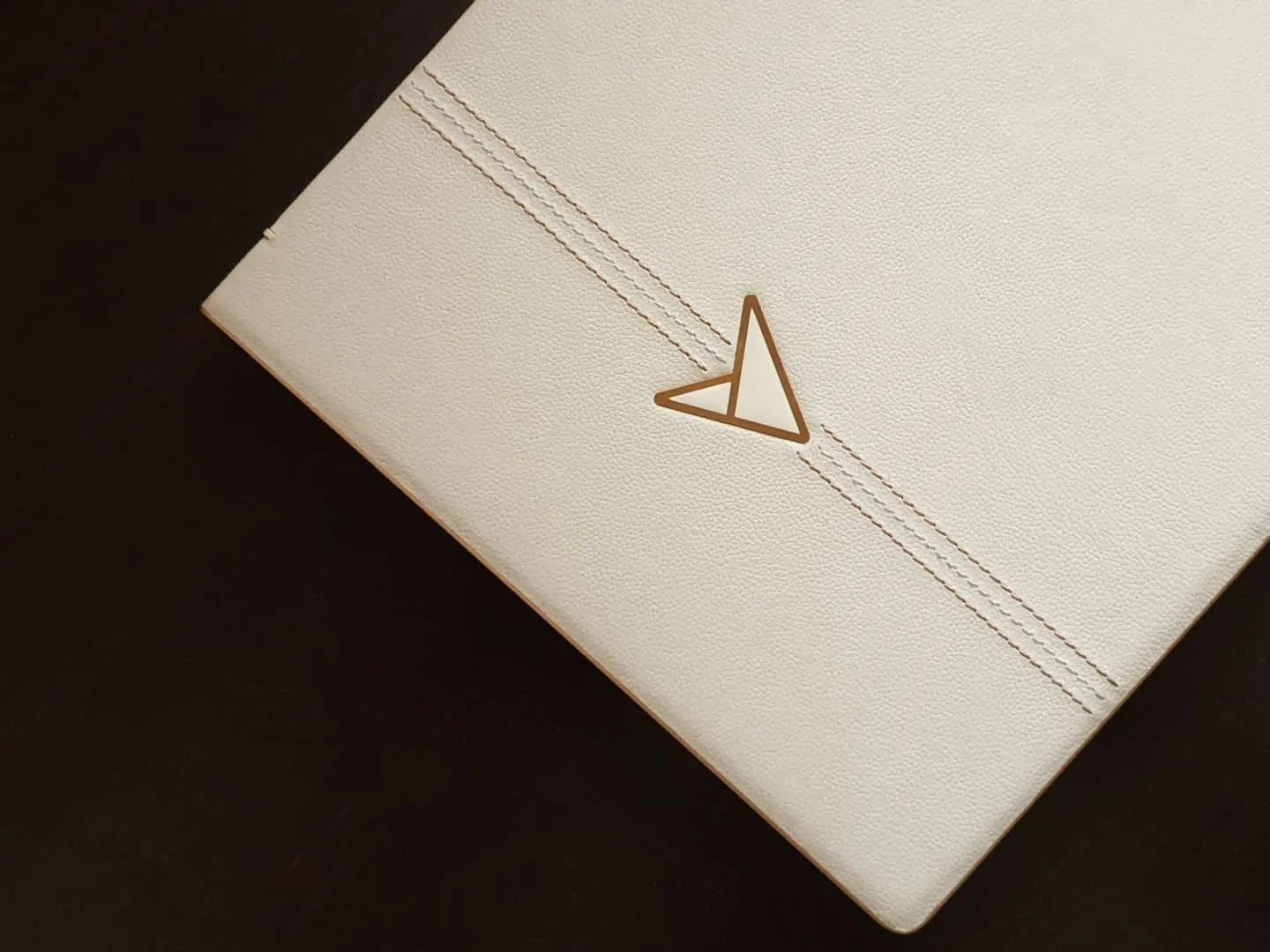 As established already, Zenbook Edition 30 is a part of the 'Asus Collection,' and it's a premium laptop. The first thing that catches your eye is not the leather, but the logo. Zenbook UX334FL is one of the first laptops to feature the 30th-anniversary logo, and it's quite minimalistic. Now no one can get confused with SNSV [pun intended]. One other interesting fact about the logo is it's electroplated with 18K Rose Gold.
The lid is covered by pearl white genuine leather, which was hand-stitched and hand-finished by a craftsman. Asus claims that it's one of the world's first laptop to incorporate genuine leather panels. Not just luxurious, but the leather panels make it feel very premium. The Rose Gold lining goes all the way over the lid, and at the top of the keyboard. Speaking of the keyboard, it's entirely white with grey letterings. You can find the ScreenPad 2.0 right below it, which also got a rose gold lining.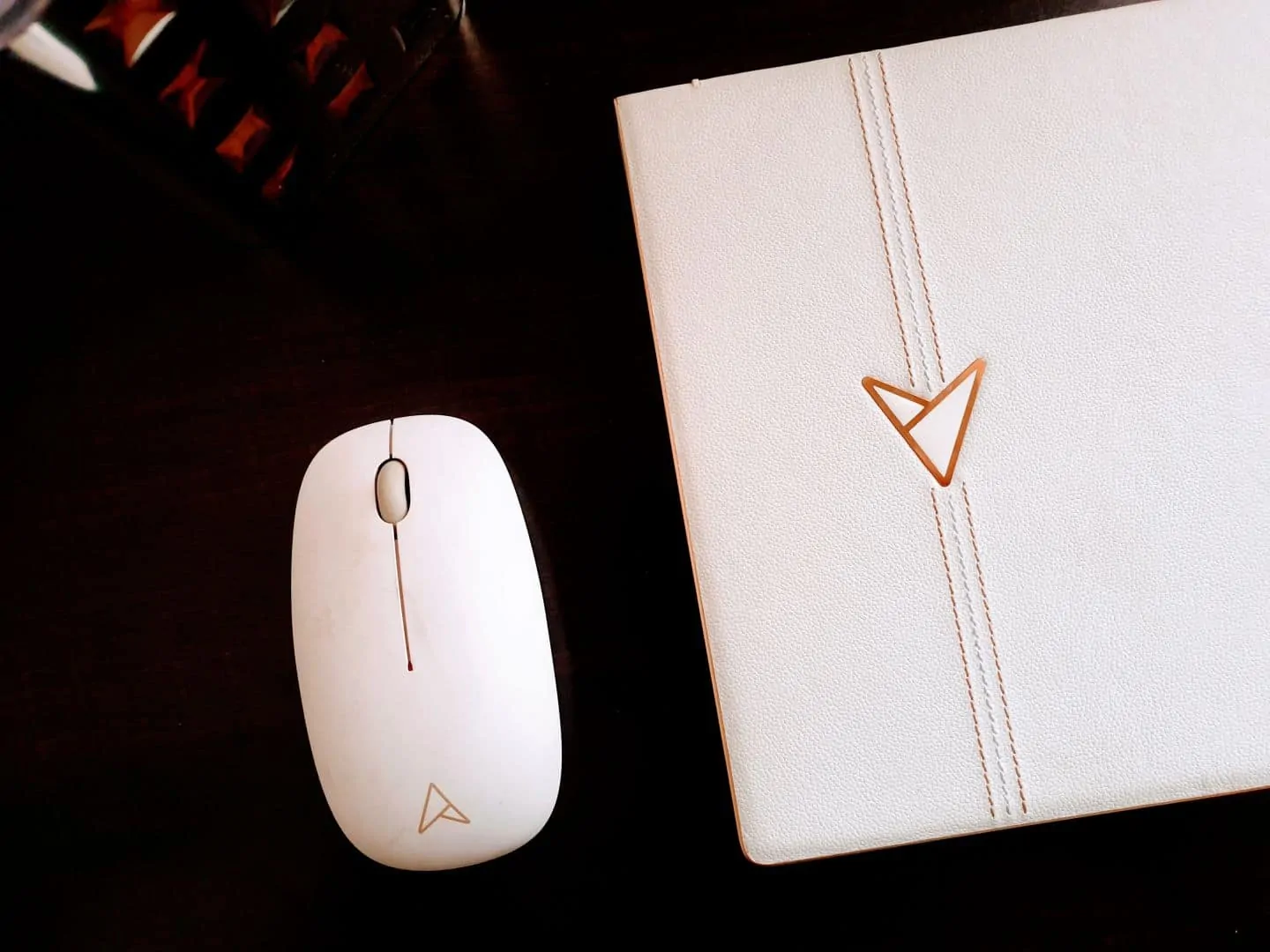 Besides the laptop, the accessories that come with it also got a premium feel. There's a sleeve that's also made of genuine leather. As the laptop is just 13.3′, it's quite easy to keep it in the leather sleeve and carry it along. In addition to the sleeve, there's a mousepad along with a pearl white mouse. All of these included in a leather-look box.
Build Quality
Unlike Zenbook 13, the Zenbook Edition 30 is not military-grade certified, so I refrained from doing drop & bend tests.
Even though the laptop weighs over 1KG, I didn't felt when lifting or holding it. It was quite convenient to keep over my lap and work. The hinges are pretty strong, and the ergo lift gives an added advantage. I am unsure whether it can withstand the falls, but again, who wouldn't be careful using it? Reason – It's entirely white and got leather, and it can quickly get stains. Maybe we can call it a stain magnet, but then again, some solutions in the market can help to remove it. Even Asus recommends cleaning it with some water-based solutions.
As mentioned before, it's more of a collectors' edition, and I'm sure people purchasing it won't regret the build.
Display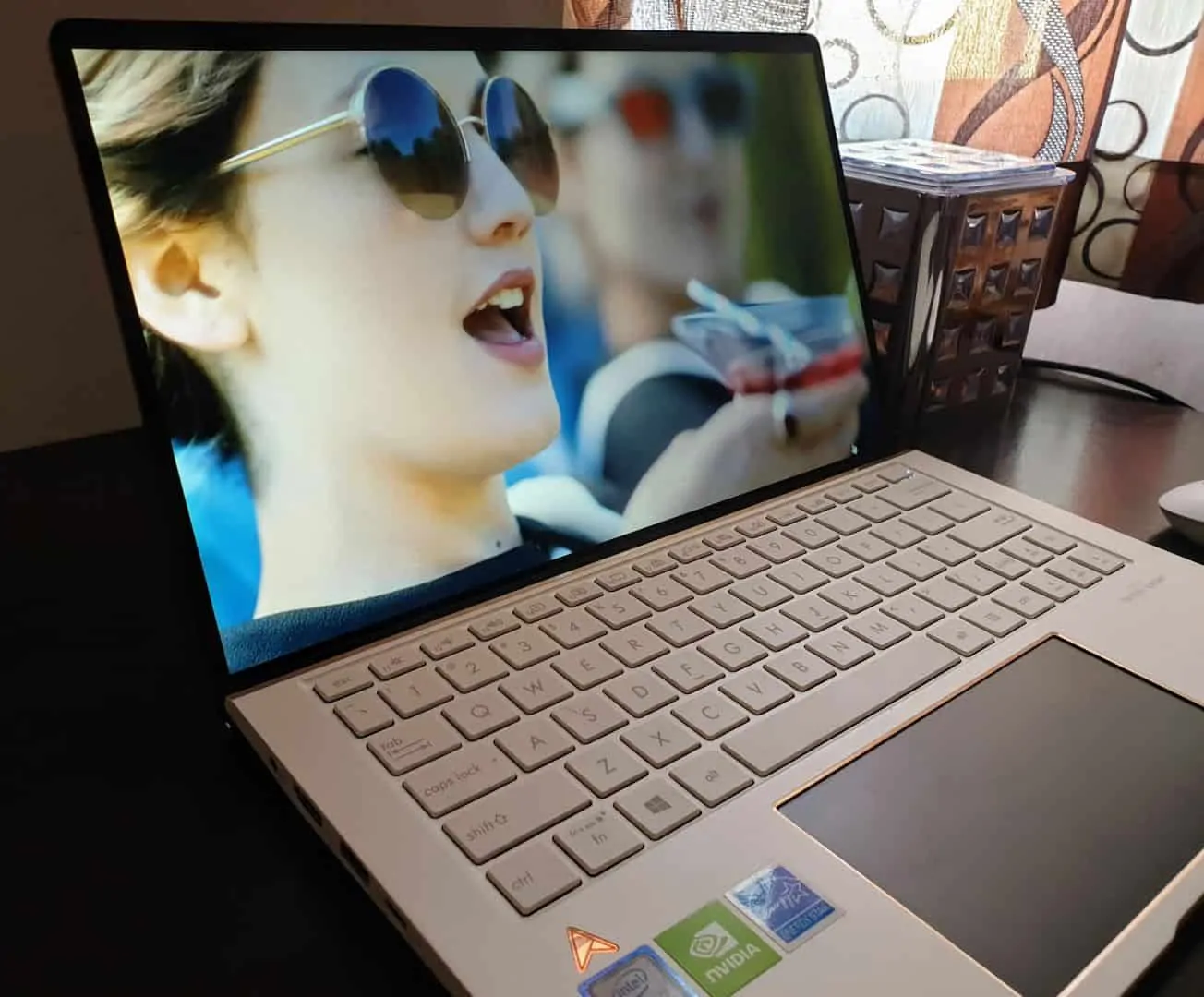 Zenbook Edition 30 has got a 13.3′ FHD display with nano bezels. You won't notice the bezels at the bottom and side bezels as they're very thin. This made it possible to have a 95% screen-to-body ratio, meaning there's a lot you can see on the screen. But again, quality matters, isn't it?
I spent a lot of time binging series on Netflix, and I'd say it has got the best display I've seen on a 13-inch Asus laptop. I've had some concerns with Zenbook 13, but this one has got everything in the right proportions. The color levels are pretty solid, the contrasts are correct, and the saturation levels are pretty good. In short, I'm quite satisfied with the display.
Performance
The Zenbook Edition 30 is not just a luxury laptop; it has got excellent specifications too. In terms of GPU, there's a significant upgrade compared to Zenbook 13, but performance-wise, there's only a marginal difference. The boot time is significantly faster, there's no lag switching between applications, and in fact, the laptop doesn't heat [much] with regular work [mid memory sensitive tasks]. Maybe because of sufficient RAM and the i7, I could feel the smoothness.
SceeenPad 2.0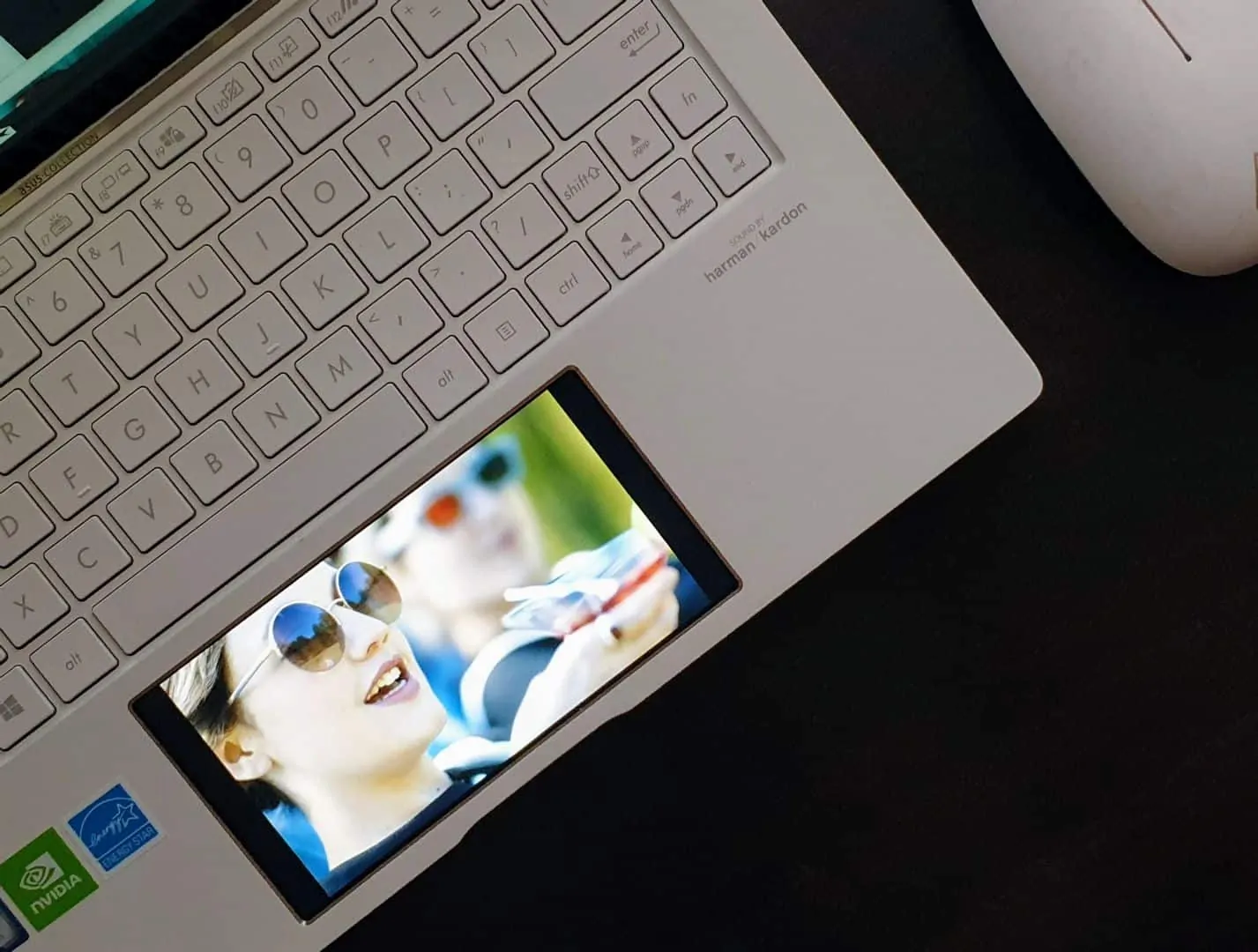 Zenbook Pro 15 was the first Asus laptop to feature a Screenpad, and now the company has widely adopted it. The recently launched Zenbook Pro Duo has got the upgraded Screenpad Plus, which is relatively big. In the case of Zenbook 30 Edition, it's as same as the one in Zenbook Pro 15 but has got little upgrades.
It has got different modes to make your work faster and be more productive. However, there are still limitations that I explained in the Zenbook Pro 15 review. Some shortcuts work with MS OFFICE apps, but then it doesn't adapt to the app that we are currently using. However, with the existing shortcuts, I was able to finish the tasks much faster.
Battery Life
Asus claims that Zenbook Edition 30 has got a battery life of almost 14 hours with the screenpad off and nearly 9 hours with the screenpad ON, but how true is that?
The above numbers are based on tests, and it varies with usage by user to user. As far as I tested, it doesn't even go near to the claimed numbers. The battery life of Zenbook Edition 30 is as weak as the ones I tested before. The laptop lasts for almost 5 hours when running on low brightness, best battery life setting, and with ScreenPad 2.0 turned OFF. The battery life goes even lower when running on medium brightness, ScreenPad 2.0 turned ON, etc. I guess I don't have to mention the numbers explicitly. With the 65W power adapter, the laptop takes almost 2.5 hours for a complete charge.
Pros & Cons
Pros
Premium Design
Build Quality
Display
Audio Quality
Cons
Price & Availability
The Zenbook Edition 30 is priced at £1499.99 [Rs. 1.38L] and is available on Amazon. Note that the limited edition is not available in India.
Verdict
The Zenbook Edition 30 got everything that you look for in a 13-inch laptop, but there are a few exceptions. It has a premium design, brilliant display, decent performance, and pleasant sound quality, but the poor battery life is a huge setback. Even though Screenpad 2.0 is a novel approach for productivity, the applications are still limited. Considering the design aesthetics, I recommend this laptop if you are a frequent business traveler or a CXO and would like to establish yourself as unique.
Zenbook Edition 30 UX334FL Review
Zenbook Edition 30 UX334FL