Asus has always been a forerunner in designing laptops, and its new Zenbook Pro Duo UX581 blew my mind (again). The new Zenbook Pro Duo 15, along with its siblings officially launched in India and the UX581, starts at Rs. 2,09,990. Yet again, I had a chance to explore the Zenbook Pro Duo UX581 before it got launched today. Before I proceed to the review, let me take you through the specifications first.
Zenbook Pro Duo UX581 Specifications
CPU:

Intel Core i9-9980HK Processor

OS:

Windows 10 Home

Display:

15.6-inch OLED Touch Screen [4K]

ScreenPad Plus:

14-inch Touch Screen [4K]

Graphics:

Nvidia GeForce RTX 2060 with 6GB GDDR6 VRAM

Weight:

2.5kg

Memory:

32GB DDR4

Storage:

1TB SSD

Security:

Windows Hello [Face Unlock]

Connectivity:

Intel Wi-Fi 6, Bluetooth 5

Ports:

DC-In, 1x Thunderbolt 3 USB-C, 2x USB 3.1 Gen 2 Type-A, 1x HDMI 2.0, 1x Audio combo jack

Audio:

Harman Kardon-certified Asus SonicMaster Premium audio system

Battery:

71Wh, 8-cell Li-Po battery
I bet you're impressed with the specifications. Just so you know, It's not a full-fledged gaming laptop, but it's more than that. Asus designed the Zenbook Pro Duo 15 by keeping content creators in mind. Let me not spoil everything here, and let's get started with the review.
Zenbook Pro Duo UX581 Review
Design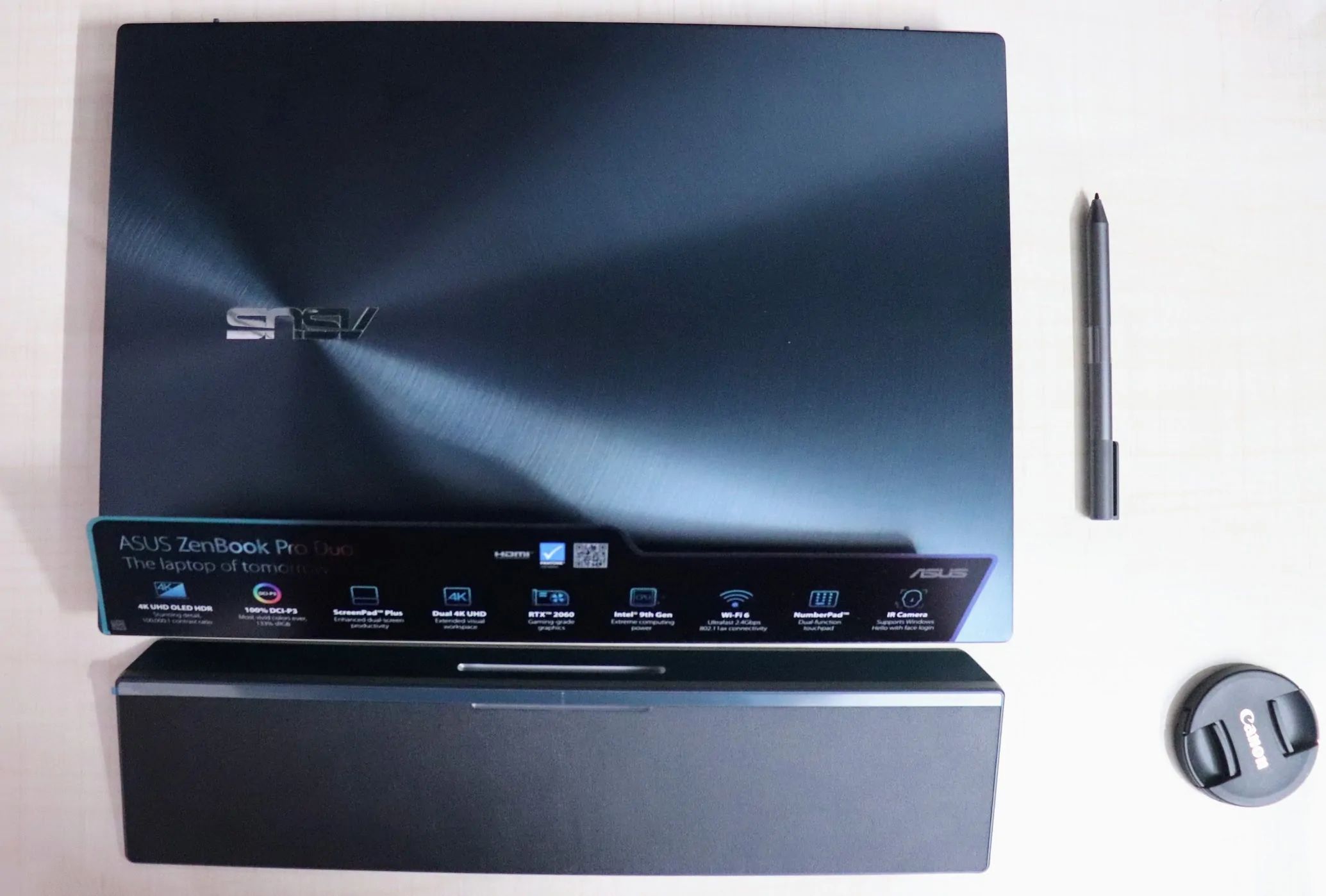 Asus always take inspiration from its previous Zenbook series, and the new Zenbook Pro Duo 15 is not an exception. However, some changes make it unique. Firstly, the logo position – The signature patterns are still there on the lid, but the logo is aligned to one end instead of the center.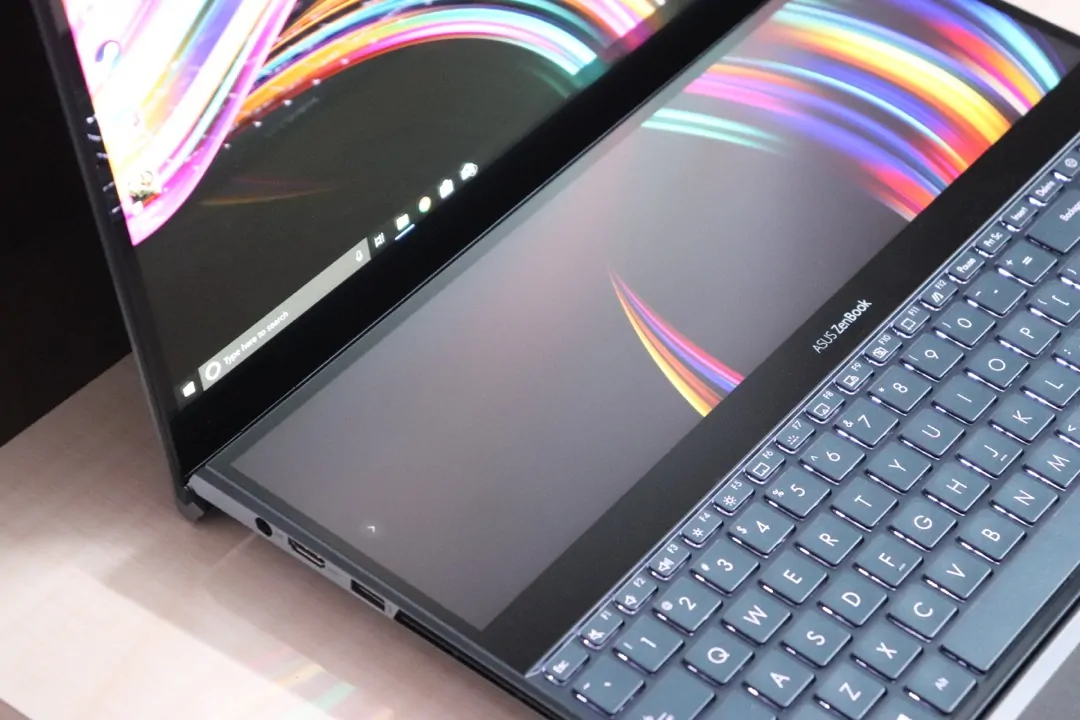 Opening the lid shows an Asus-first, secondary screen which dubbed as ScreenPad Plus. I will explain more about it in the display section, but hey, you already saw the ScreenPad in Zenbook Pro 15 UX580. In the previous-gen, it was residing in the numberpad, and now they took it to the next level. The other design change is retaining the NumberPad, which was first introduced in the Zenbook 13 UX333 series. There's also a shortcut key now to open the calculator. Of course, there's a dedicated key to turning on & off the ScreenPad Plus.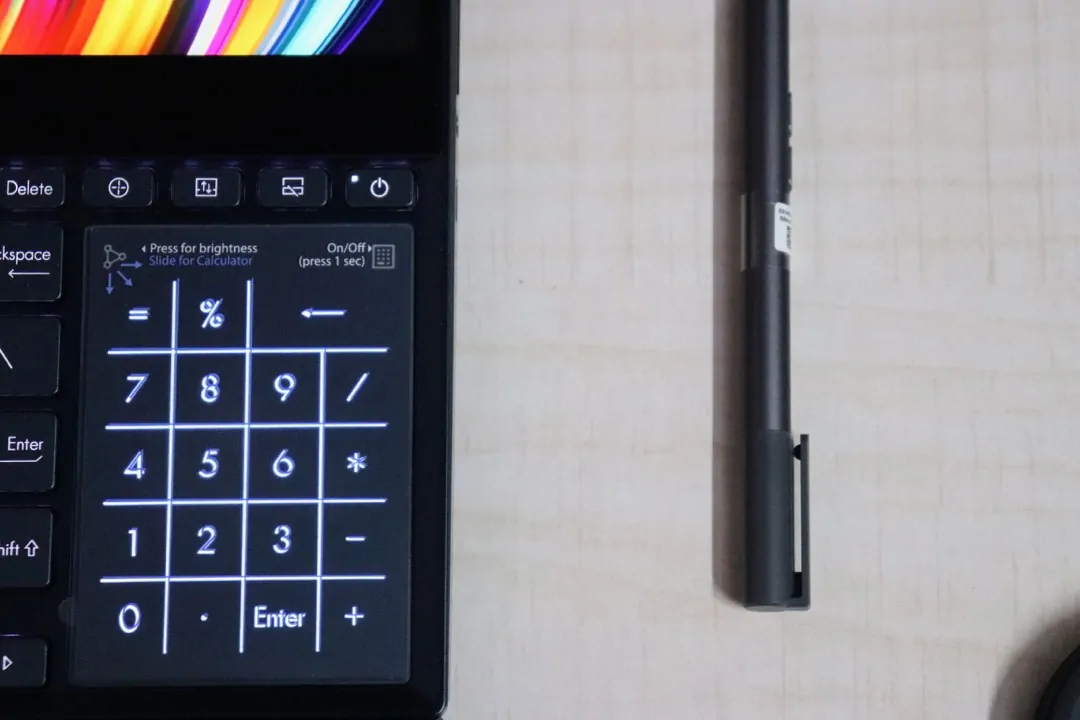 It still got the ergo lift, which makes it quite convenient to type, but since Screenpad Plus occupies the significant portion from the top, the keyboard layout is moved to the bottom. It resides at the position where we usually keep our wrist. However, Asus is providing an external palm rest to solve this, but it's not dock-type.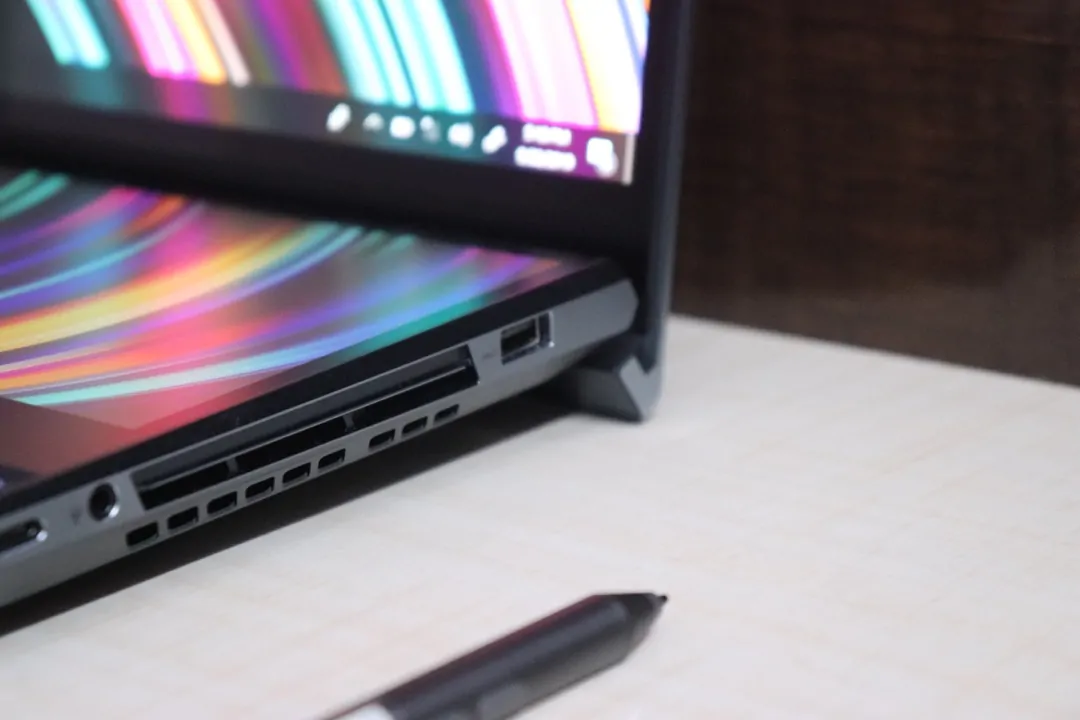 Anyway, this new form factor does look like an experiment, but I believe it would fit perfectly for the target group audience. The new color – Celestial Blue augmented the overall design and gave a high-end flagship feel to the laptop.
Build Quality
Indeed, it's a brilliantly designed laptop, and at the same time has an excellent build quality. Even though it weighs a little more than 2 KGs, it doesn't give a burden of weight when holding or carrying it. The Chasis and the body don't look fragile and maintain more force than I expected. Overall, I'd say the build quality is as par as the typical ROG gaming laptops.
Main Display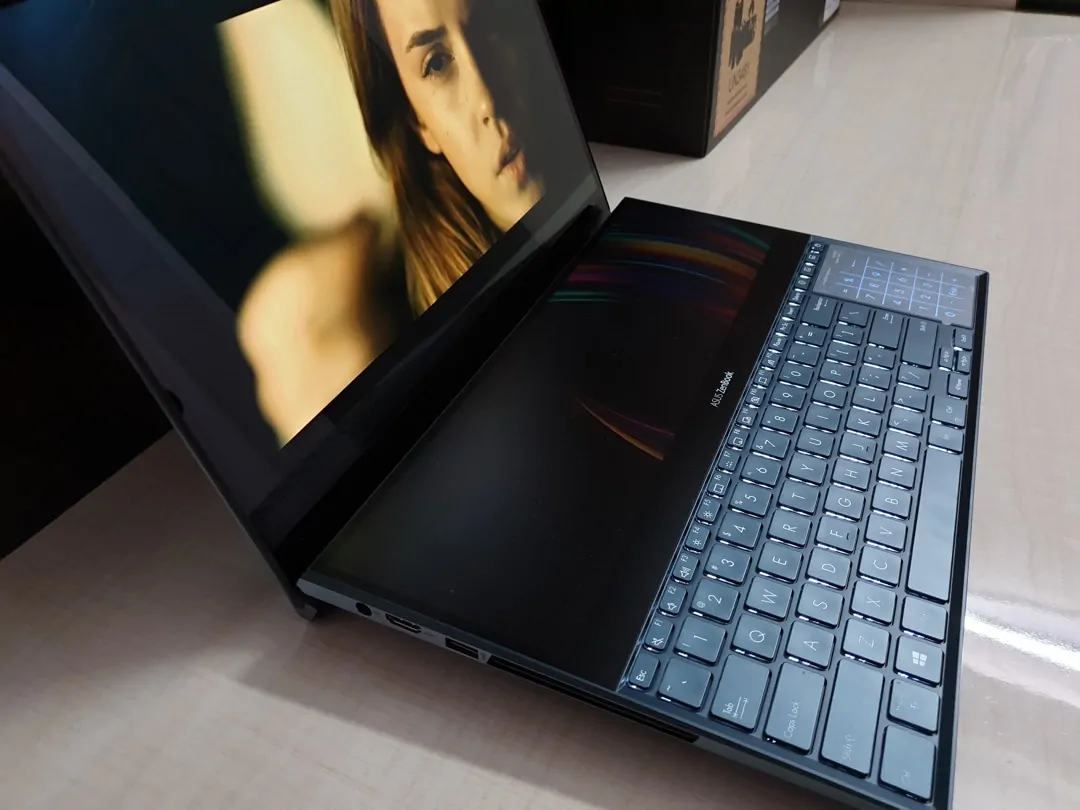 Zenbook Pro Duo 15 has dual screens, and it's one of its kind. The main display is a 15.6-inch 4K OLED touch screen with a 100% DCI-P3 color gamut and a 100,000:1 contrast ratio. It delivers cinema-grade colors with deep blacks, and the details when watching a high-res video is astounding. Haven't I forgot to tell you that the bezels are 5mm? It makes it possible to have an 89% screen-to-body ratio, which is very high for a premium laptop.
Nonetheless, the most prominent feature in the Zenbook Pro Duo 15 is its ScreenPad Plus. So, let's check it out.
ScreenPad Plus / ScreenPad 2.0
ScreenPad Plus is a secondary display that works in-sync and independent with the main display providing certain actions that helps improve productivity.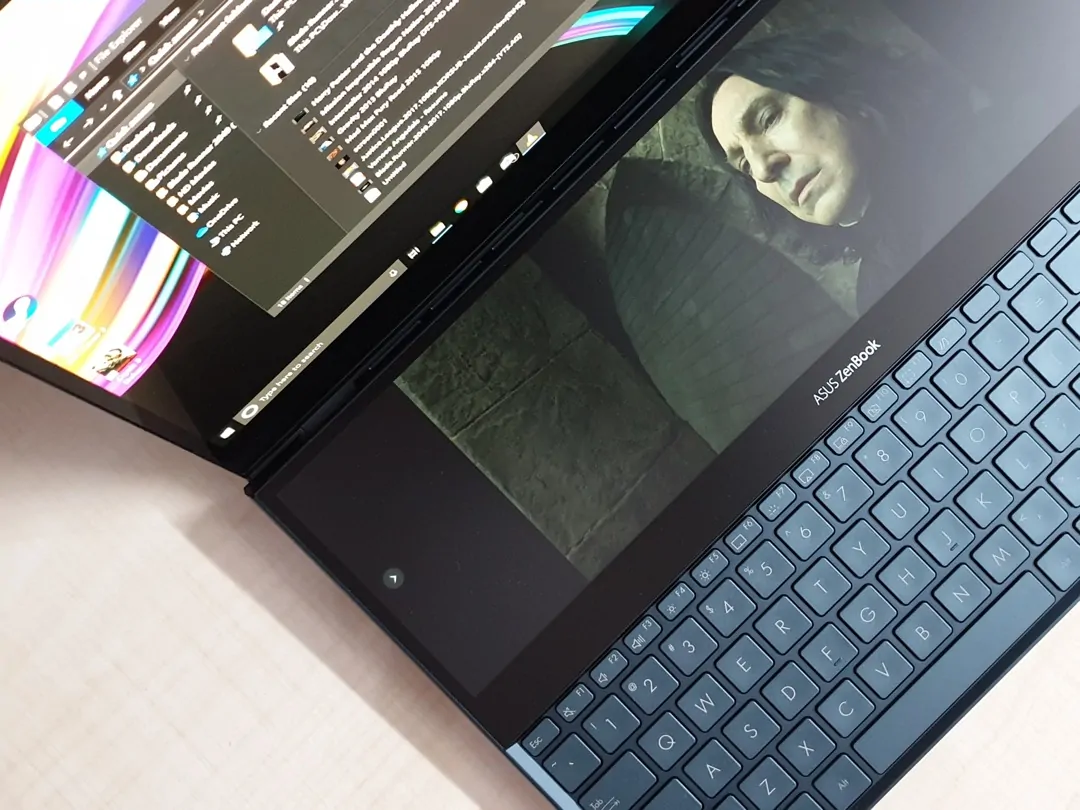 In the Zenbook Pro Duo 15, ScreenPad Plus is a 14-inch 4K display that acts as an extended/secondary display. It's also a touch screen like the main display, but the only difference is the matte finish. It doesn't look as smooth as the primary display to avoid glares. It exists to improve work efficiency, so it makes sense to go with a matte finish.
Just like the first-gen ScreenPad, the ScreenPad Plus also comes with a launcher which provides the necessary app shortcuts. At any point, you can open 3 app windows simultaneously, and work along. Like the touchbar in MacBook Pro series, the ScreenPad Plus also shows 'Quick Keys' which can solve the complex workflows. You can automate the sequences too. Further, there's a new feature that enables us to open a maximum of 5 apps [2 on the main screen and 3 on ScreenPad Plus]. It's called Task Group, and you can manually select which apps to open.
These two features come handy, and I'll explain how I could get the maximum out of it in the performance.
Performance
Zenbook Pro Duo UX581 comes equipped with superior hardware, and the extra features make it even excellent. Let me take you through how it works in daily life scenarios.
Usage Scenarios
Firstly, let me talk about my typical day usage scenarios. As a blogger/marketer, I work on different tasks like reading the news pieces, curating content, analytics, watching videos, and of course, listening to my favorite playlists, etc. Earlier, I might have to switch between tabs, and sometimes, different browsers and apps to get things done, but now, using the Task Group, I mapped it open – Chrome & Firefox on the main screen and Twitter, SoundCloud on the ScreenPad Plus. I also open notepad when in need, but that's very rare. It made it very easy for me as on the main screen; I can write the articles in the chrome by looking at the curated stories in Firefox. At the same time, I can also look at the Twitter feed and search for my favorite song/OST on SoundCloud.
In the same way, when gaming, I enabled the TaskGroup to open Steam, Twitter, and Chrome on the ScreenPad Plus. I'm not a designer but gave a try and used the Asus Pen. In one word, I could say, It's perfect. The calibration & sensitivity is top-notch. Drawing on ScreenPad Plus is quite easy as it rests horizontally. Despite the touch screen on the main screen, It was quite hard to draw as of no grip. So, I mostly relied on ScreenPad Plus.
Nevertheless, I could say that ScreenPad Plus & Asus Pen made it so more comfortable to get things done. It made me realize you don't need a second monitor just for the extended display or secondary screen. The fact that it's true is, you only need a portion of it, and mostly, you don't need the entire second screen, so it makes sense that ScreenPad Plus is going to be the standard for secondary screens. The functionalities are still limited. I feel it's still a first-gen and needs more upgrades.
I should also talk about the delay and response rate. Maybe the refresh rate on the secondary screen is lower, or my unit fault, it's quite slow. When switching between the screens, there's a high delay. The responsiveness of some apps [like on-screen keyboard] on ScreenPad Plus is very slow. Even though it's manageable for small tasks, but when video editing, it's hard to work along. I hope they would be able to fix this issue with an OTA update. Like said previously, the screenpad plus is still in the early stage and needs more refinement.
Other Scenarios –
The laptop is built for content creators who sometimes have to work on memory-sensitive tasks. When I tested editing & rendering a video, it didn't take much time. The ease when switching between the apps [even it was rendering] was quite a feat on Windows OS. I'd say Intel's i9 chipset coupled with 32GB RAM, is making it impossible to lag. Even the boot time was a mere 2 seconds, and it's quite impressive.
I did try transferring some high-end games, videos, and movies to the 1TB disk, and the rate at which it got transferred was remarkable.
Gaming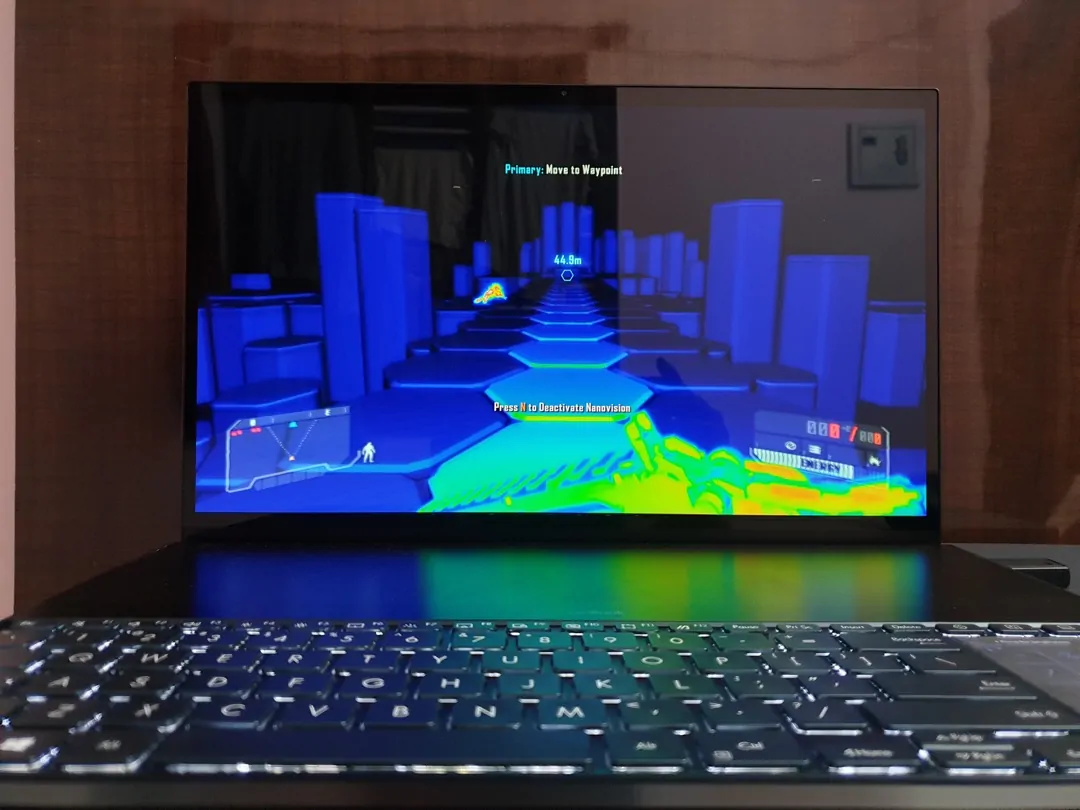 Even though the laptop can't be called a gaming laptop, but it does everything that a typical ROG gaming laptop does. It has got a turbo mode, which increases the cooling capacity by 10%, and there's a dedicated key for that. Before I load the game, I enable it once to make sure it doesn't heat up when gaming. It does heat up after 30-50 minutes of gameplay. I have also noticed it during rendering, but it's a little higher when gaming.
Also, even with RTX 2060 [+6GB VRAM], I couldn't play games on ultra-high settings. It does work, but then, the responsiveness is slower. I had to take it down to just higher or medium [depending on the game] for smooth gameplay.
Battery Life
Umm… There are two 4K displays, and obviously, you'd say the battery life suck. Well, I can't argue with that. There are a lot of other things that influence the battery's performance.
I was running the laptop in 'best battery life' setting [like 10% brightness] in the battery mode and turned off ScreenPad Plus, but it could only stand for over 4 and half hours. With ScreenPad Plus, the screen on time reduced by almost 40%.
When doing memory sensitive tasks, or like gaming, battery life is halved. In addition to that, it gets heated, so I had to close the on-going tasks and leave it some time to get settled. Turning-on the Turbo mode doesn't show any significant impact.
One good thing is the battery can be charged up under 100 minutes [as far as I tested]. Thanks to the 230W power adaptor.
Pros & Cons 
Pros
Brilliant Displays [main & ScreenPad Plus]

Sound Quality

Multi-tasking
Cons
Battery Life

Heating issue
Verdict
ScreenPad Plus is truly innovative. There are a lot of use cases, and it does improve productivity. However, poor battery life affects overall. So, Should you buy it? Well, as said, this laptop isn't targeted at everyone but only for content creators. The sluggishness of ScreenPad Plus can be fixed via OTA, and battery life could be marginally improved with regular Windows updates. So, this laptop is for you if you don't want to purchase a secondary screen (monitor) and want to get things done in just one – as simple as that.