ASUS ROG Strix Hero II is one of the latest offerings from ASUS in its gaming-focused laptop lineup called as Republic of Gamers. Recently, I got one for review and just after a while I put my hands on, I was impressed with the ROG Strix Hero II due to some very unique features and how it adds utility as a laptop that one can use for work and also for heavy gaming sessions. It has been a while since I shared the initial impressions and after using the laptop for quite some time, it's time for the full review.
ASUS ROG Strix Hero II Review
Design
The ASUS ROG Strix Hero II is designed beautifully with subtle touches everywhere. The lid is diagonally (almost) split into two parts representing games like DOTA 2, while the left side is just plain with a matte finish the right side of the diagonally split lid has a brushed finish, which adds more value to the look and feel of the laptop. ASUS has clearly done this on purpose to represent the community that will use this laptop. The lid is minimal and there is just the 'Republic of Gamers' branding at the bottom near the hinge. Though the back of the laptop looks damn good, it attracts fingerprints quite easily!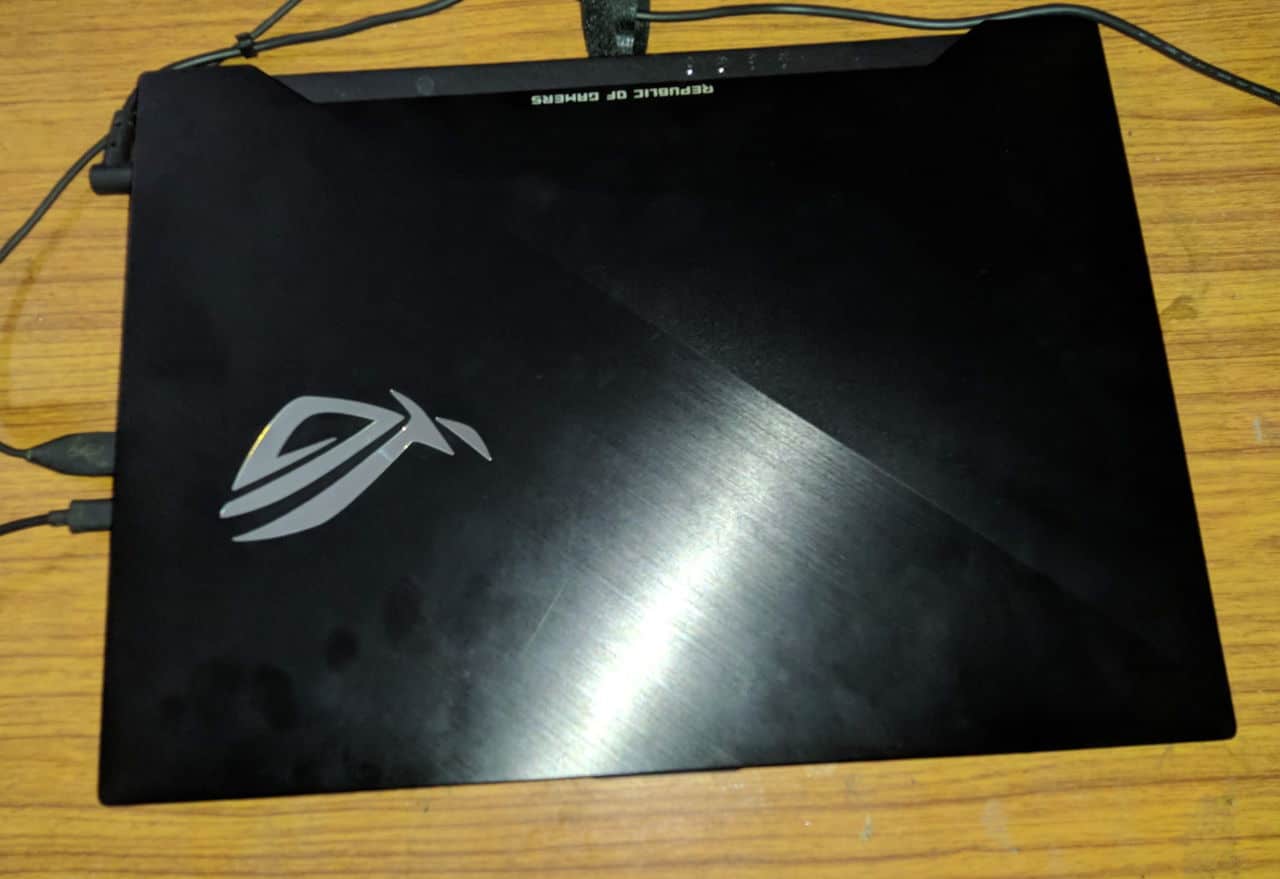 However, there is the huge ROG logo and for that, I wouldn't complain because every laptop maker puts a logo and some of them even went back in time to switch from a glowing logo to a plain looking logo, and someone would now blame me for dropping Mac sales. Okay, that's enough of trash talk around a logo- The ROG logo looks beautiful, thanks to the RGB lighting that can be customized and due to that lighting effect the laptop easily stands out in the crowd.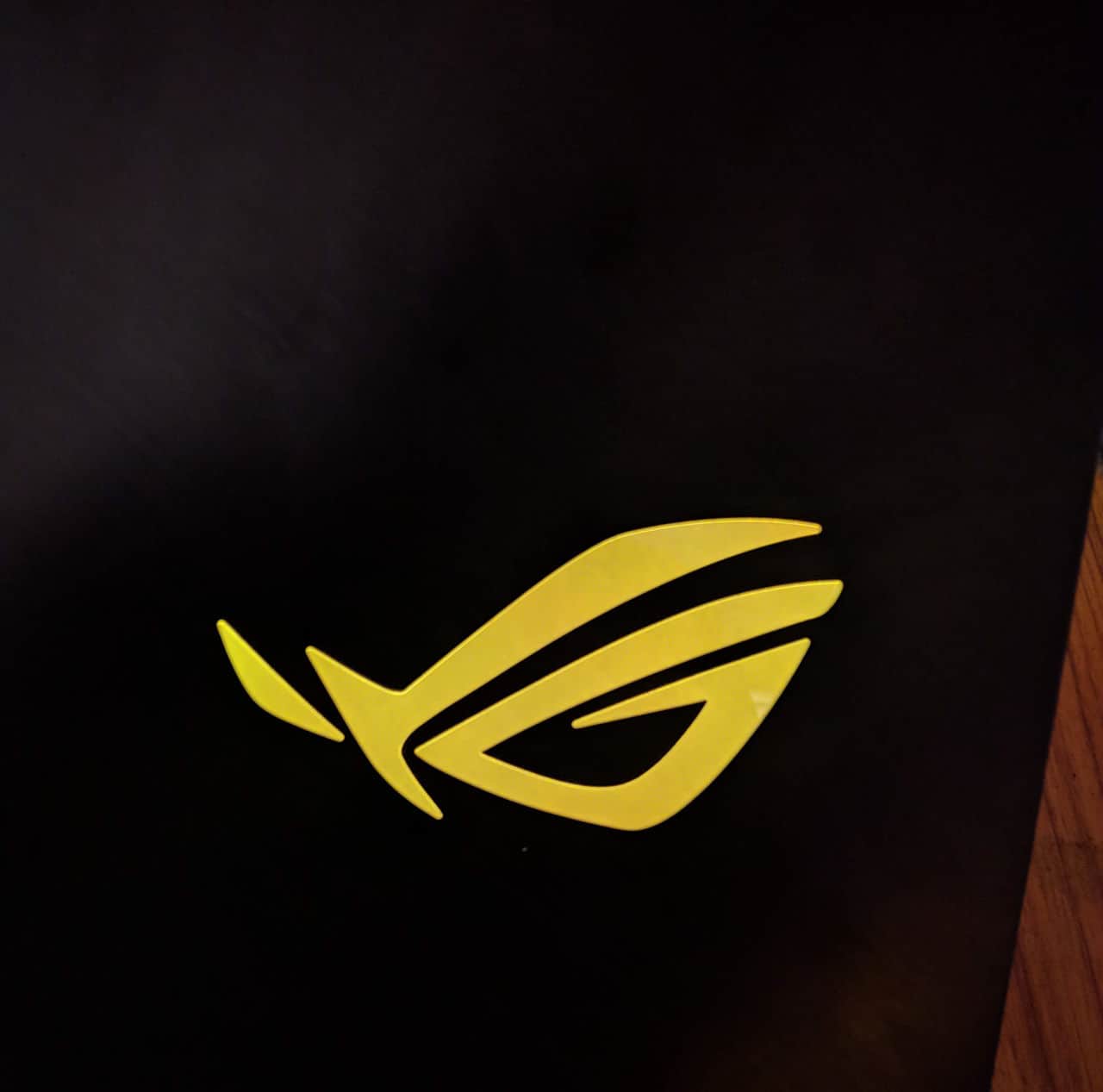 Though it is a gaming laptop, I quite enjoyed working on it and while I was sipping Chai (that's tea for those who aren't from India) at random places, in some instances some people have obviously asked what's so special about this laptop and the most common question was related to the RGB lighting and the price. The inner lid has got the vents, all red, with the ROG STRIX carved on them. Now the ROG Strix Hero II shocked me a bit while I held it up as the laptop looked pretty sleek already and I felt that it weights just perfect.
Many might disagree with what I said, given that the laptop weights at 2.4 kgs but it's not an ultrabook, it's made for gaming and for gaming, that little extra weight is totally worth it. Upon opening the lid, I instantly had a feeling like 'How the hell laptop industry started following the smartphone industry?' And that's because the display is big, but the bezels are minimal at around 6-7.5 mm I assume. I didn't bother to measure it because already it looks beautiful, maximizing the viewing area while reducing the overall footprint of the notebook.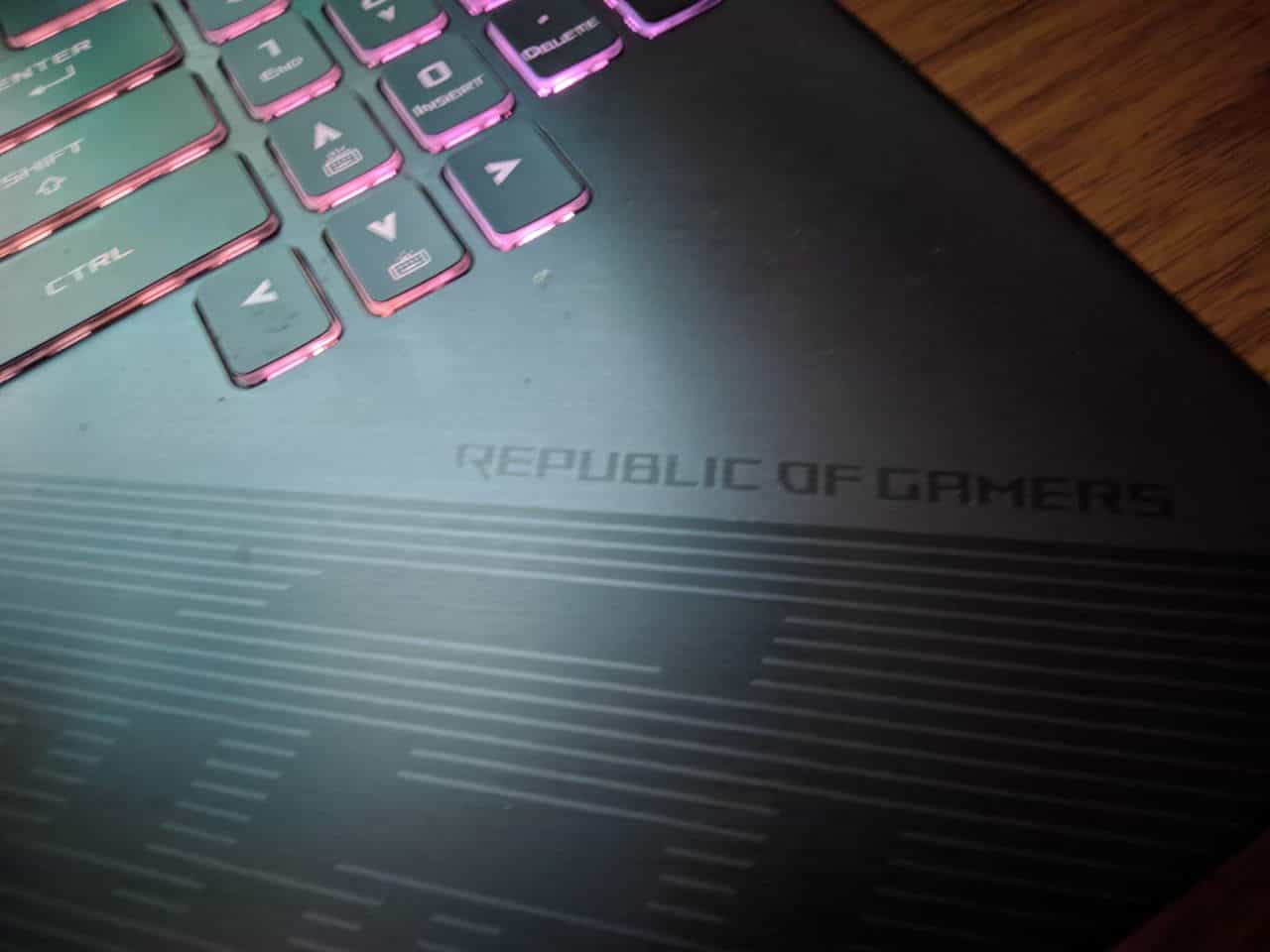 The internal part, while the lid is opened, has got a similar look and feel with a slash using black and grey colors, and there is the almost camouflaged ROG branding at the bottom right corner. The keyboard takes up most of the area, and the touchpad resides just below the keyboard, though placed a bit closer to the left.
Display
ASUS ROG Strix II comes with a 15.6-inch display and as far as I know, by looking for the product on Amazon India, there is also a huge 17-inch variant.  The 15-inch panel has full HD resolution (1920×1080). The IPS LCD panel on the laptop has got a whopping 144Hz refresh rate. Now, let's talk about the experience. If you place this one with any other regular laptop you can just understand how good the panel is. The colors are well saturated and vibrant, the display is bright enough and the contrast ratio also seems to be great. This is something that I can't describe in words, neither a regular camera can perhaps capture the minute details and differences.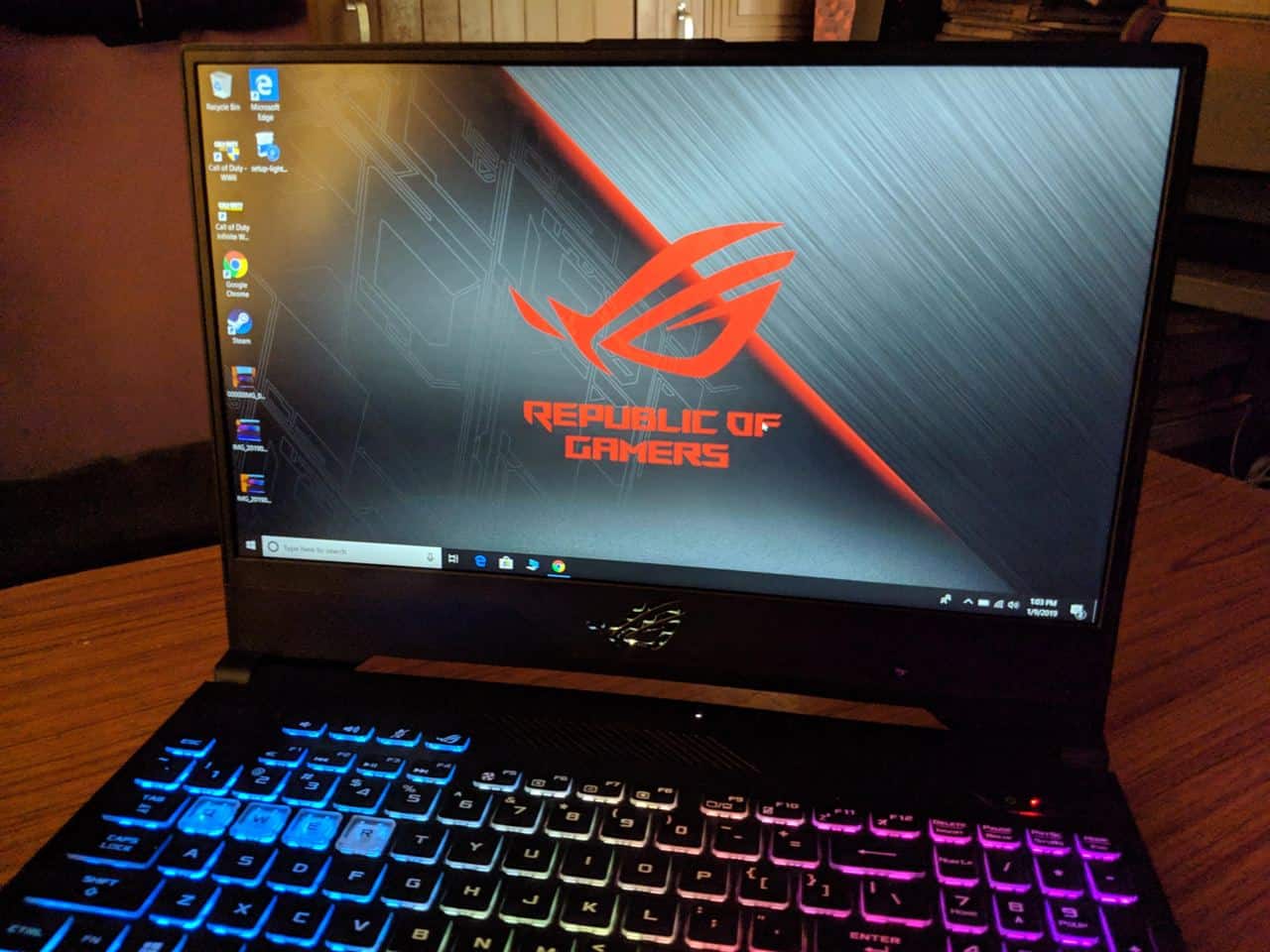 I watched a lot of YouTube videos related to traveling in Pakistan and just as the epic terrains and sceneries take up the entire screen, the experience is immersive. In terms of gaming, the 144Hz refresh rate has been extremely helpful for me. The main deal here is the lesser input delay which means over better control over your character in the game, especially in an online FPS multiplayer game like CS GO, I can easily claim that the high refresh rate lets me pull off some epic headshots with DEagle and 1-tap headshots from Kalashnikov. Though a better PC or laptop surely doesn't create better gamers, I can affirm that I have somehow taken a bit of advantage of the high refresh rate and buttery smooth graphics.
Apart from CS GO, another great game I played is Call of Duty: World War II and there, I liked the way the display reproduced the cinematics in-game, the dark theme where the blend of dark and light needs to be very well balanced. Also, the gameplay experience was very smooth and it just felt smooth, overall and this is what you pay for when you grab such a laptop paying a hefty price!
Ports
In terms of ports, there are plenty of options on the ASUS ROG Strix Hero II has a lot of options. The power input jack is located at the left edge on top. Along with the power input jack, there is an RJ-45 port, a Mini DisplayPort, an HDMI 2.0 port and two USB 3.1 ports. There is also a USB Type-C port making the laptop future ready while there has been no compromise regarding the audio jack which acts as a combo hack for plugging in a headphone.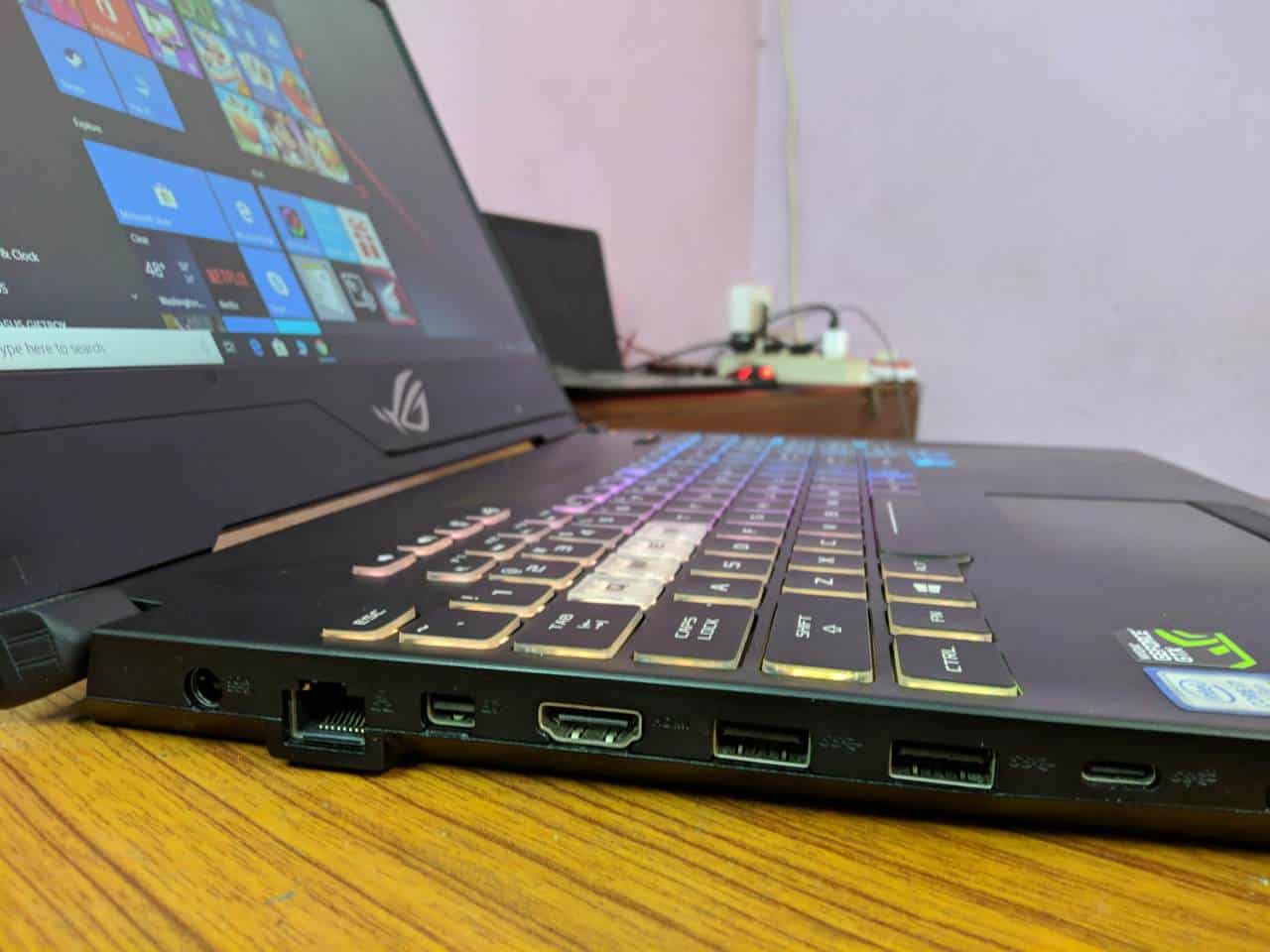 The right side is quite minimal compared to the left as there are just another USB 3.1 port and an SD card reader along with Kensington lock slot. There is no optical drive on this laptop and I guess that is fine, given optical disks are getting extinct and for using flash drives or HDDs are plenty of ports to choose from.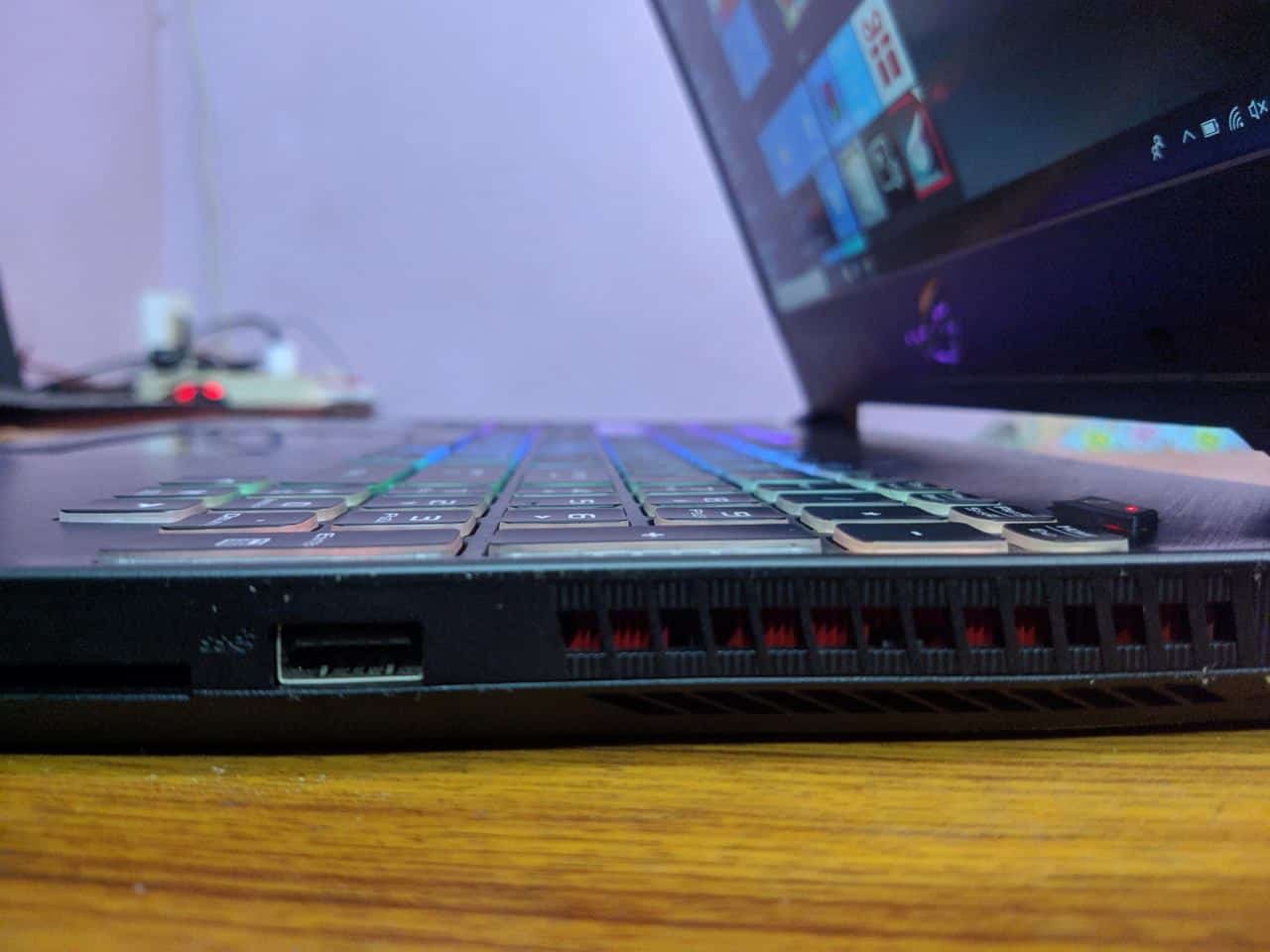 Audio
The ROG Strix Hero II is LOUD. It's so loud that when I was playing Zombie by The Cranberries in my room and the sound level was at 80, I felt like I need to lower it or else I may receive a 'flying chappal' at supersonic speed from dad. The sound output on this feels rich, clear and full of deep bass, while not suppressing the vocals. This provides an edge in gaming as well especially while you play the solo multiplayer missions in FPS titles like Call of Duty, Battlefield, Dishonored, Far Cry and more. There is also an app called Sonic Studio 3, which lets users tweak the sound and adjust the equalizer settings. However, my favorite part is that I could assign custom profiles to different apps like for Chrome, the profile was set to music and movies depending upon what I'm listening to or what I'm watching while for CS GO, Call of Duty: World War II and Far Cry 5, it was set to gaming. This is something that shouldn't be compulsory for everyone but such an option is always handy.
Keyboard & Touchpad
The keyboard on the ROG Strix Hero II is full-sized, with number pads, function buttons and there are additional buttons to control volume and mic along with a dedicated ROG Game Center Button.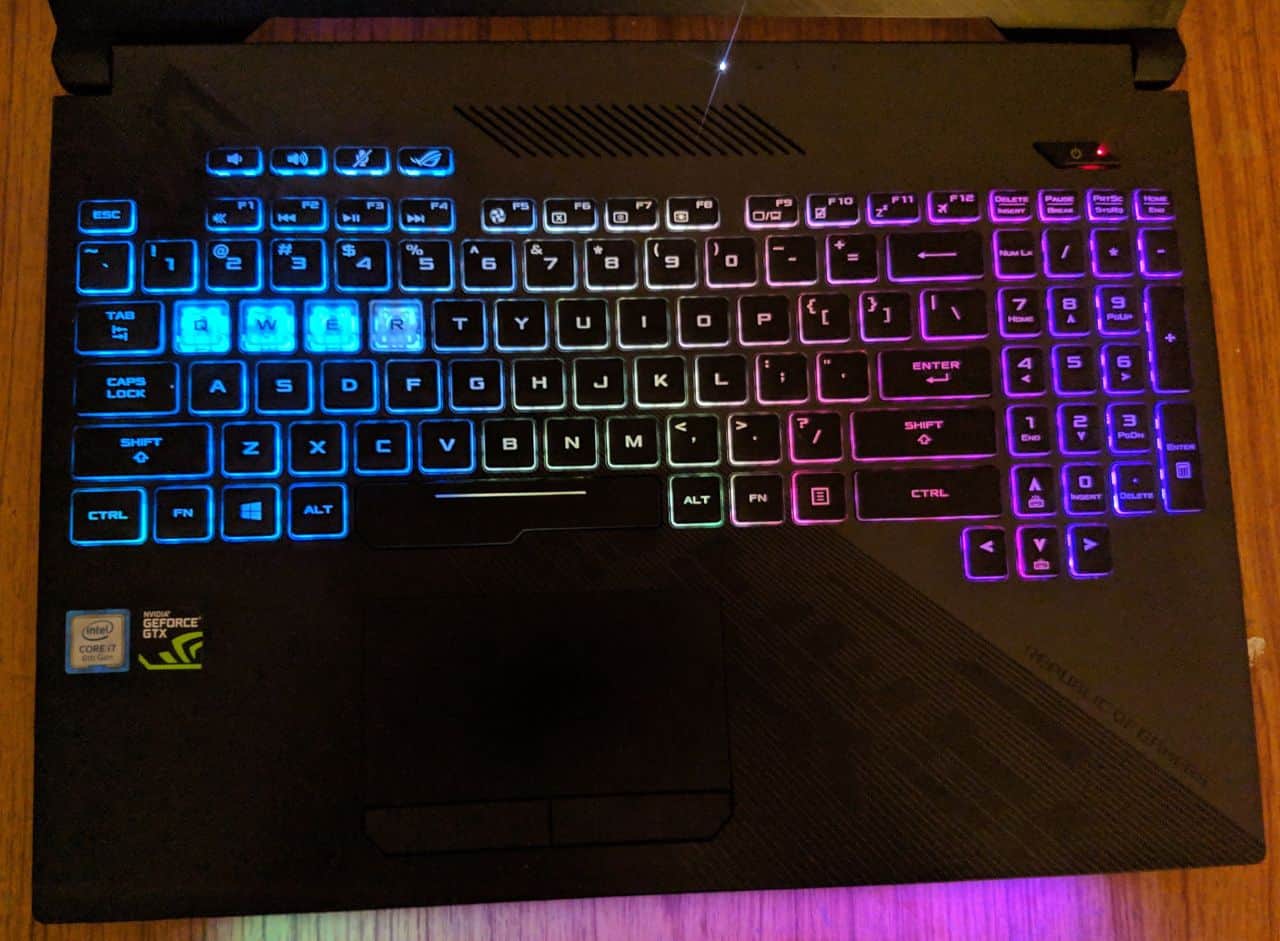 In the initial impressions, I talked about a little weird down arrow key position, as it is placed beyond the keyboard layout and for a while, I had issues with it, but after two or three days, I got used to it so no big deal. The tactile feedback is good, but that is not comparable to that of a mechanical keyboard. However, I enjoyed typing on it.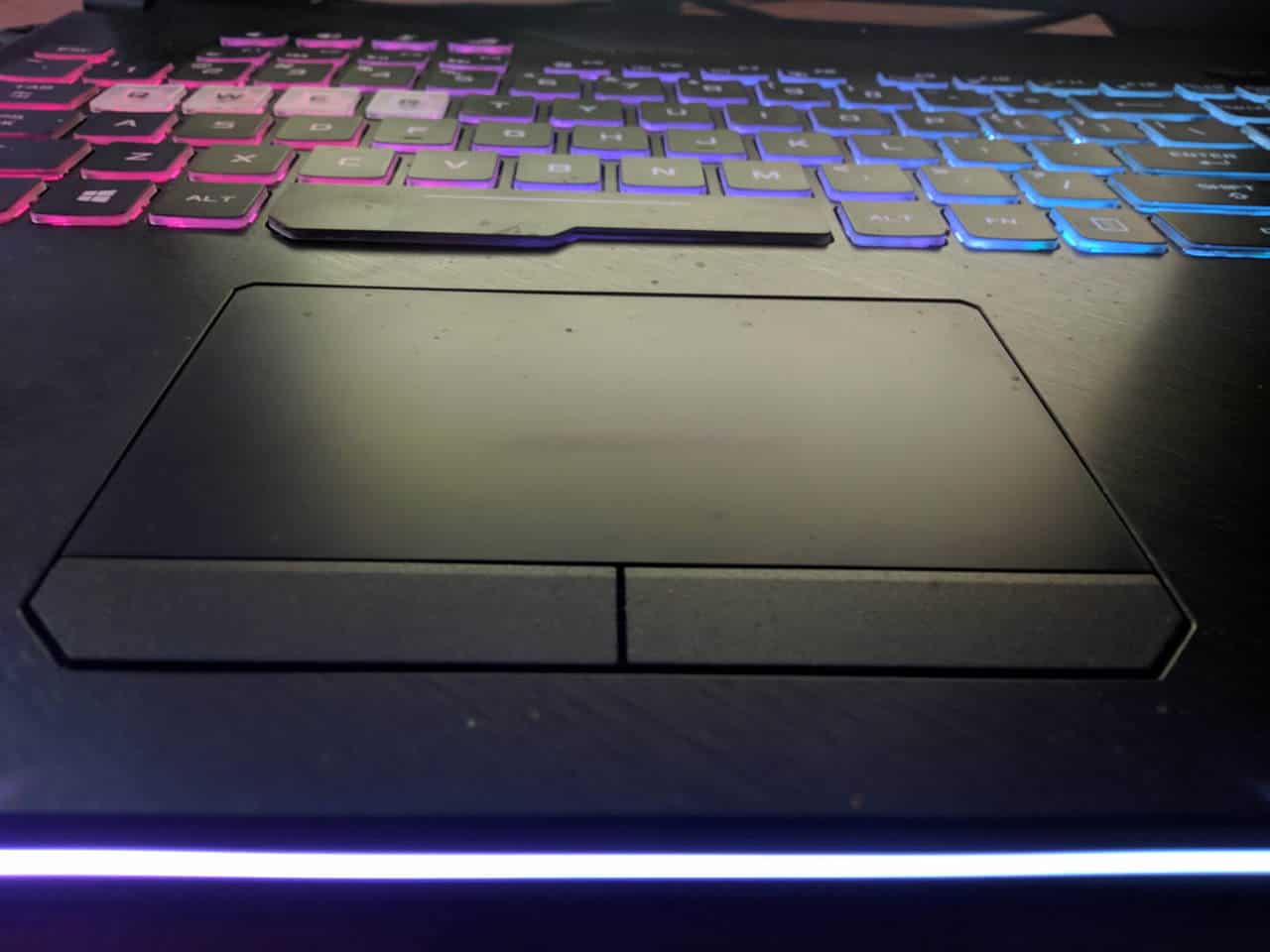 The touchpad is smooth and the clickers are nothing like those you find on many other laptops that you need to hit them hard as if you are pressing a nuclear launch button, they are responsive. The touchpad also seems to work great with gestures and though I have my Logitech G402 plugged into the laptop all day long, for gaming and work, I use the touchpad most for zooming in and out.
Performance & Gaming
I wouldn't talk about benchmarks and all because you can find those scores everywhere. Running tests again and again and publishing the results doesn't help consumers to decide whether they should purchase a product or not. So, I would just talk about the real-life experience I had while using this laptop.
The laptop roars as I keep opening up more and more resource hungry apps, and that attributes to the multiple fans inside it. Apart from gaming, I use the laptop extensively for work as well and that involves around 20-25 tabs open in multiple browsers, mostly Chrome and Firefox, Adobe Photoshop, Email App, Slack, and Discord. And not for even one single time, I noticed any lag while switching between apps or just jumping into any kind of settings to make adjustments. The 8th Gen Intel Core i7 8750, coupled with 16GB of RAM handles everything very smoothly and also the 256GB SSD provides faster file operations. I also tried a bit of video editing in Adobe Premiere Pro (Though I suck at it) and even when the video was rendering and I was using Chrome, I didn't face any lags.
In terms of gaming, the Nvidia GTX 1060, coupled with this powerful processor and ample amount of RAM takes the user experience to the next level. In heavy games like GTA V and Far Cry 5, I was getting close to 60fps frame rate, while for games like CS GO which demand much lesser resource, I could easily get around 120 FPS in maps like Dust2  and Mirage, however, the FPS dropped a bit and was always around 100 in maps like Inferno. In Rise of the Tomb Raider, I could get 50-55 FPS while in Call of Duty World War II, the FPS counts were higher. Also, in all the games, I pushed the settings to highest and in some cases, set the refresh rate to 144Hz, and the advantage is clearly visible during gameplay.
Battery Life
Battery Life seems to be quite good on ROG Strix Hero II, but that's not exceptional. I could easily get around 5 hours of juice while I browse the web, connected to a 2.4Ghz Wi-Fi. Though, I tried gaming a bit on it and well all could say is that you could possibly play a match of CS GO on it, and still can expect some juice left, but for gaming, don't expect it to perform damn good on battery and don't expect this to last for 5-6 hours.
Final Verdict
So, the ASUS ROG Strix Hero II seems to be a perfect gaming laptop if you are willing to spend around Rs. 1.5 lacs and get a great gaming experience while not compromising on mobility. However, there are a few things that I couldn't underlook.
The fans are loud- These are so loud that sometimes while running in their full capacity, someone from the adjacent room can hear the noise.
In terms of thermals, the laptop performs well and doesn't have issues like that I have seen on some other laptops, or heard about the terrible thermal throttling issues some laptops have.
The awkward down key position was a setback while I first started using it, but I feel that it's just that you need to spend some time with the laptop to get used to it.
Though the webcam position is weird and still, I can't get used to it as I need to tilt the display a bit. Also, the webcam quality isn't that great either. I don't use my laptop webcam often due to the quality issue and I have some problem or the other with every damn laptop webcam it seems, so I just use my phone. It's not a dealbreaker for me but if you are planning to do a lot of Skype calls as well on this laptop, better to get hands-on experience and then you can decide whether you should purchase this one or not.
Other than these few minor issues, I am quite satisfied with the performance and features it provides. Talking about the price, in this price bracket, only another prominent gaming laptop maker is providing such hardware and even if brands like Dell Alienware does, I can easily bet that the price tag would carry a much higher price.