ASUS introduced the all-new ROG Strix Hero II in India in August last year along with a few other similar products like the ROG Strix, but I didn't have a chance to try that right after the launch. Also, ASUS started selling the ROG Strix Hero II just back in December. Now in January, ASUS contacted us and asked if we could try out the ROG Strix Hero II and share a review. This one's not a review, but just an initial impression after I have used the laptop for a day and played games on it. And I promise that this is going to be a short read for you.
Before I share my initial impression and how I feel about this particular gaming laptop, let's talk about the specs.
ASUS ROG Strix Hero II Key Specifications
The ASUS ROG Strix Hero II is powered by the 8th Gen Intel Core i7 8750H processor, coupled with 16GB of GB. However, the provision of dual channel RAM on the laptop makes it sure that anyone can pop in another stick and expand the RAM up to 32GB, sweet! In terms of GPU, there is 6GB graphics memory, thanks to the Nvidia GTX 1060 GPU inside.
In terms of storage, there is a 256GB SSD as well as a 1TB HDD, which is damn good in my opinion because I can just use the SSD to boot up and for some heavy work while for storage, the 1TB HDD is always there. The standard sized 15-inch display is pretty dope, with very thin bezels compared to many other laptops and it's a full HD IPS panel with a high refresh rate of 144Hz.
In terms of connectivity ports, there are a lot of options- one USB 3.1 Gen 2 Type-C,  two USB 3.1 Gen 1, one USB 3.1 Gen 2, one Mini DisplayPort 1.2 and one HDMI 2.0. There is also an SD card reader, as well as the standard RJ-45 connector and a combo jack. Wireless connectivity options include Wi-Fi and Bluetooth 5.0. There are two one watt speakers on the laptop and that's what it packs, in short.
ASUS ROG Strix Hero II – My First Impressions
At first, when I opened the package and took the laptop out of the box,  the first thing that got my attention was how sleek and lightweight it is, considering that it's a gaming laptop. To find out the exact weight, I had to head over to official documentation from ASUS which stated that the ROG Strix Hero II weights at just 2.4 kg. Now, that's quite good for a gaming laptop and there are very few options like this out there.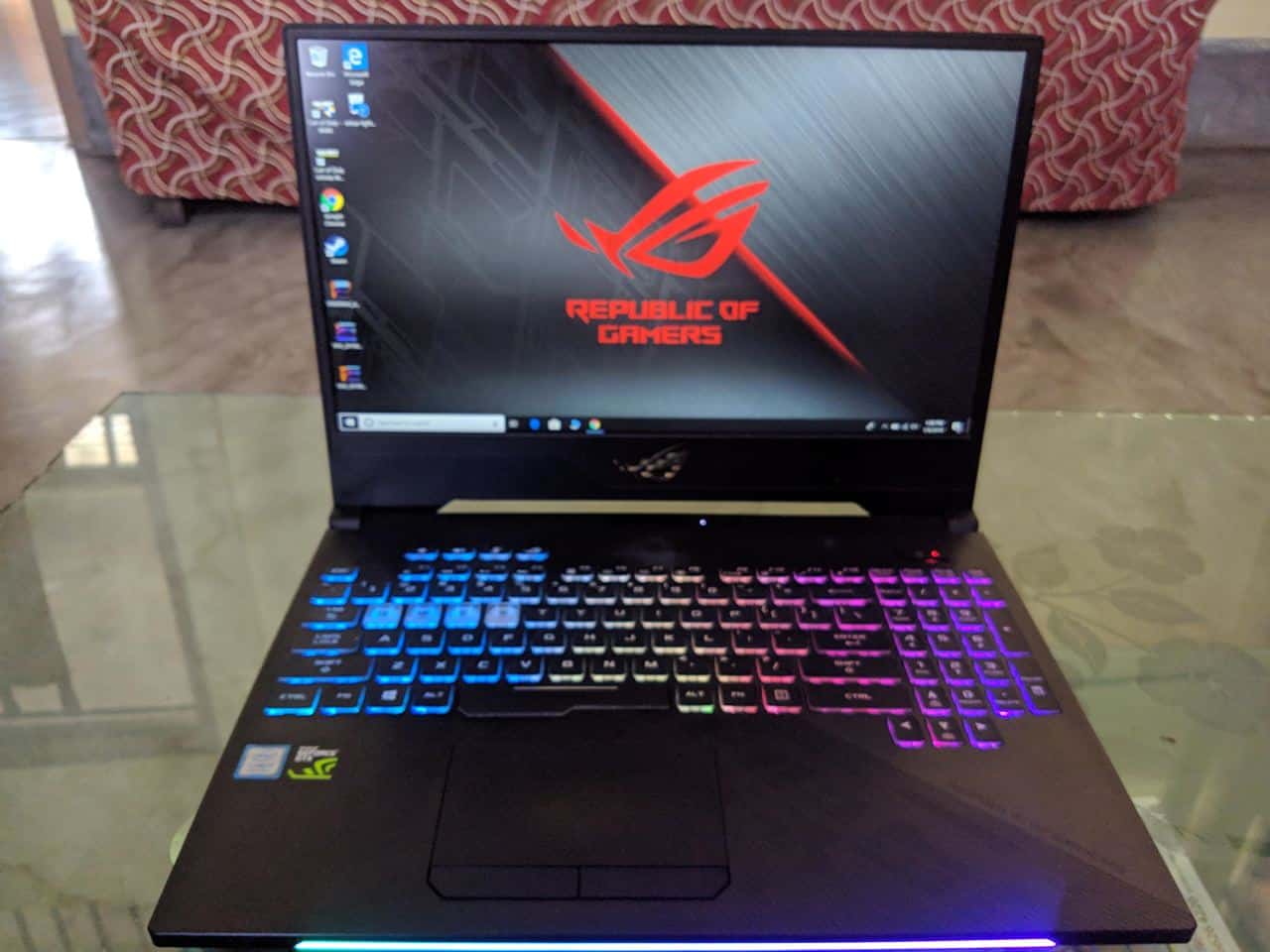 At first glance, many might mistake the ROG Strix Hero II to be a 13-inch laptop. And that's because of the sleek design and the narrow bezels. Though it packs a standard 15-inch display due to the narrow bezels, the front looks very nice, minimal, with just the ROG logo below the display. One funny thing about this particular laptop is that I had to look out for the front-facing camera, which I later discovered at the bottom of the display on the right side. Many people might not like it, but I can assure you that it's not a big deal at all.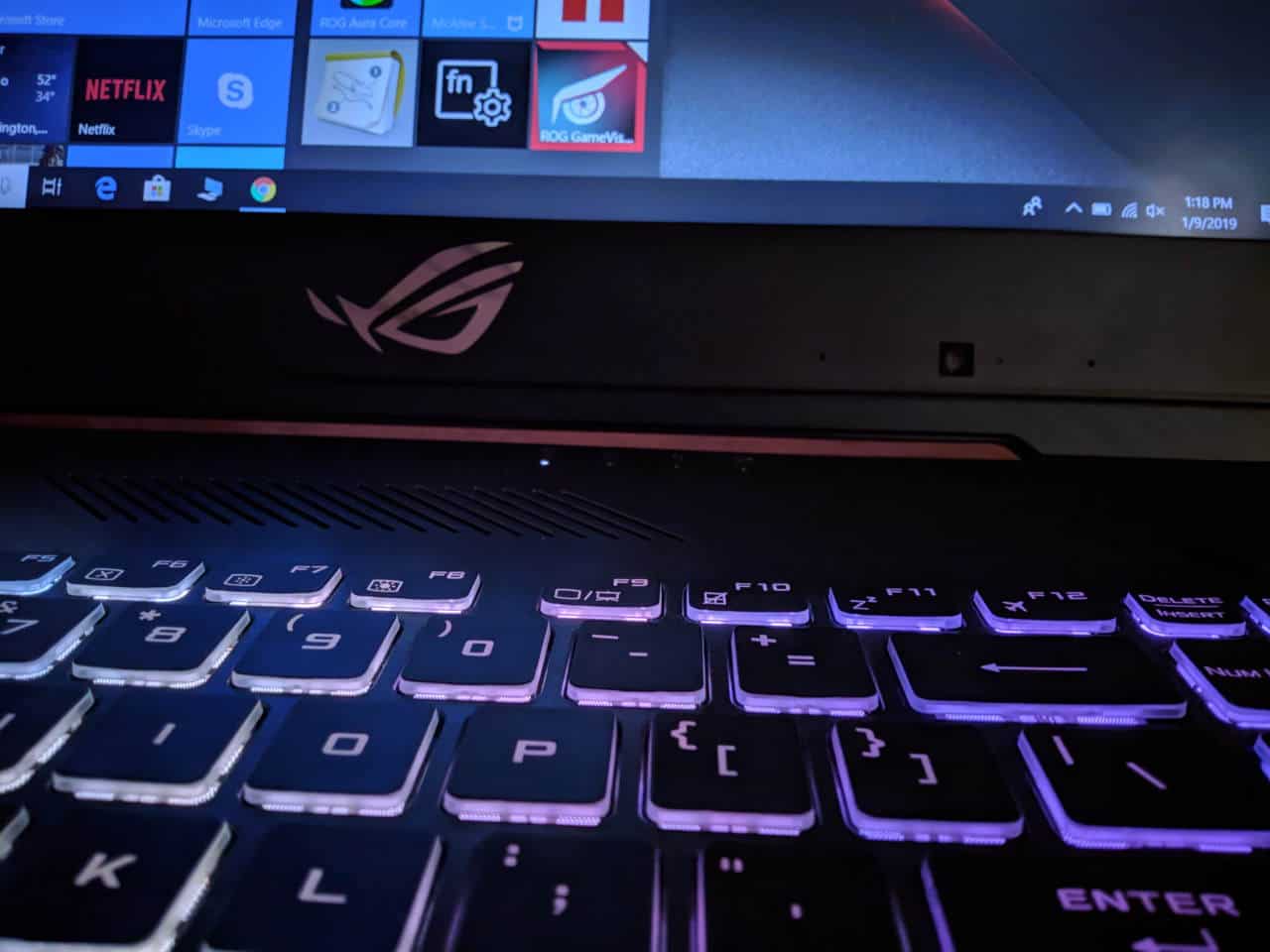 The back of the display is minimal as well, with just the ROG logo and the Republic of Gamers, written in medium fonts. Nonetheless, the rear is gorgeous and it makes the laptop stands out in the crowd as the logo is RGB backlit, making a bold and clear statement about ROG's commitment to gamers!
The display on this one is damn good and is significantly bright. The IPS panel with a 144Hz refresh rate produces rich and accurate colors, the text is sharp and the viewing angles are great. While I switched from a regular, not so good laptop (ASUS R558U) when compared to this one, I could immediately feel the difference the display makes. Watching videos and playing games are fun because of the narrow bezels and especially while gaming, I could clearly feel like I need to stick to this laptop forever for gaming.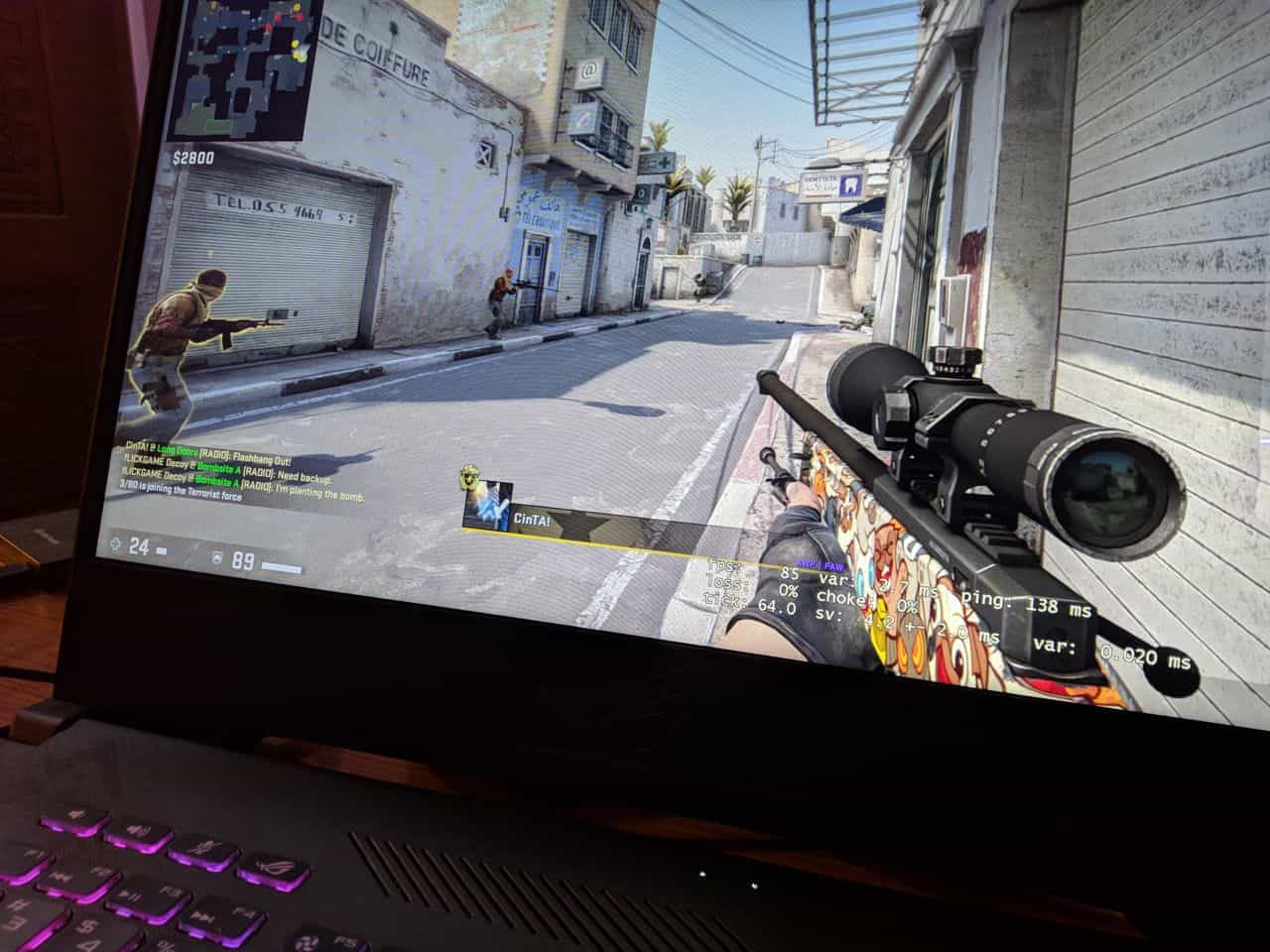 Another highlight of the ROG Strix Hero II is the keyboard. There is a full sized keyboard, which is quite essential, at least for me, along with the extra keys for jumping into the Gaming Center, adjusting sound and control microphone input. The keyboard is fully backlit and you can even control the lighting effects, colors and pace of the lighting effects. The customization can be made by going into Gaming Center where there is the option 'ROG Aura Core'. The keyboard buttons are separated nicely from one another and the layout is good, the tactile feedback seems to be nice.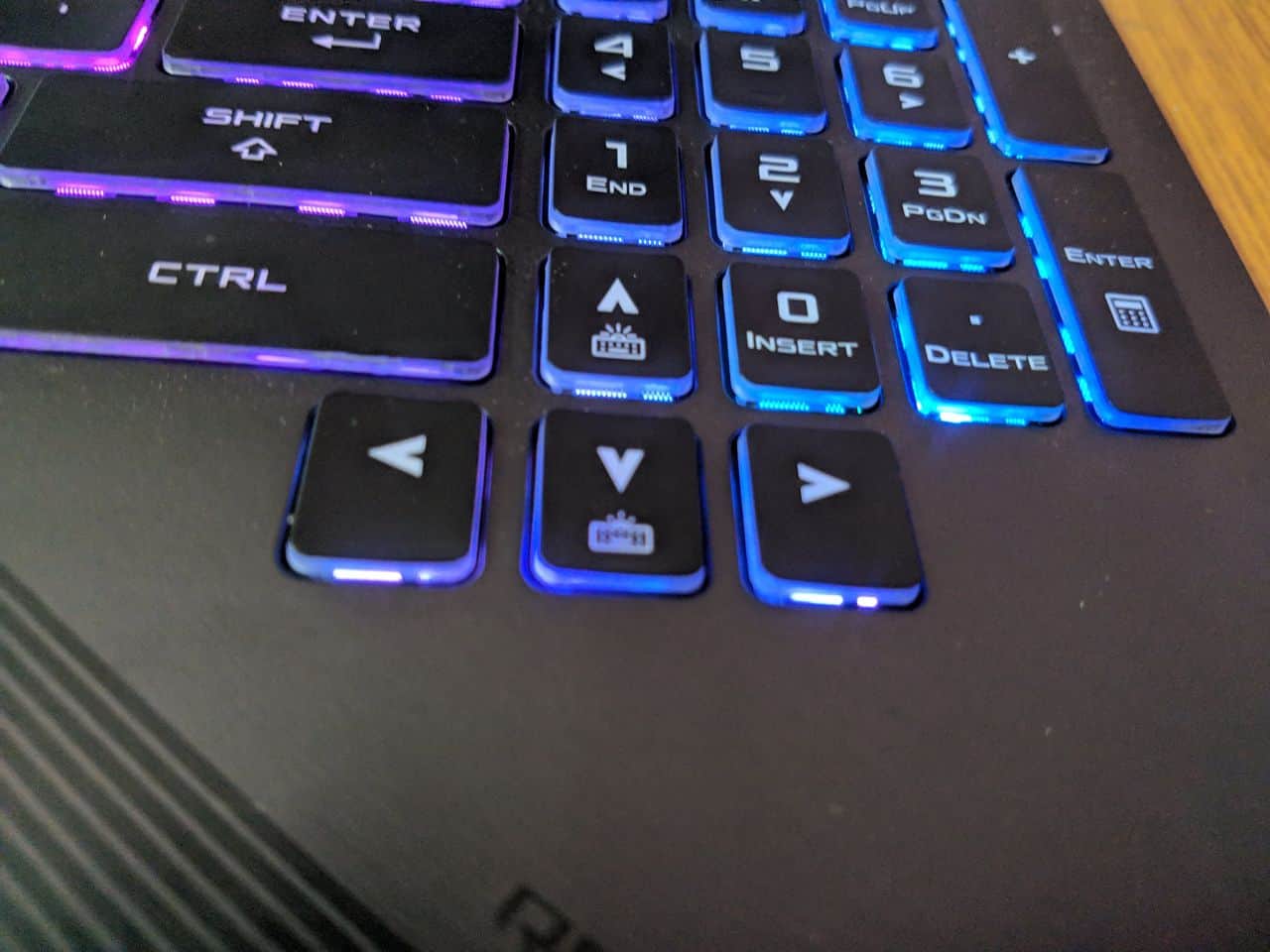 Though it can not be compared with a full-fledged mechanical keyboard, I quite liked playing games, using it. The only downside of the keyboard on this laptop is the placement of the arrow keys- For some strange reasons the down, left and right keys are placed beyond the regular layout extending down a bit and the up arrow key is placed between the right control and the insert key. I quite had to struggle at first especially while buying weapons at the start of rounds in Counter-Strike Global Offensive. However, after a day, looks like I'm slowly getting used to the layout.
Another small issue is that there is no indicator for num lock, though there is space for a small LED. The caps lock button has a LED indicator but the num lock doesn't have one so it might be an issue for someone who doesn't often use the number pad. Though, for me, it's fine because its always on. The touchpad is placed at a position where it is reachable as well as it leaves space for palm rest. At the chin, there is an LED bar with RGB lighting, again, adding beauty to this magnificently crafted laptop!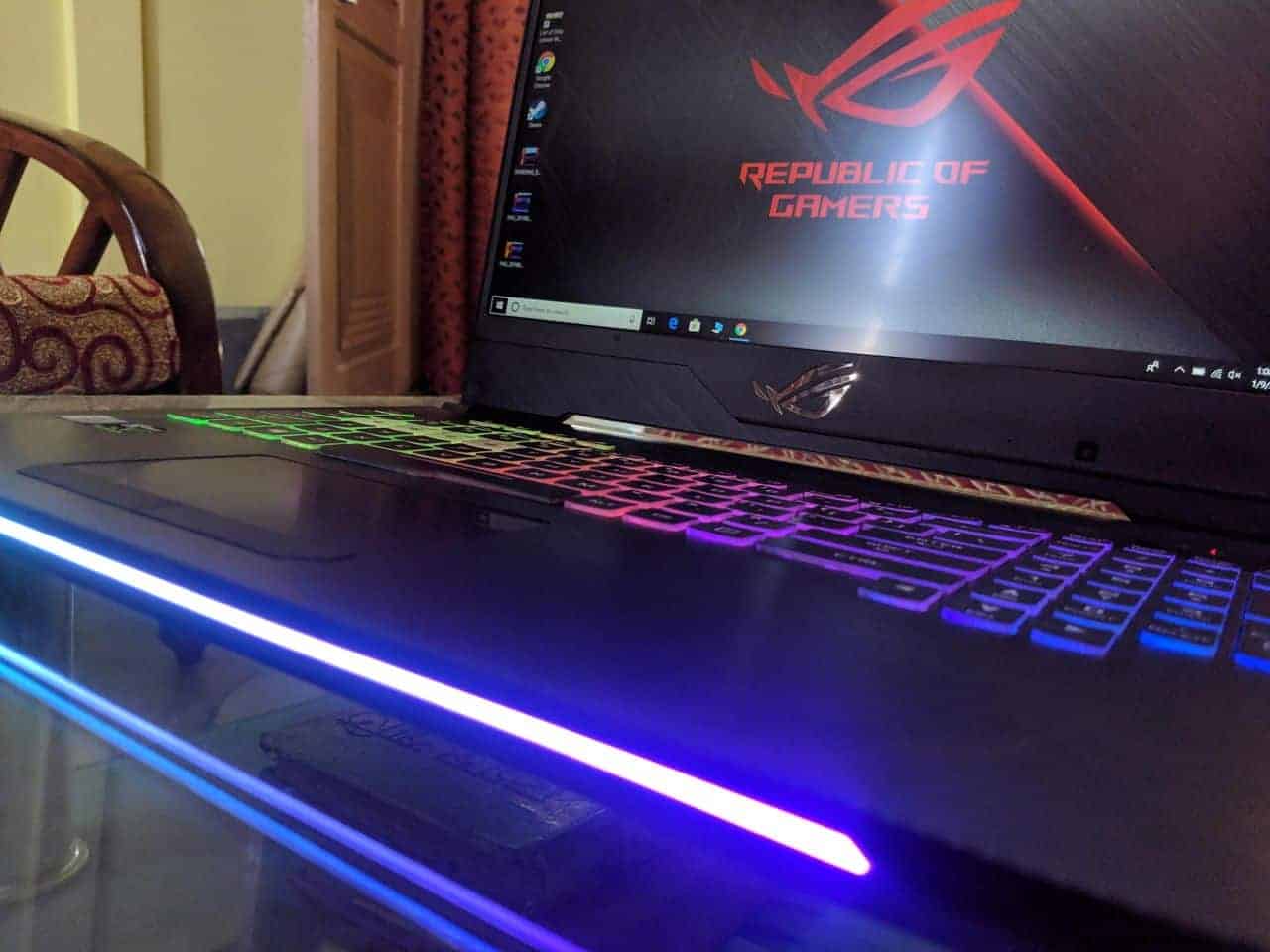 In terms of performance, everything has been great till now. The multitasking experience is quite good and believe it or not, while I was playing Counter-Strike Global Offensive, my friend popped in to have a look and he just went to desktop while the game is still running and launched Call of Duty Infinite Warfare. I was dumbstruck because I felt like at this point maybe I will see the laptop freeze for a while and maybe I would have to open the taskbar to kill either of the games, but well it handled everything well.
Since the moment I have put my hands on this, I have Chrome always running in the background with 10-15 tabs open no matter what else I'm doing. The laptop boots up real quick and I have not shut it down for even one single time yet. I just close the lid to put it to sleep and it wakes up instantly, ready for action as I demand.
In terms of gaming, till now I have extensively played Counter Strike Global Offensive at the highest settings and not for one single time, I felt like the FPS is dropping or there are any lags. CS GO could easily run at around 120-140 FPS, which is quite good at the high graphics settings, and also, in heavy maps like Inferno and even Nuke, the laptop seems to have handled everything nicely.
I have just started playing Call of Duty: Infinite Warfare and I am also going to try out the Far Cry 5 (Which I have already finished playing) and Ghost Recon: Wildlands. I also have in mind that I want to bomb some people and GTA 5 is perfect for that. Witcher 3 is also there in mind and right now, I'm a bit confused about which games should I try ASAP!
As far as my experience up to this point, since I have got this laptop, everything seems good. I quite enjoyed watching videos on YouTube, because of the rich sound it produces with the two speakers. The sound is well balanced and rich in bass, while the clarity is maintained in most genres of music.
This is just the initial impressions of the ASUS ROG Strix Hero II (Asus GL504GM ES152T), I would surely like to dig deeper and push it to the limits with heavy games and video rendering. And after all these crazy stuff, a full review will be out.