Today's world is completely filled with digital gadgets like smartphones, tablets and the next generation wearables which are already growing rapidly. Technology is indulging completely into humans life & is becoming a part. Every year many gadgets are releasing, which are making hard for the users to choose. Particularly, the smartphones are the special category which are even hard to choose. It's hard to say on which basis you can choose a smartphone, but there exist some factors which help users to choose them.
The recent phone from the Asus is one such  kind which brought huge attention because of its high performance & new design. We all know that the world's first smartphone with 4GB RAM was from Asus which is none other than ZenFone 2 which was released in 3 variants with a mere change in specs & price. As like the ZenFone 2, Asus revealed 3 other smartphones recently at ZenFestival 2015 where the one we got it recently for the review belongs to one of them.
Of course yes! I am talking about the new Zenfone 2 Deluxe which I got  recently to review. I've already published the benchmarking of this flagship which seems to be quite impressive comparing to the normal ZenFone 2 version. Keeping these facts apart, let me get straight into the review.
Asus ZenFone 2 Deluxe Review:
As soon as I got this phone, I captured few pics of the unboxing, which you can see  below.
Just like the ZenFone 2 most of the specifications are same but the Deluxe edition  differs regarding performance. Let me start the review from Design.
Read more: ZenFone 2 Deluxe: Full Specifications | Price
Design & Build:
Asus has taken great care of the design for the Zenfone 2 Deluxe. Gone the days when you used to get plastic back and now, Asus has implemented a totally different design for the Zenfone 2 Deluxe. The polygonal design of the back makes the phone look different from any other smartphone in the market and yeah, till now I haven't seen such a beautiful design for the back of a phone. Though the phone feels a little uneven in the hand because of that design and there is one major stuff that you should keep away from the device is dust- yes, it will hold dust very easily at the edges of the polygons so be careful in this case, and also the design tends to get a lot of scratches on the back if you don't use it carefully, hope the company might  release a transparent silicon polygonal cover for the Zenfone 2 Deluxe to protect it.
Otherwise, the build quality is very good and at 10.9mm and 170 grams it is also a quite a hefty device to carry around. Basically, it's not a device for show off, it's a combination of style, power and performance that you can surely boast of.
As we are talking about the design on the back, I do remember Nokia already had this idea and released several phones with crystal prism design on the back, after a long gap we are seeing a stunning crystal design again on a smartphone. The front is just like the Zenfone 2 and I don't see any difference, same capacitive touch buttons without backlit ( making it hard to use in dark), volume rocker on the back ( exactly below the camera) which is similar to every other LG G series flagships.
Display:
I didn't see something different in terms of the display, and Asus has kept things simple with the ZenFone 2 Deluxe, as we get the same 5.5 inch 1080p Full HD display with Corning Gorilla Glass 3, which is just a small but good add-on to protect the display from scratches. However, we get sharper viewing angles as compared to Zenfone 2 and the colors are vibrant and saturated. But, once again you can get almost the same on other devices like OnePlus 2.
Although the output quality of videos & pictures is vivid and perfect, but I felt discomfort while using the phone in a dark room. Though it has color balance, the brightness is too heavy. It does have many modes of display still I see less clarity comparing to other smartphones which I used.
Camera:
Again, the same thing which our team member actually hated in the ZenFestival– the camera craziness. What's wrong with Asus? On every single phone they seem to care a lot about the camera, but not very focused on other aspects. However, Asus did a good job with the camera on Zenfone 2 Deluxe, but I don't think it would be a great one as I came to know it's just a 13MP shooter, which is not an upgrade from the Zenfone 2 at all, but while trying it out I came to know that it was way better than its ancestor.
Focusing speed was great and macro photos were very good, even in low light conditions it performed well. The focusing speed has been a great aspect of the camera on the device, but yes it may face tough competition from other devices in the same price segment. The low light images had some noise in them, but when it comes to an overall experience the pixel master camera app adds a pleasure in taking pics, as it has great features and easy to use with lots of manual controls. The camera is capable of taking 1080p videos as well, but Optical Image Stabilization is absent which is one negative point of course.
The front 5MP snapper is decent for taking selfies and video calling, but I feel that Asus could add a front facing flash as well just like the Zenfone Selfie. The Zenfone 2 Deluxe is the top among all the Zenfones right now, so could be a complete package in terms of the  camera with a front facing flash. However, you can use a small accessory called the Asus Lolliflash if you need a flash for taking selfies in low light conditions or some android apps which flash the display screen.
There was a problem with the camera while shooting slow motion videos, they are not as effective as it shows to be. Other features in the camera are pretty cool. Few months back I read a tweet from a tech insider that Zenfone 2 camera is a lot better than DSLR. I don't think so! it does have good HDR functionality but not a near competition to the high-range DSLRs.
Performance: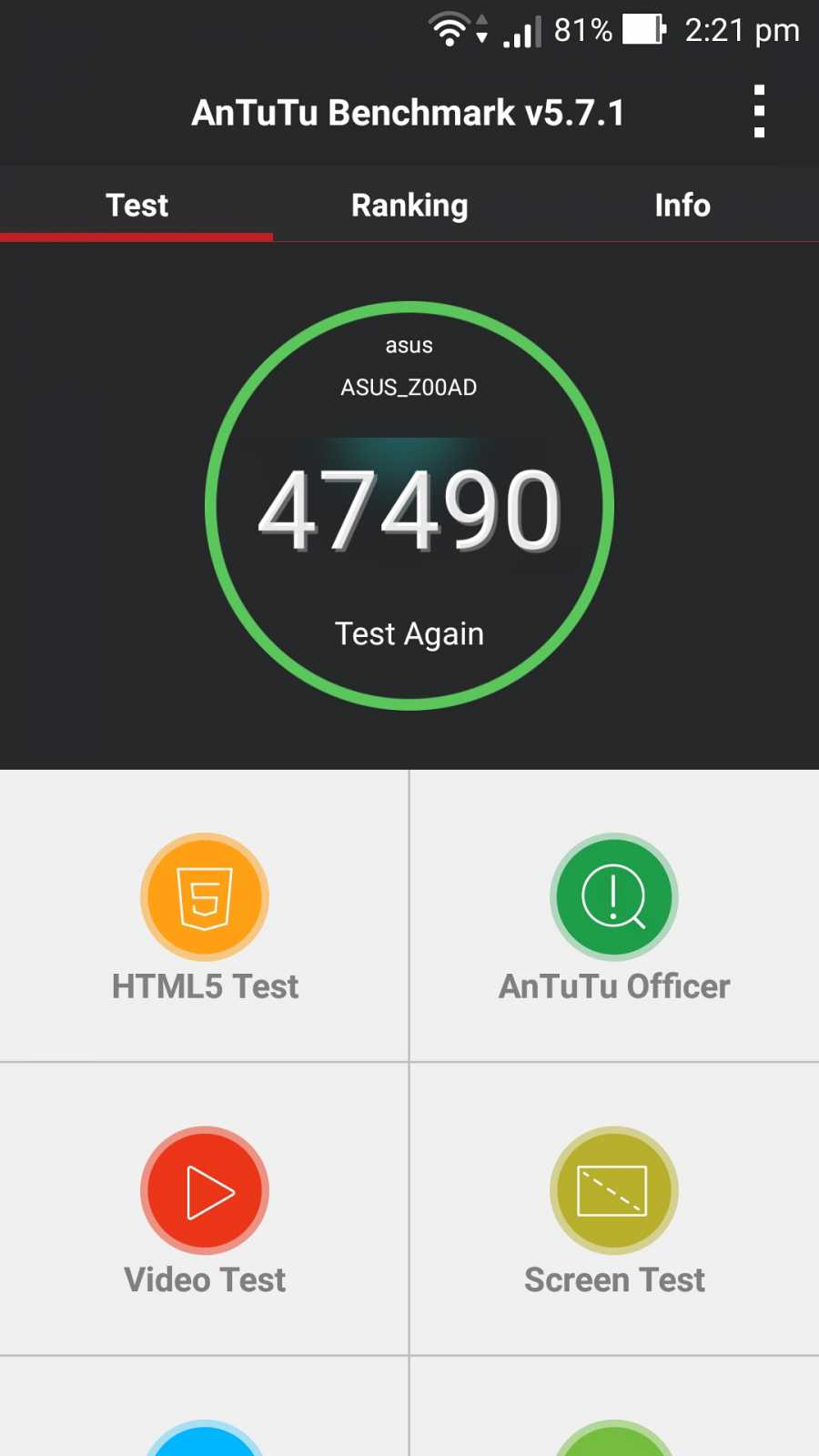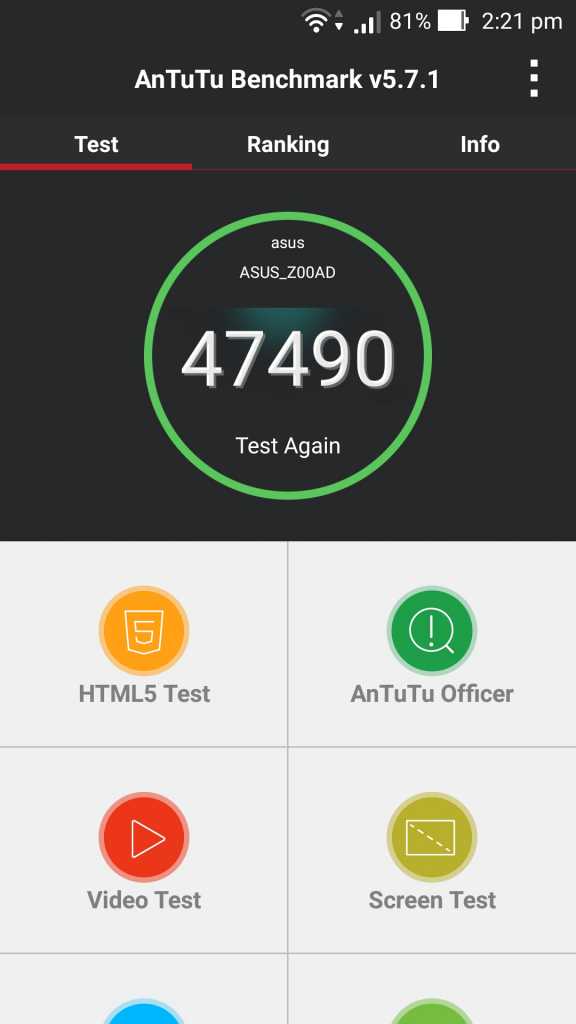 Performance wise the Phone stole my heart, With its 4GB RAM & an Intel Processor inside the phone doesn't lag in most cases and flows like water( less viscosity). It does show some mercury (more viscosity) like behavior but it is a rare case and occurs only when you overuse the phone or when it gets heated. Actually I haven't seen any lag in my testing but the heating problem exists. I was playing a mid-end game – Real Racing 3 which is not a heavy game for a 4GB RAM, with PowerVR G630 GPU still I faced some lag & the heating issue shows up!
Related: ZenFone 2 Deluxe – Full Benchmarking Results
As per the benchmarking results, the smartphone outperformed the predecessor- Zenfone 2 but not able to give a competition to other smartphones in the price range.
User Interface:
I want to be honest with the interface. Though it is based on Android v5.0 Lollipop, the ZenUI is not as user-friendly as it seems to be. The unnecessary pre-installed apps are more & are just like every other Samsung smartphones. The stack UI doesn't visually appeal the user and it supposed to have fluidity while using it but it doesn't.
Battery:
I had this phone for more than 2 weeks and tested it in every condition. I tried to watch a 10 minutes 720P YouTube video in mere 4% battery, watched the whole video & surprisingly still the phone managed to have 2% battery. The battery capacity range is 3000mAh which has quick charging feature too. The device can power up to 60% in just 40minutes which are a quite impressive feature. I did the basic optimization in the phone like installing Greenify, auto-brightness mode, enabling battery saving, turning off unnecessary features etc which gave a pretty decent battery life. I don't say it can really give a straight 1-day battery life or a 2 day battery life ( as said by Sony for the new Xperia Z5) but almost 20 hours on standby which is quite good comparing to the so-called high-end smartphones from Samsung.
Wrapping it Up:
First of all it is the deluxe edition or you can call a little upgrade of the previous smartphone – ZenFone 2 but the fact is, it is an Intel processor-based smartphone which is one of its kind. Every other manufacturer in mobile industry were using Qualcomm or MediaTek processor, but Asus has been making the ZenFone smartphones using the well-known Intel processors. As far as my test went, I felt comfortable using the smartphone. It doesn't heat up much as like the other smartphones, the performance is extensively improved comparing to the ancestor ZenFone 2. Well, not everything goes as perfect, I faced some problems too while taking pictures so, the camera should be improved as specified above.