we, iGadgetsworld team successfully bought Xiaomi Mi3 today (on Aug 12th) before the stock ends like it usually did for the past sales of Xiaomi Mi3, This is the first time, we tried to order Xiaomi Mi3 and we successfully ordered it, in the first attempt itself, So How do we do it ?
we just followed the steps that we gave in our previous post : Buy Xiaomi Mi3 today before stock ends in Flipkart you can read the best tips to order Xiaomi Mi3 before the stock ends
If you missed it, then No need to worry, Registrations will be start again from 6PM today (August 12th) and we advice you to follow these steps to get a chance to buy/order Xiaomi Mi3 for the Next sale on August 19th, so here are the things what we did
Steps to follow to get a Xiaomi Mi3 :
First on Aug 5th, after the registrations opened on 6 pm, our editor  quickly registered asap, and he already added an address to the Flipkart (usually everyone do this, so no need to worry on this)
We predicted how the sales will be, and you can read the prediction here,  during the last 3 sales it just took seconds for the vanishing of stock (Xiaomi Mi3 Units), so we are very particular about timing
Today (on august 12th), I logged in to Flipkart @11:30 (as the sale goes on 2PM, we should be available before 2 hours) through pc, and also our editor (kedarinath)  used Flipkart app, so basically 2 guys, one need to monitor from desktop/laptop and one from the mobile app of Flipkart , both have same chances, but reports suggests that, Flipkart app do well, as it is on another server
I rechecked everything, like the address details, and had a note of payment details, and this is mandatory (one must need to keep a note of payment details if it's not COD, who can say, what if Flipkart crashes at the time of adding Mi3 to the cart, even nano seconds matters here)
I didn't  closed the tab, and opened it and kept like that, and i was doing my work in other tabs, and our editor( kedarinath) kept the app opened and was in his works in the office
Now exactly at 1:55pm, I kept staring at the ticking clock, because of excitement,  (same as our editor staring at the time in his Flipkart app), and exactly when the buy option popup came, i Quickly clicked it, with out any delay, and (in the flipkart app it said, out of stock), but not a problem, out of 2, one got success !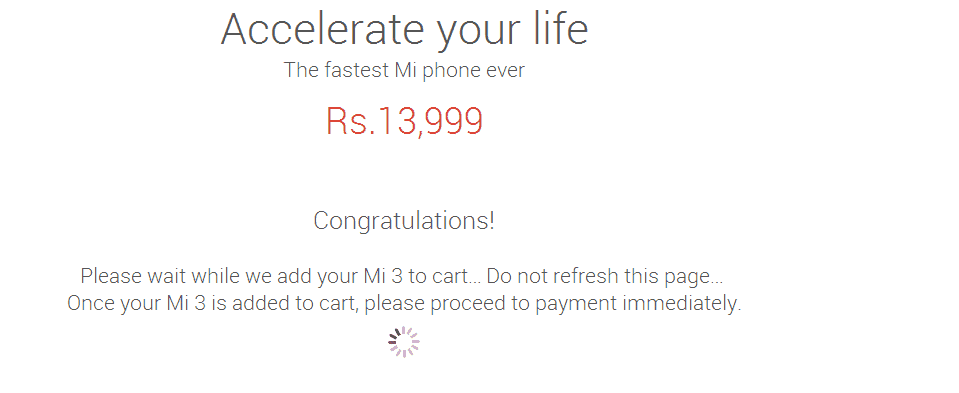 Now as like in the above screenshot it said to wait, so i didn't refreshed, nor i closed it, 100% chances for the order of xiaomi Mi3 is confirmed !!
Next after a few minutes, xiaomi Mi3 is successfully added to cart

 I went for the payment, (it gives time to pay before one day of order, i,e,. (Aug 13th)), I went stratight to the payment, and made a payment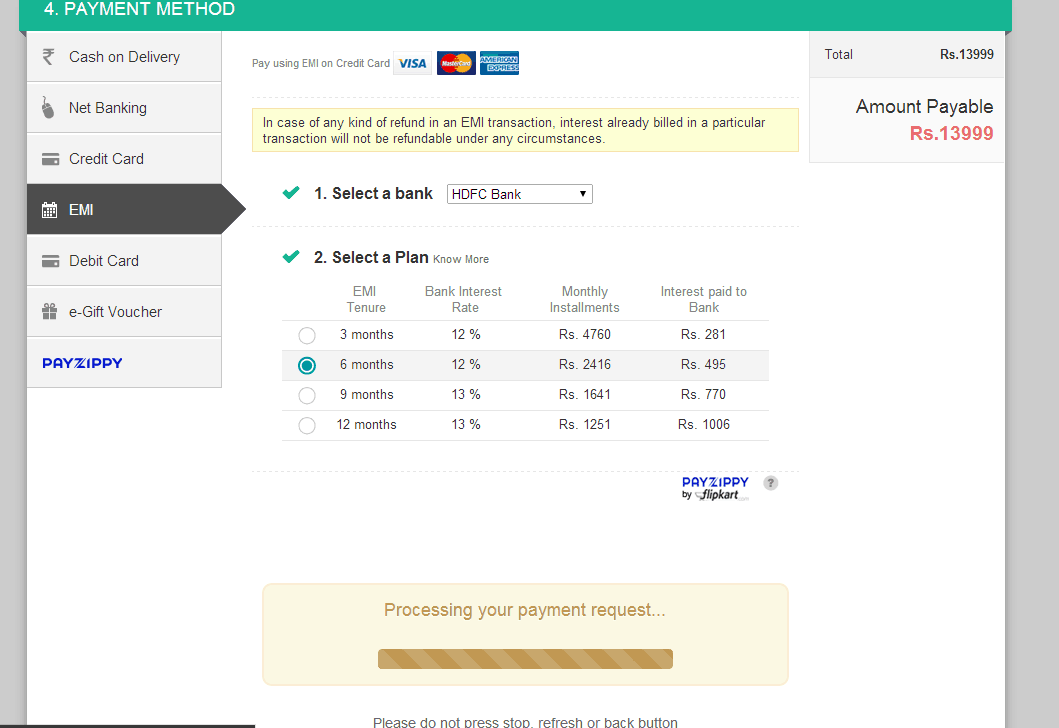 Finally after everything, we successfully ordered the Xiaomi Mi3 today (Aug 12th)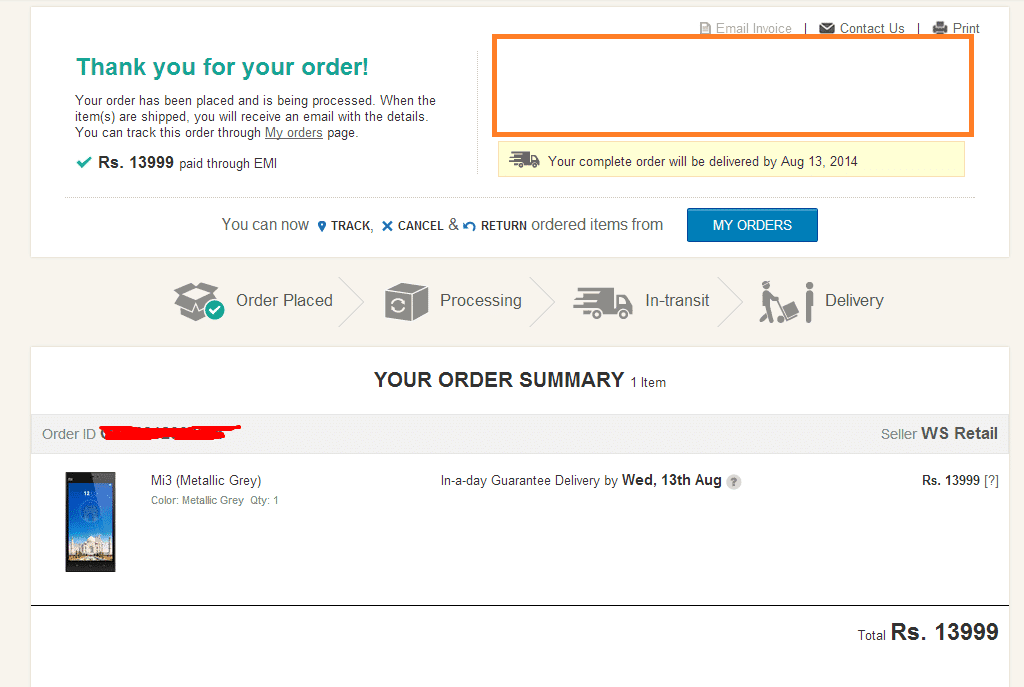 This is our success story, this is how we got a chance to order Xiaomi Mi3, and we are sure, we will come with hands-on-video, complete indepth review, unboxing etc,
Our way of reviewing differs from other sites, so stay tuned for it!
Have you also ordered Xiaomi Mi3 successfully, share your success story in the comments !