Xiaomi Mi5, the first authentic flagship was unveiled recently by Xiaomi during the world's biggest mobile expo "the MWC 2016" in Barcelona. Mi5 with its top edged specifications, stunning looks deserves to be first authentic flagship phone of the year. There is a vitality, a life-force, an energy, a quickening, that is translated through its performance, design, and action. This flagship is the expression of its uniqueness. I would strongly recommend anyone to buy Xiaomi Mi5. Well, you will definitely understand why I said after reading these 5 reasons.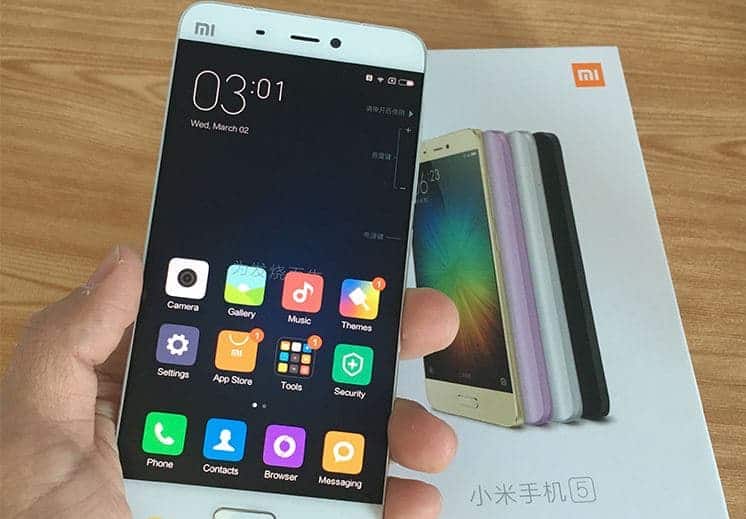 It comes with some of the most exciting features like the latest Snapdragon 820 chipset, a new 16MP camera with 4-axis optical stabilization, generous storage options, rich connectivity options, and a beefy battery.
Top exciting features of Xiaomi Mi5:
5.15″ IPS LCD display of 1080p resolution; 428ppi; Corning Gorilla Glass 4
Gorilla Glass 4 (32, 64GB) or ceramic (128GB) rear panel
32GB model with Snapdragon 820 chipset (2x 1.8 GHz and 2x 1.6GHz cores); 3GB RAM
64GB model with Snapdragon 820 chipset (2x 2.15 GHz and 2x 1.6GHz cores); 3GB RAM – the one we're reviewing
128GB model with Snapdragon 820 chipset (2x 2.15 GHz and 2x 1.6GHz cores); 4GB RAM
16MP f/2.0 main camera with phase detect autofocus, 4-axis optical image stabilization, dual-tone LED flash; 2160p video at 30fps;
4MP f/2.0 front-facing camera, 1080p video recording at 30fps
4G LTE (600Mbps); Dual-SIM; Wi-Fi a/b/g/n/ac; Bluetooth 4.2; NFC; GPS, GLONASS and Beidou; IR blaster, Fingerprint Sensor.
Android 6.0 Marshmallow with MIUI 7
3,000 mAh non-removable battery, fast charging
Attractive pricing
Buy Xiaomi Mi5: 5 Best Reasons
Camera:
Xiaomi Mi5 features a 16MP camera with 4-axis OIS and a true-tone dual-LED flash. 4-axis OIS (Optical Image Stabilization) means the camera will be able to stabilize the image (especially in video recording) noticeably better than the competitors and it is one of the best reasons that makes you choose Mi5 over the phones having OIS. Mi5 helps in recording and capturing the memories completely without no shake.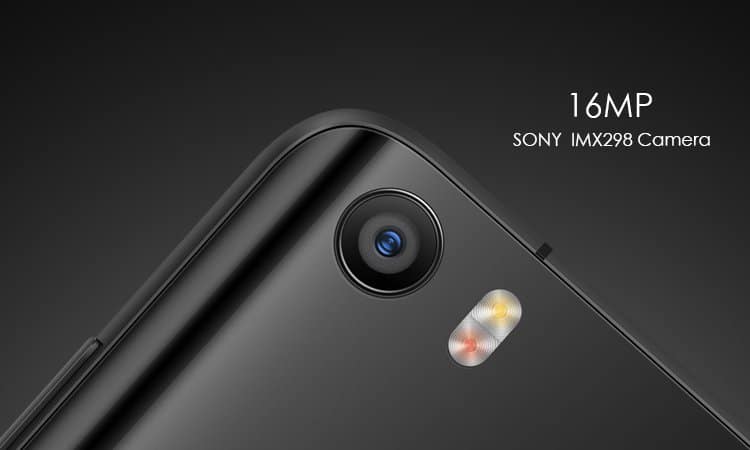 The sensor used in Mi5 is the Sony IMX 298, which comes with phase detection auto focus and deep trench isolation technology. The sensor seems like the real flagship deal, at least on paper and, interestingly enough, Xiaomi managed to fit it inside the body without a lens bump. Naturally, in combination with the powerful Snapdragon 820 chip, it can do 4K video as well. On the front, we have a 4MP UltraPixel camera – lifted from the Mi Note. I feel, the camera itself is a big asset to recommend anyone to buy Xiaomi Mi5 :)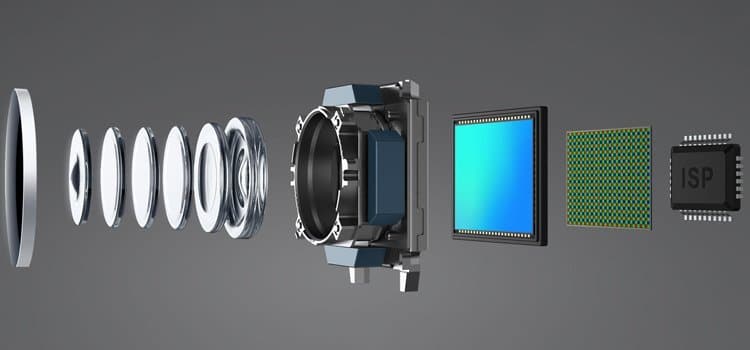 Performance:
Xiaomi Mi5 is equipped with Qualcomm's latest and the greatest Snapdragon 820 chip. The SoC features Qualcomm's custom built quad-core Kryo CPU. Qualcomm promises up to 2x higher performance than the Snapdragon 810. The basic 32GB model of the Mi5 has two Kryo cores at 1.8GHz and two Kryo ticking at 1.6GHz. The 64GB (we are currently reviewing) and the ceramic flavors are utilizing 2x Kryo running on 2.15GHz and 2x Kryo at 1.6GHz.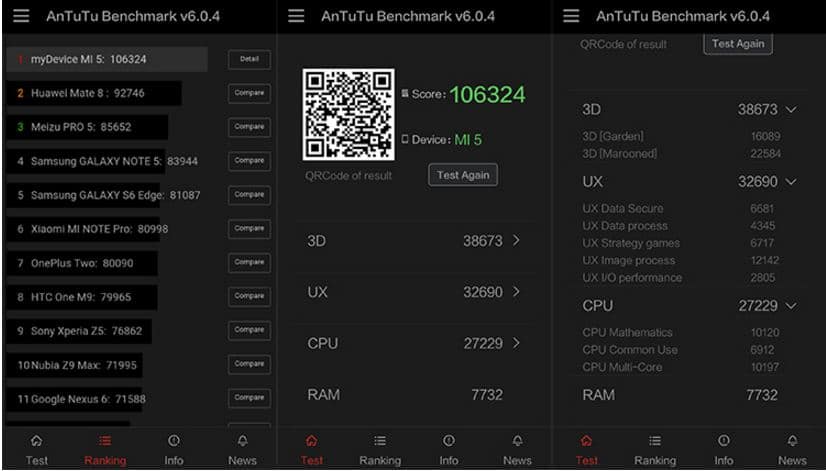 All three models utilize the most powerful Adreno GPU till date – the Adreno 530. The 32 and 64GB models pack 3GB of RAM while the 128GB (ceramic) has 4 gigs of RAM at disposal. The new Snapdragon 820 chip lives up to the expectations and delivers stellar performance without depleting the battery in a flash and the new Adreno 530 GPU is blazing fast and looks to be future proofed. The Snapdragon 820 is a flagship hardware worthy for the Mi5.
Battery: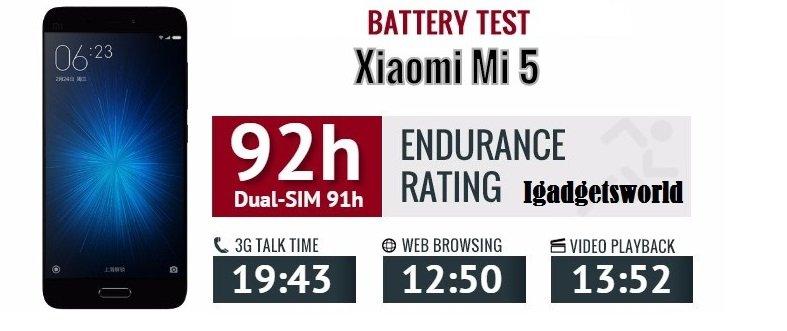 Xiaomi Mi5 has got pretty much the same battery as its predecessor – it's a 3,000 mAh Li-Po unit, sealed, of course. As per the Gsmarena's battery test the Xiaomi Mi5 scored a 92h rating, which means you can count on the battery to last just a few hours short of 4 days if you do an hour each of calling, browsing the web and video playback a day.Such usage pattern may be somewhat artificial, but we've established it, so the battery results are comparable across devices. Adding a second SIM card cuts only 1 hour from the total endurance rating. Overall, the result seems to be quite satisfactory as it's way beyond the 68-hour rating of the Mi4.
Display:
The Xiaomi Mi5 features a new 5.15″ IPS display of 1080p resolution. Even though most of the rumors suggested an upgrade to QHD resolution, Xiaomi chose to keep the Full HD screen, and we don't mind that. A pixel density of 428ppi is more than respectable and leaves the Snapdragon 820 chip with power to spare on tasks and productivity.
The viewing angles are impressive as well, there is hardly any color shift or contrast loss when looking the Mi5's display at an angle. It isn't AMOLED grade regarding contrast, but it sure is the next best thing. Well, I almost convinced with the 4 features & I would definitely recommend anyone to go & buy Xiaomi Mi5. Anyhow, let us see the 5th reasons which in our case a recommended feature.
Connectivity:
The Xiaomi Mi5 supports 7 LTE bands, and you can tap to an LTE network on either SIM, but once you do, the second one will be limited to GSM connectivity only. As for that, the Mi 5 also offers quad-band GSM connectivity. There is quad-band 3G connectivity with HSPA support.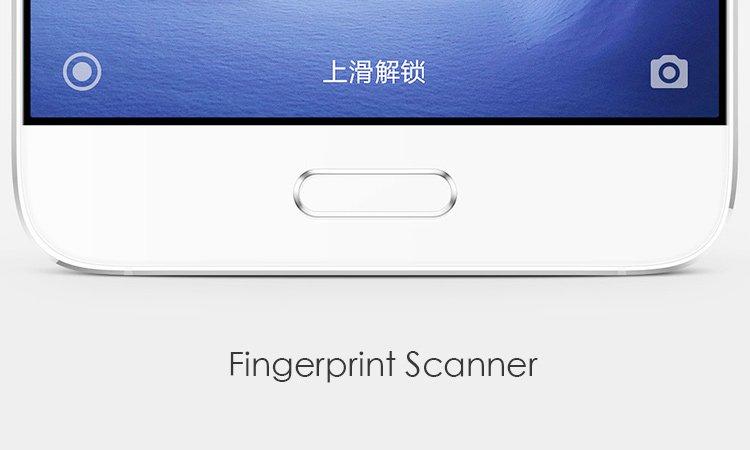 The rest of the connectivity features include dual-band Wi-Fi a/b/g/n/ac support and Wi-Fi Direct. Wireless screen mirroring is available via the Miracast protocol.
There is also support for Bluetooth 4.2, NFC, GPS, and GLONASS and Fingerprint sensor. The Mi 5 is Xiaomi's second device to support USB Type-C – it's the new reversible connector for USB that builds on top of USB 3.1.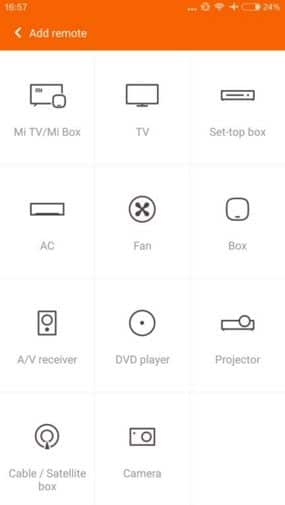 The another great feature is, it is equipped with IR blaster and is located on the top and coupled with the right software, it can be used to operate any remotely controlled home appliance, turning the Xiaomi Mi 5 into a universal remote. Xiaomi provides a new version of its MiRemote app right out of the box. Xiaomi has deemed the Mi Remote and Mi Home Center (for controlling home appliances) quite important, as it provided a shortcut at the bottom left on the lock screen.
Xiaomi Mi5 is an authentic flagship at a very affordable price. If you are a passionate smartphone user and you like to play with technology and make your life more simple and smart, you should definitely buy Xiaomi Mi5.