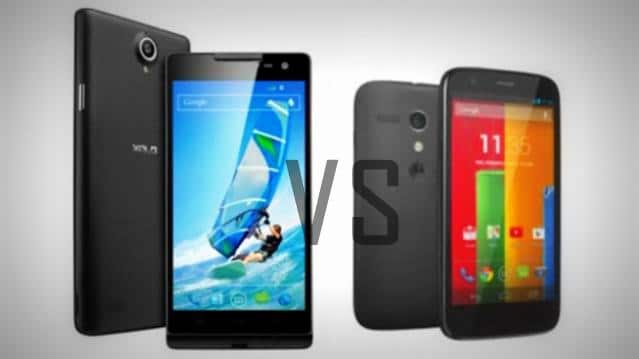 This year, Motorola has created a lot of buzz in the market with,Moto G, which is a mid range smartphone with a powerful configuration and features. But now, Xolo has launched a phone which will be a tough competitor for Moto G, the all new Q1100 from the makers of first intel™ powered smartphone. I think its a better choice than Moto G at a price tag of Rs. 13399, while Moto G costs Rs. 12499 and Rs. 13999 for 8GB and 16GB variants. Luckily I got a chance to put my hand on that phone and gonna review this Xolo Q1100. But before we start, let's take a look at the technical specifications.
XOLO Q110 SPECIFICATIONS: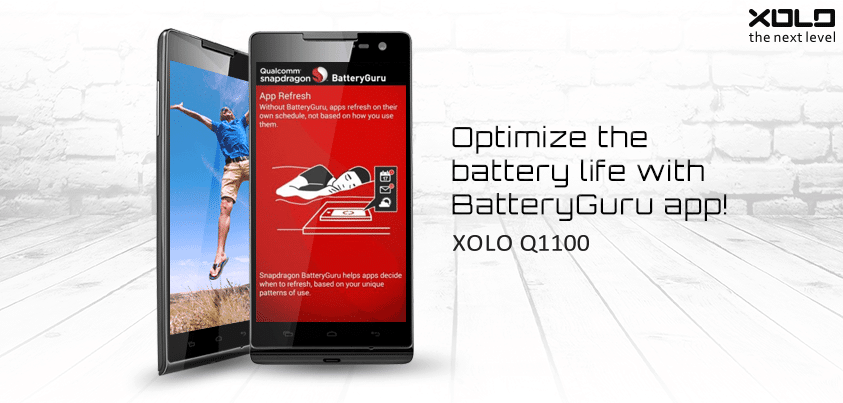 • 1.4 GHz Qualcomm Snapdragon 400 MSM 8228 Quad Core Processor
• 8 GB Internal Memory and Expandable Storage Capacity of 32 GB
• Exclusive Features like Battery Guru; Quick Charge; X Transpic; Reverie Phonebook; Snapdragon Audio+; Xolo Power; Xolo Secure
• Adreno 305 GPU with 450 MHz
• Android Jelly Bean v4.3 OS
• OpenGL ES 3.0 Support and 1 GB LPDDR2 RAM
• 8 MP Rear Camera with BSI 2 Sensor and 2 MP Front Camera
• 5-inch HD IPS One Glass Solution Display
• Full HD 1080p Playback
• 2000 mAh Lithium-polymer Battery
BUILD AND DESIGN:

The Xolo Q1100 offers a simple design and has an all-plastic body. The back panel, although soft plastic, doesn't feel bad in terms of quality due to its rubberised finish. The front has the 5 inch display with a 720p resolution. Below the display the generic Android navigation buttons which are capacitive are placed and above the display there is a 2MP front camera, the earpiece and the proximity and light sensors. The left side of the phone features the volume control buttons. The power/lock button which has a chrome finish, is on the right side. The headphone jack is on the top and the bottom has the microUSB port for charging and data syncing. The back has an 8MP camera with an LED flash. Upon the removal of the back panel, there is a 2000mAh battery, the microSD card slot and the two full sized SIM card slots. Even though the display doesn't feature a Full HD resolution, it is quite impressive with a nice contrast and brightness levels. Text looks crisp and easy to read. What we didn't like about the display is that it doesn't offer great viewing angles and the colours seem faded out when you see the display from different angles, and about the display, another thing bothered me a lot, which is quite irritating also. The display seems to be a fingerprint magnet, and I need to clean it in short intervals while using the phone. For a smartphone with a 5 inch display, Q1100 doesn't feel bulky at all, instead feels quite light in the hand. The Q1100 doesn't have a curvy design and has sharp edges, which I liked a lot, after getting tired of those curvy Samsung smartphones. Overall it's a decent looking, sleek and stylish smartphone.
OS AND PERFORMANCE:

The Xolo Q1100 runs on Android 4.3 Jelly Bean stock ROM with very slight changes like a few animations while scrolling through the homescreen and the homescreen indicator at the top like HTC Sense UI. Running on a powerful 1.4 GHz Qualcomm Snapdragon 400 processor, the Q1100 offers a respectable experience of Android. I didn't notice any lags while using the phone, having a lot of apps open and multitasking. And no app crashed till now while using the phone or any force close issues. All the apps run smooth and multitasking is flawless as well. Xolo has added their own Xolo Power app for battery management and Xolo Secure which can back up your personal data onto a cloud server. As the smartphone runs on a Snapdragon processor, the smartphone features the Battery Guru app from Qualcomm. The app monitors and learns usage of the smartphone and then optimizes the battery accordingly, which is great, I think as users will be able to keep a track on everything cosuming power. I tried out the standard benchmark tests on Xolo Q1100 and it was far above the benchmark of Moto G (around 16K+), with a rating of 19400. That's is quite impressive, and in fact I was pretty shocked at this. Thus, the Q1100 proves to be a better in terms of raw hardware performance than the Moto G.
The battery has a rating of 2000mAh and after one hour of running a Full HD video on the smartphone on a full charge, there was 80% charge remaining which is cool. That means that the smartphone can run a Full HD video for 5 hours straight before it runs out of power. The Adreno 305 GPU has proven to be great and with Q1100 it didn't let me down. Gaming performance was smooth and I enjoyed playing games on it. The only concern that I wish to point is the heating issue during high end gaming, but it happens in most smartphones now a days.
CAMERA:
The Q1100 has an 8MP rear camera with a BSI sensor which, apart from taking pictures, is capable of recording 1080p @ 30fps. which is great for people who wanna take pictures pretty often with their phone. Pictures captured are sharp and have nice colours. The camera on the Q1100 controls the exposure well and the auto-white balance doesn't go overboard while correcting the tone of the pictures.
CONCLUSION:
The Xolo Q1100 is actually a great competitor for the Moto G and I was quite impressed by its performance in almost all the segments. Though it doesn't have striking looks, the build quality is solid and is as good as the Moto G. If you are looking for a good alternative to the Moto G, then I would definitely recommend you to buy this phone. There are a number of other Android handsets in the market today at the same price point offering almost similar features like the Karbonn Titanium X or even the Micromax Canvas Turbo, but after looking at the benchmark results, I would definitely refer it to you if you ask any alternatives of Moto G.
Moto G fan?? Thinking to buy it and now you're in doubt?? Ask us we will clarify your doubts.