Both Augmented & Virtual Reality have been trending for quite some time. Although these technologies are still evolving, many brands have already adopted in gaming, marketing, etc. Most of us would have already explored the virtual world using Google Cardboard VR, but the rest of the virtual reality headsets are not that affordable. The same applies to augmented reality too.
A year back, we've seen Aryzon which resemble cardboard VR that lets you explore the augmented reality. It was quite affordable, but the problem is it's a DIY cardboard made. There are some flagship AR headsets like CastAR, Meta, Icis, etc. but they all cost a lot. To make the AR headsets affordable, Jean Helfenstein, the genius behind Black Rainbow, a creative design studio based in LA came up with a prototype called 'Ghost' which acts as an AR headset as well as VR headset. Let's explore the Ghost AR headset and see what it can do –
Ghost AR Headset – A New Beginning: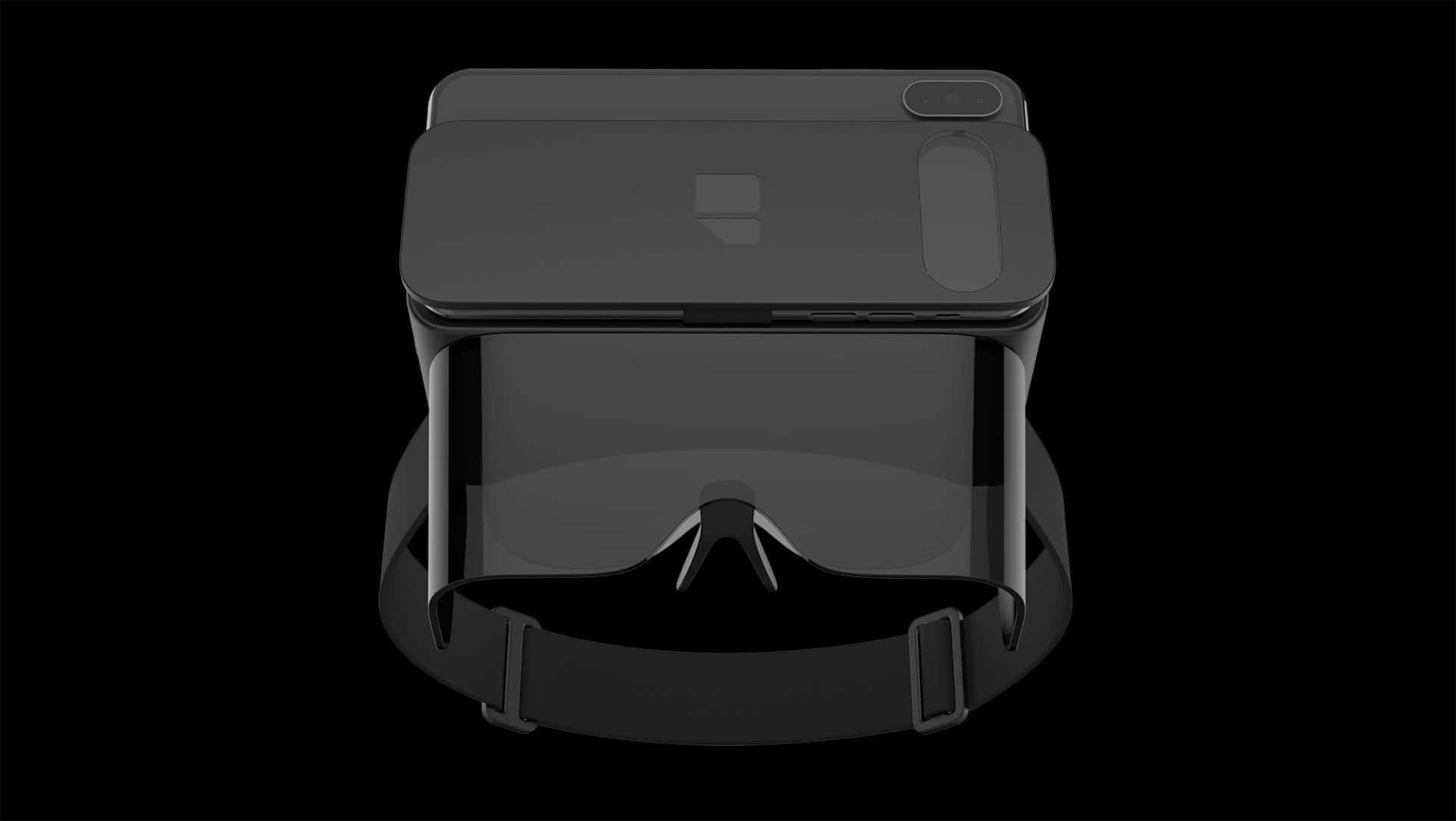 In general, to experience Augmented Reality, we need a high-end computer interfaced with the headset, but the Ghost AR headset break that barrier and it's tether free. All you need is just a smartphone and the headset. With this, you can open many virtual screens at once, watch a movie on a big virtual screen, and of course, preview the furniture models, and can even experience your dream car virtually. All these sound fun and entertaining, but there's more you can do with Ghost. Here are the main features of this AR headset –
Ghost AR Headset Features:
It has a wide FOV [filed of view] of 70-degrees which gives a natural view, thanks to its circular lenses
You can interface your laptop/tablet with the Ghost and are able to open multiple screen at once
Interacting with the opened-windows inside Ghost are quite easy, and it can be done using a traditional keyboard and mouse
Practically, you can place the virtual screen anywhere you want. This gives the flexibility of watching the movies on a big screen
It's very easy to view and interact with 3D models. There are a ton of online libraries and software such as Sketchfab, Poly and Shapr 3D which let you load 3D files
You can watch both 2D and 3D videos on YouTube in a big virtual screen
With a snap, the Ghost AR headset can be transformed into a VR headset
Sounds interesting, isn't it? So, how does it work? Well, it uses the camera and sensors of your smartphone to track your position and adapts the screen based on your movement. As said, it also comes with the VR visor, so it's one snap away to become a VR headset. In the VR mode, Ghost acts like a typical Google Cardboard VR and do support most of the VR games & apps.
The above is one of their demo videos which got me into thinking of so many questions. So, I contacted Jean and here are his answers –
A Quick Question & Answer Session:
Vamsee: I understand that it uses smartphone sensors to give the AR experience, but how are you going to interface it with your laptop/tablet? [in the demo, the windows are maximized and minimized]
Jean: All the demo videos are actual working demos without any trickery, they are shot directly through the headset prototype. With that said the software we are showcasing have already been prototyped and things like the interface between the smartphone and the laptop and tablet are already solved. For Ghost OS, it currently works with Mac computers and iPhones, the 2 devices can communicate between each other by either being connected via a USB cable (which gives more reliability and also keeps the smartphone charged) or via Wifi using Apple's Multipeer software. For Ghost Viewer, the connection between the phone and the tablet is achieved via Wifi, the only requirement is that both devices need to be connected to the same Wifi Network.
V: Ghost OS – Can you explain what's it based on? 
J: Ghost OS is built on iOS and therefore uses ARKit to track the user's head movements
V: What's it made of?
J: The Headset will be mainly plastic based, with the exception of the strap and the foam pad.
V: Now the Ghost AR headset support Pixel 2, Pixel 2 XL, iPhone X and a few iPhones. Would you be able to increase the compatibility list in the future?
J: Yes, we are going to be adding support for Galaxy S9 and S9+, OnePlus 5 and Huawei P20.
J: There has been some confusion on the press regarding the Leapmotion AR Headset. The headset they are showing is only an open source reference design made hoping that a hardware company will make a device from it but Leapmotion will most likely not release a headset of their own. Also, the price of $100 is the price it will cost to manufacture the headset at scale, so if a company does go to market with this design, to be profitable they would have to sell it for around $300, which is already 3 times more expensive than Ghost. Also, the headset from Leapmotion works only when plugged into a powerful computer as opposed to Ghost that is tether free. And lastly the leapmotion headset provide amazing hand tracking but there is no information about positional tracking support. At the price point of Ghost, there is nothing currently available or announced that provide the quality, features and use cases that Ghost will provide when it ships.
---
These answers cleared a lot of my doubts, and I'm hoping yours' too. So, let's come to the main part. What's the cost of this AR headset and how can you get one?
Ghost AR Headset – Pricing & Where to Buy?
It comes in 2 colors – Ghost white, and Onyx black and the campaign is already live on IndieGoGo. The price of Ghost AR headset starts at $99, but as it's launched as a crowdfunding project, it is being offered at just $79. Every Ghost package contains both AR & VR visors and they are shipping it worldwide. So, what are you waiting for? Go ahead and fund the campaign now!