As per IDC (International Data Corporation) India has been one of the fastest growing markets in terms of Smartphone's and Feature phones segments in Asia/pacific region. As the population of India is increasing gradually (well, India is the second most populous country in the world next to china) the no. of mobile phone users are also increasing. Based on a report  the total population of India is around 1.2 billion in which 0.92 billion people have mobile phones i.e., out of every 100 citizens, 74 of them have mobile phones. This figure represents the impact of mobiles over the people of India. The main reason that made the India to reach the second position is by the allowance of foreign companies into the Indian mobile market. These companies (Nokia, Samsung, and Sony) have been dominating the India mobile market and made the country to be with the most people using mobile phones next to China.
Coming to the Q3 2014, Indian mobile market experienced a 27% quarter-on-quarter growth i.e., from Q3 2013-2014. Over all these quarters the Feature phones growth is reducing gradually as users showing interest over Smartphone. The below bar graph represents the Quarter growth of Smartphone and Feature phones market share in India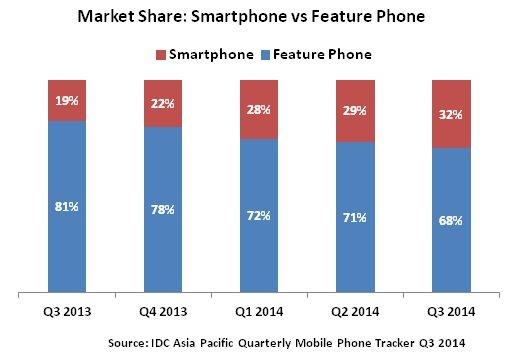 Reason for users shifting to Smartphones over Feature phones:
Comparing to Q2 2014, there's a 3% increase in the Smartphone users which made 2% reduction in the Feature phone users. In Sept 2014, IFA expo held at Berlin which showcased many Smartphones with high-end specs and as for in India, the 3rd quarter of 2014 is full of festivals and there are many offers to buy a Smartphone over a basic phone, these things made Indian users to shift to Smartphones over feature phones. Other reasons include reduction in the prices and the local mobile phone makers launched the mobiles with attractive specs in low-end prices.
As in India, the companies manufacturers phones based on 3 categories.- normal, Teen and Business /official people. The more impact on the mobile market is from the Teen and normal people than the business/official people. Based on this, mobile manufactures' in India launched their phones with attractive advertisements. Even for just Rs. 2,000/- user can buy an android Smartphone and for the same price a feature phone is also available. Obviously the user chooses a Smartphone and as like this, the total Indian market will be dominated by Smartphone users than the Feature phone users.
Kiran Kumar, Research Manager, Client Devices IDC India said, "With 6% of the overall Smartphone market, Phablets (which IDC defines as Smartphones with a screen size of 5.5 inches – 6.99 inches) are observed to be hitting a plateau. Smartphones with screen sizes between 4.5 inches and 5.5 inches are seen as the sweet spot for consumer preference. However, consumers need larger screen sizes to enjoy media content and with the 4G rollout expected in CY2015, we expect the Phablets segment to pick up again," As we can see the development of 4G making the users in shifting to Smartphone as to access the content easily. Now-a-days people often uses mobile phones to access the content, surf the internet. In future the Phablets come into action and the market share will be in between Smartphones and phablets than Smartphones vs Feature phones.
Total Market share in India Q3 2014:
India's Overall market share in Q3 2014 is around 72.5 million where 23.3 Million unit shipments belong to Smartphone (in Q3 2014 it was around 12.8 Million units) category and 49.2 million units belong to feature phones. The below table depicts the exact figures and represents the overall growth year wise and quarter wise:
| | | | |
| --- | --- | --- | --- |
|   | Units shipment (Q3 2014) | QoQ Growth | YoY Growth |
| Smartphone | 23.3 Million | 27% | 82% |
| Feature Phone | 49.2 Million | 10% | -9% |
| Total Market | 72.5 Million | 15% | 9% |
Smartphone Vs Feature Phone: which company has greater share in Q3 2014?
The above 2 pie diagrams represent the companies which have high market share in both Smartphone and Feature phone segment. Out of all the companies, Korean mobile phone manufacturer, Samsung has been dominating from past few years. In Q3 2014, Samsung dominated both Smartphone and basic mobile phone segment, next to it the Indian mobile phone manufacturers like Micromax, Lava and karbonn are in the list. The Oldest mobile phone manufacturer in this list is Nokia which still have a considerable market share in feature phone segment.
Samsung: In Q3 2014 Samsung came up with good no. of Smartphones, we have seen Galaxy Note 4,  Galaxy Note Edge, Galaxy Alpha and many more, All of these Smartphones are launched in September. In addition to these Galaxy s5, Galaxy Grand, Galaxy S Duos, Galaxy Prime etc are already available in the market, Galaxy S'X' miniseries have a considerable sales than the original versions. Mostly Phablets are released by Samsung in Q3 2014. Out of all these Smartphones Galaxy S Duos is the best-selling Smartphone for a price segment of 10K.. This led the users (Teen) to experience a Galaxy Range UI with a considerable price tag.
In feature phone segment, the already available mobile phones like Samsung Metro, Samsung Guru music edition etc were on the rise as they have basic specs which attracted the normal people.
Micromax: Micromax even hired Hugh Jackman for their Smartphones promotion, but it doesn't showed a positive rise in the sales, mostly it's canvas Smartphones are huge hit as they were released targeting the students, these Smartphones are offered with many gifts on the festive season, this made users to buy Micromax over Samsung, One best thing we can see in Micromax is it's an Indian based brand which sells the Smartphones for a low-end price tag comparing to other Smartphone companies. As in Q3 2014 mostly canvas series Smartphones dominated and the launch of Android One Smartphone from Micromax improved their sales.
In feature phone segment, the already available Micromax basic phones have their effect in the market share.
Lava: Lava is famous for its Xolo and its own brand, in Q3 2014, this company experienced a major increase in Smartphone shipments, as the sales of Lava iris and Xolo "Q" series have got overwhelming response from the end-users side. They also launched the Smartphones targeting the students (Teen), now Lava is in 3rd position in the Smartphone segment and 4th position in the Feature phone segment
Karbonn: Karbonn is always in the competition since the starting of this year, it came up with its Titanium series Smartphones and the launch of Android One Smartphone hyped the company sales. Likewise the other Indian manufacturers Karbonn also released their Smartphones targeting the Teens. The already available basic mobile phones are equipped with basic specs like Radio; messaging, calling features which are enough for the normal people and the price segment for these basic mobiles are relatively low comparing with others in this list.
Motorola: In Q3 2014, Motorola came up with its 2nd Gen lineup Smartphones, in Q2 2014, Motorola came into existence with its 3 Smartphones- Moto E, Moto G and Moto X, out of these Smartphones Moto E is the most selling Smartphone from Motorola. In Q3 2014, successors of 1st Gen i.e., Moto G 2nd Gen and Moto X 2nd Gen. out of these two, Moto X 2nd Gen is proven to be the best Smartphone comparing with OnePlus One, Apple iPhone 6 Plus etc . This made the users to go with Motorola 2nd Gen lineups and made Motorola to be in the Top 5 list of Smartphone vendors in India Q3 2014. We didn't saw any feature phone releasing from Motorola, their complete concentration was on the Smartphone segment (Teen and business/official people)
Nokia: Nokia has been in Indian mobile market since people started using mobile phones. The most selling basic mobile Nokia 1100 classic is still the best one from Nokia, In Q3 2014, we have seen Smartphones like Lumia 830, Lumia 730 etc but these Smartphones aren't upto the mark and the launch of Nokia X series in Q2 2014 had a great impact in its sale on Q3 2014. This made Nokia to be out of the list in Smartphone segment, but as this company is best in basic mobile phone manufacturing, we can still see it to be in 3rd position (feature phone segment)
Others: More than 30% market share is in the hands of other small mobile manufacturers, out of these some are newly entered into the Indian mobile market; some of them are Asus, Xiaomi etc. Asus came up with 3 Smartphones and gave a good competition to the Micromax canvas series (direct competition to the Micromax Nitro) and Motorola series. Xiaomi has been a hit in the Indian mobile market with its Mi3 smartphone which was launched in August 2014. This Smartphone has all the high-end specs we can see in the list provided here and has a considerable low price which made it to occupy a good share. In feature phone segment –Spice, Cellkon etc came up with their budget friendly mobiles.
Karan Thakkar (Senior Market Analyst at IDC India) said, "With positive consumer sentiments and low levels of inflation, consumers will have more money to spend. The majority of the Smartphone users change their phones within 12 to 24 months. With 44 million units shipped in CY2013 and the current market scenario hinting at 80 million plus shipments in CY2014, we have a big chunk of end-user market which is awaiting refresh. To add to this, new initiatives on the 4G front are expected to be rolled out by the vendors, which should spark up demand in the Smartphone market in CY2015".
Out of all these Smartphones listed, the Micromax, Lava, Karbonn are dominating, Well, it's because of only one reason, they are manufactured in India ,keeping in mind in targeting one class of people ( as per article it's Teens). The price segment is very low comparing with Motorola and Samsung. This made these Indian mobile manufacturers to be in the Top 5 list.
In future we can see an overall market share to be dominated by Smartphone segment than the Feature phone, as users are already tending towards attaining the growing technology than to stick with the old technology.