It's been so many months since Nokia is integrated into Microsoft and before the integration many Lumia smartphones are released into the market with same style (as the Nokia did), but after integration with Microsoft, new Lumia smartphones are not yet out, so everything needs to changed in Nokia design as per Microsoft, so everyone recognizes Nokia smartphones as Microsoft mobiles.
Karl Jayson Panase rendered a concept in Nokia's design for the Microsoft-Nokia integration,  and you can see the new look of Lumia (Microsoft mobile) new look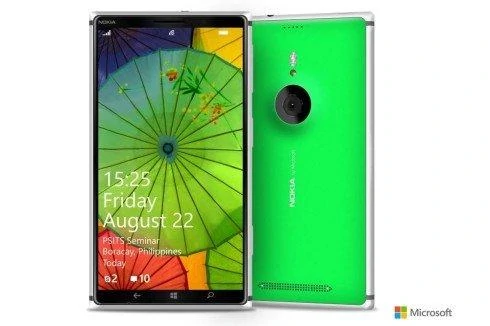 In order to make a brand for Microsoft mobiles, Microsoft need to change the present look of Nokia Lumia smartphones, and we know that IFA expo event is on it's way in the coming September month, and most probably all the king smartphone makers are coming up with new smartphones with new looks, design and specifications for the IFA press event 2014 at Berlin, Sony is gearing up for the launch of Xperia Z3 , Samsung with Galaxy Note 4, Apple with iPhone 6, and  in early years, Nokia was the big guy with new smartphones in IFA expo, so we are thinking, Microsoft might surprise us, with a new Lumia smartphone with stunning looks and features.
Now, let's talk about this design made by Karl Jayson Panase for Microsoft's new looks on Nokia's smartphone, it seems to be a bright green mobile with metallic edges rounded at corners, and the rear side is made with poly carbonate, and you can see the brand name at the rear side (written in white color), as like every other lumia windows phone, here are the front side, there are 3 capacitive buttons (at the middle home button with Microsoft logo, back button and a search button on either side of the Home button)
The touch screen seems to be capacitive filled with true colors, so most probably 16M colors, and it will run on Wp8.1 as the update is OTA already! and the best part in this concept we need to talk about is regarding Camera, the camera lens is large like we see in Nokia Lumia 1520, and dual LED flash, and this concept seems to be very thin may be 7mm thickness, so we can say that Nokia might bring compact size smartphones to the market soon!
image credits: Designer Karl Jayson Panase