Moto E price was slashed yesterday in India, and now Moto E 2nd Gen 4G has been spotted online.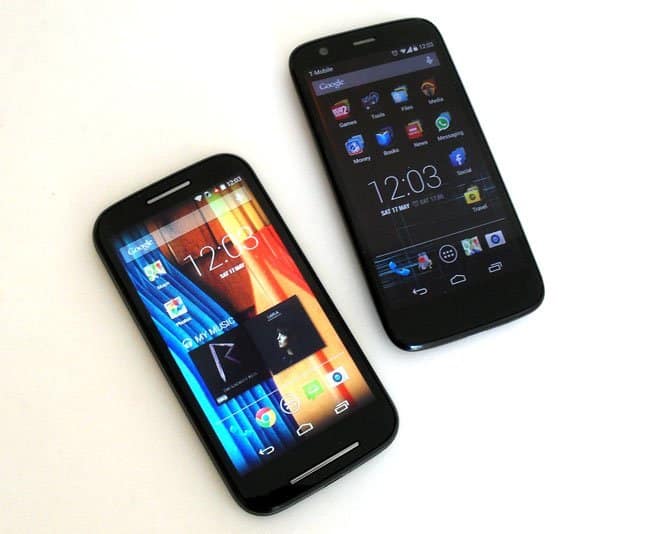 Last night we got the news that Moto E price has been slashed by Rs. 1000 in India and now it costs Rs. 5,999 only. There itself, we smelled something fishy as Motorola always slashes the prices before launching the next variant of a phone like they did for Moto G and Moto X. Now, Moto E 2nd Gen 4G is almost official, as it has been spotted online on the e-commerce site BestBuy. It was expected that Motorola will launch the Moto E 2nd Gen 4G in MWC, next month. But, e-commerce site Bestbuy has listed the Motorola's Moto E 2nd Gen 4G Sprint variant with a 'coming soon' tag, but they have also added the specifications of the phone. BestBuy is offering the phone for $99.99 which is almost equal to Rs. 6,200 in India.
Moto E 2nd Gen with 4G will have a 4.5-inch qHD display with a resolution of 540 x 960 pixels. It will be powered by a 1.2 GHz Qualcomm processor coupled with 1GB of RAM. In case of storage, it will have 8GB inbuilt storage which can be further expanded upto 32GB using microSD. There is no mention of a front camera, but they mentioned a 5MP rear camera in their specs sheet. The phone will have both 3G and 4G support. Moto E 4G will run on Android 5.0 Lollipop out of the box, which is normal as it is supposed to do so.
But, as it is a thing spotted on a third party website, it is not pretty sure whether it is the official launch price and specifications of Moto E 2nd Gen 4G or not. However, Motorola has secured a strong market in India, and on its 1st anniversary in India, it will providing some good offers with its partner Flipkart, which is the official seller for Motorola devices in India.,