First of all, I'm quite late for Moto G 3rd Gen Review. In fact, never bothered to speak and compare any phone with others without really taking a deep look, so as usual a late Moto G 3rd Gen review, but yes if you are not that much concerned about looking into it in depth, probably you're at the wrong place. I ordered the 2GB RAM/16GB ROM Moto G 3rd Gen variant from Flipkart, which costed Rs. 12,999 only and yes, I will just speak about this particular variant only as I think that the lower variant isn't just suitable for the price point if I compare it with other phones like Galaxy J5.
At first, I was glad to see a really well built phone which doesn't feel cheap at all with a premium finish and Motorola did a pretty good job in terms of both build quality and design, along with that they have put everything that a budget smartphone must have and the specs are pretty high. Not just that, the IPX7 certification is like some extra toppings on a pizza, and should be an enjoyable feature.but hey, wait!!
Why am I so late to just write the Moto G 3rd Gen review, which is a budget handset?
Probably, most of you're thinking that. And yes, it's obvious, but you know 'Shit happens', while it was launched on Flipkart I was kinda reluctant as I had terrible heating issues with the Moto G 2nd Gen, though hadn't used it much (actually that phone got stolen, so didn't review at that time). But, after a week, I was listening to many people who had ordered the phone and were happy at its performance.
When I tried it for the first time, I loved everything so obviously I got late and it went out of stock, then ordered this one to just do the review, and I spent a lot of time using this phone so that I don't miss anything. So, clear answer to your question and okay now let's move onto the Moto G 3rd gen review and of course it is detailed and I have tried to compile everything into it, though I will be adding a few stuff here and there in this Moto G 3rd gen review.
Design & Build Quality
Design should be the first point for any smartphone review, and Moto G3rd Gen is not an exception at all, and it gets ahead with very good design and build quality. Motorola has added the design philosophy from their Moto X series, with curved metal effect flames around the main body. The curved design and the textured back adds comfort while you're using the phone.
The phone has the thickness of 6.1 at max, but the edges are smooth and weighting at 155gms, it doesn't feel like a piece of plastic, I think Samsung haters will get my point. Even the power button has very minute level of texture which you will barely find on any other budget smartphone, which makes it easier to know that you're pressing the power button without even looking at it. The back cover is removable, but not the battery as it is sealed inside. However, upon removing the back cover you find two SIM card slots on both sides and there is also a microSD slot. Beneath the back cover, there are rubber flaps, which will protect the SIM cards and microSD card from exposure to water. The metallic finish on camera set up portion looks great and premium. The left is completely clean and on the right there are power button and volume rocker, on the top there is the 3.5mm headphone jack and at the bottom, there is the microUSB port.
Overall, it is a solid built phone. That's not all, you can add a lot of back covers and change the color scheme of the entire device very easily using Moto Maker.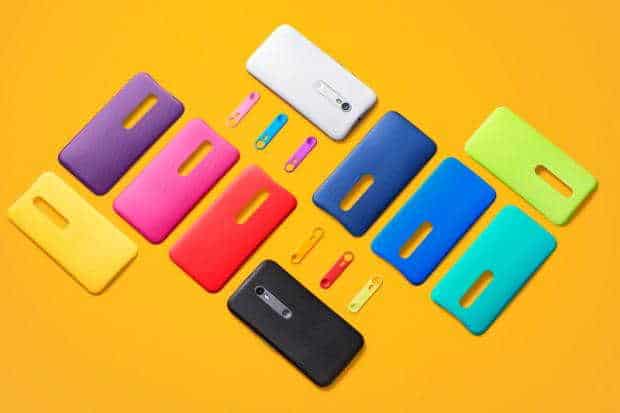 Display
The Moto G 3rd Gen comes with a display almost similar to its ancestor, the Moto G 2nd Gen having a resolution of 1289×720 and it is measured at 5 inches with Corning Gorilla Glass 3, which is another great thing I should have mentioned in design and built quality. The display is scratch resistant so, just don't need bother about adding a screen protector or tampered glass over it. However, it is not the best in its class. If you compare it with Galaxy J5 or J7, you can see a clear difference as both the Galaxy J5 and J7 have Super AMOLED display which is more vibrant with livelier colors. Yet, it is way better than its rivals like HTC Desire 626. However, you can easily spot the difference in the color scheme if you put the Moto G 3rd Gen and 2nd Gen together.
Camera
You pay for a budget friendly phone with good specs on the sheet and you get disappointed when you take some shots using your new phone, this keeps happening to a lot of people. So, let me get straight on to it. And actually, I digged up a bit to find out and tell you exactly how the camera works on the phone in Moto G 3rd review. Despite the fact that on the specs sheet, Motorola has mentioned that the Moto G 3rd Gen has got a 13MP shooter, but actually there's a small catch. However, that wouldn't bother you.
If you take 16:9 wide photos then you will be taking them just like a 10.7MP camera, and if 4:3 then you get the complete and full experience of a 13Mp shooter. However, that doesn't feel to be a problem. The 13MP sensor with f/2.0 takes quite good pictures in good lighting conditions and even in dark, it performs well with the power of its dual LED flash, thanks to Motorola for adding this up for natural tones. The front 5MP shooter is decent and takes good selfies In fact, I took some selfies at first in could outdoor condition but they were good.
The phone runs on stock Android, but the camera app is pretty neat and clean, you can swipe right to toggle different settings like HDR, burst mode, manual focus, and exposure etc. The shutter is fast and responsive, and another thing adds a little delight while you need to capture something really quick, the Moto Actions. Just twist your wrist and even when the phone is locked it will immediately open the camera, same is applied for selfies when you twist it again it switches to the front camera. The color reproduction is good, there is a minimum amount of noise. Overall, it is a very decent camera which you can get under this budget. You can check the camera samples below, have also added descriptions so that you can see and match. Sorry, I look terrible there in the selfies, noob photographer of course., but had to capture these few shots right after I unboxed it, for the Moto G 3rd Gen review.
Performance
If you're buying a phone under Rs. 15,000 don't question too much about the performance. Many people even ask whether they should pay a higher price to grab Moto G 3rd Gen or they should go for Lenovo K3 Note. Well, both the devices have completely different hardware builds, so I think that's not a very good comparison. And if you compare Moto G 3rd Gen with any other phones with 2GB of RAM and probably a MediaTek chipset, for instance just take the Lenovo K3 Note, there is a huge margin between the performance of both the devices.
The Moto G 3rd Gen works smoothly and handles multitasking very well with 2GB of RAM. It is powered by a quad-core Qualcomm Snapdragon 410 processor coupled with Adreno 306GPU, which is an entry level in terms of gaming, but yes the phone handles high-end gaming well. As far as I have experienced, the Adreno 306 GPU handles games very well, though I could spot some minor lags here and there, especially while drifting a lot in Asphalt 8. But, again the overall performance was very good actually, as I use a lot of apps though out the usage I could get a clear idea about the multitasking. and performance.
I was using social media management apps, Hangouts, WhatsApp, Messenger, Twitter and Facebook constantly along wth some games like Clash of Clans which I keep checking in between, but the phone handled everything pretty well. However, if you're a fan of very high-end gaming, I think you may need to think a bit about the display as it has a 720p display, no fullHD. Otherwise, you can surely go for it. The Moto Display works flawlessly, when I take the phone out of pocket and swipe to switch to any app, may it be Google+ or WhatsApp or Facebook or Instagram, it handles te notifications very well, and opens the apps quite fast. In case of benchmarking tests as well, the phone scored pretty well and its performance has improved a lot if we compare with the older generation.
Another thing which I actually liked is the availability of sensors that we have on Moto G 3rd Gen, the phone has got all useful sensors which you will not find in phones from Samsung under this price segment.  So, overall it is very good in terms of performance if you're planning to get a phone under Rs. 15,000.
Software
Just like every other Motorola device, it comes with almost pure stock Android experience. Motorola has just added a different camera app, and a few apps to help you like Moto Assist, Moto Migrate etc.  The stock dialer and app drawer, familiar notification and quick settings shade, and system settings are in the right place, so if you're a pure Android user you shouldn't be getting into trouble to find out how to use it. The pure Android also makes the device responsive and fast. Moto Actions and Notifications are the two bet things you shouldn't miss. The Moto Actions lets you do some simple tings like twisting wrist to open camera or just shaking the phone to turn on the flashlight. Moto Notification is a great idea, which omits the usage of an LED to show notifications on the display right when you take the phone in your hand. You can also get a brief idea about what the notification is about or just swipe to directly head over to the notification.
Overall, you get a very near to stock Android experience and this is something I wanted to see, as I'm pretty tired of a lot of buggy UI like ZenUI, ViveUI which lags very often, in fact with ZenUI I got pissed off as I saw a lot of bloatware installed on the device and lags…and lags…and force close.
Battery
There is a 2470mAh battery sealed inside the phone, but don't get disappointed. The battery backup is great on the Moto G 3rd Gen. Mostly I kept it connected to Wi-Fi when I'm in home as there is a lot of BTS handover issues in the area, and used mobile data only when I'm just hanging out. Yet, the phone lasted easily after a full day, from 8 AM to around 11 PM, the battery drainage was about 80-85%. If you don't play games expect it to last for two days or maybe you will need to pull out your charge on the second day.
Something bad about the phone?
Every phone has its own demerits. And Moto G 3rd Gen seem to lack a better display that could have been implemented. When you compare the display with the Galaxy J5 or J7, you can clearly see the difference. The 720p display isn't just enough, I think for a phone worth $200. Nowadays, especially new manufacturers are concentrating a lot on display. But yes, even at 720p, the Moto G 3rd Gen isn't a bad choice of course. Another thing, that could make it a much better phone could be the fast charging tech. I'm totally satisfied with the battery backup of the phone, but well when you suddenly run out of charge and need to charge really quick fast charging helps a lot, I think Motorola could even hike the price a bit and add this awesome feature to Moto G 3rd Gen.
Final Verdict
If you want to enjoy pure Android experience without bloatware, laggy UI with the power of a moderate processor coupled with ample amount of RAM for multitasking, you can easily go for the Moto G 3rd Gen without any second thought, along with that you're most likely to get the Android Marshmallow update pretty sooner than other devices. Yes, the phone has a weak point- the display, but if you want to get the best performance under Rs. 15,000, Moto G 3rd Gen is probably the best choice, otherwise you can surely go for the Galaxy J5 or J7, depending upon your needs of a vivid display. But yes, Galaxy J7 would cost Rs. 2,000 more for sure. And remember, the waterproof feature of the Moto G which you wouldn't find on the Galaxy J5 or J7, neither you'll get that premium feel when you hold the phone. So, if you're buying the Moto G 3rd Gen, please use the links below as it helps me a lot bringing gadget reviews to you.