Motorola Nexus 6 is already in the market now and the relationship of Motorola with Google still continues even if the Motorola has divorced the Google now. Motorola Nexus 6 is the first Phablet, among its Siblings and the features Motorola has designed in Nexus 6 closely follows the Moto X (2014). The First Nexus of Motorola brings many best features in its OS, though they are native part of the OS.
The Nexus line of devices is meant to lead the way to better smartphone design, but in this generation Motorola Nexus 6 plays a bit of a follower by jumping on the already speeding phablet race. Even so it's the introduction of Android 5.0 Lollipop and for the first time the vanilla OS has a few extra features against its skinned contemporaries. Nexus always been the benchmark for all android devices and Nexus gets the actual native feel of complete android experience.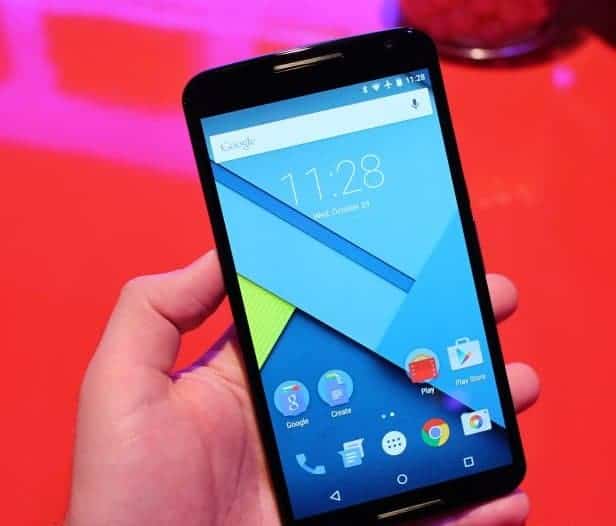 Key Features of Motorola Nexus 6:
Dimensions: 159.3 x 83 x 10.1mm, 184g
Display: 5.96″ AMOLED touchscreen, 1,440 x 2,560 resolution (493ppi); Gorilla Glass 3
Chipset: Snapdragon 805 chipset: quad-core Krait 450 @ 2.7GHz; Adreno 420 GPU; 3GB RAM
OS: Android 5.0 Lollipop
Camera: 13MP main camera with ring dual-LED flash; Optical Image stabilization
Video camera: 2160p@30fps video
Front camera: 2MP
Storage: 32GB/64GB built-in
Connectivity: LTE Cat. 6 (300Mbps), Wi-Fi a/b/g/n/ac, Bluetooth 4.1, A-GPS + GLONASS; microUSB 2.0 with SlimPort functionality
Battery: 3,220mAh, Motorola Turbo Charger
Misc: Front-facing stereo speakers, Qi wireless charging
Why to Choose Nexus 6 over other Smart phones: 5 Best reasons to choose Motorola Nexus 6:
1. Design and Display: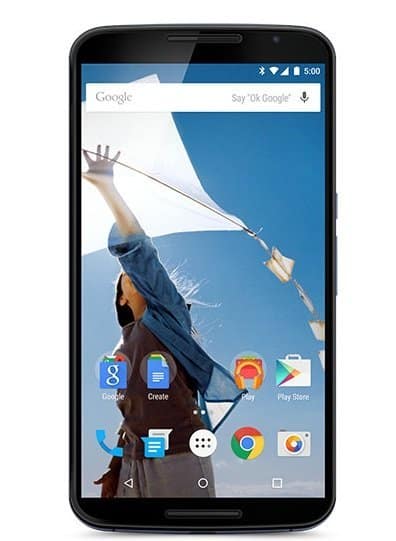 Motorola Nexus 6, first Phablet in the Nexus family comes with a 5.96 inch AMOLED touchscreen,that's pocketable but best used with two hands. It is 159.3mm tall and 83mm wide phablet with minimized bezel and comes with AMOLED touchscreen, having 1,440 x 2,560 resolution (493ppi). Motorola Nexus 6 has Gorilla glass 3 screen that protects the smartphone from any accidental damages. The material that is used to design Nexus 6 is nice and grippy. The curved back improves handling even further, the weight of 184g feels normal for this size. Even if you've used a phablet before the Nexus 6 still takes getting used to.
The new Material design UX in Lollipop features bright colors everywhere, unlike Holo, which typically used black backgrounds. We're only raising this up because Google has not included an AMOLED-friendly dark color scheme. Anyway, the screen has QHD resolution, that's four times 720p or 2,560 x 1,440 pixels. Despite its size, the resolution keeps pixel density above a 5″ 1080p screen that was the standard for flagships last year.
2. Camera: 
The Motorola Nexus 6 comes with 13MP/2160p camera with ring flash but with added OIS to the envy of the Moto X (2014), which was the basis of the phablet's design.The camera of Motorola Nexus 6 is surrounded by a ring with an LED on each side for a ring-type flash, similar to the Moto X. The new version of Android brings native RAW support, which will allow third-party apps to do their own image processing and experienced photographers a chance to take out the most of the sensor. The default Google camera app on the Nexus 6 features HDR+, for example, which Google claims is better than what we've seen so far. This camera marks two firsts for the Nexus line – first dual-LED and first 2160p video, that supports 4k recording at 30fps.
3. Performance:
Motorola Nexus 6 comes with the kingship processor, that supports the needs of all capabilities to drive the best performance to the user. It holds Snapdragon 805 chipset: quad-core Krait 450 @ 2.7GHz performance speed. It is equipped with Adreno 420 GPU and 3GB RAM. A Snapdragon 805 chipset is the best showground for Android 5.0 Lollipop and for future versions to come. After all, part of the Nexus charm is that you stay up to date with Android's latest design and features. And there are plenty of features to be had, borrowed from Motorola's own-branded family. The always-on voice commands, the Ambient display and Turbo Charging.
4. Battery:
The best feature that Motorola has adapted with respect to specifications is its battery. Nexus 6 comes with 3,220mAh battery, that supports all the needs to drive the smartphone.
Project Volta (part of Android 5.0) is supposed to cut down power usage, but we (and our tests) will see about that. Motorola has enabled Turbo Charge (essentially Qualcomm's Quick Charge) so a brief 15 minutes with a cable will net you about 6 hours of battery life.
The Nexus 6 also supports wireless charging for easier top ups (using the traditional Qi standard), while the microUSB 2.0 port also offers SlimPort and USB On-The-Go functionality for TV Out and USB accessories.
5. Motorola Nexus 6: Android 5.0 Lollipop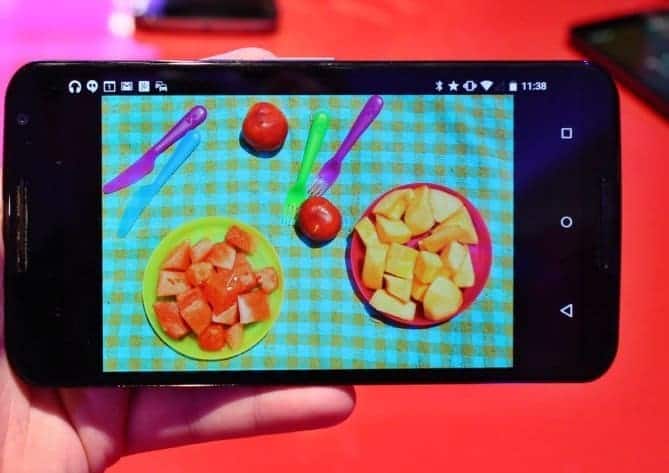 Motorola's contribution to the Nexus – and to Android 5.0 Lollipop in general – also includes Ambient notification mode. When a new notification arrives, the lockscreen will light up in a power-efficient (on AMOLED) black and white mode. Notifications in the new version of Android are visible on the lockscreen. You can hide notifications from certain apps for privacy reasons (or just to mute an annoying app). You can mark other apps as "priority" and then use the built-in filter to hide unimportant events from the lockscreen. The wave-to-wake gesture from the Moto X (2014) is missing though.
Lollipop also supports always-on voice commands, implemented either with dedicated hardware or with the chipsets' own utilities. Qualcomm added such functionality as far back as Snapdragon 800. It's not an 800 though, the Nexus 6 is powered by Qualcomm's latest Snapdragon 805 chipset, which brings the latest CPU and GPU design. We'll have to wait and see how it compares to the Tegra K1 in the Nexus 9 and the Apple A8 in the iPhone 6 Plus. It's important to note that Qualcomm still doesn't have a high-end 64-bit chipset on the market and full 64-bit support is one of the biggest changes in Android 5.0.