Most people are crazy about Redmi 1s and many purchased it, faced some issues. Now Xiaomi has come up with a new update to fix your problems.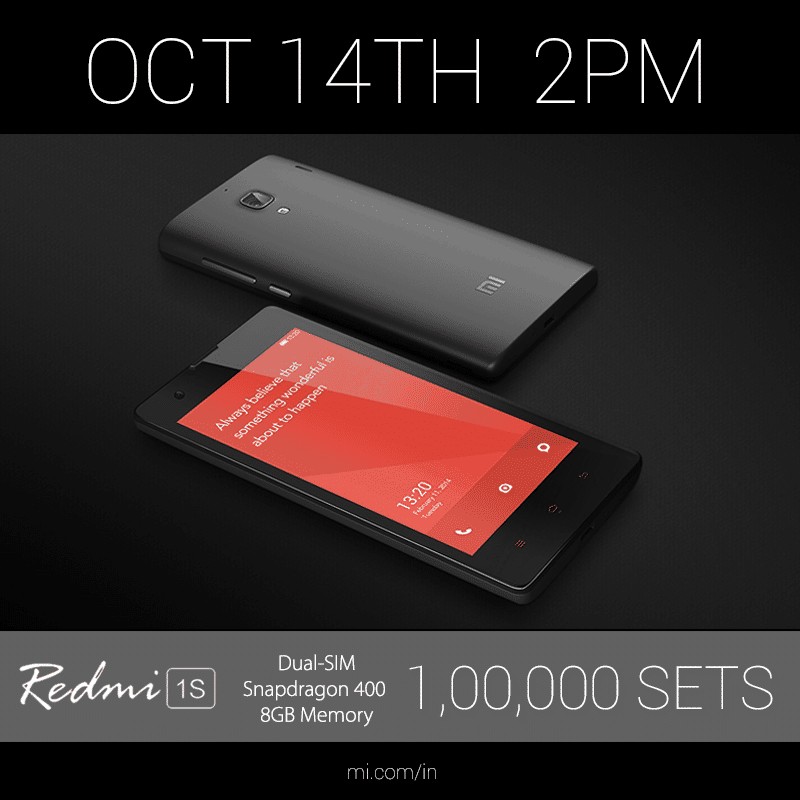 Redmi 1s sold in India like hot cakes and people were too eager to grab on of them, but after many people bought Redmi 1s, they faced some issues with this smartphone. The smartphone is great with Snapdragon 800, 1GB RAM and yes, perfect for Indians as it has got dual SIM. If you tried and failed in your past couple of attempts you can give a try on 14th October as 100K Redmi 1s handsets will be up for sale on Flipkart from 2pm. Now, today Xiaomi released an OTA (Over The Air) system update for Redmi 1s users in India. Xiaomi CEO Hugo Barra stated on Facebook that it was the result of feedbacks that they received and also some addressed issues. Now before you buy, read the issues that were reported and now, fixed after this update.
1. Heating and battery life
Many users in India, especially from hot parts of the country reported that Redmi 1s is very hot and under constant usage sometimes, the temperature is reaching above 45′. Xiaomi fixed with by making changes in their thermal control algorithm and this helped in keep the device temperature lower and not exceeding 38′. According to Xiaomi, this makes a huge difference in improving battery life and the battery life improved significantly.
2. RAM
Some users from  India had a great trouble managing games and other apps, they reported that some background processes are getting killed, especially when they are playing some kind of 3D games and listening to music in background, the music player is getting getting killed. Xiaomi made some changes in the RAM management system in MIUI and this will bring drastic changes in multitasking.
3. UI lags
No UI is good if it lags pretty often, though Redmi 1s didn't face many cases, a few users reported that after intense gaming they are experiencing frame rate drops and lags. For that, Xiaomi made the above changes which will also fix this lag in the MIUI. It actually resulted in CPU throttling which resulted over heating also. Xiaomi also promised that they will keep monitoring the feedbacks especially in this area.
Hugo Barra also stated some complaints from people and answered them. Many people said that the device specs were not correct on Flipkart. Here's the issue.
a) Processor
The Redmi 1S comes with a 1.6 GHz Qualcomm Snapdragon 400 MSM8228 as correctly noted on Mi.com and Flipkart but some 3rd party apps report a MSM8226. Typically, these apps get their information from the build.prop file inherited from the chipset driver, which represents itself as MSM8226 in both processors (MSM8228 is based on the original hardware and driver of the MSM8226). This is the reason why it is seen MSM8226 in apps such as CPU-Z even though the actual processor is indeed a MSM8228. This situation is also seen in other devices with the same chipset, such as the Xolo Q1100.
b) Battery
The Redmi 1S has a Lithium-ion Polymer (sometimes shortened to lithium polymer or li-poly) battery. While the spec on the battery label is correct, the product page on Mi.com incorrectly listed "Li-ion." Xiaomi has updated the website to reflect the correct battery specifications. Additionally, some 3rd party apps incorrectly reported a "Li-ion" battery, which was the result of a similar issue to the processor mismatch described above. In this case, Xiaomi found a fix and will be rolling that out in the next OTA.
So, here are the full details about the first OTA for Xiaom i Redmi 1s in India. Tomorrow, at 2 pm 1 lac Xiaomi Redmi 1s will go online for sale, grab yours now, read the full details about tomorrow's sale.