Last month the Xiaomi Mi4c was leaked, sporting a Qualcomm Snapdragon 808 processor. On the official Mi Forum, Xiaomi has teased the Mi4c which will be unveiled on 22nd of September, around one week from now. In the forum, most of the members voted in the favour of launching the handset in other parts of the world as well. Along with that Xiaomi also revealed that the Mi4i will be launched internationally in Singapore, Malaysia, Indonesia and the Philippines.
As I mentioned, the previous leak suggested the specs of Mi4c which included a Snapdragon 808 SoC coupled with 2GB of RAM, USB Type-C, which is a new move for Xiaomi and a 5-inch fullHD 1080p display on the Mi4c. We can expect to see some killer specs on the Mi4c, but until; we wait for the Mi4c to get unveiled on September 22nd take a look at the teaser of this new flagship from Xiaomi.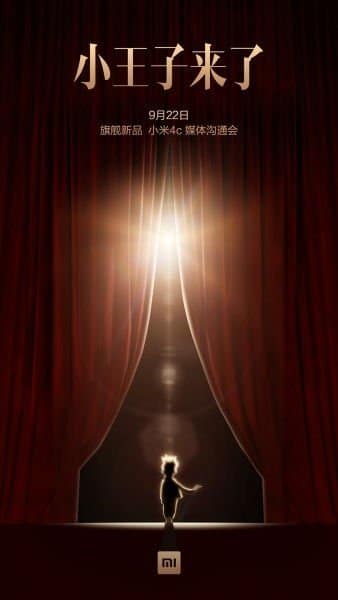 Another piece of information we got just now, Xiaomi Mi4c may come in two variants- and yes, they differ in terms of RAM and internal storage.It is being expected right now that Xiaomi may release two versions, one with 2GB of RAM and 16GB of storage and another higher variant with 3GB of RAM and 32GB memory on board.
Sun Peng, an MIUI Senior Engineer mentioned that we may see a 64GB variant of the Xiaomi Mi4c in the coming weeks. This may be a good thing, for those who want more storage as Mi4c won't have a microSD card slot. So, 64GB of storage at a little extra cost won't be a bad idea of course. We have also heard that the 32GB variant of the Mi4C could be priced around 1499 Yuan. So, we can expect the 64GB variant to be around 100-150 yuan higher. So, the retail price may be around $250, which is not a bad deal.
The Mi4c will be surely running Android 5.1.1 with the latest MIUI 7 on top, right out of the box. We expect that there will be a 13MP camera and a 5MP snapper at the front, and a powerful 3000mAh or may be higher battery under the hood on the Mi4c.
Let us wait for the September 22nd to see the magic from Xiaomi :)