Nokia Lumia 1080 Concept Phone by Adrian Jankowiak who seems to be brilliant and outstanding in designing the Nokia lumia 1080 windows 8 smartphone.Adrian Jankowiak designed this nokia lumia 1080 in such a way which is apt for future generations,this is really a best concept in my knowledge,as it uses edge to edge display similar to other nokia lumia concepts.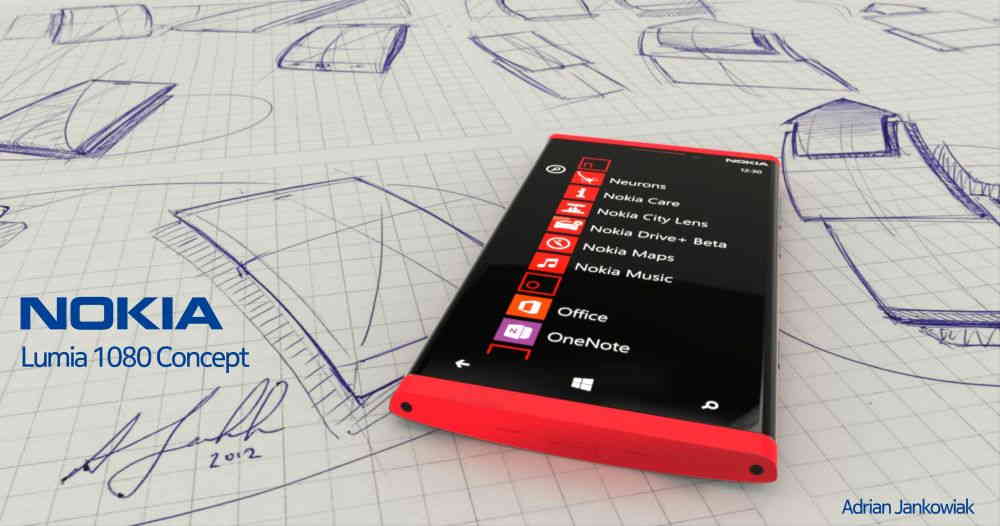 Nokia Lumia 1080 Concept Phone full specifications:
Runs on Windows 8 OS as similar to other lumia phones

brilliant 4.4′ inches edge to edge display,screen resolution around 1080p with 550 ppi

Diamond Fusion glass display,which is the toughest than gorilla glass display

12MP full HD pureview primary camera

Can take pictures clearly under low light too,isn't that awesome,now you can take pictures inside tunnels,holes,caves and so on.

HD video recording possible as it is a pure view camera,i don't need to explain about it right!

Wireless charging possible as like nokia lumia 920

Available in 3 vibrant colors RED,GREEN and MAGENTA

2GB ram and runs with a quad core chip
Also check
still it's a concept, once we get to know about these smartphones, we will soon review them! also check the video at the top, to see the specs clearly!
Image credits: Designer Adrian Jankowiak