Unlocking content on the web and privacy are one of the most significant issues that most people face, in one way or another. Sometimes, you try to access some file hosting service that is banned in your country, or you might even try to access a porn site. Sometimes ISPs can ban even Telegram or Reddit; one of them is a top-rated messaging app, and the other one is known as 'The Frontpage Of The Web.' The reasons for banning websites are mostly vague. Also, privacy is another big concern.
Some people use proxy to access some blocked websites, but it's neither the best, not the safest solution. A VPN is the most recommended way if you want to access specific blocked sites in your region or hide your identity. When it comes to VPN, I have heard a lot about VPN services like ExpressVPN, PureVPN, NordVPN, etc. NordVPN is something that is often mentioned by many as the best-paid VPN service, but is it that great? Let's find out in our NordVPN review.
NordVPN Review – Is This The Best Paid VPN?
NordVPN has a vast network of servers that make it possible to have superfast connectivity while maintaining privacy. As of now, over 5557 servers are deployed in 59 nations across the world to provide a smooth experience to users. Their app is also quite lightweight and easy to use.
I live in India, where NordVPN already has 18 servers, and expansion is also going on. However, as I connected to Indian servers, I tested out different scenarios in which the download/upload speed and ping are two of the essential parameters. In terms of download/upload speeds, there weren't many changes in values. However, a little spike in ping can be observed.
The ping spike wasn't exponential with NordVPN while gaming. I tried connecting to servers in the middle east and other servers in south-east Asia, I didn't face any glitch or degradation in connectivity. Also, there is a handy option of auto-connecting to the nearest and fastest servers. Users can even manually connect to any server across many locations around the world. On the NordVPN website, you can manually check which server is best suited for you. I usually manually switch to servers in Europe, to play against real players in PUBG, instead of bots!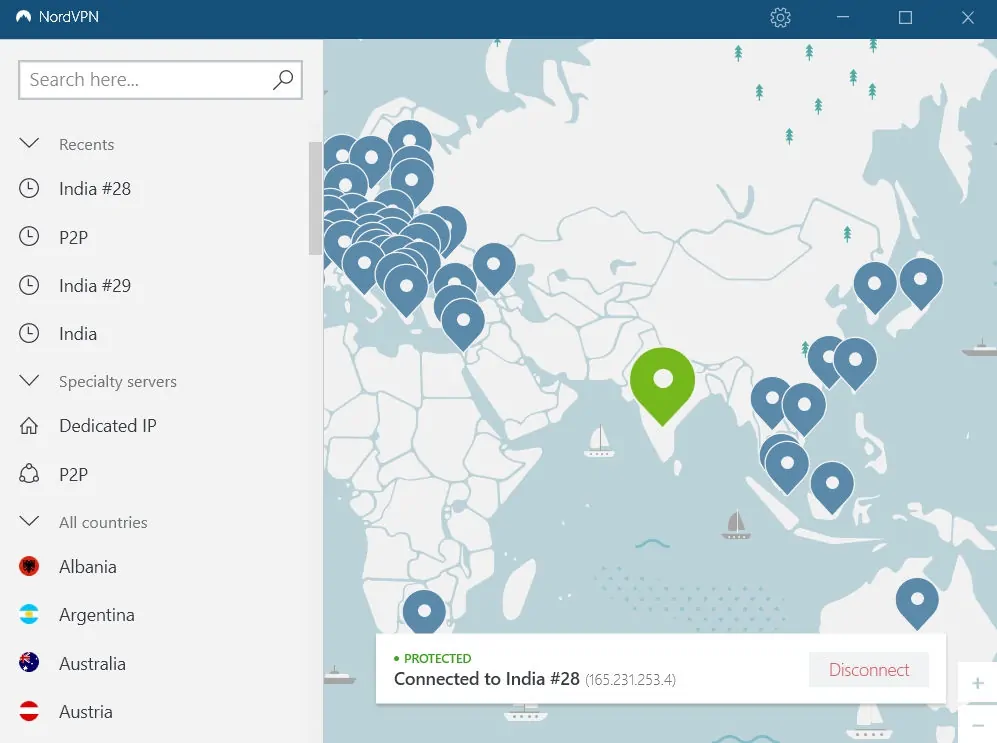 It is something fundamental that many other solutions offer, but NordVPN has some of the unique features that make it stand out in the crowd, and as a paid VPN solution, it's perfect due to the following features.
NordVPN Features – I Liked
No Log Policy

No Log Policy means that NordVPN will never collect data regarding what websites or services you are accessing via it. Sometimes, your data is even sold to advertisers. Still, with NordVPN, you can be 100% sure that they don't give a damn to what you're browsing on the web! just in, it's found that NordVPN was affected by a security breach, but the company claimed no user credentials were compromised. You can read the story here. As of now, NordVPN is one of the most secure services out there, and well, on the internet, only a few free tools and services work better than their counterparts or have strong policies to protect users.
Powerful Encryption
No matter whether you use NordVPN for P2P file-sharing or streaming or unblocking content or for accessing blocked websites in your country, NordVPN always encrypts the data that is transmitted, making your online experience safe, private and untraceable. NordVPN is one of the few paid VPNs that don't share your data with anyone. If you're convinced that free VPNs are doing some charity by letting you use their servers, you might be wrong!
VPN Kill Switch
Whenever you're browsing the web via NordVPN, it automatically monitors the connection. If the connection between your device and the NordVPN server drops, it blocks your device automatically to shield your privacy. Of course, you can reconnect with a single click within seconds.
P2P sharing made easy
P2P file sharing is often discouraged by ISPs, and whenever they detect such traffic, they throttle your bandwidth. Besides that, P2P sharing without protecting your IP can have dangerous consequences. With NordVPN, you get your IP protected while the ISP can no longer detect P2P file sharing, and hence, bandwidth throttling is a thing of the past.
NordVPN also uses the encrypted tunnel for data transmission, so that no one, even those nerdy guys at NordVPN can take a peek into what data is being transmitted via NordVPN.
Paid service, but shareable!
NordVPN isn't free, but you get the benefit of sharing your NordVPN account on up to 6 devices. You can use NordVPN on multiple devices you own, or you can use the same account for your PC or laptop or phone for personal and official use.
SmartPlay, exclusive feature!
It allows users to access more than 800 services regardless of the location or geo-restrictions. Even in countries with heavy internet restrictions, such as China or UAE, you can use NordVPN to access certain content, services, and websites.
CyberSec
It is a security feature that doesn't just protect users from malicious websites but also blocks ads.
Invisibility on a local network

It is something that is a must-have feature for those who often connect to public Wi-Fi for work. There is an option to make your device invisible to other devices connected to the same network, protecting you from attacks, data theft, and ensuring privacy.
Quick Support, at your fingertips!
NordVPN has live chat support, which is very helpful, in my opinion. In the case of users like me, who are always online and like to get things done online only, live chat is way more convenient than a phone call, and it saves a lot of time compared to email. If you are stuck with something or something isn't working as expected, you can always get help from the experts at NordVPN.
Conclusion
These are some of the reasons why NordVPN is so compelling compared to many other VPN solutions out there- Privacy, Cross-platform support, No Log Policy, and superfast speeds are the main reasons why we would like to recommend it*. Also, if you are going to get the NordVPN, please use the link provided as it supports us as well.
Note:
*NordVPN provided us a paid plan to test it, but the company does not influence our opinion.
** Discounts applicable on a 3-year plan