Samsung launched Galaxy Alpha in India with a price tag of Rs. 39,990/- and we covered everything in launch event of Galaxy Alpha in our previous post, now we are bringing the full review of Galaxy Alpha and comparing the specs with other smartphones in the price range of 40k
Samsung launched Galaxy S5 at the starting of this year with many expectations, but S5 is not upto mark and got so many bad reviews in the market, so Samsung took care while launching their next products, in IFA 2014 Samsung unveiled Galaxy Note 4, Galaxy Edge and Galaxy Alpha which is very similar to the Sony's flagship smartphone lineup. Sony came up with Xperia Z3, Xperia Z3 Compact and Xperia E in IFA 2014 and all the Sony smartphones are launched in India few days back.
Samsung tend to give more competition with its Galaxy Alpha rather than just trying to launch Galaxy mini series ( like Sony launched Compact series) the changes what you want to see in Galaxy S5 is in the Galaxy Alpha smartphone, let's look at the full review of Samsung Galaxy Alpha
Samsung Galaxy Alpha Full review:
Design: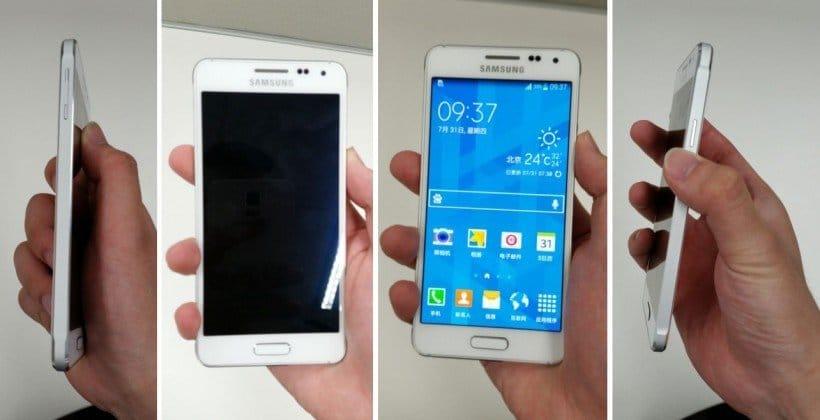 It is one of the most important part in our Samsung Galaxy Alpha review. The first thing we look in every smartphone is it's design, every smartphone company has its own design and make them as flagship phones, Samsung has its unique design like we can see them in Galaxy and Note series smartphones, Now in this premium smartphone ( with budget friendly price) Samsung presented a high quality metal frame around the Galaxy Alpha, this is the first time Samsung presented a mobile with metal frames around it, ( we have seen this HTC ), During launch event we suggested a name for this smartphone, we said Galaxy Alpha is the Thinnest smartphone from Samsung, and the name is apt for the Galaxy Alpha due to its sophisticated design, What we missed in Galaxy S5, we can see in Galaxy Alpha
Display: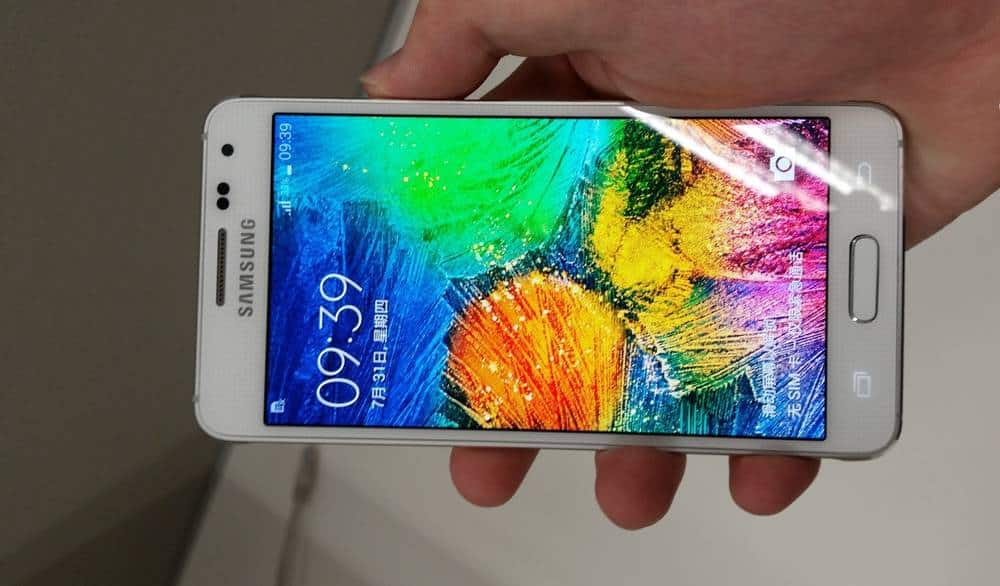 When it comes to display, the main part in the review where every smartphone get reviewed, well it seems to be a less resolution with less pixel density for the price tag, Galaxy Alpha offers a 4.7 inch super AMOLED touch screen with a resolution of 720 x 1280 pixels, moreover we can say a 2K resolution with a pixel density of around 312 pixels per inch, if we take Moto X 2nd Gen ( 2014) whose price tag is more than 30K, it offers a full HD 1080 P resolution with 400+ ppi, even the S5 mini offers 326 ppi which seems to be somewhat more than Galaxy Alpha, but it's made by Samsung with good care and a premium class one, so we can still see the images appearing vivid and with bright colors, we can easily adjust the screen modes and depending on it, the image viewability changes, but for the price tag we should expect a 1080P full HD screen. So, in our Galaxy Alpha review we will mark it as a demerit.
Camera:
No phone review is complete without a detailed review about the camera, and we tried our best to provide a reasonable review of the Samsung Galaxy Alpha's camera in our Galaxy Alpha review. We need to talk about the MegaPixels and now many smartphones offering higher megapixels for less price tag, and we have seen HTC offering Ultrapixels, but it doesn't make any sense, we have seen the negative side of HTC One aka HTC M8 UltraPixel resolution 4MP camera, the resolution and cam quality proven to be low, so this says that the more the cam MP doesn't mean that it takes higher quality pictures, this is applicable to every smartphone, and in Galaxy Alpha it features a 12 MP on the rear side which can take pictures with a highest resolution of 4608 x 2592 pixels and the front camera is of 2.1 MP which seems to be good for the normal video calls and taking selfies, the rear camera can capture videos in 2K resolution and that's an added attraction in Galaxy Alpha, as we are in the camera thing of Galaxy Alpha, we should talk about the HDR (High-dynamic-range imaging) rather than talking about this feature, if observe the camera samples with and with out HDR function, it will clear the doubts of camera quality of Galaxy Alpha
Picture taken with Samsung Galaxy Alpha without HDR: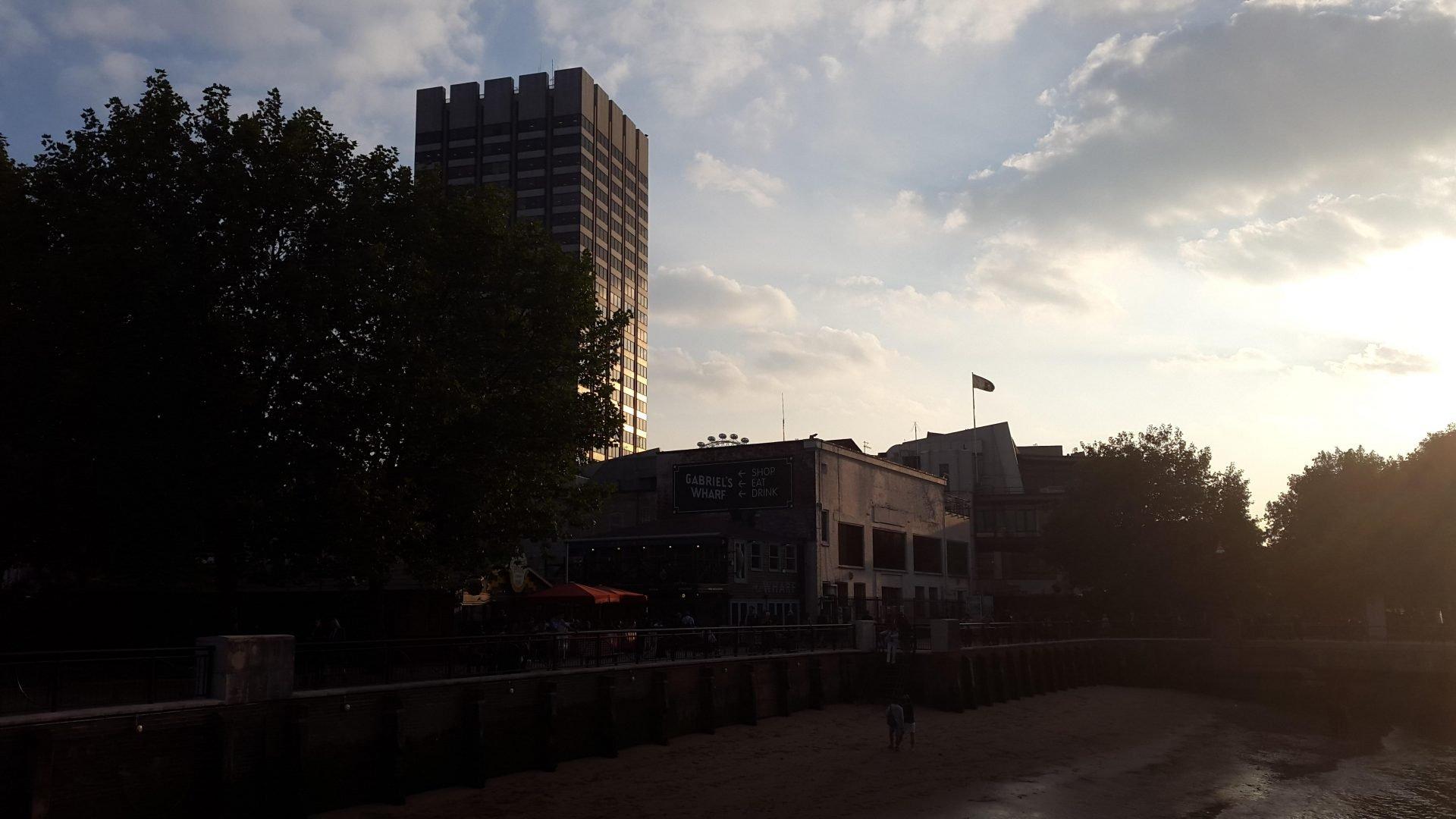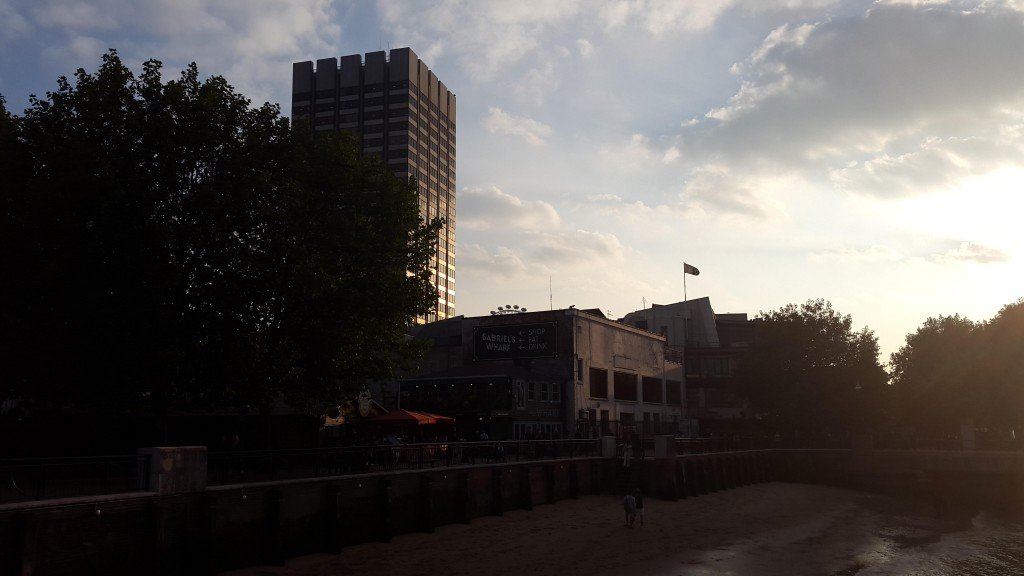 Picture taken with Samsung Galaxy Alpha with HDR: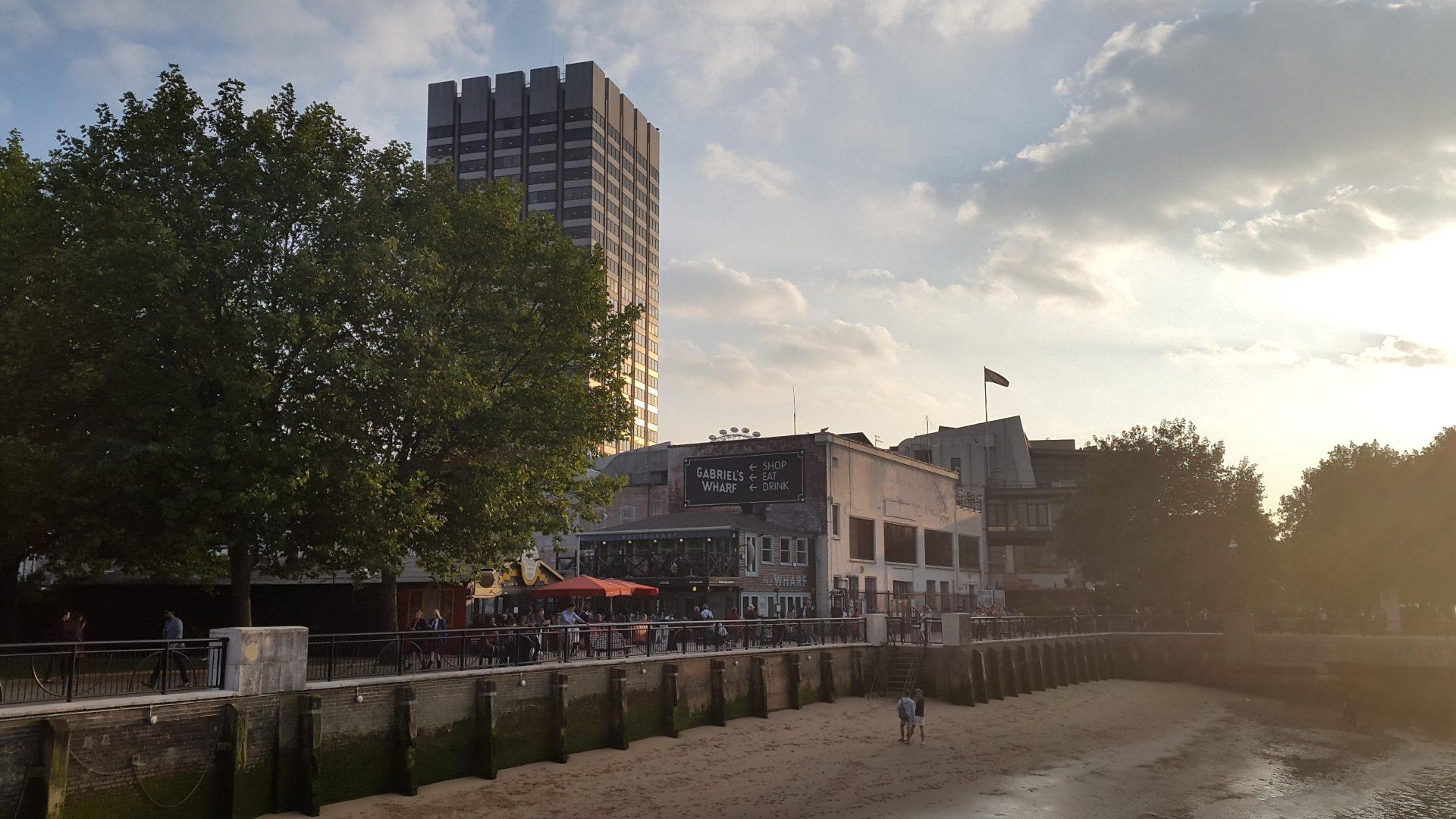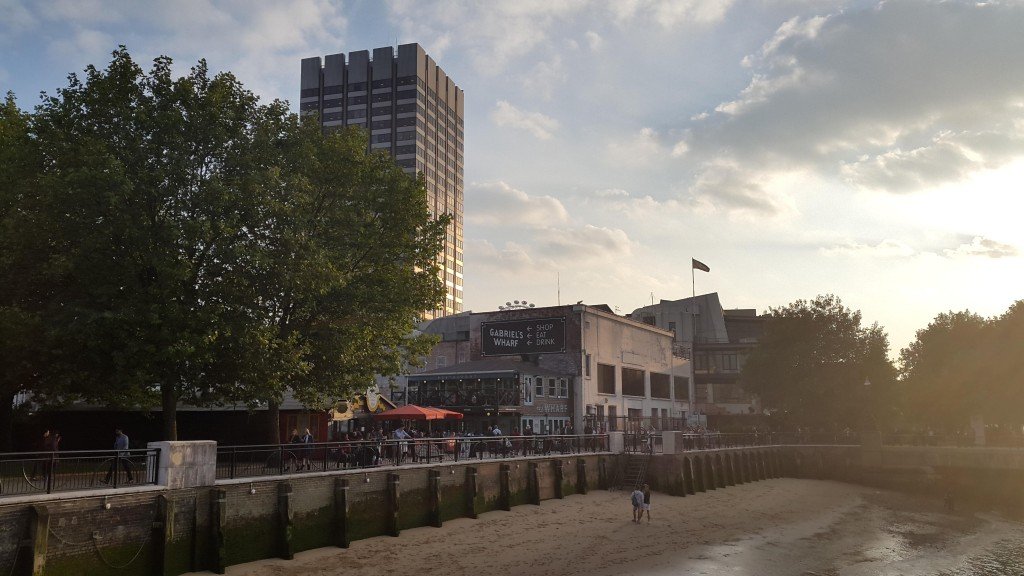 Got the difference ? well this feature is taken from Galaxy S5 !
Hardware and software Performance :
Samsung Galaxy Alpha is powered with octa-core processor, that is a combination of two quad-core processors (Quad-core 1.8 GHz Cortex-A15 & quad-core 1.3 GHz Cortex-A7), starting from Galaxy s3 we are seeing Octa core processors in Galaxy series and this premium smartphone isn't an exception from this, as it is divided into 2 quad cores, the one quad-core clocked at 1.3 GHz is enough for basic tasks like using the phone for calls, basic operations, and if more tasks should be needed, then the other quad-core activates and starting working in parallel with existing core that makes the device to run smoothly.
It runs on Android v 4.4.4 (kitkat) and we still need to know whether it will get an Android L update or not. so in order to make it a better performance smartphone, Galaxy Alpha features 2GB of RAM, the possibly highest RAM with good processor, and when comes to internal storage it is given with 32GB, and no external SD card slot ( well the design and looks are similar to iPhone 4s, so may be the Samsung intentionally doesn't provide the SD card slot, to keep it as a premium smartphone )
In order to completely analyse the performance, we tried using the Geekbench software and the results are pretty good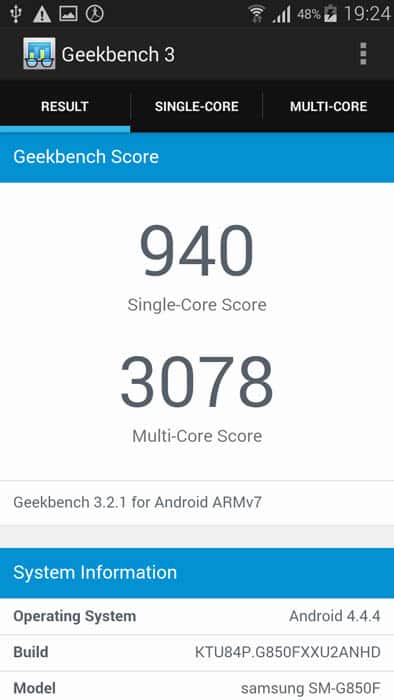 Note: The UK model comes with octa-core processor with Exynos chipset, whereas US model is of Qualcomm SnapDragon chipset, but you won't find a difference or lag while operating it!
Battery :
when compare to S5 mini, the battery range is comparatively small in Galaxy Alpha, it has an 1,860mAh but it's going to power a phone with less specs comparing to S5, S5 Mini and other smartphones we compared here, so it won't be a problem with less capacity battery as Samsung reported that it will give 11 hours of talk time, but we should take care while using the phone for wifi,browsing, taking pictures, watching videos etc, as these tasks will quickly drain any smartphones' battery and it's obvious that it happens in galaxy alpha too, so you better try to focus on main things that you need to do with a smartphone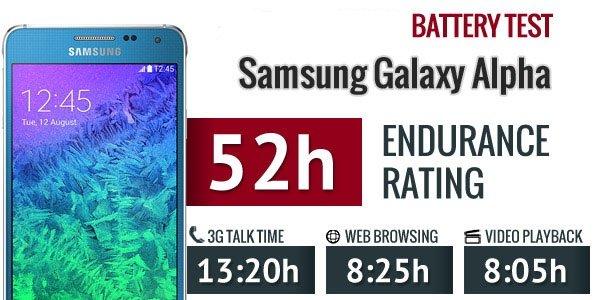 As per the Gsmarena, the SAR values are 0.37 watts per kilogram in Europe and 1.18 in USA.
Pros and Cons of Galaxy Alpha
Pros:                                                                                                   Cons:
Compact Design                                                                                Low resolution and less ppi
Metal Frame                                                                                      No memory card Slot
Premium look                                                                                    octa-core works even if there is no use
Good camera quality with HDR support                                          Not waterproof
Conclusion:
If you want to try a new premium range smartphone with good specs at low range cost, you should try the new galaxy alpha from Samsung, it might be a better alternative for many other smartphones at the price tag of Galaxy Alpha