Isn't it everyone's dream to own a house in Metro cities? Well, owning a 2BHK flat in Bangalore & other big cities does require a lot of money & time. Even if you get the loan with an affordable interest, the time required to build the flat based on your requirements takes a lot of time. Conventionally, the time frame to build a complete apartment requires 3-8 years which will surely kill your dreams. What if you get your flat in just 300 days?
Yes! you can have your independent flat in a big township developed by Sobha Dream Series Project . Recently they've started a campaign called #AheadOfTime where they showcased how they developed 200 flats, 20 months ahead of time & many of them already possessed by owners. So, how did they get this done?
To find out, I had a visit to Sobha Dream Acres head office at Bangalore & to see which technology is responsible for delivering cost-effective flats in a matter of months. It turns out to be the Precast technology which not only saves a lot of costs required to build the properties but also saves a lot of time. Let us go through the pre and post sales process of Sobha and how they are making a customer's dream come true at each step:
Sobha Dream Acres – Understanding the Sales Process:
Sobha Dream Acres under Sobha Dream Series has a mobile app to help you look at everything you need to finalize a flat from floor plans to ….. Once, the client shows interest, they invite them to the site where Sobha has build a swanky Sales office with a fully furnished mock up apartment and a Audio visual theater equipped to take you  through entire project.
If the potential buyer has doubts, he can always get in touch with the sales manager onsite who will explain. Visiting the Precast factory myself was a humbling experience for the mere size of the production and automated machines making 20,000 sqft of casts every day. With this, the buyer can understand everything on how the team behind this prestigious project handles the tasks.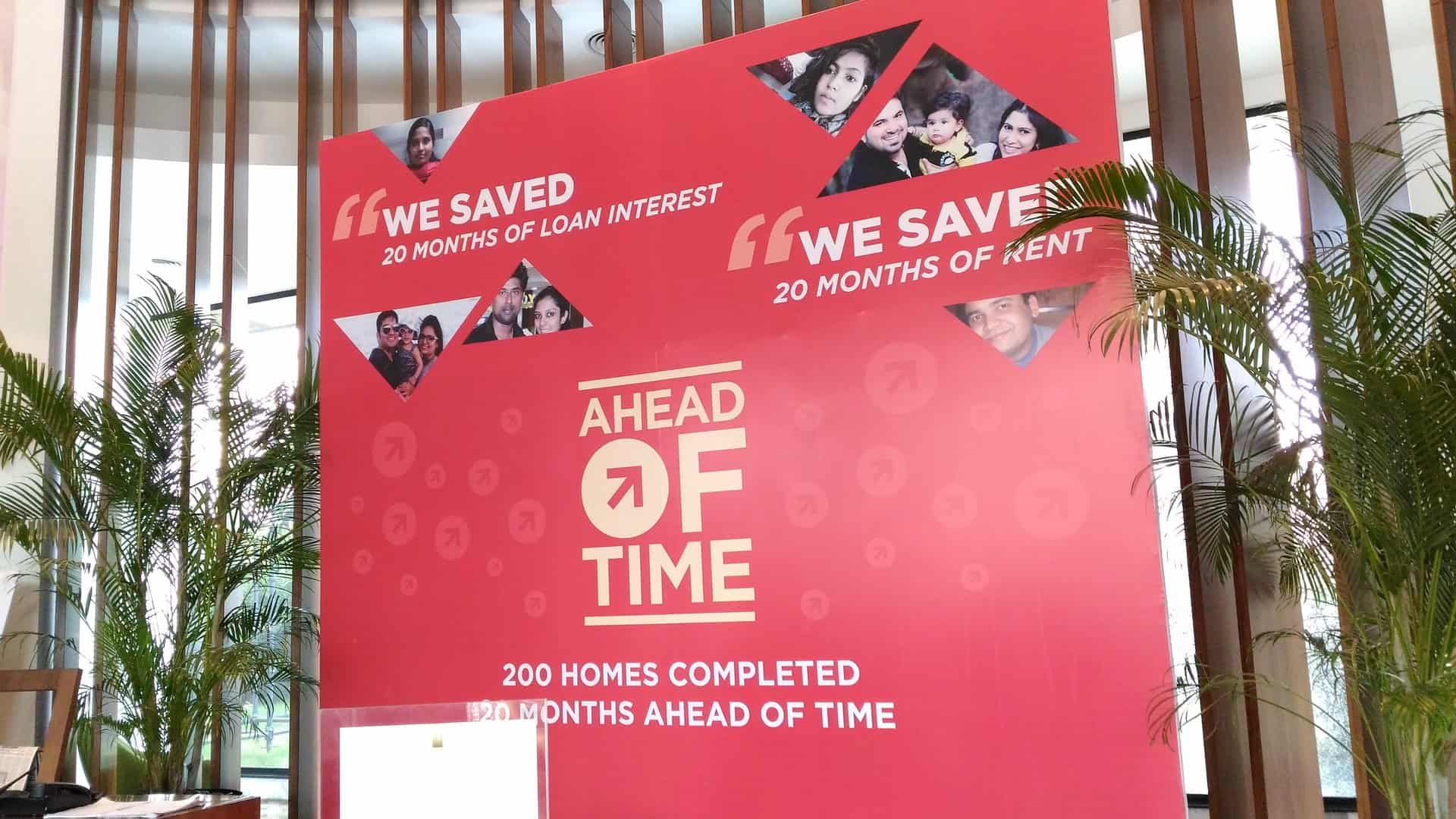 To help buyers – banking officers, and legal officers are always available onsite, so to help them in terms of loans, insurance, and flat registrations. To book an apartment the potential buyer has to pay a token amount & once it's paid, the whole process will flow automatically. To see how things are going, the buyer will be given a unique user ID & password. By logging in the main site of Sobha Ltd., he/she can access all the information regarding his flat with monthly updates. Just like as mentioned above using the same precast technology Sobha Ltd. able to provide the flat before the time they've told.
You'll say most builders pamper us before the buy happens but forget about us as soon as sales are done; RIGHT? Sit tight as here again Sobha Dream Series is making history. How? Read on..
Sobha Dream Acres – Privilege Program for buyers:
Sobha has a unique privilege program which will let you use the A/V theatre to see movies of your choice, play video games from the day you book the flat. They also have Sobha Dream sessions.
Here they'll call you to record your own music album with a full band on your disposal. These videos will then be put on their youtube channel and promoted to make you a star. Unbelievable? There is more – Sobha dream series organizes fun events like paintball, bubble soccer etc every weekend for you and your family to have a hearty time and meet and network with other families who have also booked flats here and will be your dream mates. Hey all this is at no extra cost and you can bring your friends along too..Phew – there is more…
The team at Sobha Dream Acres help the buyers in many other formalities as getting a bank loan with affordable interest etc. One other major difference /advantage is that they will even help you to rent your flat if you are not thinking of moving in yourself or if you are buying the flat as an investment option. Sobha Ltd. has a long-term partnership with online house rental portal – Zenify.in. So, within a limited time, your purchased flats will be rented out & they make sure the rents get deposited straight to your account on time.  Is that it? Well NO, they have another program which gives value-added benefits to buyers.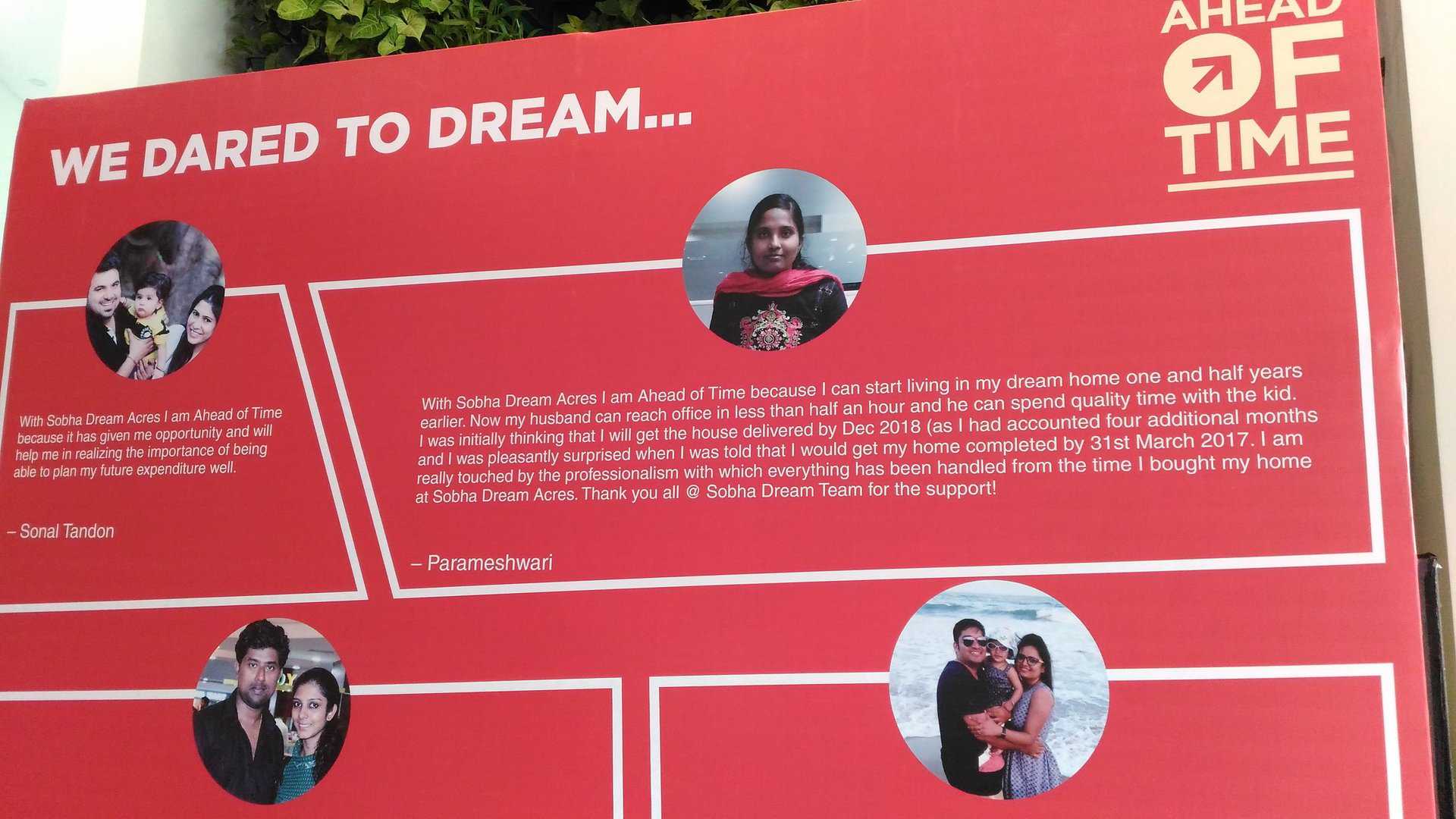 This is more like a referral program for the booked clients of Sobha Dream Acres. If they share potential leads to the sales team, they are awarded with 100 points which goes up if the potential lead visits the site. Further, if the lead converts into a sale 1BHK is rewarded with 15,000 points and 2 BHK with 25,000 points. There is also a bonus on multiple referrals. 1 point is equivalent to 1 rupee.
During my visit, there was a singing session where 6 booked clients were selected to sing. Here is a picture I took during the music session.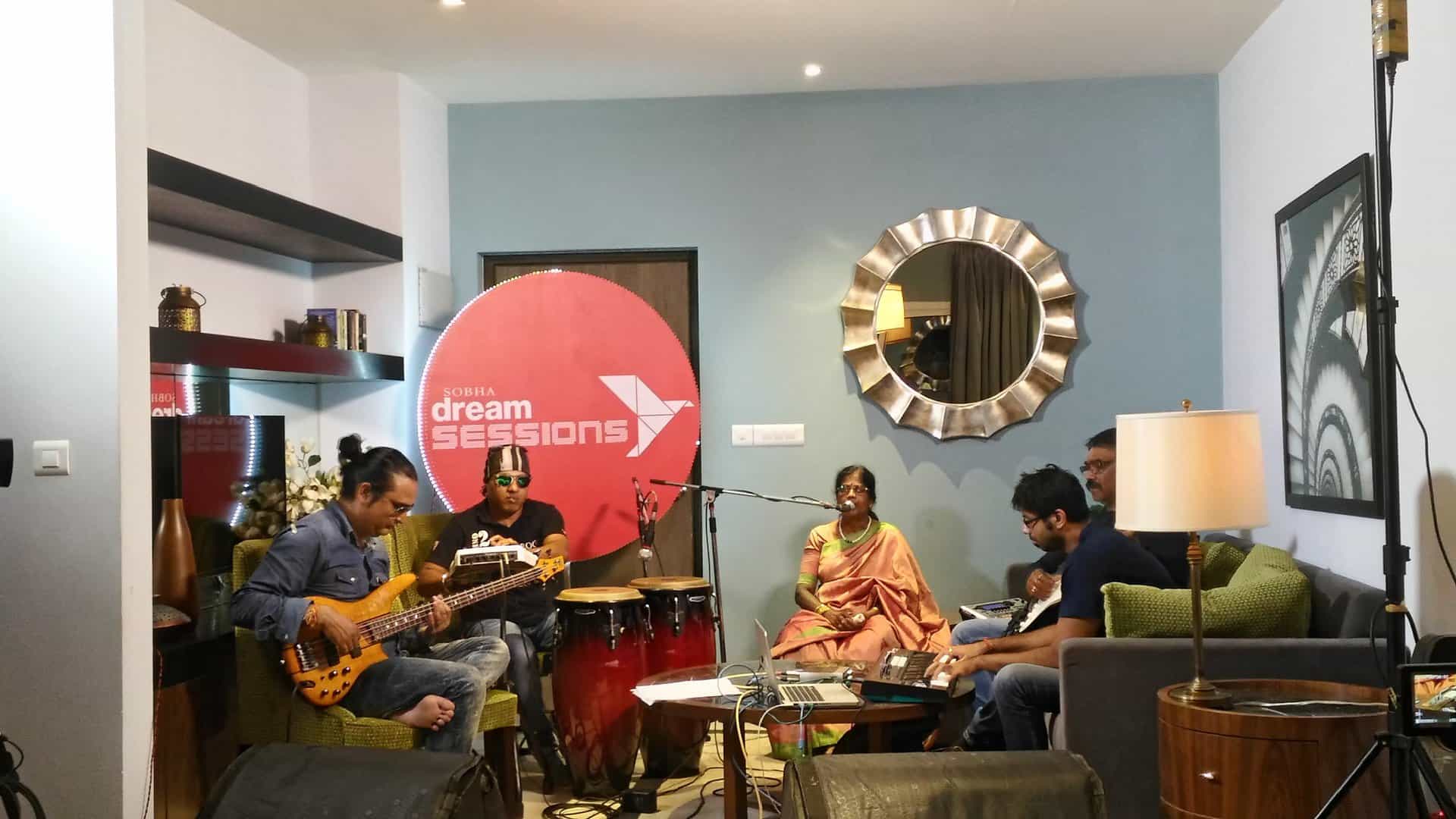 Have you seen any other construction firm providing activities like gaming, movies, music session etc. after you purchase a flat? That's the difference between Sobha Ltd. to other firms. Hey and the flats start at just 36L for 1BHK flats in Bangalore and starting at 56L for 2BHK flats in Bangalore.
So, book your apartment at Sobha Dream Acres before they are all gone.