Alright! It's true that the Indian government wanted to ban TikTok for a while, and in the recent hearing, the Supreme Court has refused to stay on an earlier verdict by 'The Madras High Court' to ban TikTok'. This resulted in an order to Google and Apple to remove the app from their official app stores to block Indians downloading the app.
Well, this isn't the case as the same as in porn ban where the Indian government has permanently blocked access to certain adult websites like Xvideos, PornHub, etc. Here, they've just blocked users from downloading TikTok app which means they want to put a break to new users' downloading it as well as preventing future updates for the existing users. So, should we call it a ban? Certainly not! In my opinion, this is just yet another temporary block accessing the viral social app. On a quick note, Why don't we take a look at the stats of TikTok app first?
TikTok – The Viral Social App Stats [2019]
TikTok which was formerly the Musical.ly app's main target audience were Gen-Z & Millennials, and no wonder why this app has got a breakthrough in terms of downloads as well as active users.
TikTok app was downloaded more than 660 Million times in 2018
Globally, the monthly active users in TikTok are over 500Mi+ and 29% of them open the app at least once a day
Over 43% of user-base lies in India whereas the US accounts for a mere 6%
Last year, the TikTok app was downloaded over 240 million times by Indians, and till now, over 40% new users' are from India
By the end of March 2019, 188 million users were newly joined, and out of them, over 88M were from India
80% of sessions come from Android devices
You can obviously read more stats here, but I guess the above statistics would be enough for my story, and I bet you guessed already on where I'm going? Yeah, the reason why TikTok has become very popular!
Why TikTok is so popular in India?
The sudden urge to showcase the so-called talents on social has made TikTok very popular. Let me clear that up. Till 2016, India was also a data-sensitive country, but the outbreak of Jio has changed everything. No wonder why the telecom operator has become the third-largest mobile operator in India with an user-base of 300 Million. This move actually made other operators to bring down the costs, thereby making more people come online especially new users' from the rural areas. Let's take a quick look at the Internet penetration in India, shall we?
Internet Users in India – 2019
Based on a report by Kantar IMRB, in 2017, there were over 481M internet users in India and last year i.e., 2018 it reached over 566M which means there were 85 Million new users. The same report shows a projection that 65M would add up by the end of this year, and the number of Internet users in 2019 would reach 627M. The major highlight of this report is that there's a great influx from the rural areas. Nearly 45% of internet users are from rural areas now.
Mobile Internet Users in India – 2019
This is the main part! As per the Statista report, In 2017, there were 351M mobile internet users in India, and it reached 390M last year. It's projected that, by the end of 2019, there could be 420M, and by 2023, there would be half a billion Indian users who would be accessing the internet through their mobiles. Likewise In internet users from rural areas, mobile Internet users from rural areas have gone up through the years. The reason wasn't just the cheap data plans, but also the availability of affordable smartphones from OEMs.
The rise of Social Media – Actually Content Creators [MEMEs]
With the cheap data plans on their budget-end smartphones, what could Indian users' would obviously do? Of course, consume content is the first thing that comes to mind. Over the years, the number of Facebook & YouTube users has gone up drastically, and so the idea of producing content has also started. Maybe it was in 2016, the same year when Jio was launched to the public, people got used to this other social app called 'Dubsmash' which lets you dub certain popular dialogs from movies. This trend has become an internet sensation in India. There were MEMEs everywhere.
On the same year, Indian users' have also got to know about Musical.ly app which let users create short videos where they would be lip-syncing to songs. Just in months, even this become viral as there were content creators everywhere. Literally, everyone's Facebook feed, WhatsApp stories were filled with it. Even the Indian celebrities were posting their lip-sync videos on Instagram, and it had a huge influence on the audience. This led to few other copy cat apps, and even they've managed to produce efficient content creators who later become Influencers. ByteDance, the parent company of TikTok has made a desperate move in acquiring musical.ly for 1 billion USD, and the rest is history.
Why TikTok Banned in India?
In terms of Influencer marketing, every digital marketing experts including Gary Vee would recommend going with TikTok. The TikTok app has opened up its creators portal, and also gave advertisers a glimpse into its ads platform. From the statistics, everything looks clear. The increase in users is obviously the reason why any brand would like to make use of it. Even the user group in TikTok are all aged less than 30 years, who would be an ideal target group for many fashion, lifestyle and tech brands. So, where did it go wrong? Well, it's actually the content!
Though TikTok has strong community guidelines, every user has broken the guidelines not once but many times. A majority of the users' are younger, and recently ByteDance had to pay 5.7 million USD in fine for not complying with US COPPA. This did remind me of an episode [S04] in Silicon Valley which you can watch above. TikTok didn't care to remove the under-aged accounts and hadn't even cared to verify their date of birth when joining. Isn't that disturbing?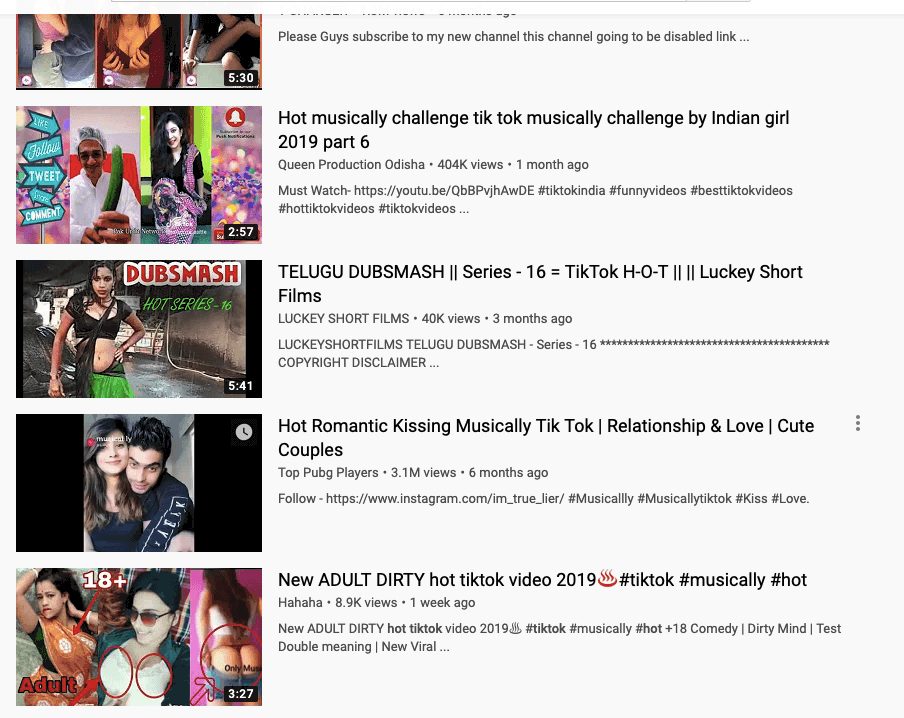 In the case of India, it's even worst. There's too much objectionable content, and I totally mean it. I'm not a big fan of TikTok but had watched a couple of videos just get a sense on 'what the so-called content creators' do, and the majority of them turns out to be this. Even the official Facebook page of TikTok India posts a lot of content that's indirectly quite indecent. You might say it's all about how you see it, but guess what? I'm 25+ and I f*cking know the difference. But looking from a younger age group, this could seriously traumatize their life.
During the preadolescence and adolescence [13-20], our brain goes neuroplasticity. This is when billions of new synaptic connections are made, and they're wired in such a way that it's influenced by the experiences & information we receive during that period. And that's one of the main reasons why the Madras court wanted to ban this app. You can check the below timeline on how things went down for the TikTok App in India that eventually led to banning.
Timeline of What has caused the TikTok Ban in India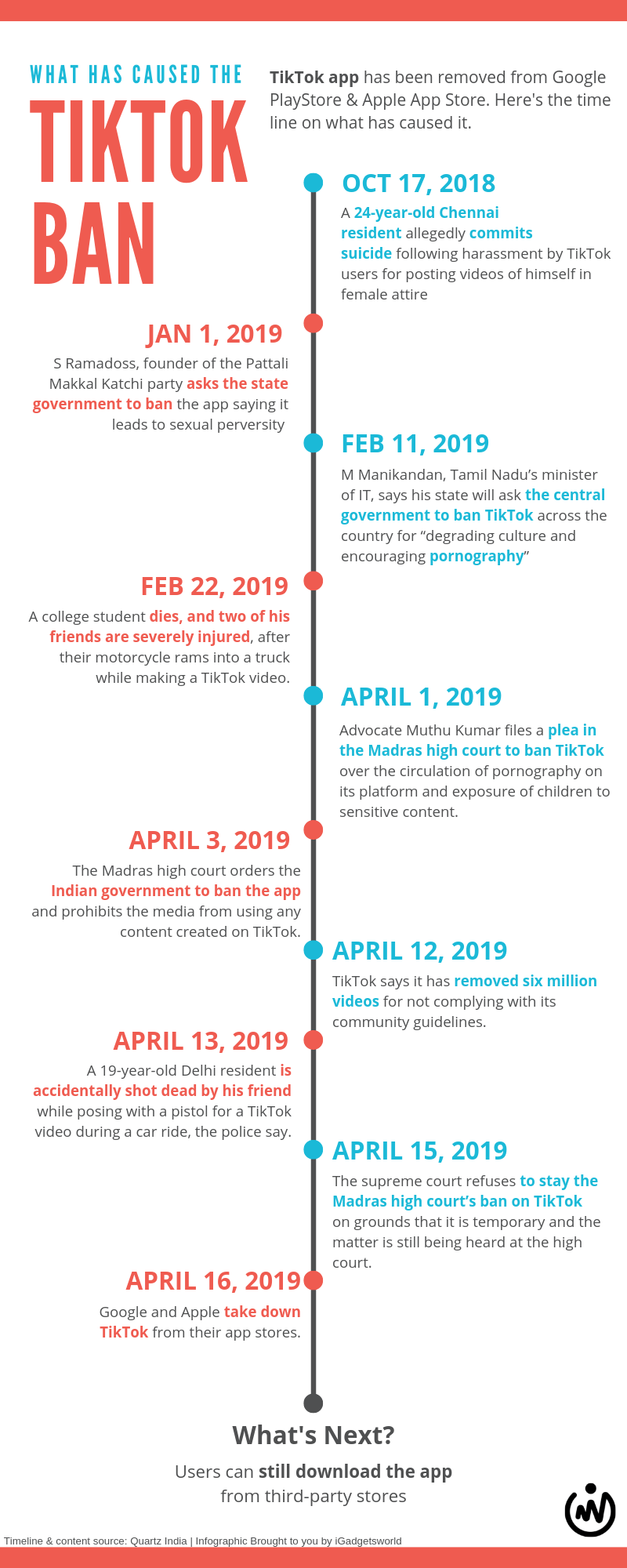 Is the TikTok ban same as Porn Ban in India?
Banning something offensive or addictive is quite common in India, and it totally means to make a better society. The best example could be the recent porn ban in India. Over the past few years, the Indian government had blocked over 800+ adult websites. But again, we live in a country where finding loopholes in the system are our first traits. Of course, even we made an article on how to access the blocked websites in India which is one of the top articles in terms of traffic.
What I mean to say here is that the TikTok app was removed from the PlayStore and about to be removed from App Store, but that doesn't mean people would stop accessing it. Unlike accessing porn, there are tons of [almost legal] ways to download the app via third-party stores, and side-load it. Just so you know, Dream11, the fantasy cricket app is being used by 60M+ users and the official app is not even available on the Play Store. I know that this comparison is not ideal, but I just want to emphasize on side-loading the apps i.e., downloaded from non-official Android & App stores.
Also, blocking or banning something would eventually make everyone to experience it. It actually stimulates the inner-rage in you to try it out. The best examples would be watching banned movies in India, and so the future PUBG ban.
Well, that's it for now, and I hope you got the point on what I really want to say! Blocking something offensive might not be a right move, and IMO, it should come from implementing strong content & community guidelines.
Updated: The ban on TikTok has been lifted, and the apps will be available on the Google Play store and App Store very soon.