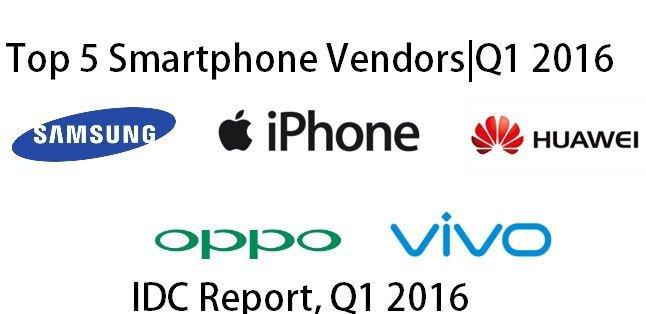 International Data Corporation (IDC) has published the report for global smartphone shipments in the first quarter of 2016. According to the report in the Q1 of 2016, globally smartphone manufacturers have shipped a total of 334.9 million smartphones, which is a very slight increase from last years 334.3 million shipments. And this is basically the smallest growth ever recorded. Oppo and Vivo, two Chinese smartphone makers have done a really good job as we can see from the report, as they have pushed Lenovo and Xiaomi who had secured the 4th and 5th positions respectively. So today we will look at the Top 5 smartphone vendors in terms of shipments in Q1 2016.
Huawei, OPPO, and Vivo, with their sub $250 Average Selling Price have been stronger than ever. IDC officials disclosed that. However, let's take a look at the biggest players in the market, one by one. All rankings are based on the number of total shipments.
Top 5 Smartphone Vendors – Shipments – Q1 2016
1. Samsung
Samsung, South Korea's smartphone giant still remains at the top of the list even though they saw a drop by 0.6% in the shipments. They sold 81.9 million handsets and secured a global market share of 24.5%. Samsung has been selling Galaxy S7 and S7 Edge pretty well, along with semi high-end A-Series and the entry level segment J-Series, which is aimed towards customers mostly in developing countries.
2. Apple
Looks like Apple is going through a really bad time! They just shipped 51.2 million units, which is a massive downfall by 16.3% as compared to the previous year. Just 15.3% of the global market share is now held by Apple, despite launching the new iPhone 6S and 6S Plus, and finally the iPhone SE, which is just a little upgraded variant of iPhone 5S in terms of looks and design, with the capabilities of iPhone 6S and 6S Plus. Probably, iPhone 6S and 6S Plus were not a good upgrade option for most of the people as iPhone 6 and 6 Plus are still doing well. On the other hand, iPhone SE, though it's quite affordable could not be a hit in some countries due to the pricing. i wouldn't be surprised if Apple's figures are same in the next quarter as well.
3. Huawei
Huawei has been doing a great job and captured the third position and Huawei is also the first one in the list to have some positive growth.  Huawei shipped  27.5 million units which is a 58.4% growth from 17.4 million unit shipment in Q1 2015. Though in terms of market share, Huawei is not so dominating, with having just 8.2% of the total market share.
4. Oppo
Oppo is the strongest one among the Top 5 smartphone makers in terms of year over year growth of 153.2%. From 7.3 million to 18.5 million is a huge growth and with this kind of growth, Oppo has smashed Lenovo which used to be in the fourth position last year. :P
Probably, the main reason behind Oppo's growth is aggressive marketing, sponsorship in entertainment and sports sector. All these are actually quite visible to almost everyone. Oppo did a good job this year, and probably the same will be continued in the Q2 as well.
5. Vivo
Another new player in the global market and aggressive just like Oppo. With 14.3 million shipments in the Q1 2016, Vivo finally succeeded to be among the Top 5 smartphone makers in the world, with a growth of 123.8%. Last year, in the Q1 2015, the figure was 6.4 million. Now, with 14.3 million shipments Vivo holds 4.2% of the global market.
The rest 42.3% is constituted of other manufacturers like Lenovo, Xiaomi, LG and some other OEMs with a total shipment of 141.5 million, which has declined from 159.8 million having a decline of shipments by 11.4%.
Well, just for a short record, here's the complete chart along with the Top 5 Smartphone Vendors of Q1 2016, as obtained from IDC.
Top Five Smartphone Vendors, Shipments, Market Share and Year-Over-Year Growth, Q1 2016 Preliminary Data (Units in Millions)
Vendor
1Q16 Shipment Volumes
1Q16 Market Share
1Q15 Shipment Volumes
1Q15 Market Share
Year-Over-Year Change
Samsung
81.9
24.5%
82.4
24.6%
-0.6%
Apple
51.2
15.3%
61.2
18.3%
-16.3%
Huawei
27.5
8.2%
17.4
5.2%
58.4%
OPPO
18.5
5.5%
7.3
2.2%
153.2%
vivo
14.3
4.3%
6.4
1.9%
123.8%
Others
141.5
42.3%
159.8
47.8%
-11.4%
Total
334.9
100.0%
334.4
100.0%
0.2%
Source: IDC Worldwide Quarterly Mobile Phone Tracker, April 27, 2016.
Top 5 Smartphone Vendors- Graph (Obtained from IDC)
So, here was our insight about the Top 5 smartphone vendors in the Q1-2016. Hope, you have enjoyed going through it and also, got a little shocked to look at the figures. Join us on Facebook for more news, updates, leaks and much more.