I guess everyone now uses facebook for connecting with friends, families and professional networks, but there are such people also who just use facebook in a hope to get popular in their neighborhood or city. They add anyone they like and accept friend requests from anyone. Sometimes many such people seems to have two thousand friends, but they never bother to check how many of them are real or the number of profiles authentic. And fake profiles are real threats to anyone's personal life and I hope you won't wanna disclose your everything on social media or to people you don't like. I've seen many guys who use facebook as a dating site and always spend a lot of time in search of a 'hot chick'. Well, let me tell you one thing that there are 10% fake accounts on facebook among total 1.35 billion facebook profile, now do the calculation and think for a while. There could be some of them in your friend list also and you may be chatting with your enemy, thinking that the profile belongs to some girl and ultimately expose many personal matters.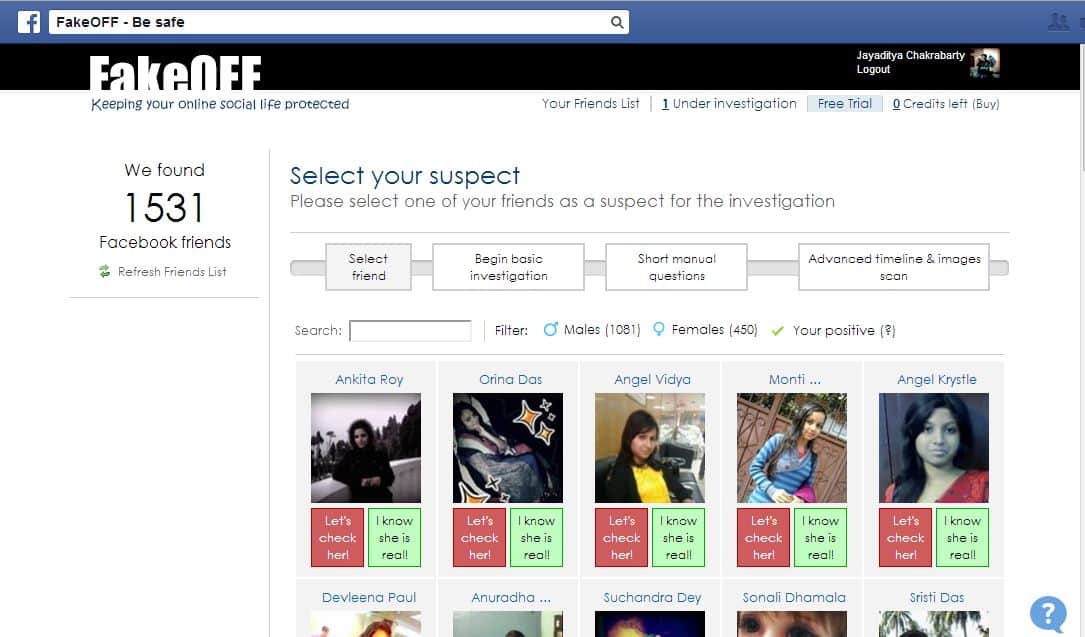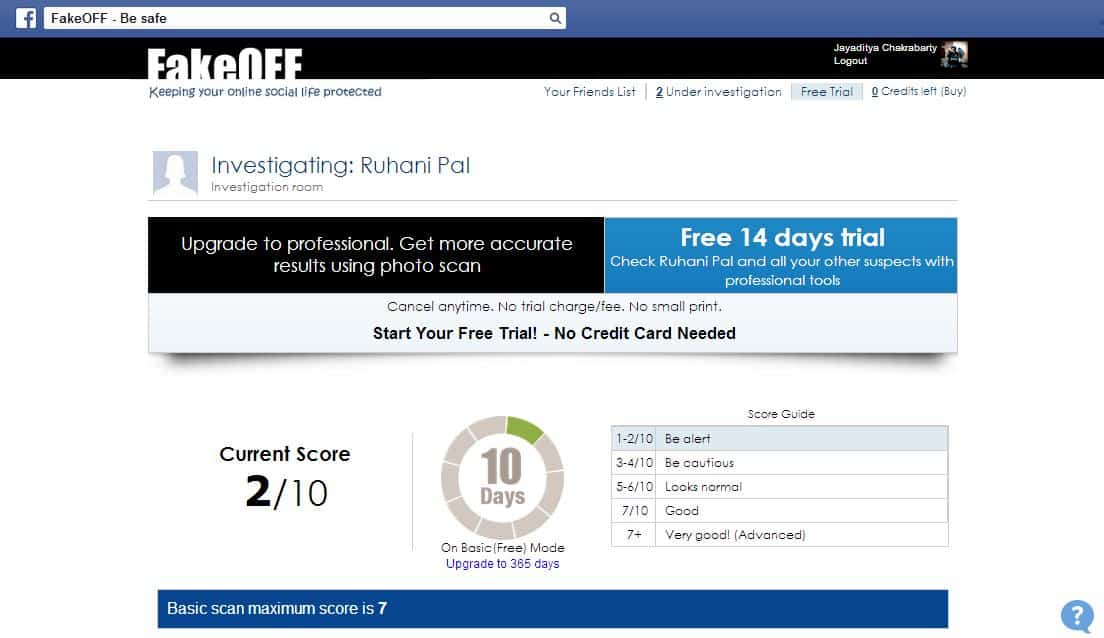 Now, there is an app on Facebook called FakeOff which is pretty helpful to find out fake accounts in your friend list and according to Eliran Shachar, the creator of this app most such fake accounts holder appear on facebook on regular basis and provides updates and behave like a real one. FakeOff app uses sophisticated algorithm to investigate the behavior of suspect 'friends' and rank them according to a 1-10 credibility score. It scans up to 365 days of timeline activity for every suspect Facebook friend and checks for abnormal activity. Well that's cool, now you don't need to go back one year earlier and check all the updates, photos and everything to find out a fake profile. The app tries to find out abnormal activities and also scans the profile pictures to find out whether it was stolen from any other person's account or not. FakeOff has been live for two months now and has over 15,000 users so far. 24% of investigations conducted in the app was exactly correct and detected accounts as fake.
According to facebook, the major shares of fake accounts comes from some countries like India and Turkey and also some developed countries. The firm said it estimates up to 7.9 per cent accounts being duplicate and up to 2.1 per cent and up to 1.2 per cent accounts being user-misclassified and un-desirable, respectively.