Xiaomi Redmi 1s: 40k units stock sold out in 4.2 seconds, next sale on sept 9th
Xiaomi Redmi 1s, after its release through flipkart, it was sold out in 4.2 seconds today.The total of 40k units were sold in just 4.2 seconds. It was another magic act by flipkart, that made Xiaome Redmi 1s to get sold on September 2nd sale in 4.2 seconds. With the same strategy they followed with the Xiaomi Mi3, flipkart is moving forward with its next sale of Redmi 1s on Sept 9th. We even predict, the next sale of Xiaomi Redmi 1s could complete in 3.5 seconds on Sept 9th.
Many of the igadgetsworld users, has added the Redmi 1s to the cart today on September 2nd. We igadgetsworld.com purchased 3 Redmi 1s Smartphones today using the best tips, which we termed as "Success mantra to add Xiaomi Redmi 1s to cart". It is not a impossible thing to add Redmi 1s to cart. We are planning to give Redmi 1s as Give away to top 5 members of IGadgetsworld for the next sale on Sep 9th .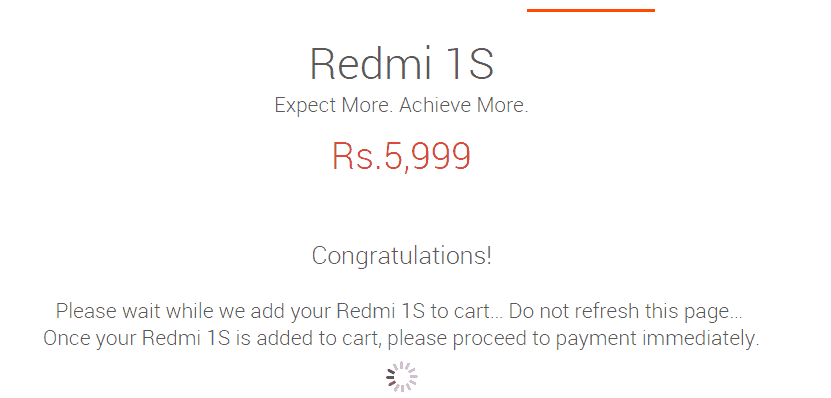 When we compare Redmi 1s to previous sales of Xiaomi Mi3 from flipkart, the stocks has raised from 20,000 units to 40,000 units, which explains the popularity of Redmi 1s among Indian Users. Even the flipkart has raised the units twice to its previous sibling Xiaomi Mi3. But unfortunately many users did not get there hands on Redmi 1s.
As we previously updated, the best mantra to win in adding Mi3 or Redmi 1s to cart is to get registered on the same day, when the registrations starts and be online atleast 3hrs prior to the sale. Make sure to add the redmi 1s to cart from Laptop rather than smartphone. For high sucess rate follow our tips "Best tips and tricks to follow to make Redmi 1s your device."