Xiaomi Redmi 1s 5th sale today (Sept 30), again 60k units of Redmi 1s are ready to go flash sale from Flipkart again, it seems that Xiaomi is not interested in increasing the inventory rather than it sticked to 60 K units again as like it's previous 5th sale on Sept 23rd. A good news to Mi3 fans, during GMIC Event Banglore, Hugo Barra confirmed that Xiaomi Mi3 will be on sale again from Diwali
Comparing to 4th sale of Redmi 1s, 5th sale have 20 K units extra , that is 60K units of Redmi 1s, the 5th sale lasted for just 5.2 seconds, now there is a big change in today's redmi 1s sale in Flipkart. There were many tips and tricks in buying redmi 1s like using the Chrome plugin "BuyHatke", and some other hack scripts which made users to buy the redmi 1s easily, just buying the redmi 1s won't made a problem, but some users using these hacking methods and trying to buy more redmi 1s mobiles and started to selling them in eBay, Olx etc for higher cost, this made the real users who registered and waited for the sale get into frustration and even Xiaomi was angry on these scripts and hacks.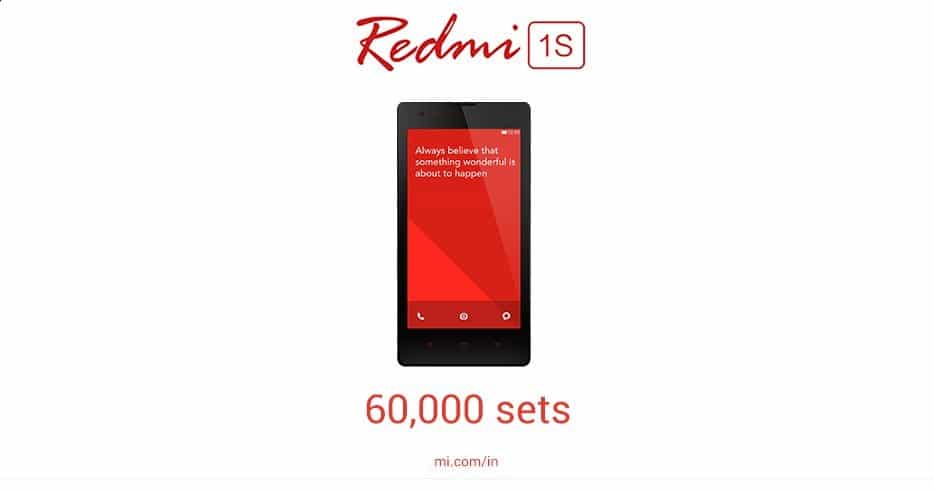 Manu Jain (Xiaomi India head)  quoted "We are working closely with Flipkart to block people who are gaming the system. Flipkart has an algorithm that blocks people from buying phones if they add repeatedly add [Xiaomi] phones to their carts but don't buy them,"
So, this time, Xiaomi had a talk with it's partner Flipkart and developed an algorithm, those who use automated methods for buying redmi 1s tomorrow will get blocked in buying this phone, so I urge our readers not to try the automated methods , instead of them try to follow the manual tips which you can find here
60,000 sets of Redmi 1S will be available next Tuesday. Help us inform others, thanks! =) pic.twitter.com/r4Ew7UYE0M

— Mi India #Mi10TSeries5G (@XiaomiIndia) September 26, 2014
we suggest users not to try those annoying chrome extensions and scripts, and if you found any one selling Redmi 1s for higher cost, mail to redmi 1s, they might take action or forward to us, we will try our best in making Xiaomi to know about these fraud people!