Xiaomi Redmi 1s is set for the sale today (Dec 23rd), this is the first sale from Xiaomi after it's ban lifted from selling and importing it's products to India. As of today's sale Xiaomi didn't mentioned  how many unit's will be on sale, as they were supposed to sell Xiaomi Redmi Note. But due to the Ericsson patent infringement, Xiaomi smartphones ( Non-Qualcomm based are banned to sell in India)
Last week Delhi high court, temporarily lifted the ban on Xiaomi upto Jan 8th, Now xiaomi is offered to sell Qualcomm based smartphones like Xiaomi Redmi 1s, Xiaomi Redmi Note 4G in India. The court hearing will be on Feb 5th as usual, the sale today will be a flash sale. Flipkart made a rule, that there will be only one smartphone per customer, as like other sales the sale will go live exactly at 2 PM IST.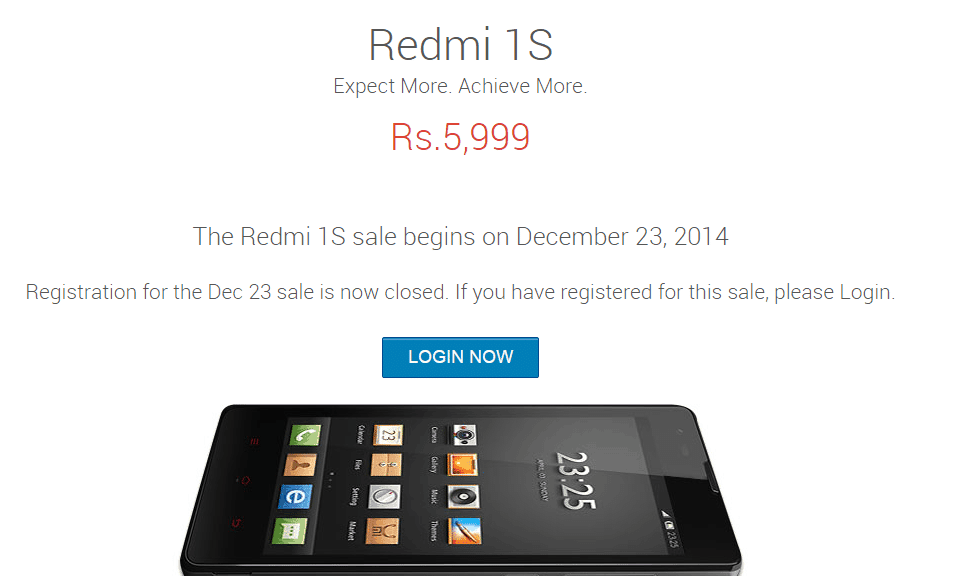 Here is the official tweet from Mi India regarding the Xiaomi Redmi 1s flash sale today ( Dec 23rd )
http://t.co/xfFktyeZiH – Mi fans, register to buy your Redmi 1S on Dec 23rd! pic.twitter.com/4TALnAgfZm

— Mi India #Mi10TSeries5G (@XiaomiIndia) December 19, 2014
But still no news on how many units will go on sale, as this is an unusual time for Xiaomi to bring back it's most selling phone to be on sale again, They are supposed to launch Redmi Note 4G at this time, and continue their Redmi Note sales, but everything changed. We need to see how far the sale goes today, will it be a flash sale again because the users at present are more interested towards Redmi Note than Redmi 1s.
Click here to  order the Redmi 1s Now
When we see at the starting of this month Redmi Note launched with higher expectations as it's a best competitor to Moto G 2nd Gen, Asus Zenfone 6 and several other smartphones, their sales are also went out of stock in 6, 8 seconds consecutively, now we need to see whether the oldie Redmi 1s is back in action or not?
In case if you are looking for some tips check our old post