Moto G 2014 was launched at IFA 2014 in Berlin on September 5th. Just like Xiaomi Redmi 1s its available on FlipKart for sale. Just like the Xiaomi Redmi 1s, the Moto G 2014 edition was also an anticipated phone in India. This gave rise to many questions like, What if we had to choose from both the phones? Which one should we opt for? Which is better?
iGadgetsworld is thus making this article to help you solve this dilemma and get you a quick answer for Xiaomi Redmi 1s Vs Motorola Moto G 2014 
Xiaomi Redmi 1s Vs Motorola Moto G 2014 :
We shall separately talk about both these smartphones and provide a comparison table for the same.
Xiaomi Redmi 1s:
Xiaomi knows as the Apple of China launched its budget friendly Redmi 1s on August 26nd this year. The first ever sales of Redmi 1s started on 2nd September at Flipkart where 40000 pieces were sold in it. Do checkout our post Tips and Tricks to buy Xiaomi Redmi 1s for increasing your chances for successfully purchasing a Xiaomi Redmi 1s.
The Xiaomi Redmi 1s comes with a IPS LCD 4.7inches display having a resolution of 720×1280 pixels. In PPI aspect, the Redmi 1s triumphs Moto G 2014. The phone boasts a 1GB RAM along with 8GB internal memory with SD card support. Redmi 1s is powered by a Qualcomm Snapdragon Quad-core 1.6 Ghz CPU along with a Adeno 305 GPU which must handle your heavy gaming easily.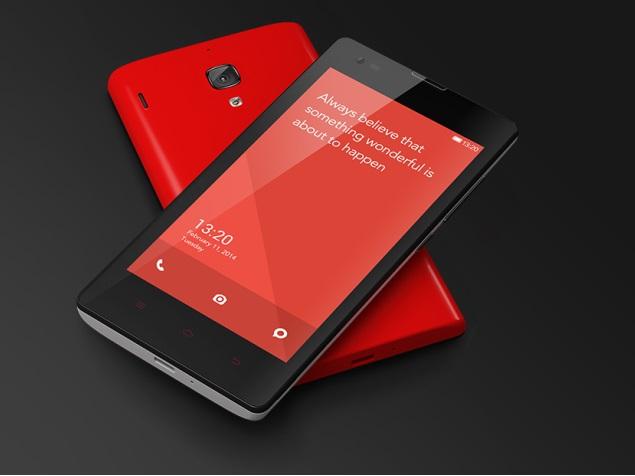 Xiaomi Redmi 1s is equipped with a 8MP primary camera with LED flash and a 1.6MP secondary front-facing camera which is quite a good camera for a Rs.6000 phone. The phone supports dual-sim which is a pretty good add-on.
Xiaomi Redmi 1s runs on tailor-made MIUI 5 rom. It has a 2000mAh battery house within which helps you run the phone for a day.
Antutu Benchmark for Redmi 1s:

Motorola Moto G 2014:
The Moto G 2014 was launched at IFA on 5th September. Sales for Moto G 2014 started on midnight of September 5. The phone is priced at Rs.13000 which is pretty much the same with the Moto G predecessor.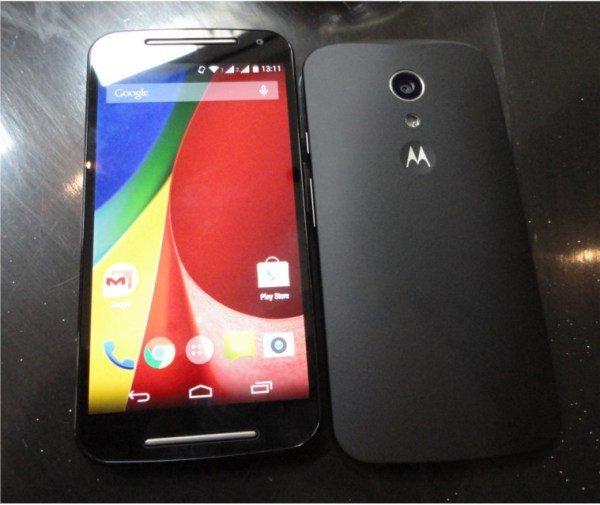 The phone comes with a 5-inch screen which is bigger than the Redmi 1s with a 720p resolution. PPI is less than the Redmi 1s. Moto G 2014 has 1 GB of RAM with 16GB internal memory. It also supports SD card for memory expansion. Moto G 2014 has a quad-core Qualcomm Snapdragon 400 processor clocked at 1.2GHz with Adeno 305 GPU.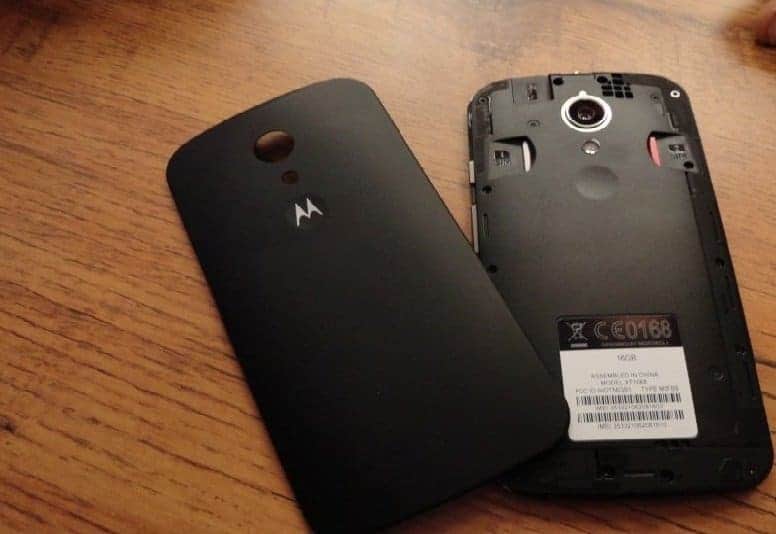 Moto G 2014 comes with 8MP primary camera with LED flash and a 2MP front camera for quality selfies. :p Moto G 2014 comes with 4.4.4 out of box and will also be blessed with Android L very soon. It has 2070mAh battery which must enable you a day use.
Antutu Benchmark for Moto G 2014: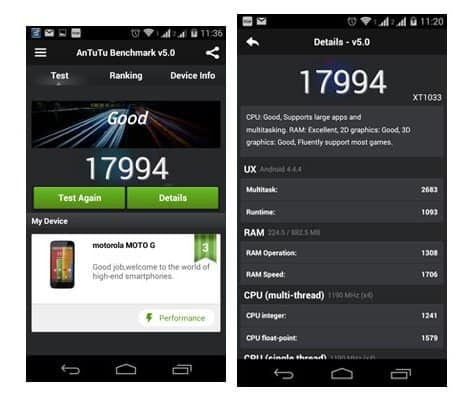 COMPARISON TABLE:
Factors
Xiaomi Redm 1s
Motorola Moto G 2014
Display
4.7′ 720p
5′ 720p
Processor
Quad core 1.6Ghz Qualcomm Snapdragon 400 with
Adeno 305 CPU
Quad core 1.2Ghz Qualcomm Snapdragon 400 with
Adeno 305 GPU
RAM
1GB
1GB
Storage
16GB internal with SD support
8GB internal with SD support
Camera
8MP primary, 1.6 MP secondary
8MP primary, 2 MP secondary
Battery
2000mAh
2070mAh
Availability
Periodic sales
Always available