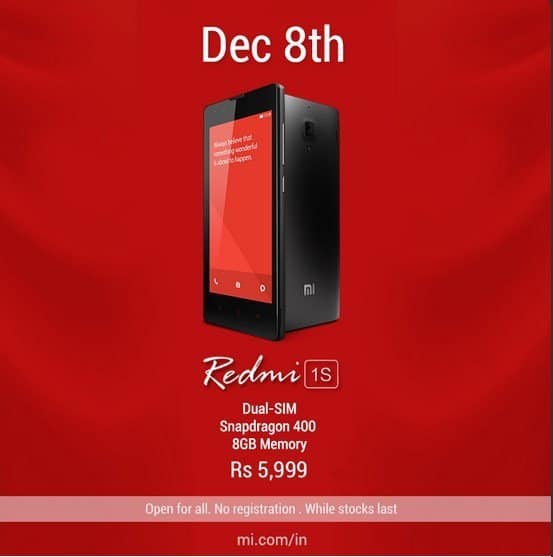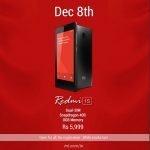 Xiaomi Redmi 1S will be on sale again this Monday (Dec 8th) via Flipkart, from Dec 8th-12th there will be Big App shopping day sale in Flipkart and due to this we can see one special sale of Xiaomi Redmi 1S again.
This isn't the first time that Xiaomi made special sale for it's discontinued smartphones, On Oct 6th Flipkart had a BigBillionDay sale and Xiaomi made Mi3 available on that day ( with limited stock + without any registrations). Now it's like the same ting again, on Dec 8th we are going to see Xiaomi Redmi 1S on sale again in Flipkart and this time there's no need to register for the sale.
We used to register for the sale before a day when the sale goes live and the stock is specified before the sale ( and also no.of registered users are also specified), but on these special days, we don't have to worry about registering for the sale, waiting for 2PM for the sale to go live. It's simple, Just wait for the Dec 8th and the sale will go live at  a specified time, and you can add it to the cart easily,
We don't know how many units are in the stock, but the sale will last untill the stock lasts. So, one should try before the stock goes out. As usual the Redmi Note 2nd flash sale will go live on Tuesday ( Dec 9th) and for this you need to register before Dec 9th. As we already guessed about the flash sale, and it went true, Redmi Note went out of stock in just 6 seconds and this proves that all the 3 smartphones from the Xiaomi are huge hit in Indian market.
Mi fans, you continue to surprise Mi. THANK YOU. <3 RT if you can't wait to get your Redmi Note!! pic.twitter.com/GecAzE5hr5

— Mi India #Mi10TSeries5G (@XiaomiIndia) December 2, 2014
So, it's Dec 8th then, one special sale of Redmi 1s which you don't have to pre-register and the next flash sale of Redmi Note will be as usual on Tuesday ( Dec 9th) which you have to pre-register.