Xiaomi Redmi Note is now available in India through Flipkart. The first Flash sale is going to start on December 2nd through Flipkart. The Redmi Note is Xiaomi's first phablet based on the solid Redmi 1S, and it is proud competitor for Moto X and Nexus 6  and tried to repeat its success. We cannot think of a better example to follow in terms of sales potential and, with the right touches, the phablet can hope of a similarly warm reception.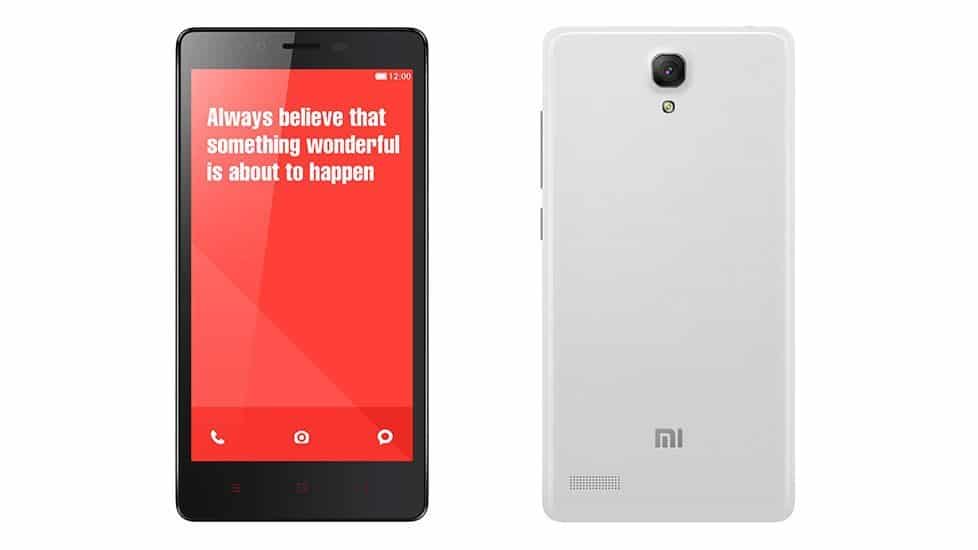 The Xiaomi Redmi Note can be related as big brother for Redmi 1s in its design and specifications. Redmi Note has bigger screen and is the first Phablet from Xiaomi with a sleeker design and doesn't feel as thick as the phone. The whole thing is powered by MediaTek's MT6592 chipset with an octa-core processor, capable of running as many cores as needed instead of handling them in fours. A 5.5″ IPS display of 720p resolution goes with a 13MP rear and a 5MP selfie camera. Now let's look at the top 5 things that made Redmi Note, a Unique smartphone from Apple of china.
Key features
5.5″ IPS 720p capacitive touchscreen with 267pi pixel density
Android 4.2.2 Jelly Bean with MIUI v.5
1.7GHz octa-core Cortex-A7 CPU; 2 GB of RAM; Mali-450MP4 GPU; MediaTek MT6592 chipset
13MP camera with LED flash, 1080p video capture
5MP front-facing camera; 720p video recording
8GB of built-in memory, expandable via a microSD card slot (up to 32GB)
Dual-SIM
Active noise cancellation with a dedicated microphone
3,200mAh battery
Top 5 things to know about Redmi Note:
1. Display:
Xiaomi Redmi Note relies on a 5.5″ IPS display of 720p resolution, which makes up for a pixel density of 267ppi. There is no special protection for the display, just a regular glass. Lacking of Gorilla glass display is one of the disadvantages in Redmi Note. You should be more careful while handling the Redmi Note as it might accumulate scratches faster. The display on the Xiaomi Redmi 1S is decently bright at 100% with great contrast and colors. Unlike the Redmi 1S, the Redmi Note remains nicely bright at its 50%, setting. The color reproduction is the same as on the 1S, but the contrast is somewhat worse. The major difference is visible only in completely dark rooms though. The 178° in-plane switching (IPS) technology delivers stunning color consistency from almost any angle. Images are not only brighter, but are also less affected by glare.
2. Performance:
The Xiaomi Redmi Note is powered by the MT6592 chipset with an octa-core processor – this is a set of eight Cortex-A7 cores, each running at up to 1.7GHz. It uses the Mali-450MP4 quad-core GPU and 2GB of RAM. There's no OpenGL ES 3.0 support, which is only added by Android 4.3 and later.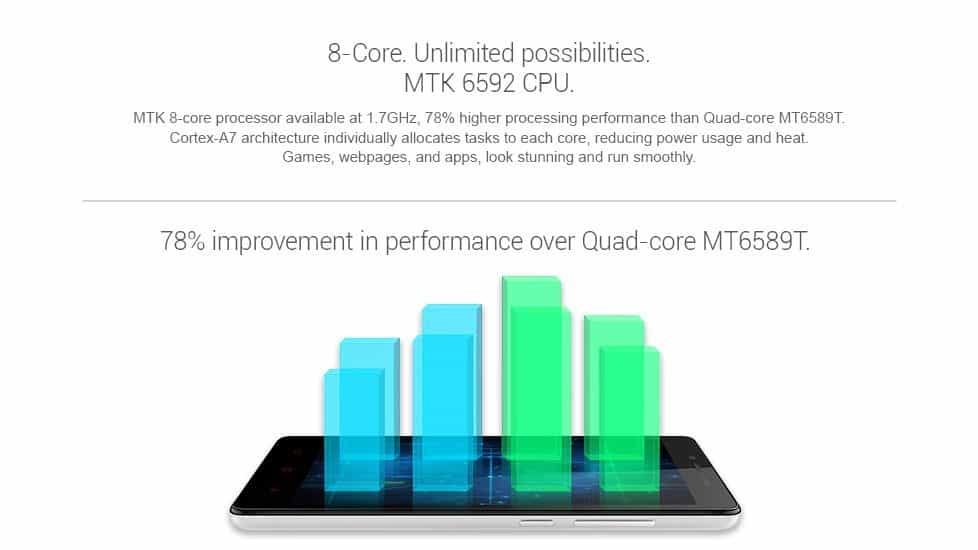 You should be aware of the somewhat downgraded version of the Redmi Note. It has utilizes the same MT6592 chipset, but with lower CPU clock at 1.4GHz and 1GB of RAM. If you are to buy a Redmi Note, you should read careful and check the specs of the model you are getting.
We compared Redmi Note to other Large-screened quad octa core smartphones like The Alcatel Idol X+ is based on the MT6592 chipset but the CPU is clocked at 2GHz, while the HTC Desire 616 CPU is clocked at 1.7GHz but has half the RAM. Xiaomi Redmi Note bested the Desire 616, came close to the Gionee Elife S5.5, which has a virtually identical chipset, but the Xiaomi Redmi Note is powered by the MT6592 chipset with 1.7GHZ has topped the HTC Desire, Gionee Elife S5.5 and Samsung Neo Note in the performance race.
3. Camera:
Xiaomi Redmi Note comes with decent 13MP camera, that is equipped with LED flash and a 5MP front facing camera for taking selfie shots. A 28 millimeter wide angle lenses lets you to capture more with each shot and also let you to focus on the foreground of the objects you capture.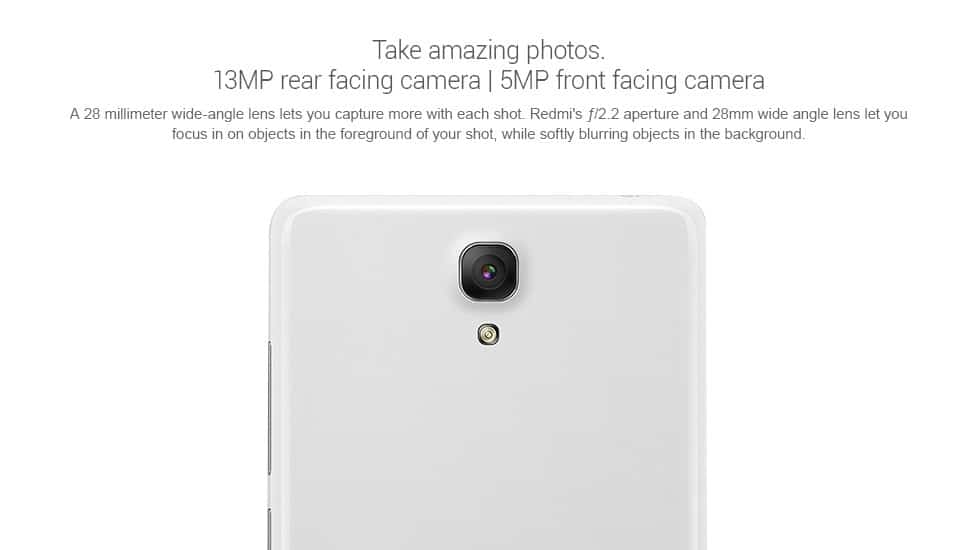 Xiaomi Redmi Note camera resolves a decent amount of detail although that comes at the price of rather high noise levels. The smartphone's camera renders colors well – slightly over saturated, but not too much to create an unrealistic effect. Not quite the best 13MP samples out there – but certainly among the finest in this price range.
The Xiaomi Redmi Note is capable or recording up to [email protected]. The detail levels in the 1080p videos are decent if not quite mind-blowing. Colors and contrast are very good, though and with the frame rate consistent at 30fps the videos are more than usual. The final point is Redmi Note is doing its best in affordable price. Best phone to choose at the price tag of INR 8999.
4. Battery:
Xiaomi has put a 3,200mAh battery inside the Redmi Note and it is removable, so you can replace it anytime you want or carry a spare if you need to. Redmi Note battery has endurance of 55hours, which is categorized into 21:41hours of 3G talk time, 5.5 hours Web browsing and 5.18hours video playback.

The phablet showed great endurance during the 3G call and standby tests, but the big screen took its toll on web browsing and video playback performance bringing the overall score down. This suggests that heavy users will actually be getting rather limited power autonomy, while those who mostly use their phones for calling will be able to get more than our rating suggests.
5. Price and Buying options:
Redmi Note is available in India through flipkart. It is available in two variants Redmi Note with price tag of INR 8999 and Redmi Note 4G with price tag of INR 9999. For placing the order in Flipkart it is necessary to get registered youself. We have best trick and tips to buy Redmi Note for sure in Flipkart.
Buy Xiaomi Redmi Note: Best tips and tricks to order Redmi Note on Dec 2nd via Flipkart