Motorola Moto 360 is officially on sale from Midday today, but Moto 360 stock is limited and you can buy this first Gen Moto 360 (Grey) in Flipkart for a price tag of Rs. 17,999/-
It's not so long about the news regarding Moto 360 appeared in Flipkart, we have already posted that Moto 360 is spotted in Flipkart with no price details, but it's official now, you can buy this smartwatch today and in few minutes sale will get start, but you need to hurry up as the stock availability is very limited. Earlier we have seen Moto X 2nd Gen (2014) is on sale with a budget friendly price tag and now this Moto 360 is on sale today, Just think what you can do with these two gadgets ?
You can make a lot from these two gadgets! we have already posted Top 5 features you can see in Moto X 2nd Gen (2014) and comparing to Moto X 2013, Moto X 2014 have advanced features, and up to now only 2 smart watches caught our eye, (we stick to IFA 2014 event, ) One is Moto 360 and the other is Samsung Gear S as of its design and specifications
Read more : Top 5 Smartwatches that you can buy in 2014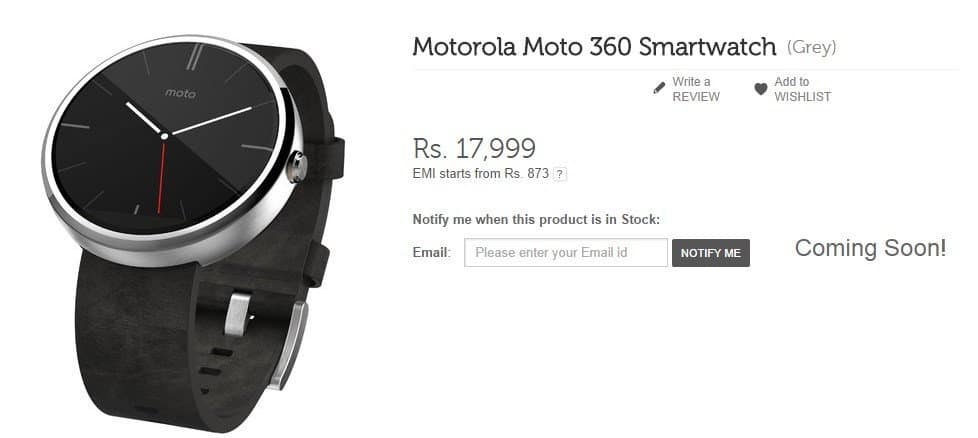 As we are urging readers to try to buy the Moto 360 now as of its great demand due to its Unique features,
Update: Now they deleted the page, we are waiting for some more information
Moto 360 Key Specifications:
A 1.5-inch backlit LCD touch screen with 320 x 290 pixel resolution
512MB of RAM | 4GB ROM
Corning Gorilla Glass 3 protection, Waterproof up to 3.3-feet for 30 minutes
Android Wear Operating System
Used as Workout tracking device  with its Built-in pedometer and Heart Rate monitor
Compatible with Android 4.3 or later and can synced to any smartphone running with Android 4.3 +
Battery life improved , can run all day
Wireless charging possible with Charging dock that comes with Moto 360
https://www.youtube.com/watch?v=E34L1BWJP2s
Buy Moto 360 Smartwatch Now
We will try to update the sale issue asap, Flipkart says it's facing some problem to list the Moto 360, and we have been watching the Flipkart since 3 days, and it's been down! so we should wait for some time!
Now everything working fine! Flipkart updated the page, grab it now before it goes out of stock