I guess you have guessed something right from the headline, at least if you're a 90s' kid you will surely be able to guess what I'm talking about. IGI is making a comeback soon, and most probably on Steam this time. And the name of the game will be Beyond Enemy Lines.
We have got this exclusive news that the Polygon Art, which is behind the development of s sequel inspired by Project IGI and IGI: Covert Strike is working on the next title- Beyond Enemy Lines. The game will be just like Project IGI and we will see a lot of improvement with the implementation of AI, which will make it possible to have multiple approaches and let the players go for any one of those throughout the game. The official website has explained quite a whole lot of things, including new weapons, AI, Noise Calculation System and of course, multiple approaches. Let's see what's inside. I am already on my way to try the Alpha version of the game and hope it will get launched soon. But, watch the trailer first. Remember that the game is in Alpha Stage so don't expect anything extraordinary.
1. Weapons
Believe me or not, the new game, Beyond Enemy Lines will introduce a bunch of new weapons, though I liked the way they introduced new Sniper rifles. Here is the full list of weapons that you can find in the game. However, more weapons may be added as well. The developer has stated that the names have been changed to avoid any legal issues.
Sidearms: K&H M23, Tacov CV7 (sound familiar)
Submachine Guns: K&H M5SD, Tacov C2000
Assault Rifles: Marven M16, AN-47 (may be AK-47)
Shotguns: Defender 590 (I know IDE defender, but a shotgun with similar name?)
Sniper Rifles: Magnum A3 (Counter Stirks fans' favorite one kill weapon), Vosdok SDV
Explosives: C4 (as expected, nothing fancy here peeps)
Other: Knife, Binocular, Night Vision, Thermal Vision, Your Voice (Holly fucking shit! Night vision and thermal vision)
2. AI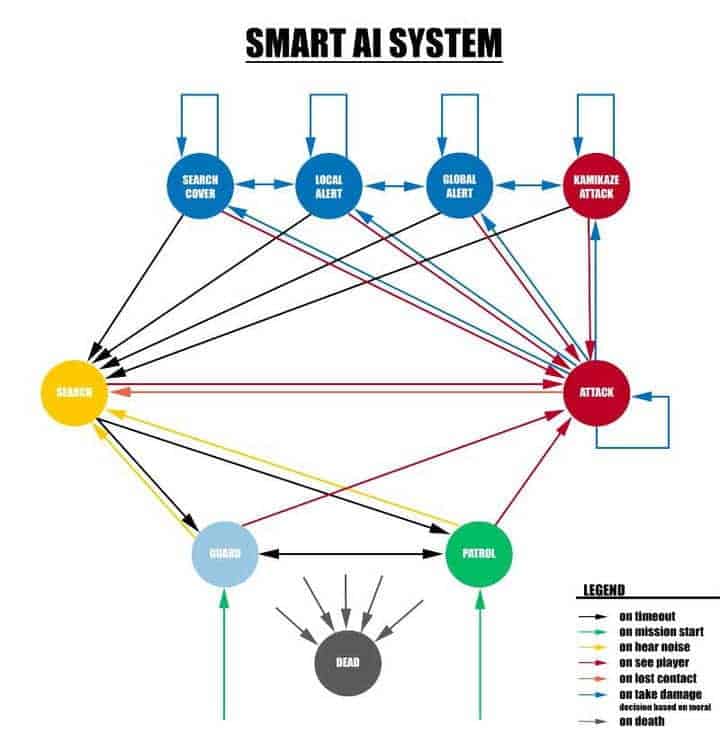 The new AI system is totally dynamic and won't stick to any particular pattern, though it will let the game go in some certain path based on enemy patrol routes. So, it is kind of a new thing in the new game inspired by IGI, Beyond Enemy Lines.
3. Noise Calculation
Unlike any other IGI game, in the Beyond Enemy Lines, each movement will trigger a noise which can be sometimes kind of disadvantage, but mostly it can keep you a step ahead of your enemy. You can distract the enemies and take advantage of that to sneak past them. Even reloading the gun, opening a door or toggle a switch will cause noises. Pretty nice improvement, huh?
And yes, we already talked about different approaches. So, I guess it's fine for me and both for you not to make it a long story. Now let's take a look at how all these happened.
Project I.G.I.: I'm Going In (released in Europe as simply Project I.G.I.) was a first person tactical shooter game was deloped by Innerloop Studios and released on December 15, 2000, by Eidos Interactive. The game received mixed reactions, due to some bugs and lack of multiplayer mode, but later after three years I.G.I.-2: Covert Strike was released, which was a tactical stealth shooting game with number of missions, but it didn't work out that well. The game was banned in China as it hurt the country's Army's image. Later on, many developers have tried and failed in the mission of creating a brand new game, as Edios stopped development of the game forever. Two years back, Polygon Art started working on this project with a Kickstarter campaign and looks like they are pretty successful as their project has been greenlit by Steam community, which means Valve Corporation will be reaching out to the developer to make arrangements to launch the game on Steam.
Well, if you have watched the trailer, it's nothing compared to modern day FPS games, but also, it will be a kind of memorable one to have this game out on Steam. Hopefully, the community has shown interest and maybe we will be able to get some more glimpses of the game soon.