Moto X 2014 has arrived finally in India through flipkart with a tag price of Rs. 33,999 and it available for Pre-order through Flipkart, in India. Moto X (2nd Gen) has arrived exactly an year after its predecessor Moto X 2013. Motorola's new flagship Moto X 2nd Gen is comes with customized looks, wrapped in a sleek body and it was developed during Google's reign and now it is bound to be part of Lenovo soon.
Just like the first generation of Moto X, the Moto X 2nd Gen comes with a customizable body. Then second generation of Moto x also comes with more customizable options like heading up a high quality, genuine Horween leather back options. When it comes to Processor, Moto X 2nd gen holds a 2.5 GHz Qualcomm Snapdragon 801 system-on-chip with 2GB of RAM, a 13-megapixel rear camera with support for recording 4K resolution video, and 16 or 32GB of internal storage. The 13-megapixel rear-facing camera is encircled with a clear ring that houses its pair of LED flashes; the ring in Moto X 2nd Gen, generates light refraction, which is intended to improve flash performance.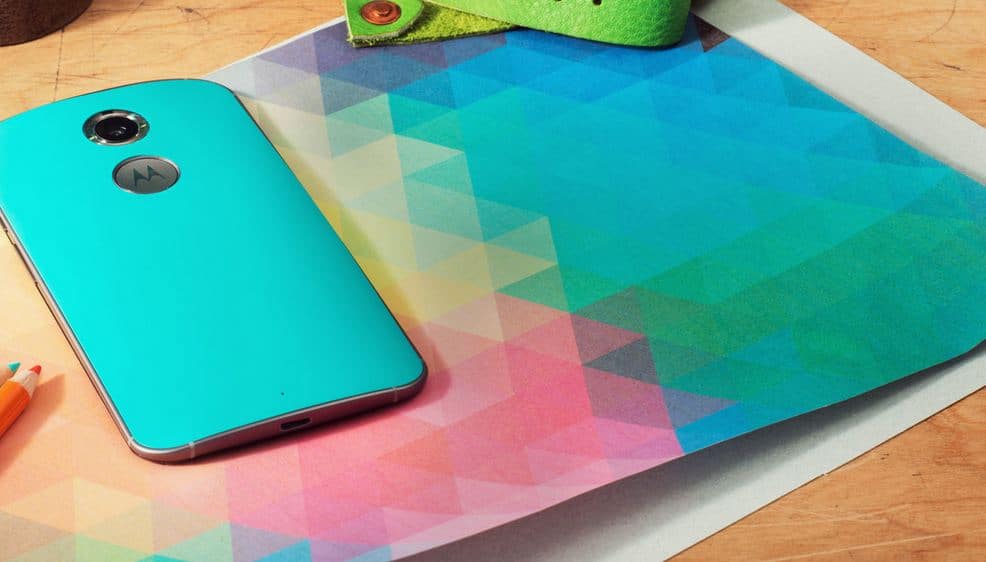 Specifications of Moto X 2nd Gen:
Quad-band GSM; HSDPA/LTE connectivity
5.2″ AMOLED display, 1920 x 1080 pixels, 424 ppi; Moto X 2nd Gen comes with Corning Gorilla Glass 3

Android 4.4.4 KitKat with stock UI (upgradable to Android L)
Qualcomm Snapdragon 801 MSM8974AC chipset with quad-core 2.5GHz Krait 400 processor, Adreno 330 GPU and 2GB of RAM
13MP camera, dual-LED ring flash, 2160p video recording (4k Recording)
2MP front-facing camera with 1080p video recording.
16/32GB of built-in storage
Active noise cancellation with four microphones
2,300mAh non-removable battery
Gesture controls via built-in IR sensors
Available voice control and active notifications
Sleek, customizable body with superb build, tactility, and handling; optional genuine leather or Eco-friendly wood back covers
Attractive pricing both on and off contract (US customers only), For Indian's Price of Moto X 2nd Gen is Rs. 33,999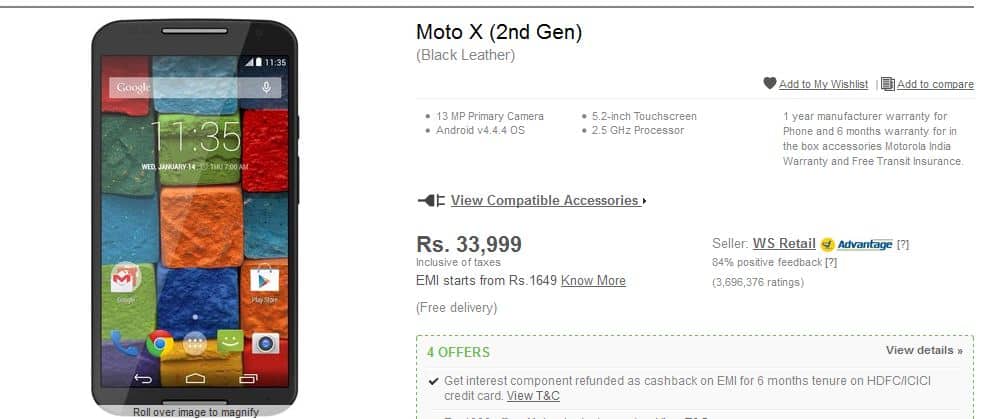 5 Best reasons to choose Moto X 2nd Gen:
Design and Build Quality: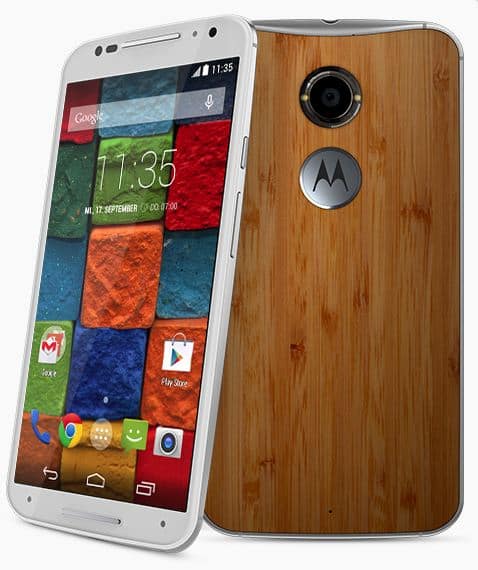 The new 2nd gen Moto X follows the exact same design as its predecessor, which was one of the better-looking devices to go out last year. With the help of metal frame and genuine leather the 2014 flagship smartphone Moto X has elevated in terms of design and luxury appearance. Just like Iphone, Moto X 2014 has got premium appearance with its luxury level design and Benchmark higher than Apple iPhone 6 and iPhone 6 Plus. It is truly impressive what the combination of metal and natural materials can do the appearance of a phone. The new Moto X is unmistakably a Motorola, though one that screams upmarket. Another major point in the design of the Moto X is the Moto Maker customization suite. It allows users to literally have their smartphone their own way. Use Moto Maker to customize your Moto X. But sadly this is only available to US Customers.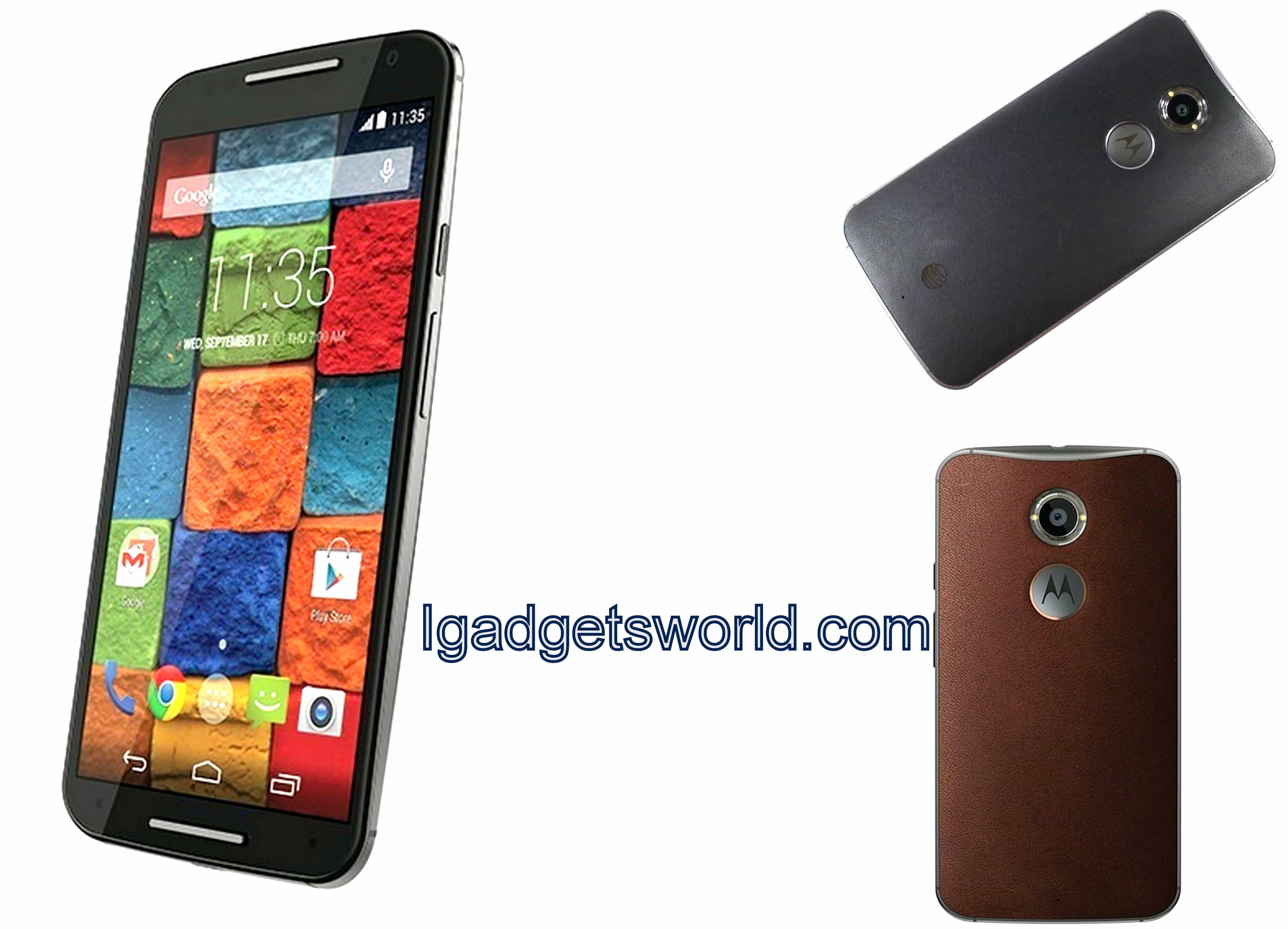 Just like last year, the available color options for the front of the Moto X are black and white. Once again, you can have the back and the accent colors any way you like; you can also add a custom engraving on the back. The metal frame is available in light or dark aluminum finish.
Build quality of the second generation Moto X is superb. The smartphone is impeccably put together with metal chassis and front panel covered by Corning Gorilla Glass 3 – it can rival the best offerings out there, regardless of the manufacturer.
Physical measures of the new Moto X are 72.4mm x 140.8mm x 3.8-9.9mm, while its weight tips the scale at 144 grams. Due to the larger display, the 2014 model has crown considerably in width and height compared to the original (129.3 x 65.3 x 10.4 mm and 130 grams).
Display: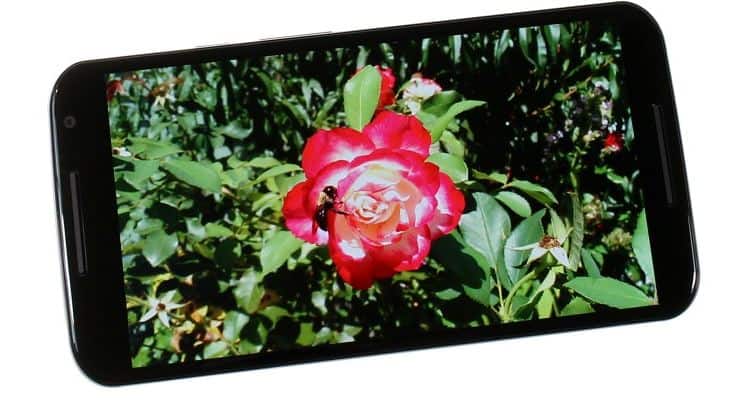 Moto X (2014) comes with  5.2″ AMOLED display with a resolution of 1920 x 1080 pixels. In line with what's offered in most of today's Android flagships, the screen represents a massive upgrade over its predecessor in terms of both size and resolution. The display boasts infinite contrast (as expected from an AMOLED unit), coupled with stellar viewing angles and brightness. With a pixel density of 424 ppi, all content looks sharp. Overall, the display of the new Moto X is massive improvement over its predecessor's.
Con in Display is its sunlight legibility puts it slightly behind today's best screens. Most users however, will likely enjoy the saturated, if a bit inaccurate color reproduction.
Performance:
The new Motorola Moto X packs Qualcomm Snapdragon 801 MSM8974-AC with 2.5GHz quad-core CPU. The GPU is Adreno 330, clocked at 578 MHz. The device's silicon is the default setup for most Android smartphone flagships this year, and has already proven to be a solid performer.
GeekBench and AnTuTu showcase the raw CPU power of a smartphone. The new Moto X did great on both occasions.
Camera: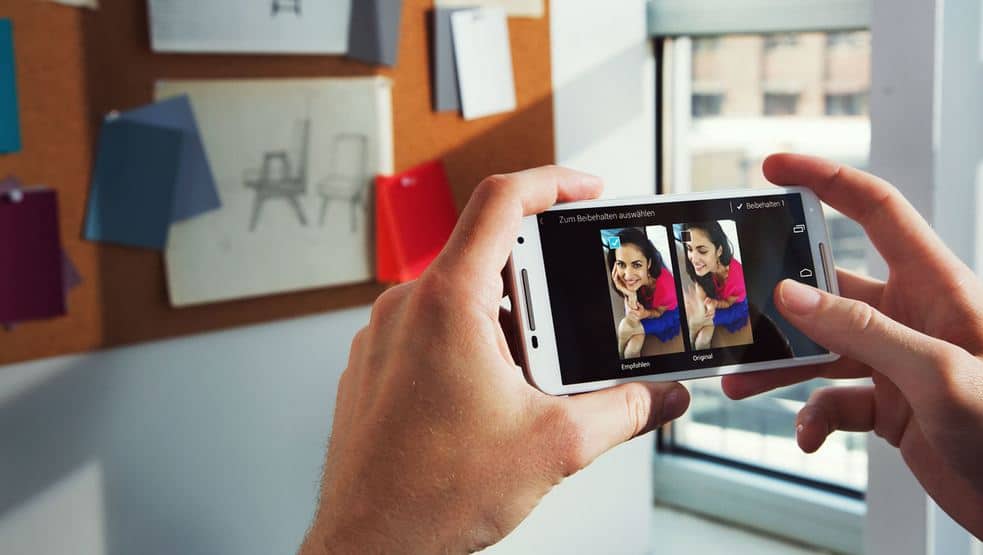 The new Moto X features a 13MP f/2.25camera with dual-LED flash. the ring in Moto X 2nd Gen, generates light refraction, which is intended to improve flash performance. The camera can be activated by a simple hand gesture. Dubbed Quick Capture, the feature works by twisting your wrist twice when holding the device.
On the software side, the camera offers HDR, burst shots and panorama. The Moto X can also shoot UHD videos at 30fps – par for the course for high-end smartphones these days. There are also features like face detection and geotagging that we've grown accustomed to in most phones nowadays.
At the front of the Moto X, there's a 2MP camera capable of 1080p video recording for video-chatting purposes. As far as the image quality is concerned, the Moto X (2014) is mostly on par with its predecessor. The images it produces are rather noisy and with only an average amount of detail. The color rendering is decent, but the red channel often falls victim to the very limited dynamic range and clips. Video recording is definitely the better half of the Moto X (2014) camera performance. The smartphone produces some splendid 4K footage with excellent colors and plenty of detail. Videos are nicely smooth too and the only issue we have with them is the less than stellar dynamic range.
Battery:
Battery is the Major bump and one of the Cons of Moto X 2nd Gen, but when we compare with other flagship smartphones, Moto X has higher endurance of 48h, which is pretty decent. The battery size of the new Moto X has remained practically unchanged from the one in last year's model. This year's offering packs a 2,300mAh unit as opposed to 2,200mAh solution in the 2013 model.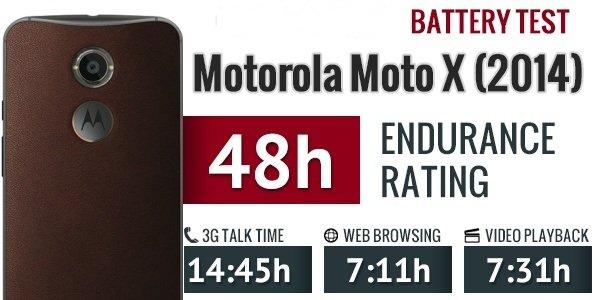 A 2,300mAh battery is quite decent by today's Android flagship standards, so the endurance rating of the new Moto X is spectacular. The handset achieved a score of 48 in our battery test.
Moto X 2014 is the best buy, when we compare it with latest Flagship smartphones in terms of Design, performance, battery, Camera and display. Apart from Flagship standards, Moto X 2nd gen comes with pretty enhanced features in terms of Active display, Touchless control and Moto Assist.
Stay tuned for our upcoming Comparative posts. Comment your views and opinions below.