Oppo help a press event today at MWC 2016, Barcelona where they unveiled their Super VOOC (Voltage Open Loop Multi-step Constant-Current Charging) which will be used in Oppo handsets that will arrive in future. What's Super VOOC, and why is it so revolutionary? Here's the reason.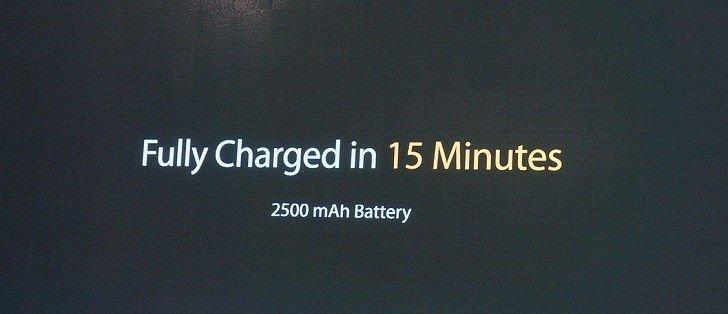 Oppo Super VOOC can charge a smartphone battery having a capacity of 2500mAh within 15 minutes, and yes if you're in hurry you can just plug your phone for just 5 minutes and can get 45% juice out of it. The Oppo Super VOOC will be available for phones with both microUSB and USB-C. Just Super VOOC Flash Charger plug, a cable and connector is required for using this on a smartphone. Here's how they showcased the difference between Qualcomm's fast charging and Oppo Super VOOC.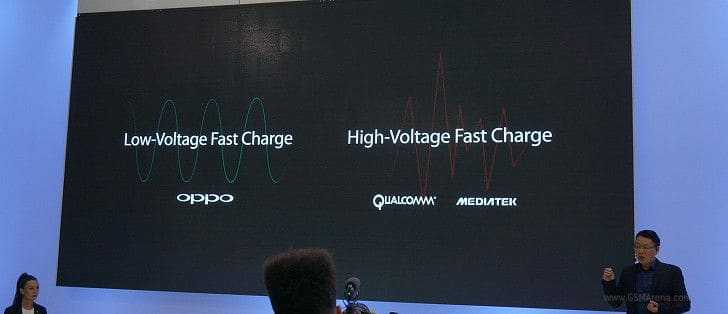 Oppo has confirmed that they will be adding support on their upcoming smartphones soon, as soon as they start production. The Oppo Super VOOC charges at 5V but is capable of directly transmitting the power to the battery without any voltage conversion. This way they are able to achieve up to 97% of charging efficiency.
Also, Oppo announced their SmartSensor Image Stabilization at MWC 2016, Barcelona. SmartSensor Image Stabilization breaks the divide between lens-based and sensor-based image stabilization. Oppo's SmartSensor is the first-ever sensor-based solution for smartphones, as well as the smallest optical image stabilizer in the workld, as the firm has claimed. Unlike lens based stabilization which can stabilze vibrations on two axes of motions, the pitch axis and yaw axis, SmartSensor solves this problem, allowing for image stabilization on three axes, pitch, yaw and roll. Making split-second adjustments with its comb-shaped monocrystalline silicon MEMS, SmartSensor achieves full three-axis image stabilization in a mere 15 milliseconds. It uses a voltage-driven sensor, which reduces power consumption upto 10 milliwatts, which is much lesser power consuming than lens based stabilization. Also, it does not heat up the camera module at all.
At MWC 2016, Oppo also announced  their 'Camera Phone' strategy.  Under the new strategy, Oppo plans to strengthen a well-deserved association between OPPO and great photography.And we also can see that obsession of photography and selfies as Oppo just launched the Oppo F1 which is dedicated to selfies lovers. That's all folks for now, we will update you as soon as we recieve the latest updates from Oppo.