Samsung Electronics today at New Delhi, launched it's Galaxy Note series successor- Galaxy Note 4 in to the Indian market for a price of Rs. 61,500 but the market operating price might be varied from Rs. 58,300 to Rs. 58,500.
After the successful unveiling of Galaxy Note 4 in the IFA 2014, it set into release in South Korea first during it's world tour, and in the World tour in seoul, Samsung Electronics officials confirmed that Note 4 will be on sale On sept 26th in korea first and before the end of October, they are expecting to launch the Note 4 in 140 countries, and as expected today a press event is held at New Delhi where Samsung Electronics released the Next Galaxy phablet- Galaxy Note 4 into the Indian market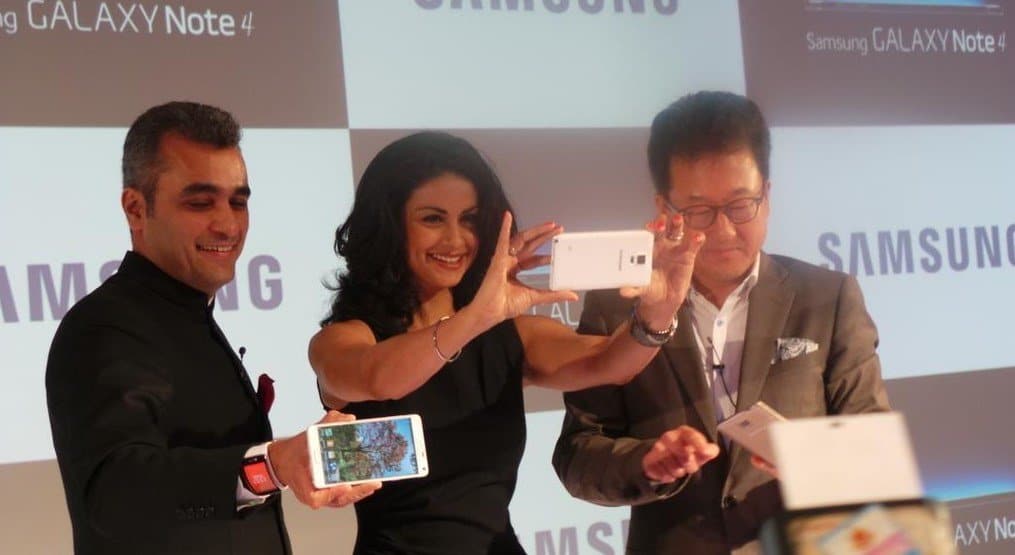 "The launch of Galaxy Note 4 highlights Samsung's commitment to deliver iconic and differentiated products. The new device exhibits people inspired innovation with its unique combination of an enhanced S Pen, large and vivid display and superior productivity features to provide the most refined Galaxy experience to our customers. Samsung has significantly contributed to the wearable industry by taking the lead in offering unique smart wearables and the launch of Gear S will further set a new standard in the mobile communication space." said Asim Warsi, VP, Mobile & IT, Samsung India
The Galaxy Note 4 is offered in 4 vibrant colors : Black, Gold, White and Pink and with these colors the flipcovers are also offered in 4 types, they are : Flip wallet, s-view Flip wallet, s-view, and finally LED cover ( which is similar to the Dot case in case of HTC ) As it is launched in India, the Galaxy Note 4 comes with pre-loaded 14 regional languages like telugu, hindi, gujarati, tamil etc. Its a 4G LTE variant with an 2.7GHz quad-core Snapdragon 805 processor instead of the 1.9GHz octa-core (1.9GHz quad-core + 1.3GHz quad-core) and we might see the Exynos processor #Note 4 soon.
Read more : Samsung Galaxy Note 4 & Samsung Galaxy Edge Benchmark results are out [Exynos vs Qualcomm]
https://www.youtube.com/watch?v=OG4PpE_0JSs
And yes, Vodafone made an introductory offer for the users of Note 4, they will get 2 GB data per month, if they are new subscribers of Vodafone, and 1 GB per month for 2 months will be given to the existing vodafone customers who buy Note 4, this offer will be activated with in 2 days when u insert the vodafone sim in the Galaxy Note 4, and it will applicable until the end of April 2015
It is also confirmed that Gear S is launched for a price of Rs. 29,500, hoping to see it soon into the indian market,
what do you think about the price, is it overpriced ?