If you are looking for a decent smartwatch at some entry-level budget, ZGPAX S28 smartwatch can be your best option. We are bringing the full review of ZGPAX S28 Smartwatch which you can buy from Gearbest.com + a special discount coupon inside for our iGW readers
Smartwatches are trendy now a days, now you can see many people hanging out wearing smartwatches. Actually the wearable tech has grown popular for the last few years and with this, the innovations in this field has increased a lot. Now almost every smartphone maker is concentrating on smartwatches and wearable tech. But the question is "Are they really affordable?" May not be, just a few days ago Motorola launched their new Moto 360 Smartwatch  But I guess many people in won't be able to afford such a smartwatch, which costs as  much as a good smartphone. We also know that, tech attracts people and may be you are also attracted to the smartwatches, so we thought of reviewing something which is smart, works with your smartphone and affordable.
Introducing the ZGPAX S28 Smartwatch: smart, elegant and it won't put a hole in your wallet
What do you think when you look at this ZGPAX S28 smartwatch? Looks cool, like other gadgets? Yes, it looks to elegant and fit for teenagers and geeks, who love wearing such things. This smartwatch looks simple and stylish. The smartwatch is having two color schemes, golden and silver, though I personally loved the silver look along with black straps. And one thing is very common in ZGPAX S28 and iPhone is it has just one button.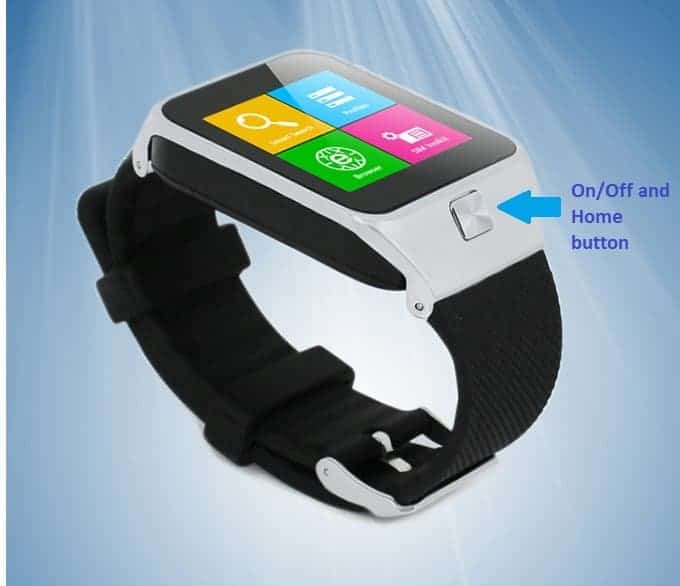 The smartwatch has a touch screen, microphone at the front. On the left side, there is a USB port and on the upper part of the smartwatch, precisely at just the opposite of the Home button, there is the speaker for loud output. Here's the image of this smartwatch so that you can see all the button and hardware positions.


Also I have observed the measurements of this smartwatch. The smartwatch measures 58 mm in length and 39 mm in breadth. And thinking about how thick is this gadget? Well, its' not very bulky at all. It measures just 12.5 mm in case of thickness.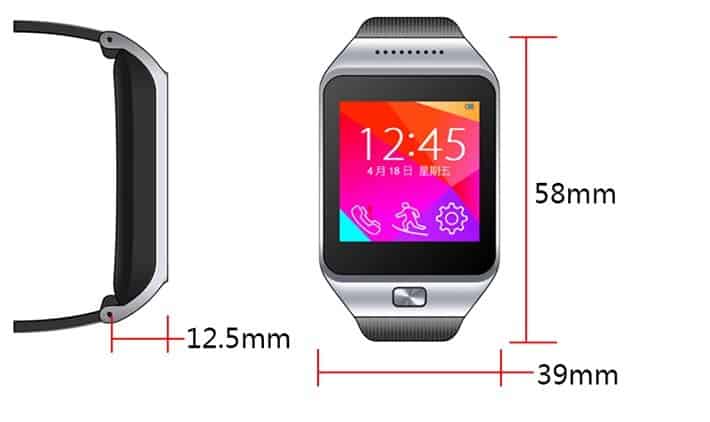 So here we are having all these great things on this smartwatch. So, let's start the full review of this ZGPAX S28 Smartwatch.
ZGPAX S28 smartwatch Full review :
Display:
The display measures 1.54 inch, and this capacitive touchscreen offers a pixel density of 240×240 pixels and supports multi-touch. The touchscreen is small, but I found that it is enough to read out text messages, receive calls and controlling the music.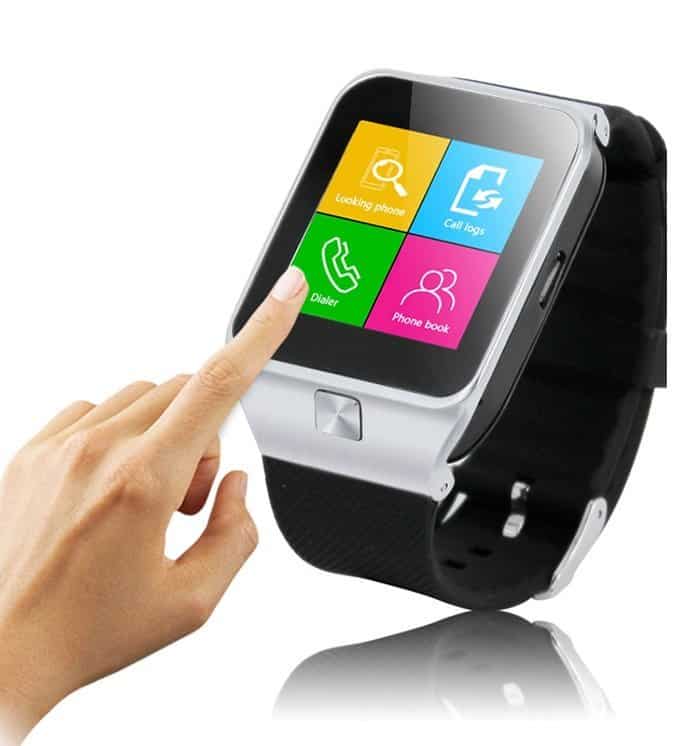 Hardware:
The ZGPAX S28 Smartwatch is powered by a Mediatek 6260 processor, which performs pretty well and handles multitasking in a good manner. Now in case of hardware there are not a large number of things to say, but keeping in mind that it is a budget smartwatch, there is no camera provided on it. However, it can work as a camera, while you connect it with your smartphone and you can take pictures or record videos, those precious moments will be saved to your smartphone. Also, there is a TF card slot, using which you can expand the memory upto 8GB.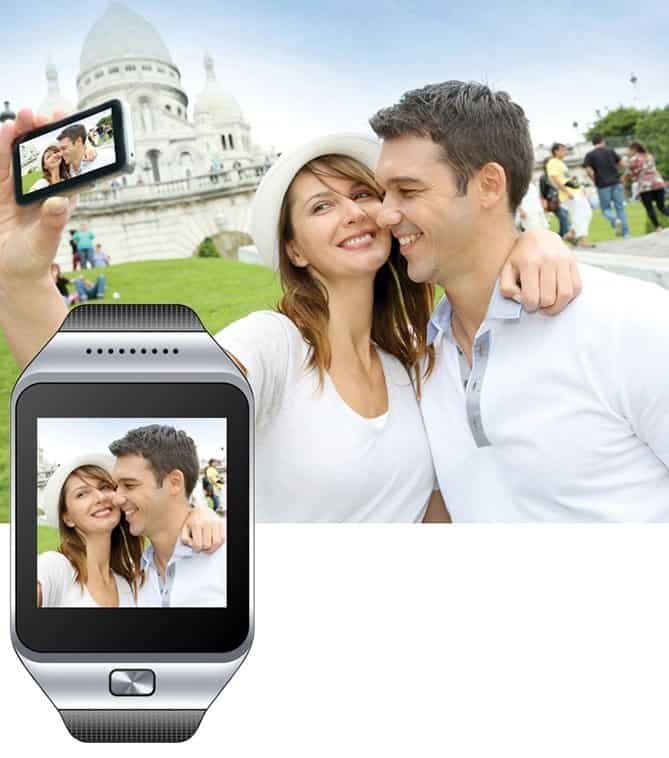 Compatibility:
This Smartwatch is great in terms of compatibility. The phone doesn't need NFC, Wi-Fi or such high-end features at all. Instead, it uses the most basic connectivity option that every smartphone has Bluetooth. This smartwatch is pretty smart and friendly and let you connect to your smartphone via Bluetooth, once you have connected you can use the smartwatch paired with your phone. Once the smartwatch gets connected with your smartphone, it will synchronise your contacts and then you can directly make calls using the smartwatch. Also, in case of incoming calls it will ring or vibrate and notify you, so when you're in a tricky situation, you don't need to pull out your phone out of the pocket to receive calls. 


That's not all, there are a couple of more awesome stuffs about it. Let's continue.
The same thing works in case of messages also, as soon as you connect it with your smartphone it will show all your Skype and WhatsApp messages, SMS, Emails. That's a good thing for both students and busy guys, you won't miss a message from your friend or colleague next time. But this feature will not work with iOS.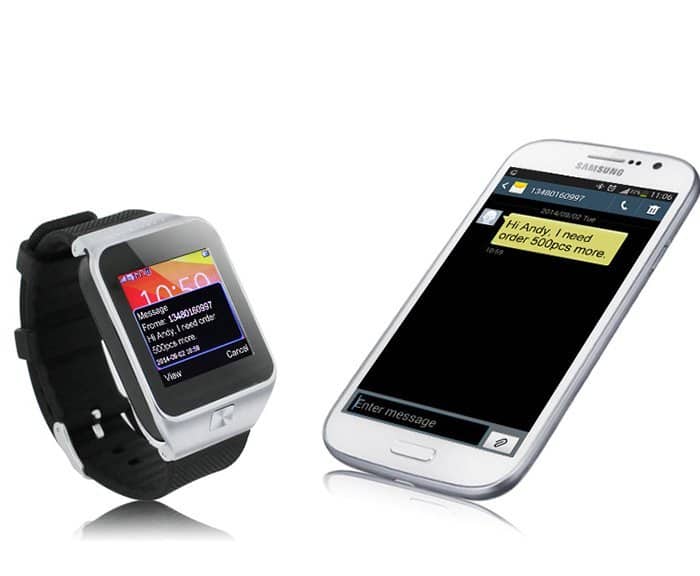 Also, you can control your music with this smartwatch, just connect it to the phone and start listening to your favorite music. It makes music really enjoyable, as you don't need to pull out your phone to go through the favorite tracks and you can keep listening without any skip.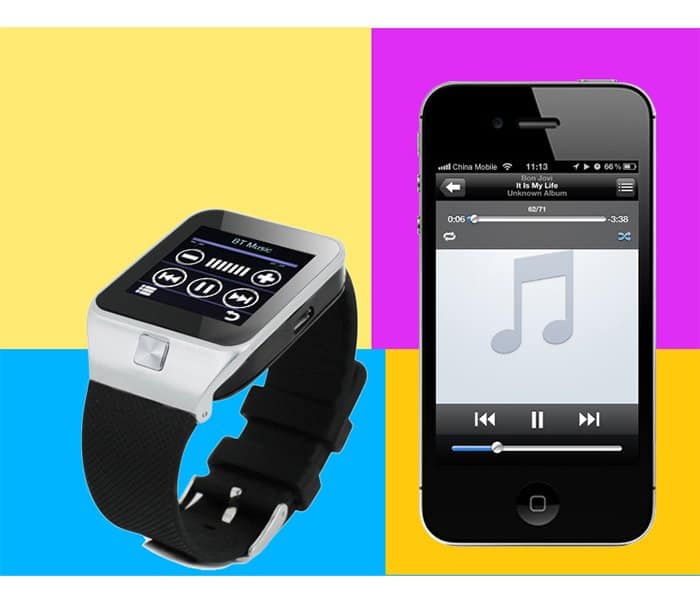 Hands on ZGPAX S28 smartwatch :
Other features I found to be great:
Anti-lost: This function will make the smartwatch ring once it is 10-20 meters away from your smartphone.
Look up phone: This feature is great for people who put their phones anywhere, and get into trouble finding it out. This will make your phone ring when you have activated the look up function and you can find out your phone easily.

Pedometer: The watch can record walk steps. You can  view current walk distance, fat and
calorie consumption.

Sleep monitor: When you wear it and sleep it will track how much time you sleep and how good your sleep was, this will enable you to live a more healthy life.
And now what about the price of this budget friendly Smartwatch ? well let's check it out! The actual price of this smartwatch is around $ 50. 78 ( after 50% discount), but a good news to readers


Buy ZGPAX S28 now
We had a talk with Gearbest.com which is selling this product for budget friendly pirce, and the good thing is they have agreed to provide a special discount for iGW readers, you can get this smartwatch for Just $43.69 rather than $ 50.78
Here is the coupon code :

IGW 
*all capital letters and use it at the time of checking out
Note : The coupon is applicable only for this product and it will expire on 2014.11.30
So, we found this piece of gadget pretty budget friendly, yet full of lots of features. And of course, if you live a busy life and want to get everything done easily, you can go for it. This is a very good product, if we compare the features with its price and you can't find any other smartwatch with all these stuffs at this kind of price segment.
Sponsored review from Gearbest.com