Yet another Chinese company DOOGEE is coming up with a new flagship F3 which has the specialty to have multi-RAM ranging from 1GB to 4GB. It is expected that DOOGEE F3 flagship will be releasing in the first half of 2015 ( preferably in August month).
The price of this flagship is not yet revealed but it is expected that it may not be over priced and will be with in the same range like OnePlus One and Xiaomi Mi4. This flagship has the same high-end specs like the other Chinese mobile vendors but special features makes it unique.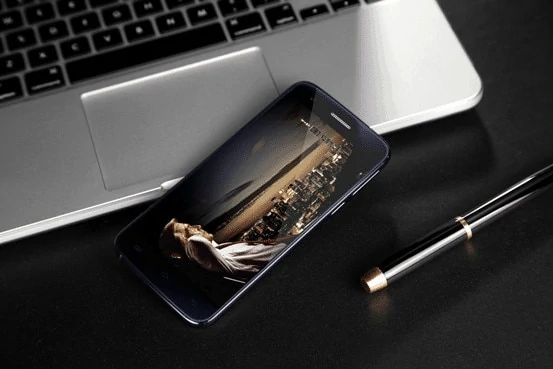 Specifications of DOOZEE F3 Smartphone:
Design:
Appearance is the first thing that attracts all the buyers and this flagship has elegant design and slim body, dominating it's predecessor & a perfect competitor for other smartphones in that range. The bezels is only of 1 mm making it one of thinnest flagship releasing in 2015.
The special metal cutting frame surrounds the phone while the back-cover is even more interesting. It is reported that bamboo and wood back cover is available while other materials will also be made available soon after release. The standard version of the back cover is protected by Corning Gorilla Glass panel.
Display:
The display is made of a 2.5D glass featuring a 1080P FHD display.
Camera:
It features a 13MP Sony MX214 with dual flash on the rear side while the front-facing camera is of 8.0 MP.
CPU:
The new flagship from DOOZEE is boasted with 1.5GHz MediaTek's MT6753 Octa Core- Cortex-A53 chipset ( 64-bit).
Other Specifications:
It is powered with Android's latest OS 5.1 ( lollipop) which features a multi version of RAM ranging from 1GB, 2GB, 3GB and 4GB. As per the report 16GB of internal storage will be provided in the flagship. As per the plans, DOOGEE is trying to develop a port of MIUI6, CM11, CM12.1 ROM and even UBUNTU for the flagship.
Gallery:
This new flagship will be available in Ocean Blue and Pearl White, also supports dual SIM ( 1 ordinary and 1 micro). Other info regarding this new flagship is not yet revealed and we'll update the same soon.