Vivo V15 Pro, the successor to the almost perfect Vivo V11 Pro, with its famed 32 MP selfie camera and a triple camera on the back, came to us for a review, and we tested it out end-to-end for a month. Priced at INR 28999, the phone has the potential to disrupt the mid-range market with the Snapdragon 675 processor and its flagship lens. How far does the performance back-up the specs on paper? Would it be worth your money? We took the phone to Australia on a road trip. The land down under-tested it on harsh conditions and made for a fantastic place to test out the lenses. Let us discuss this in detail.
Vivo V15 Pro Review
Design & Display
Hands-down worth the hype with a fancy gradient back and a slim, easy to hold thickness, the phone comes in two colors – Topaz Blue and Coral Red. Although a bit heavy on paper, with the time, you will quickly get used to it. The phone ships with a case thankfully as the back is quite slippery. You need long(er) fingers to use it single-handedly.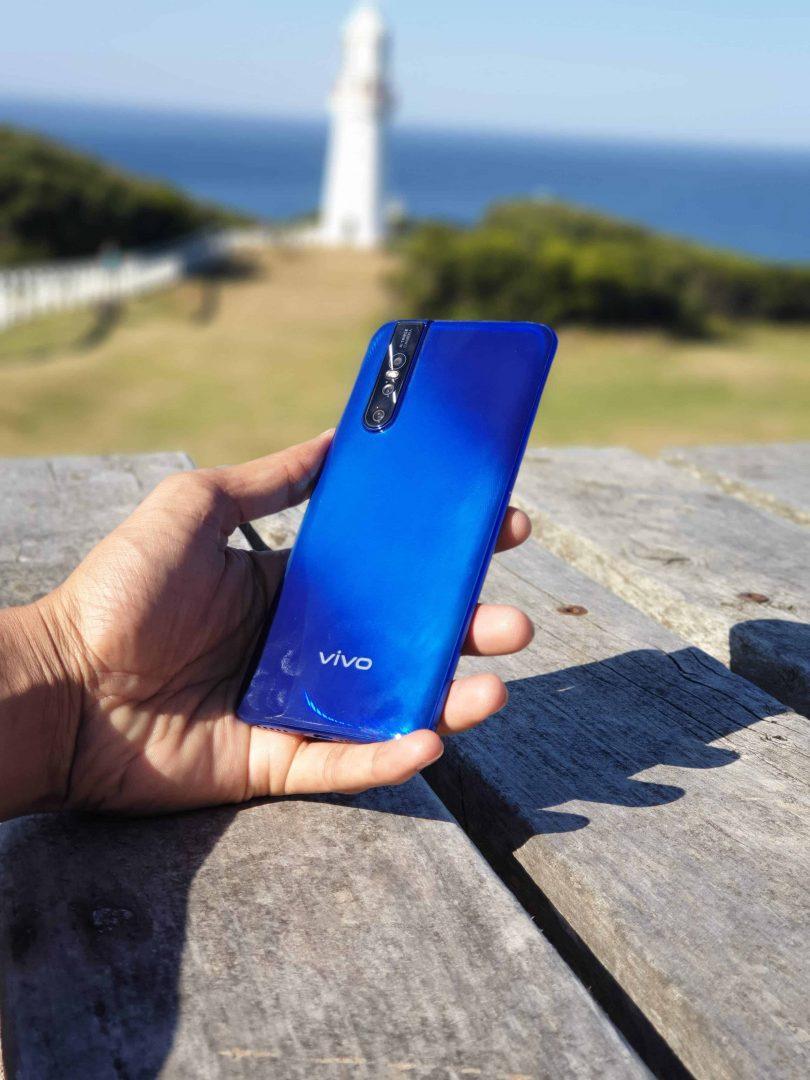 V15 Pro has a super AMOLED 6.39 inch 19:5:9 display, and I won't mince words – the looks are killer. With 1080×2340 pixels, the phone comes to life beautifully, and even the wallpapers can blow you away, thanks to no notches. There's also an in-display fingerprint sensor and automatic face detection (Thank God for the pop-up camera!)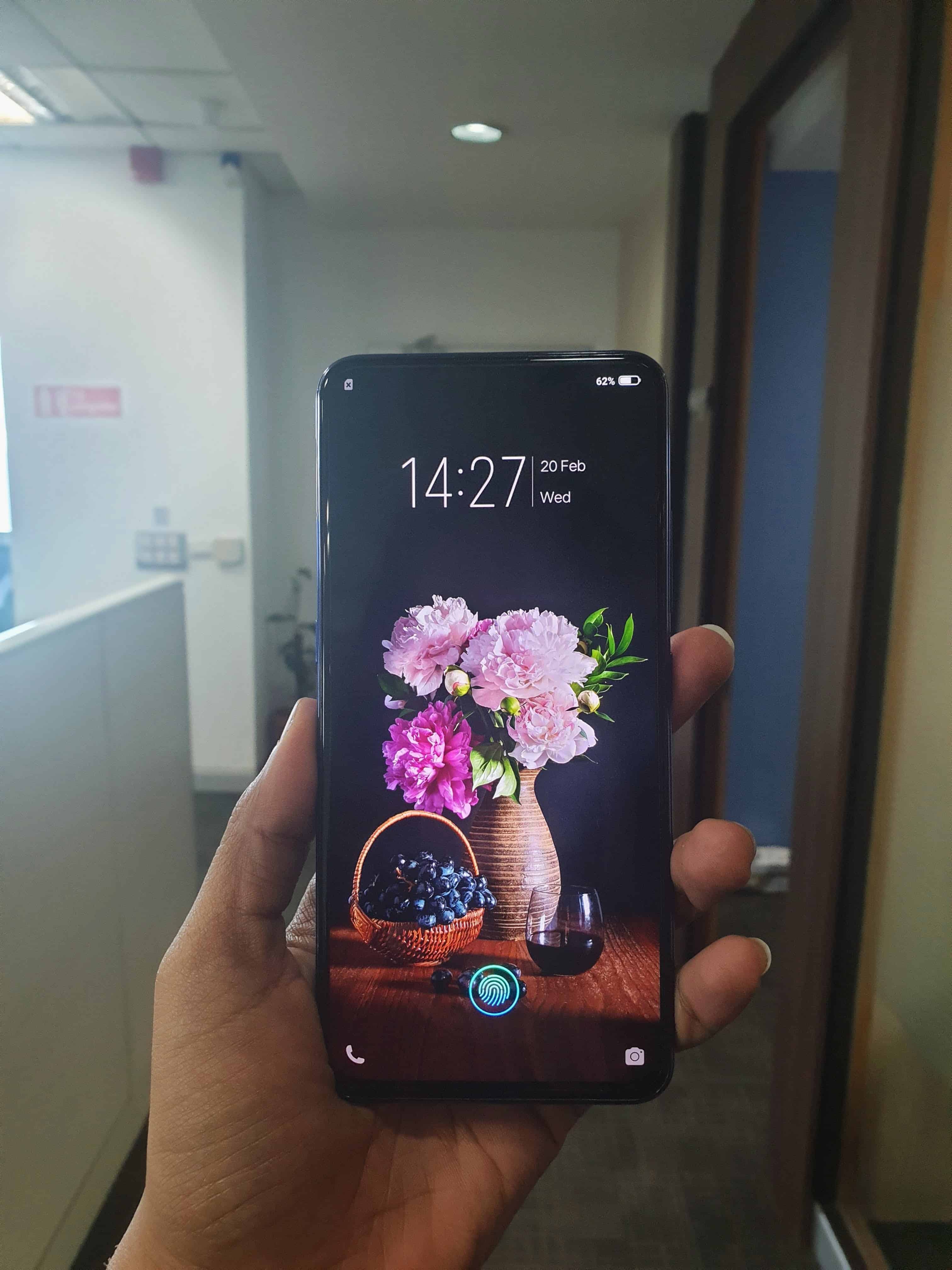 The selfie pop-up camera is in the right top corner, and the back-left corner has your triple AI lens. I don't think you can survive with the auto-brightness on the screen, thanks to the pop-up camera and I kept adjusting it during bright day time.  If you are going to be on the road a lot, you will find it quite annoying.
For some godforsaken reason, you will see a USB Type B slot in the bottom. Yes, you read that right, and you were in 2019. Pinch yourself twice as hard.
Performance
V15 Pro is powered by an Octa-core Snapdragon 675 processor, first of its kind among peers. Equipped with a 6GB RAM and 128GB storage, you can also add expandable storage. Add the 6.4-inch screen to the mix, and you will end up being buried in your favorite games with the processor multitasks quite easily.
What I did not like much is the FunTouch OS – As fun as it sounds, it is not the best UI out there. It could have just been much smoother, especially with Android Pie as the base. That being said, it is not the worst -no bloatware, no lagging.
Battery
3700mAh doesn't sound like a lot on paper, especially if it needs to fuel a 6.4-inch phone. Here's where Vivo has kept its promise and optimized quite well. During the road trip,  my data, navigation, and camera were ON almost all the time, and the phone was alive till late evening. If it is a simple workday that you're talking about, you're covered.
V15 Pro also comes with their proprietary fast charging, and you'd have your phone ready to go within an hour.
Camera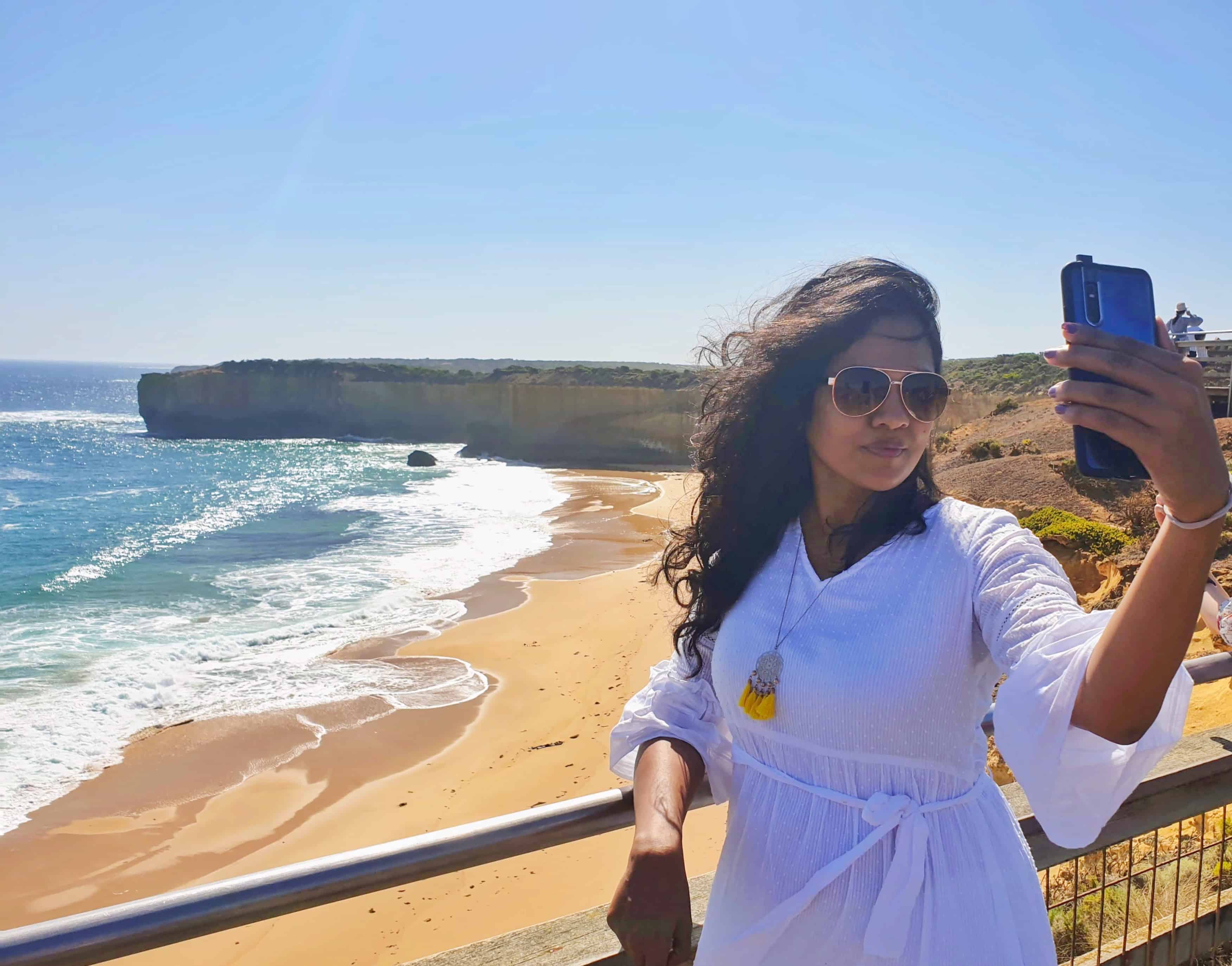 Here comes the star performer category for V15 Pro. Just like Nex, the pop-up camera looks cool and throws a lot of promise with life expectancy tested out by Vivo.  How good is the AI lens? Does the triple camera create a difference? How awesome is the pop-up camera?
We used this phone in Australia – which means we tested it out in dark rainforests, bright summer daylight in those mesmerizing oceans, and alpine roads for that wide coverage.
Daylight pictures are excellent, with the 48MP lens capturing every detail possible.
Did just the regular pictures make the cut for me? Hell no. Use the 8MP wide angle lens just ONCE and you'd be on a spree. There's this uncontrollable urge to bring out the wide-angle gun for every picture (The landscape addict I'm). The 120˚ field of view remains my most favorite part of the phone. You will see why:
The portrait images are great with a dedicated 5MP lens for depth of view. It does struggle a little bit when it comes to focusing on the right object.
What's not-so-great, you ask? Low-light photography. The phone struggles quite a bit without daylight. There's a dedicated Night mode that helps with exposure and churns out better pictures, but there are other phones which nail this segment.
If you are someone who can play around with the manual mode, you can get more mileage for your investment.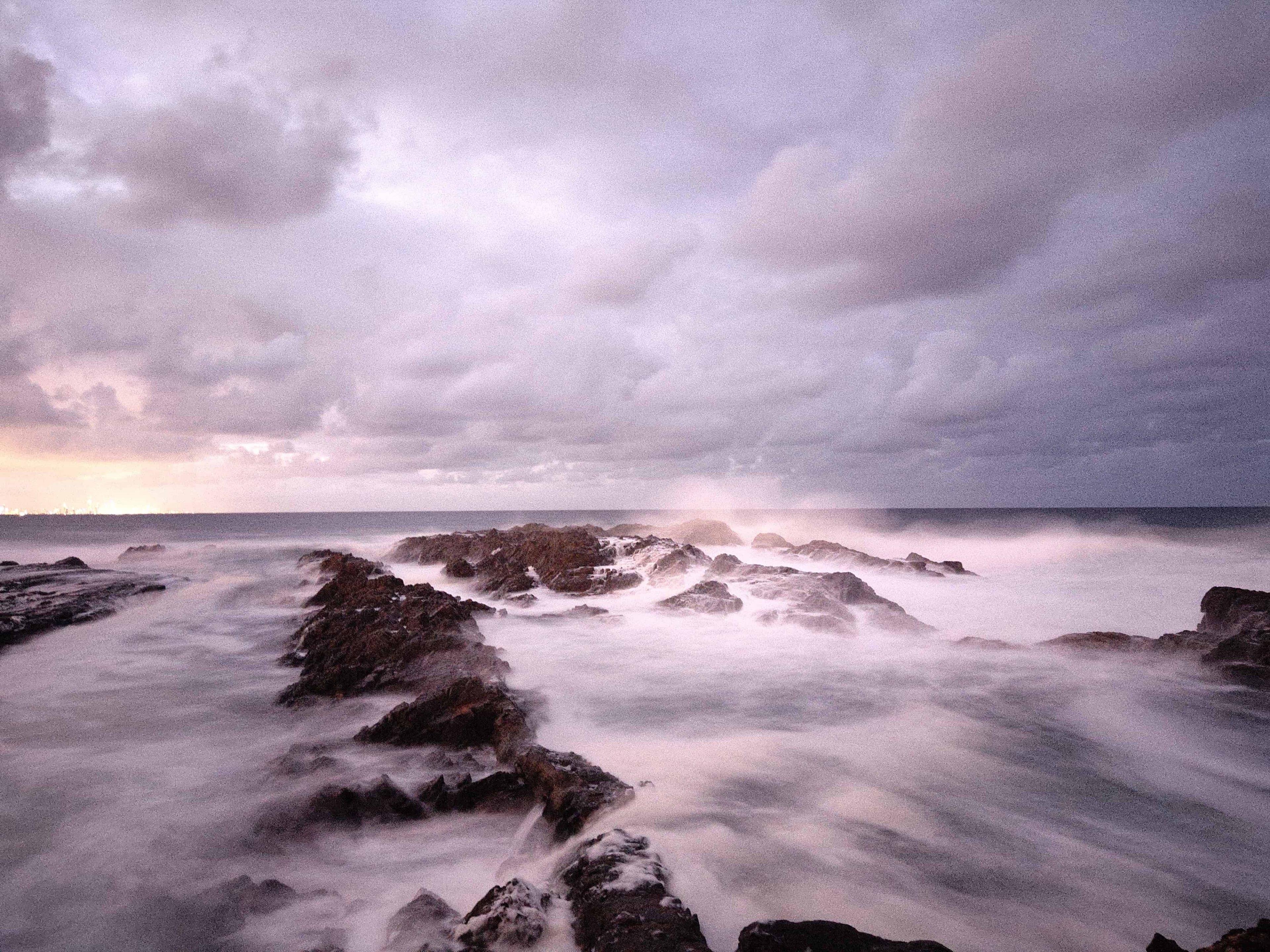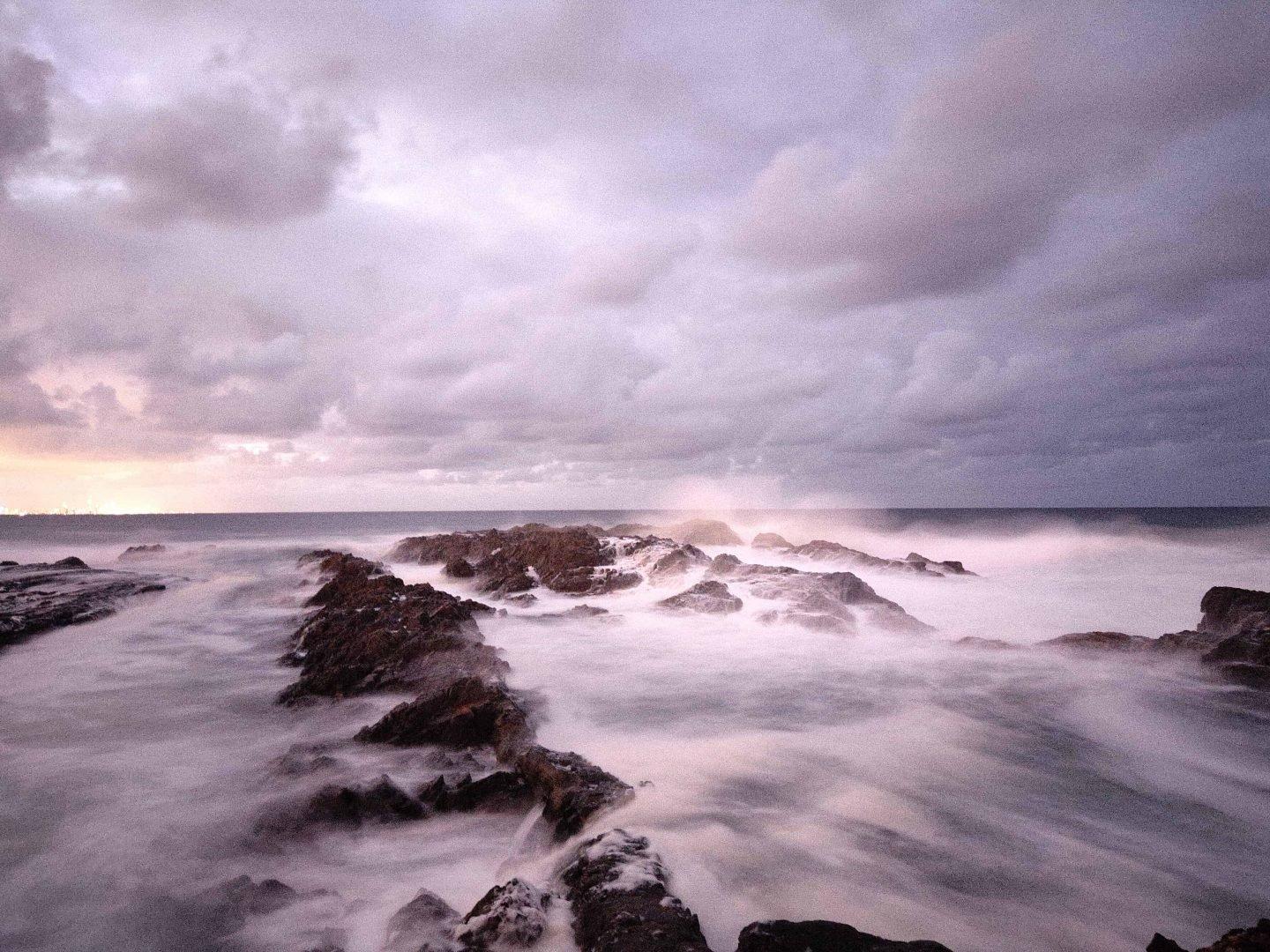 Thanks to the wide-angle again, I fell in love with time-lapse on the phone. Easy and light.
One of the coolest additions is AI beauty. Don't like how you look in your photos? No problem -you can change how you look even after you've clicked it. Think your legs can be longer? No problem. Like your nose to be slimmer? Granted. V15 Pro could be your super genie that feeds into all your insecurities.
Ok, so here's my opinion on the pop-up camera- Cool but not the best. Why cool? 32MP gives you a massive boost with details. The effects on the selfie mode are well thought through, and I loved the studio effect.
What I didn't like is that the AI beauty oversaturates and makes you look like a made-up barbie doll. Restrain yourself from using that, and you're good to go.
Pros
Great looks
Bezel-less Display
Processor
Wide-angle shots
AI edits
Cons
Type-B slot
Fun Touch OS
Low-light photography
Verdict
V15 Pro is an excellent package among mid-range phones – A great processor, decent battery life, and a wide-angle lens (cannot stress that more). Priced at INR 28999, it justifies the price, but is this the BEST phone you can buy in this price range? It depends on the kind of user you are. If it is day-to-day usage, you're looking at, yes. Gaming? Sure. Selfie addicts? Yes. A machine gun for photographers? No.