Jolla has been partnered with Snapdeal and launched it's smartphone powered with Sailfish OS today with a price tag of Rs. 16,499/-, Jolla has been planning to launch its smartphone in India and we covered this news earlier in July, but there were many delays due to some problems, but finally Indians can experience this new os.
A couple of  Nokia former employees started to develop these smartphones from the same home country of Nokia that is Finland and it was unveiled in May 2013 where the makers explained everything about the new sailfish OS which runs based on Meego OS ( we can see this OS in Nokia N9)
Read more : Sailfish OS, a smartphone optimized OS full specifications
Earlier today in the launching of this new smartphone Sami Pienimäki, Co-founder and CMO of Jolla Ltd said,"Today, we are extremely excited to announce the availability of the Jolla smartphone and Sailfish OS in India, offering a true new alternative to the smartphone market. The most widely used mobile OS is rapidly colonialising the digital world, removing any sort of differentiation and turning the once exciting smartphone business into a hardware battle. Jolla smartphone with its open and independent Sailfish OS, is bringing excitement and freedom back to the smartphone industry."
These jolla smartphones were initially sold in Europe from Nov 2013 after their launch on May 2013 which was priced around 349 Euros (approx 27k INR) so in our previous post regarding launch event we expected the same price, but the price has been slashed and it's just 16,499/- which is very promising price for this smartphone
Snapdeal has an introductory offer for this smartphone, for the first 90 customers who buy this smartphone will get a VIP box  with Other Half covers in Poppy Red, Keira Black and Aloe colors.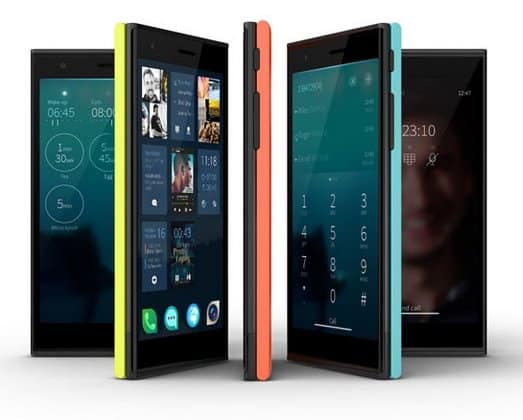 Jolla smartphone specifications:
A 4.5 inch qHD 5-point multi-touch IPS display with a display resolution of 960 x 540 pixels
Gorilla Glass 2 protection for scratch resistance
Sailfish OS (based on Meego)
A 1.4 GHz dual-core Snapdragon processor
Primary camera is 8 megapixel camera with LED flash +AF
2 megapixel camera (front)
 1GB RAM | 16 GB ROM | microSD slot available
2100 mAh removable battery
Price: 16,499/- via snapdeal
Jolla smartphone launch event Photos:
Read Full review of Jolla smartphone : Jolla unveiled its first smartphone with MeeGo-derived Sailfish OS
Source : snapdeal