MIFONE W15 is the first affordable smartwatch in the wearable market industry that is equipped with the strongest protective casing "SAPPHIRE Glass" and it comes with 2.5D curved sapphire touch screen.  When it comes to smartwatch, we usually think of why to have a smartwatch? If yes, then what kind of smartwatch i need? These are the two basic questions which arises in our mind every time.
Why to have a Smartwatch?
The world we see now is completely filled with digital gadgets and the digital revolution led to the development of wearable and virtual reality gadgets. The later is yet to be seen in the market (worldwide) while the former is already hitting down the sales of smartphones. When it comes to Smart watch, and reason why to have it? The reason is to make life simple and automated.  So it is good to have a smart watch that makes things easy and fast.
What Smartwatch I need?
There are many wearable gadgets are already available and recently Apple has made its Apple watch available into the market which comes with Sapphire display and other sensors. But the pricing is very high that an average individual can't afford to buy it and also it only works with iOS devices. There are several other smartwatches in the market which are quite good but most of them are beyond the budget price tag.
But what if features of Apple watch is mixed with the android device at a very affordable price. Will you buy it?
MIFONE w15: Best things to know about MIFONE w15 Smartwatch from GearBest:
1. 2.5D curved sapphire touch screen: MiFone w15 comes with 2.5D curved sapphire touch screen. The 2.5D curved screen in MIFONE w15 smartwatch has become the representative and high-end products in mobile phone industry.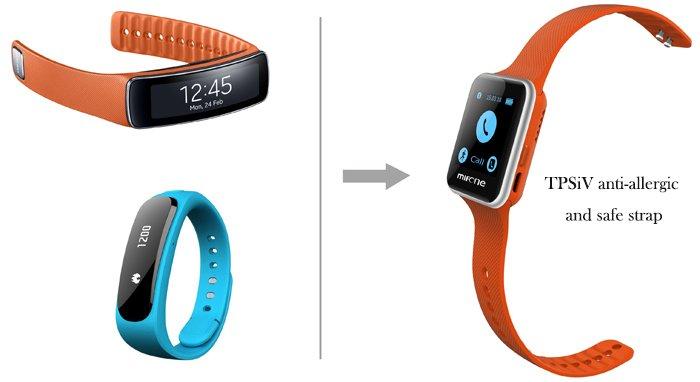 The stereoscopic effect of the screen and phone body is much stronger. When you sweep your finger over the 2.5D screen edge, what you feel is no longer the traditional feel of stopping abruptly, but soft and smooth transition.
2. TPSiV anti-allergic and safe strap: The strap is made of imported TPSiV materials, which is the European food-grade standard material, and also one of the best elastic material in the world.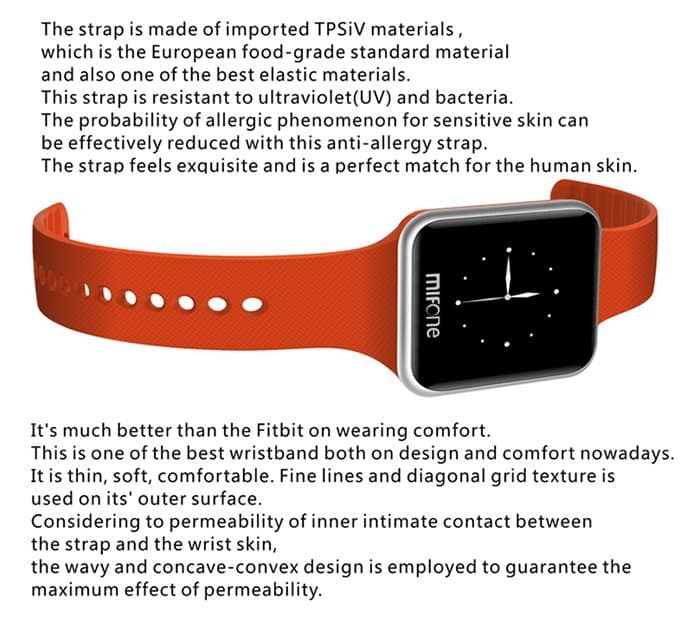 3. Anti-UV and anti-Allergy free: Excellent UV resistant and anti-allergic function, effectively reduce skin sensitive phenomenon.
4. Fashion design and comfortable wear: It is one of the best watchband both on design and comfort nowadays.
It is thin, soft and comfortable. The outer surface with fine lines and oblique grid texture, takes into account the permeability problems of inner intimate contact between the strap and wrist skin, the wavy and concave-convex design is employed to guarantee the maximum effect of permeability.
5. Smart bight screen: Beautiful appearance is very important, both beauty and connotation is more popular with people.
6. Exclusive technology: Exclusive tracking and display technology, wearing it on the hand, raising your hand to see the time that you can feel the owners demand for smartwatches.
7. High capacity battery: 4.35V high-pressure and high-capacity lithium-ion polymer battery.  It is Equipped with 405mAh high-capacity batteries, with Seiko protection board for double protection, it supports 0 volt charging. Both the ultra-thinness and high-capability are ultimately realized, and time of endurance is significantly improved.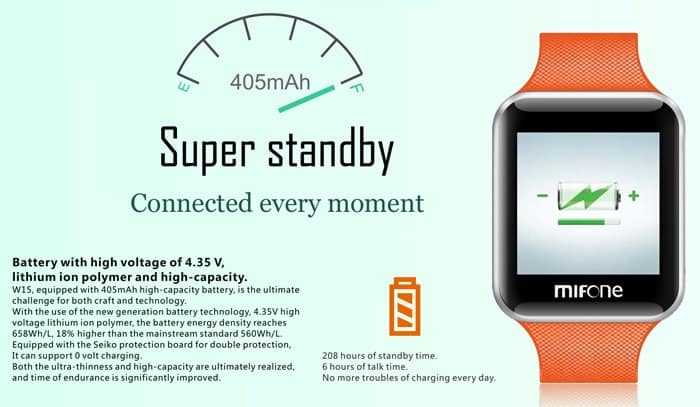 Other Features and Function of MIFONE W15 Smartwatch:
Features: Mifone comes with Mobile U disk function and it has 128M U disk. It is equipped with a 3D gravity sensor and gyro pedometer function. Pedometer helps in tracking of steps and it helps in measuring physical activity of an individual. Also it has call reminders, phone-book sync, find phones, Bluetooth communication, recording, alarm clock, stopwatch etc.
Functions:  Built-in MP3 music, one can play directly without connecting with the phone; Also, it is Global universal standard Micro-USB charging port, convenient to charging. W15 is compatible with iOS and Android phones via Bluetooth and we do not have to install any other APP on the mobile to make it sync, it is convenient for users.
Specifications of MIFONE W15 Smartwatch:
CPU: 900MHz ARM9
RAM: 64Mb SRAM
ROM Flash: NOR Flash 128Mb(can do a U disk to use)
Speaker: Built-in 12W speaker
G-sensor: Built-in
Ceramic Antenna: Built-in
Colors available: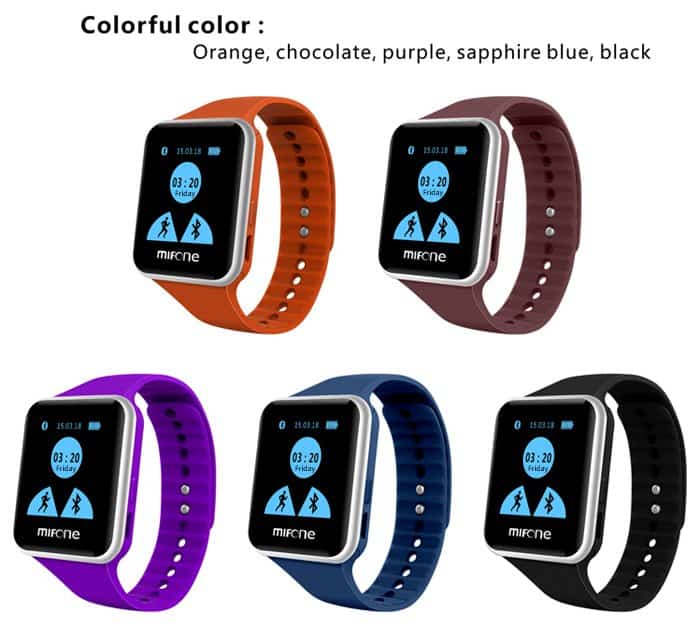 Final verdict: If you're looking for a budget friendly smartwatch ( which might be your first wearable gadget) then this is the best smartwatch you're looking for ! The original price of this bluetooth powered smartwatch is of $48.42 but you can get it with a 32% discount from GearBest, so after the discount the price of this smartwatch is just $32.99
Buy MIFONE W15 smartwatch : $32.99