Counterpoint research website made a research on Mobile sales in India 2014 (Q2) and shockingly our Indian Smartphone company MicroMax leads our Indian Smartphone market beating the all time leading Samsung, Now MicroMax is the highest handsets seller brand in second quarter of 2014 (India) having a market share of around 16.6%, compared to the Korean mobile vendor "Samsung" whose market share is 14.4%
we have already published how Local Mobile phone makers started to dominating the Indian Mobile market, and this gives an addition to that , as our Indian Mobile vendor proved it's prominence in mobile sales, the below pie chart depicts the Indian handsets share (%)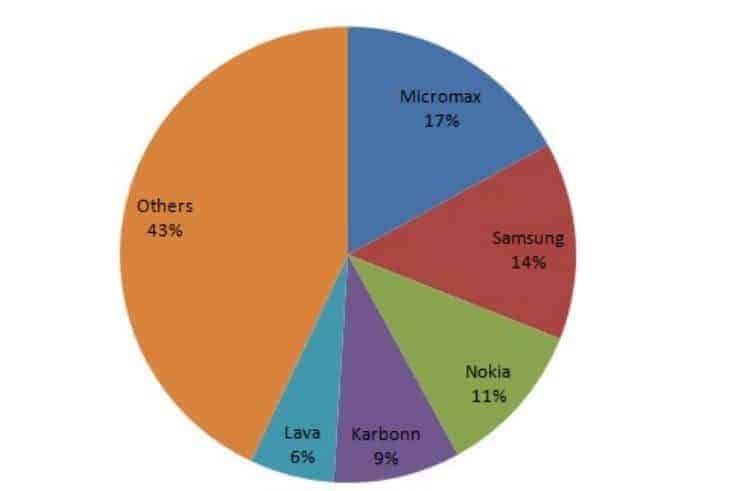 Over all 2% of growth rate is seen in mobile sales in India (2014) which is very low, but the sales of smartphones is nearly 68%, but the featured phones didn't sale well as it's sales growth rate down by 16% in Q2, this shows that mobile phone users are tending towards the smartphones rather than featured phones and MicroMax occupied more than 2/3rd of the market. Other Indian mobile phone manufactures like Lava and Karbonn's sales rate are also increased comparing to previous year, their shipment share is around 6 and 9% respectively, leaving Nokia and Samsung for just 11 and 14%
But in the Smartphones shipment share, Samsung is still the top 1 in Indian smartphone market with a share of around 25.3%. leaving next to MicroMax and Karbonn,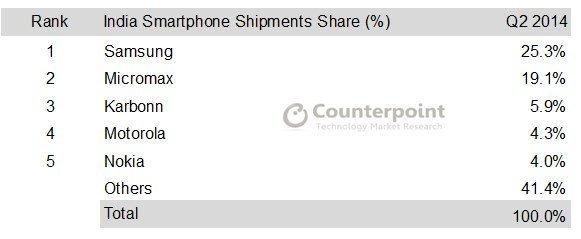 and we already posted that  Motorola beats Nokia in the Indian smartphone market . Nokia's sales growth is pretty down when compared to last 5 years, 
There were days where Nokia is used to best in both featured phones segment and Handset shipment segment, but due to it's windows phones, Nokia's sales growth rate down to bottom, and even in the Featured phone shipments, MicroMax leads, crushing the Nokia's sales and MicroMax becomes no.1 in the Feature phones too.

Right Now many companies entered into Indian mobile market, Asus entered with it's zenfone series, Xiaomi with it's MI3, redmi and other smartphones and we are expecting Mi4 to be released in December this year, and Xiaomi beated the Samsung in the smartphones sales in china, and this proves that Samsung got severe beating in both India and China,  In china's smartphone sales, XIaomi owns a market share around 14% leaving other smartphone makers like Samsung, lenovo etc with 12% each,
Xiaomi's latest smartphones Mi3, Redmi 1s, Redmi Note, made xiaomi to beat the Samsung in China's smartphone market.
Now, in India, it's a fight between Xiaomi vs Micromax, as Xiaomi already proved yesterday that their 15.000 units of Xiaomi Mi3 became out of stock in just 2 seconds,
THANK YOU, Mi fans! The next round of registration starts at 6 p.m. today. pic.twitter.com/767ls8A2Hw

— Mi India #Mi10TSeries5G (@XiaomiIndia) August 5, 2014
and Xiaomi is planning to sell 20k units on aug 12th, and it's slowly acclaiming it's position in Indian mobile market.
20000 Mi 3 will be available on 12 Aug. Register now at http://t.co/PfimEc2jUG & join more than 75000 Mi fans! pic.twitter.com/2WTAev24Pd

— Mi India #Mi10TSeries5G (@XiaomiIndia) August 6, 2014
Still Redmi 1s and Redmi Note, is not yet released , and we hope that, With their new smartphones, xiaomi will become the no.1 smartphone vendor in India too like it did in China with the same smartphones list
souce: CounterPoint-Research