Moto G 3rd Gen was launched over a week ago in India on Flipkart, the official retailer for Motorola. And already, many people have grabbed this phone due to great specs and comparatively lower pricing, along with exciting launch day offers they could get on Flipkart. But, not everyone is a Motorola fan and many people are having doubts about the performance and quality of the device, so after getting a lot of questions on social media, I decided to compile them all in the form of FAQ and provide appropriate answers. So, let's get started, I guess it will clear doubts that many people are having.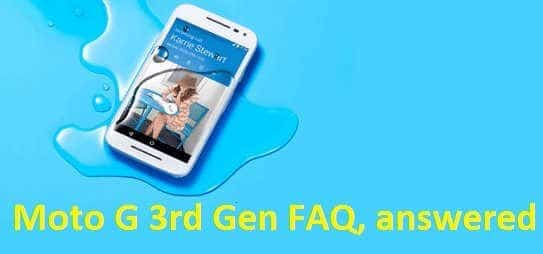 Moto G 3rd Gen FAQ
1. Will it get a fast charging adapter with Moto G 3rd Gen?
Ans: No, you will get a regular charger (5V-1150mA), just like most of the other phones, but it has dual USB ports so that you can charge two devices simultaneously at a time. However, it is not a fast charger at all.
2. Does the phone has LED notifications?
Ans: Sadly NO. It is quite a drawback but it has Moto Notifications on-screen just like Moto X.
3. Does Moto G 3rd Gen support USB OTG (USB On The Go)?
Ans: Yes, it does. You can connect USB OTG pendrives or gamepads.
4. What does the IPX7 certification mean?
Ans: The IPX7 certification means that the device can submerged in water up to 1 meter for 30 minutes. However, Motorola advises to use the original back cover to keep ot waterproof and secure.
5. Does it come with bloatwares?
Ans: No, it doesn't come with bloatwares. However, like every other Flipkart exclusive handset it also has the Flipkart app pre-installed. Along with that you get the Moto Migrate for migrating data from your old phone to new Moto G 3rd Gen and also you get Moto Customize which you can use to tweak and customize your phone.
6. How much of free storage and RAM do I get on Moto G 3rd Gen?
Ans: On the 16GB variant, you will get around 1.3-1.5GB of free RAM when you boot and roughly you will get 11GB of free storage on the Moto G 3rd Gen, that means around the rest 5GB is reserved for OS, apps and contains some data.
7. How is the camera quality of Moto G 3rd Gen?
Ans: The camera quality is very good, as it has been bumped up a lot from the previous Moto G 2nd Gen (know the differences here) and the 13MP rear camera can capture full HD (1080p) and slow motion video. The front camera is also a decent one for taking selfies and video calls.
8. Does the phone has heating issues?
Ans: No, under general usage it does not have any heating issues like its previous generation, however during high end gaming the phone will get a little warm, which is normal for any smartphone.
9. To what extent can I expand storage via microSD card?
Ans: 32GB, on both 8GB and 16GB variants.
10. What are the cellular connectivity options and what type of SIM card can be used on Moto G 3rd Gen?
Ans: The Moto G 3rd Gen supports micro SIM cards, you can use two SIM cards on the phone with the first one having LTE(4G)/3G/2G connectivity and the second slot supports 3G/2G.
11. What sensors are there on board the Moto G 3rd Gen?
Ans: There is Accelerometer, Ambient Light Sensor and Proximity Sensor. It does not have Gyroscope sensor so VR Apps and Cardboard won't work well on this device.
12. How much time does it take to get fully charged?
Ans: It takes around 2 hour 30 minutes to 3 hours at max to get charged upto 100%. However, you may buy and use a fast charging adapter if you need to reduce the charging time.
13. What are the variants available for the device?
Ans: Moto G 3rd Gen comes in two models if we speak about specs. The 16GB variant has 2GB of RAM, whereas the 8GB variant has just 1GB of RAM. In terms of color options, it is available in just two colors- black and white.
14. Does the display has Gorilla Glass protection?
Ans: yes, it has Gorilla Glass 3 protection to protect it from scratches.
15. Which variant should I buy, the 8GB or the 16GB variant?
Ans: 8GB variant is good, but when you are spending Rs. 11,999 on a good phone, I think you can spend a thousand rupees more to get the 16GB ROM variant which has 2GB of RAM. It will provide much better performance. Some of you may go for the 8GB variant with Moto Flip cover combo, which will cost additional Rs. 1,799. I would suggest you to cut the Flip cover and buy the 16GB variant, which costs just a thousand rupees extra and also, you save Rs. 700 here, so that you can invest it in buying a stylish rubber back cover. This is my personal opinion regarding this matter.
So, here it was a short Moto G 3rd Gen FAQ, all answered but you may ask your question here in the comments section below so that we can add those new questions as well in the post and update it. You can also contact us on our Facebook Page. If you are really going to buy Moto G 3rd Gen, please buy it from the links provided below, it helps us a lot. So, till we get new questions, signing off.