Sony Xperia Z3 real pictures leaked now, Sony Xperia Z3 L55t a Chinese version pictures are leaked now, earlier we posted some images of Sony Xperia Z3 and we are sharing some new leaked pictures of Sony Xperia Z3 (L55t) Chinese version pictures, and both leaked pictures resembles the same, as per the old leak we posted the complete leaked information of Sony Xperia Z3 design,performance features, battery-life, camera etc, and we are sure we got the information regarding those features of Sony Xperia Z3 as per this leak too!
Let's get back straight to the specs, we are confirming as per leak, that 20.7MP camera is going to present in new Sony Xperia Z3 L55t as the same Exnor RS lens used in XPeria Z1 nd Xperia Z2 too, and a Qualcom snapdragon 801 chipset with   Adreno 330 Graphics is boasted in this smartphone, as per the picture leaked! well it's running with a high speed 2.5 Ghz quad core processor
we are sure from the screenshot, that Xperia Z3 L55t is running on Android 4.4.4 (build 23.0.G.0.98 firmware), we are hoping it is up gradable to Android L, we hope to get some more information regarding RAM, Memory, special features in Sony Xperia Z3 soon, and we are hoping it might come with unique features as sony thrills us every year with their smartphones
Here you go, you can clearly look at the leaked pictures, and they are very much clear than the earlier leak of Xperia Z3
we are hoping to get some more information soon, and here is the earlier leaked image of Xperia Z3, and see that both resembles the same!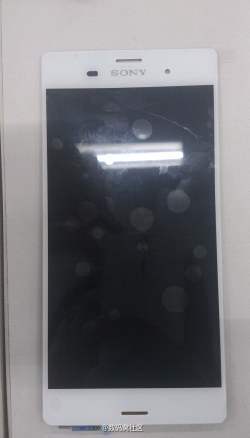 Leak source: Xperiablog,net
Image source: weibo.com