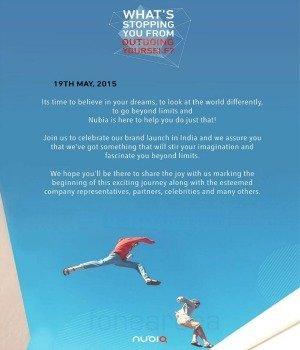 A week back, we came to know about the plans of ZTE to take its Nubia series smartphones to India. It is said that Z9 Mini will be the first Nubia smartphone that will be introduced to India. ZTE has already started with the process of sending invites to various Indian Media outlets to cover up the big unveil which will take place on 19th May.
Meanwhile Meizu, the second most popular brand in China is trying to enter India in the same way like Xiaomi. It is reported that Meizu will be releasing its first smartphone in India on May 18th. This make sense that all the chinese mobile vendors are slowly entering In India ( the second most populous country in the world).
Currently, there's no information regarding what devices will be released at the event. It is rumored that ZTE will focus on the Z9 line which includes Z9 and the Z9 Max too. This sounds fair as these three devices are the one that are latest launch from Nubia sub-brand.
Amazon is said to be in partnership with ZTE for the exclusive releases of the smartphones for India.  But there's no information regarding what type of sale will it be! It may be a flash sale (following the recent trend in India) or may be a direct sale. The full news regarding this should be available in forthcoming days.