Xiaomi upgraded its Redmi series lineup to a full-fledged subsidiary brand. Under the new Redmi brand, the first smartphones to be launched are Redmi Note 7 and Redmi Note 7 Pro. Although both smartphones were launched a couple of days back, the hype was already high. It's mainly because the Redmi Note series is best known to be value for money phones.
However, do these two phones match up with their competitors well in every aspect? Are the pricetags justified, or there are other options that offer better value for money? Besides, which one should you buy – Redmi Note 7 or the Note 7 Pro? Well, I'm going to help you make a better buying decision with this article.
Should You Buy Redmi Note 7 or the Note 7 Pro?
Although both smartphones look alike, there're huge differences inside. To make things easy, here're the key differences of Redmi Note 7 and the Note 7 Pro.
Redmi Note 7 & Note 7 Pro Key differences in Specifications:
As mentioned previously, both Redmi Note 7 & Note 7 Pro are not different from each other [in terms of looks], but the major differences are in chipset and the camera department.
CPU & GPU: Redmi Note 7 is powered by a 14nm Snapdragon 660 chipset with Adreno 512GPU whereas the Note 7 Pro is powered by an 11nm Snapdragon 675 chipset with Adreno 612GPU. Both chipsets support AIE and are touted to provide the best performance but the major differences are in the CPU & GPU performance.
Camera: As of the old SoC, Redmi Note 7 comes equipped with an f/2.2 12MP rear camera and a 2MP for depth sensing. In the case of Redmi Note 7 Pro, it has a whopping 48MP f/1.8 primary sensor with a 5MP depth sensor. However, the front-facing camera is of 13MP in both phones
Storage: The Indian variant of Redmi Note 7 comes in 2 storage variants – 3/32GB & 4/64GB whereas the Redmi Note 7 Pro is available in 4/64GB & 6/128GB variants
Pricing: The pricing of both the smartphones are varied by a difference of 2K, and here's the list –

Redmi Note 7 3GB/32GB Variant – Rs. 9,999
Redmi Note 7 4GB/64GB Variant – Rs. 11,999
Redmi Note 7 Pro 4GB/64GB Variant – Rs. 13,999
Redmi Note 7 Pro 6GB/128GB Variant – Rs. 16,999
Well, these are the major differences between Redmi Note 7 & the Note 7 Pro in terms of specifications. From the differences, it's very clear that the Note 7 Pro is ultimately the best budget phone of 2019, but that doesn't mean we should ignore the Note 7. Let's talk about the Note 7 first –
Redmi Note 7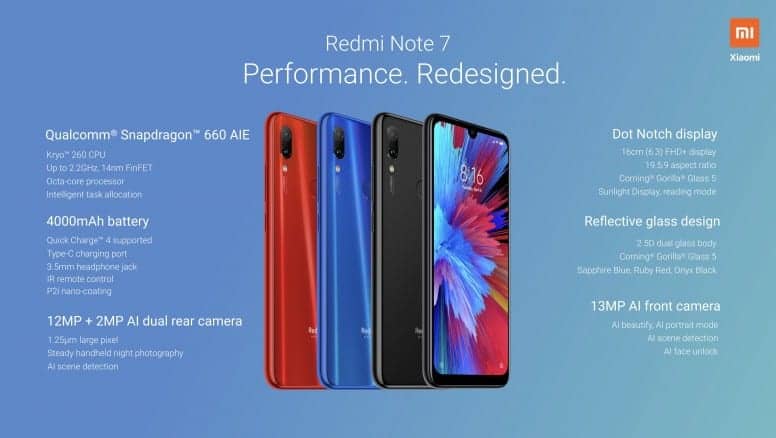 Although Note 7 isn't running on the latest series 6 chipset i.e., SD 675SoC, that doesn't mean it isn't power-efficient. It's well-built with all the necessary hardware & graphics. In the past, I've tried the Zenfone Max Pro M2 and Vivo V11 Pro which were running on the same chipset. In fact, the Asus Zenfone Max Pro M2 3/32GB was initially launched at Rs. 12,999 but now it's selling for Rs. 9,999 to give a stiff competition to Note 7. This price difference itself shows how Xiaomi is planning to disrupt 2019.
Redmi Note 7 Pro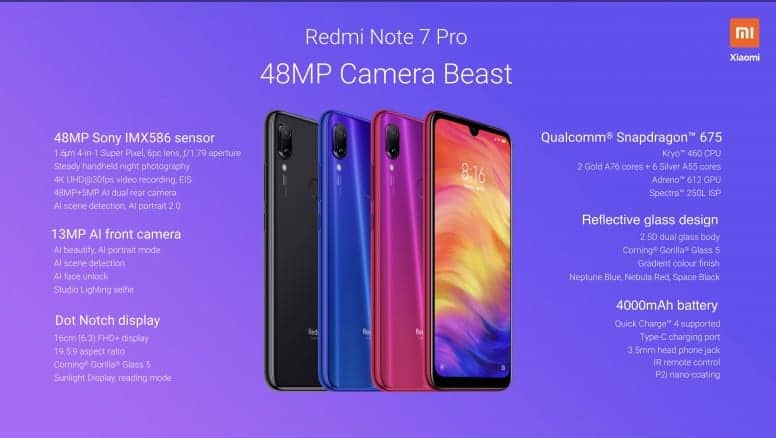 Coming to the Note 7 Pro, there isn't any smartphone featuring a 48MP primary sensor offered at a starting price of Rs. 13,999 in India. Not just the number, the primary sensor uses the Sony IMX586 CMOS Image sensor which is touted to offer high-quality shots even on digital zoom. One other reason for offering a big storage variant is pretty obvious, and it's to store the images shot with the 48MP camera.
My Opinion:
Right now, the Indian market is being filled with 48MP cameras with the latest SoCs, but the major difference is the price at which these phones are offered. Other brands like Vivo & Oppo are quite pricey but that does come with special features and extra sensors. In general, for an Indian consumer, a future-ready phone with the right price tag is always a winner, and Xiaomi is known for offering it. So, without any doubt, both Redmi Note smartphones are worth purchasing, and between the duo, Note 7 Pro has beasty specs, so I'd totally recommend you to go with the Note 7 Pro 4/64GB rather than Note 7.
It's true that an extra 2K INR would make a big difference, and if this is your big concern, taking a Note 7 would be a choice, but not the ideal one. But hey, that's why Xiaomi keeps the price tag at a margin where you have to make a choice.