I remember when Oppo came with a moving front-camera and touted to revolutionize the smartphone industry, and the rest is in Recycle Bin. Again, a couple of years back, the Chinese smartphone brand came with a new technology for super-fast charging. At the MWC 2016, the brand unveiled their Super VOOC (Voltage Open Loop Multi-step Constant-Current Charging) which is supposed to be used in their future Oppo phones, and they did introduce in a few handsets. The brand calls it as a flash charging, but it didn't get the mainstream attention. Moving further, this year, they came up with yet another revolutionary 'thing' – a new sub-brand called 'RealMe'. I know it sounds like Xiaomi's RedMi, but the question is 'Why they are coming with a sub-brand now?'
Why Oppo is coming with a New Sub-brand ' RealMe'?
It's a known fact that Oppo is actually a sub-brand of BK Electronics which also owns OnePlus and Vivo. From a couple of years, both Oppo and Vivo have started occupying a significant smartphone market share in India. Both brands were in 2 out of top 3 positions for a while, but then this happened. Xiaomi's disruptive pricing and the flash sale gimmick worked out really well and they started growing like 'a virus'. The 'Apple of China' didn't take much time to dethrone the South Korean smartphone giant – Samsung, and they're still continuing to be the No. 1 smartphone brand in India.
With their fullview display smartphones like Honor 7X, Honor 9 Lite, Honor View 10, etc., Huawei has also started applying the same principle and grown to be among the top 5 smartphone manufacturers in India. At one point in time, Oppo did lose a significant market share [when you see quarter-to-quarter] to Huawei, Xiaomi and Lenovo [including Motorola]. There's no way that they can regain it, as Huawei has already started dominating the industry with their new smartphones. Even yesterday, they came up with a new flagship – Honor 10 which is as same as Honor view 10 and also inherits a couple of features from Honor P20 Pro.
If it continues, Oppo might lose a majority of its market share and face downfall like the rest of Indian smartphone brands. But the question is 'Why they came with a new sub-brand RealMe' right? Let me address it by taking you from a pricing perspective.
Pricing Perspective – The birth of 'RealMe' Sub-Brand from Oppo
When you see the Oppo's smartphone pricing, it's very overpriced [my personal opinion]. It might sound biased, but I personally feel, the phone's build quality & specifications don't match up to their pricing. With the same pricing, users' can buy flagships [or mid-end and budget-end smartphones] from other brands like Huawei, Xiaomi, and Lenovo. This is exactly what's happening to the Oppo brand.
At first, their strategy was aggressive marketing and completely dominate the offline market by offering incentives to salespersons, but as I said in my other article, nothing works forever and you need to pivot after a while. I'm guessing this gave the brand for starting a new sub-brand to follow what Xiaomi and Huawei are doing i.e., Introduce a phone under their sub-brand which are mid and budget-end. Let me give an example – Xiaomi's 'MI' series are mostly flagships like 'Mi 5', 'Mi 6', etc. and so is Huawei's P10, P20, etc. Whereas their sub-brands Redmi 5, Note 5, etc. and Honor 7X, 9 Lite, 9i, etc. are mid, and budget-end smartphones. I hope you got the logic? For the best-case scenario, think of how Micromax came up with their 'Yu' brand to checkmate the 'Mi' brand? I see you got the logic now…
So, Oppo's R & F series are mostly flagships, and that's what the brand feels. But they can't bring down the flagships' pricing to what Xiaomi and Huawei are offering. So, to checkmate the brands, Oppo has to launch a new series or a completely new sub-brand. In this case, they chose the later and came up with 'RealMe' sub-brand. Co-incidentally, it sounds like 'RedMi, and so is the phone's pricing.
RealMe 1 – The Oppo's Sub-brand First Smartphone:
Yesterday, the RealMe's first phone '1' was officially launched in India with mind-blowing specifications, at a very disruptive pricing. Redmi and Honor phones were usually targetted at the niche-specific audience and so is Oppo with their selfie phones. But for a change, 'RealMe 1' is an entirely different smartphone with flagship-like features offered at a very competitive pricing. Just take a look at the specifications for yourself.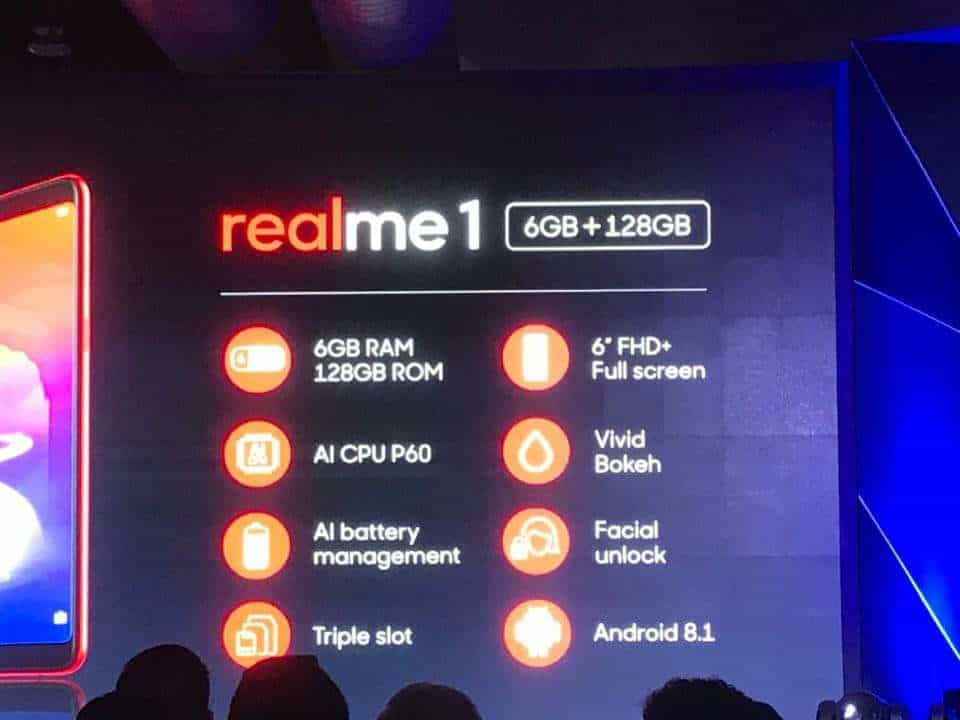 Mediatek's Helio P60 is not the underperforming SoC, and it does give a good competition to Qualcomm's mid-end SoCs. Like several Huawei phones, this is yet another smartphone with 'AI' chipset [uhmm]. It has all the features that make it a 2018-ish smartphone, and Oppo took it to another level with their pricing.
In general, what an average Indian consumer expects from any brand is 'phone should inherit the contemporary trends and is priced reasonably'. Both Xiaomi and Huawei often seem to be following this principle, and recently, Asus joined the bandwagon with their Max Pro M1. Here comes the big difference with Oppo's RealMe in the pricing segment.
Maybe for the first time, Oppo seems to be doing something which it should have done long back i.e., pricing their smartphones. For a 6GB variant with 128GB ROM, they priced the realme 1 at Rs. 13,990 and I'm sure that it's going to be sold in mere seconds. Leave the performance, many Indian users do expect a big storage [in their voice], and abundant RAM, so I'm hoping this could be a deal breaker.
But let's come to the real question of 'do we really need realme?
RealMe – Do We Need a new Sub-Brand?
Short answer – 'NO'. I mean definitely, we don't need a new sub-brand as the smartphone industry is already occupied with many brands and some are literally not known to many. Launching a new sub-brand might benefit both brand [mostly] and users', but when you see in a marketing perspective, this could create more pressure in the users while choosing their '1 smartphone'.
Let me put it this way – We don't really need a new sub-brand but needs a good phone that actually meets our requirement as well as demand. Many users are struggling to order Note 5 Pro, Max Pro in the flash as well as open sales, and this does divert the loyal users, and make them choose whatever is available. Leave the aftersales support as it is terrible for every brand. Some users might have got a good opinion, but a majority of them are negative [from what I heard]. Instead of competing by launching a new sub-brand, Oppo could invest in improving the after-sales support, a little bit of investment in R&D etc. could create a difference.
At the end of the day, you need a phone that does what you want it to do, and it doesn't necessarily mean that it has to be a particular brand's phone, as long as it does 'what you want it to do'!