In a few hours, the RealMe 3 first flash sale will begin, and as usual, the entire stock of the first day will get over in mere seconds. I'm sure of it. But let me ask a question first! Why are you planning to buy RealMe 3, and why not the other competitors' ones? What's that one thing that's holding you from not trying out the alternatives instead of RealMe 3?
Well, you'd have read a lot of reviews on RealMe 3 which were published on the same day of launch, and a few articles which had already explained the specs-differences of RealMe 3 to other competitors'. I'm guessing all these articles influenced your purchase decision, but you should not just go with it [blindly]. why not read my opinion, and make the final decision? Let's get started…
Should You Buy RealMe 3? – My Opinion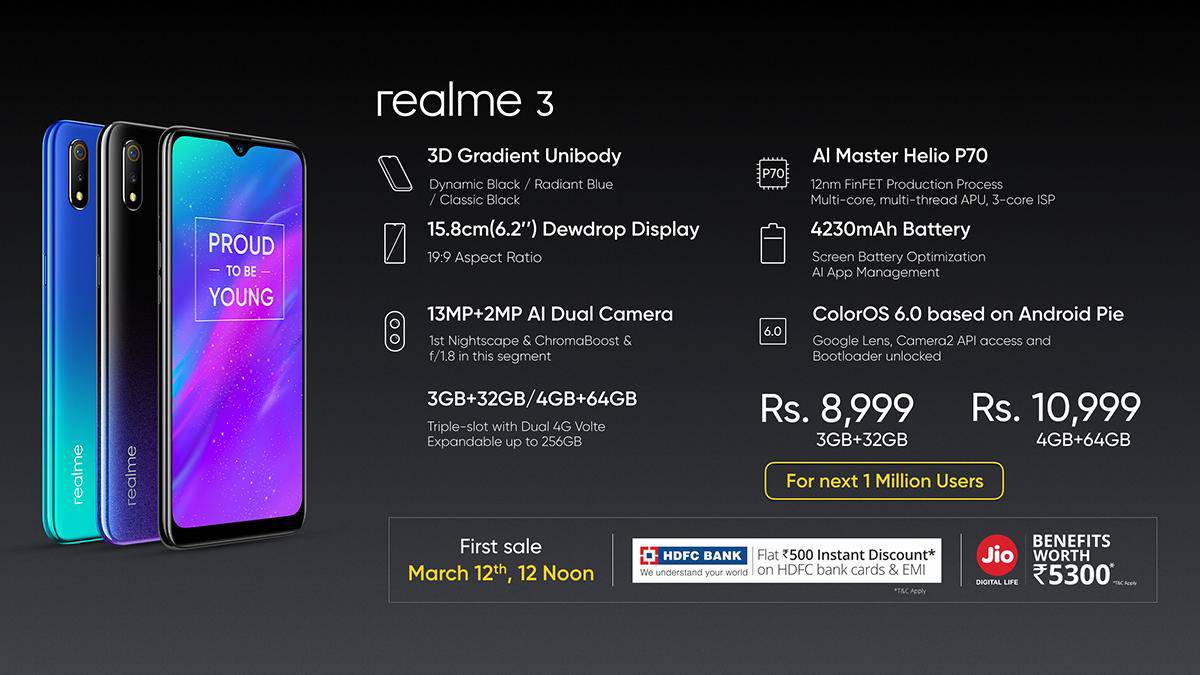 Firstly, the Oppo's sub-brand RealMe is known for providing budget-end phones with value for money and there's no doubt in it. But isn't that every other OEM in the market is doing it now? Anyway, here's my actual point – RealMe launches their low-end [or the non-pro] version first and later releases the 'Pro' version which is very similar to what OnePlus do. No wonder both brands are from the same parent brand – BBK Electronics.
Chipset
Here comes the big confusion – Unlike XIaomi's Redmi Note 7 & Note 7 Pro, there isn't a clear differentiation in the target audience for RealMe 3 / RealMe 3 Pro. The former one is a MediaTek powered phone which Flipkart is calling to have the fastest processor [for obvious rea$ons] while the Pro version could be running the latest Snapdragon chipset. Well, common! I'm pretty fine with the phone running on Helio P70, but when you look at the competitors' like Note 7, Max Pro M2, etc. who are offering the Snapdragon 660 for the same price, why should I choose the RealMe 3?
Recommended: Realme 3 Pro Alternatives – 5 Smartphones You can Buy Instead!
OS
The next thing is its OS. RealMe 3 runs on Color OS 6 based on Android 9 which the company is dubbing it as the stock-like experience? Well, what's Asus offering on Zenfone Max Pro M2 then? Hey, the UX is quite subjective, and a few may like the color OS, and few may not. So, this should not be the only metric influencing your purchase decision. Thankfully, RealMe 3 comes with the bootloader unlock, and Camera 2 API enabled, so it's a child play to install custom ROMs. This might be one advantage over other competitors' phones.
Display
One major drawback I noticed in RealMe 3 is its display. Straight from RealMe 2, they were consistently using the same IPS LCD display with 720p resolution, protected by Gorilla Glass 3. When you look at the competitors', they're offering 1080p resolution with Gorilla Glass 5/6 with double the pixels per inch. The so-called reviewers might say you won't notice a difference, but hey, what's the point of a hefty battery when you can't watch FullHD videos/movies or play gaming on HD? Think about it.
Camera
Any phone's camera is actually quite subjective. Mostly it depends on who's taking it, and what's their likes & dislikes. So, I might not able to give a strong opinion of RealMe 3 camera. But as per the specifications, RealMe 3's offering are quite good. With a larger aperture, the camera sensor would allow more light, meaning a well lit night light photos. But this isn't the only thing people would be looking for. Even selfies matter now and look like RealMe has done quite a good job again. Even if people don't like the camera UI or the quality, they can simply opt to GCAM as the camera 2 API is already enabled [out of the box]. In one line, I'd say that RealMe 3 has got good hardware, and maybe with the GCAM, you can unleash the real potential.
What's the final take?
You might have already got the answer. A budget-end phone must provide everything or even better in all cases. Every phone has its own pros & cons, and that's what a reviewer gonna put it down, but not many would actually analyze the competition, and say if they're offering better? As it's my personal opinion, I did take some time and went through the competitors' list, and you'd have already read those highlights above. I personally tested the Zenfone Max Pro M2 which has got a bigger battery but it's due to receive the Pie. On the other side, the Redmi Note 7 has better features compared to RealMe 3, but one major drawback is the ads on UI.
So, what should be the final take? Well, Ads on Redmi Note 7 could be disabled, and the Max Pro M2 offers a better battery life with Pure Stock Android Experience. So, why settle with the RealMe 3?
RealMe 3 – Best Alternatives:
Some of the best alternatives for RealMe 3 would be Redmi Note 7, Zenfone Max Pro M3, and of course the RealMe U1.
My honest suggestion would be to go with either Redmi Note 7 or the Max Pro M2 if your budget range is under 11K. But again, if you're a die-hard fan of RealMe [or the Oppo, or the OnePlus], then nothing can stop you in choosing the RealMe 3.