As the Anti-China sentiments hit its peak and calls of the boycott of Chinese products echoes loud through social media and on TV debates, finally, the Government of India has banned 59 Chinese apps as of now. Many of the apps are already removed from the Google Play Store & Apple's App Store along with blockade put by ISPs, complying with the Government of India.
While the list of banned apps includes names like TikTok, which is highly popular in India, the list also includes names like Shein, but Ali Express, Banggood, and a few other Chinese e-commerce sites are not there on the list. File sharing apps like ShareIt & Xender are banned, social media and IM apps like WeChat, Weibo, etc. are also banned.
Banning apps have been quite easy, at least for now, but it is almost impossible now to ban Chinese hardware, especially Chinese smartphones. And it is evident from the sales going on because people are left with no proper alternatives to choose from. However, the anti-China sentiment built up due to Chinese aggression in the past helped the government ban some apps as some among those are known to collect and send data of users to data centers in China. Here's the complete list of the banned Chinese apps.
List of Banned Chinese Apps In India
1. TikTok
2. ShareIt
3. Kwai
4. UC Browser
5. Baidu map
6. Shein
7. Clash of Kings
8. DU battery saver
9. Helo
10. Likee
11. YouCam makeup
12. Mi Community
13. CM Browers
14. Virus Cleaner
15. APUS Browser
16. ROMWE
17. Club Factory
18. Newsdog
19. Beauty Plus
20. WeChat
21. UC News
22. QQ Mail
23. Weibo
24. Xender
25. QQ Music
26. QQ Newsfeed
27. Bigo Live
28. SelfieCity
29. Mail Master
30. Parallel Space
31. Mi Video Call – Xiaomi
32. WeSync
33. ES File Explorer
34. Viva Video – QU Video Inc
35. Meitu
36. Vigo Video
37. New Video Status
38. DU Recorder
39. Vault-Hide
40. Cache Cleaner DU App studio
41. DU Cleaner
42. DU Browser
43. Hago Play With New Friends
44. Cam Scanner
45. Clean Master – Cheetah Mobile
46. Wonder Camera
47. Photo Wonder
48. QQ Player
49. We Meet
50. Sweet Selfie
51. Baidu Translate
52. Vmate
53. QQ International
54. QQ Security Center
55. QQ Launcher
56. U Video
57. V fly Status Video
58. Mobile Legends
59. DU Privacy
Some people are going crazy over this issue. However, it is possible to use alternatives to many of these apps and some of the alternatives are actually great and way better, in terms of privacy, security along with a better user experience due to lack of vulgar ads. We will talk about the alternatives to the popular apps only for now because there are many apps on the list which are useless and don't require a replacement. We will talk mostly about Android apps because Android userbase is huge in India.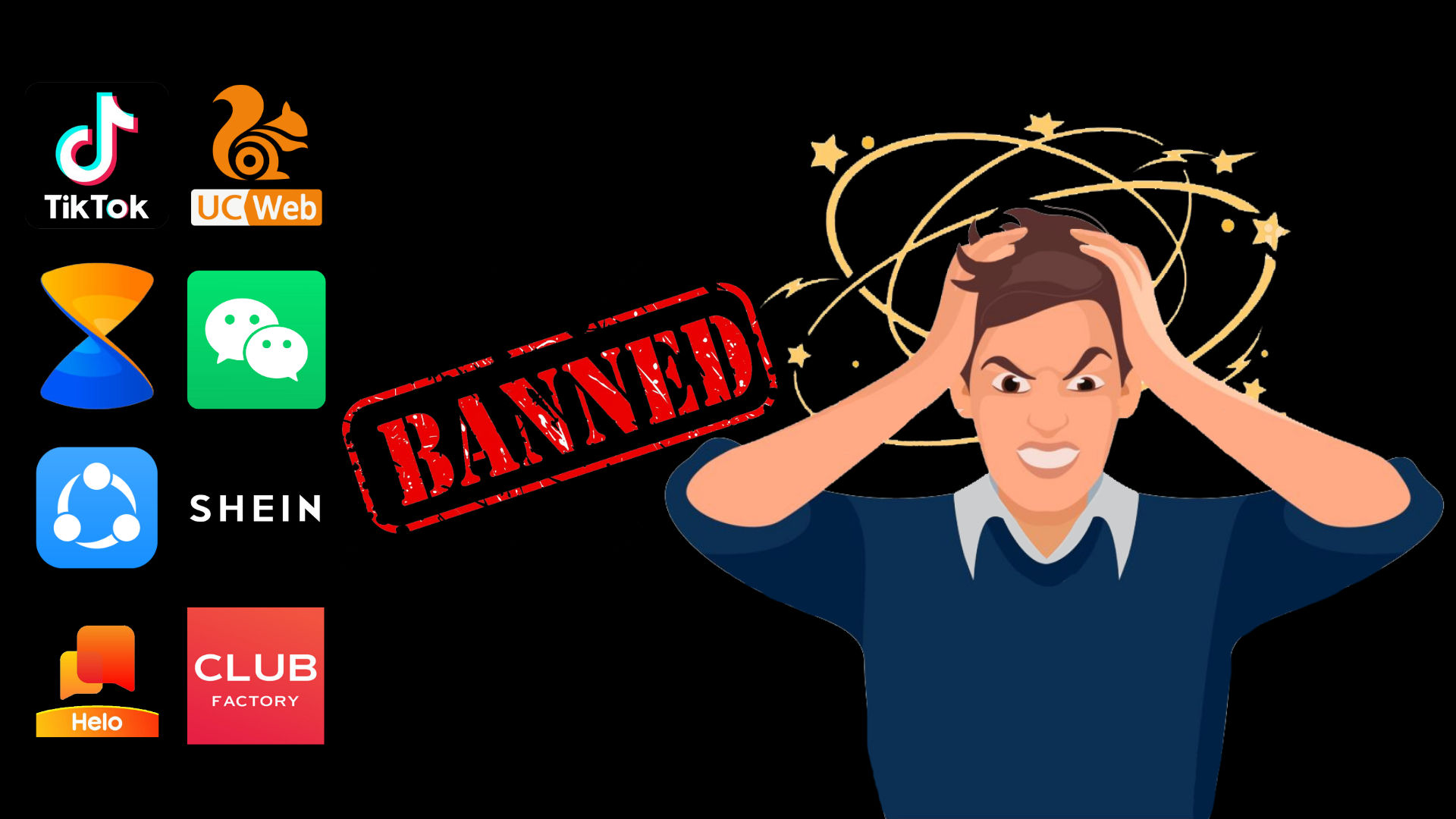 Alternatives to Banned Chinese Apps in India
Video-Sharing Apps
Let's start with TikTok, the most popular and controversial app, which was banned last year as well following orders from Honorable Madras High Court. As of now, no app can match the features of Tiktok, but the good news is that the developers who were already working on making something similar to Tiktok are now spending sleepless nights making their app as good as they can. As of now, there are a few apps that are worth trying like Chingari, Roposo & Mitron. Mitron, though controversial is now getting funded by VCs and it is expected that it would get better so it might be a wise move to have accounts on all these and see which one works the best. Helo, Vmate, Vigo Video, and Like are Tiktok clones that are banned now, so moving to the apps mentioned might help.
File Sharing Apps
ShareIt and Xender are now banned, and I'm happy that they are banned because these apps are full of vulgar ads. Files by Google is there for those who want fast file transfer between devices. Also, with Snapdraop you don't even need to install any app, just connect two devices to the same Wi-Fi & visit Snapdrop.net to start sharing files.
Useless Apps
DU Battery Saver, Virus Cleaner, Baidu Maps are useless apps that have been banned. It doesn't require a replacement I think because such apps do no good, rather they make it harder for phones to perform.
Apps by UCWeb
UC Browser & UC News have been banned as well. UC Browser has many alternatives starting from Brave Browser to Microsoft Edge. The same applies to CM Brower, DU Browser, and APUS Browser.
UC News is a straight terrible app if you are looking for news and it is in the list of banned Chinese apps. There are way better apps like InShorts, Google News, Flipboard, and Microsoft News.
Social Media Apps
For those who use Helo, ShareChat might be an alternative. Though Helo seems to be much popular among a bit aged people, the app stands nowhere close to Tiktok or UC Browser.
E-commerce Apps
Why shop from Shein & Club Factory when there are so many better alternatives like Myntra, Flipkart, Amazon? Go download them now! Shein is somewhat better in terms of products, but Club Factory is crap and quite a few people I know have been fooled by sellers on Club Factory, so it's better to avoid it even if it is unbanned in future.
Instant Messaging Apps
WeChat is dead now in India. I remember during the first few years of Android in India, like up to 2014-2015 apps like WeChat and LINE were somewhat popular among users, but many of the users have shifted to other instant messaging apps and yes, there are many alternatives to WeChat. I'm listing some of them below. However, in my opinion, Telegram is the best in terms of features and privacy, and for privacy, Singal is the best. Viber is a good option as well.
Microblogging Apps
Weibo isn't used by many. It's like a clone of Facebook & Twitter, combined into a single package. I had an account on Weibo, but well without that, most people won't have any problems. As Weibo is also in the list of banned Chinese apps, Twitter is probably the best alternative.
Video Streaming Apps
Bigo Live is somewhat popular as a streaming platform, and the reason is obvious as it doesn't have many filters on nudity. But for someone who wants to watch live streams, especially in terms of gaming, Twitch is the platform! But well, be careful on Twitch because it's owned by Amazon and they can ban anyone in case of any violation of their rules. US President Donald Trump has been banned recently from the platform for hate speech.
Utility Apps
Parallel Space is there among the 59 banned Chinese apps and this is kinda a bit of a problem for many users. Those who are using phones with a custom skin like some phone from Vivo, Oppo have an inbuilt app cloner which can clone popular apps easily. There is a decent alternative, but it may not meet your expectations.
Mi Video Call by Xiaomi isn't a must-have app for video calls. There are plenty of alternatives, starting from the most commonly used apps like WhatsApp and Google Duo, to apps like Skype.
Viva Video is a video editor for Android, which is now banned. In terms of video editing on Android, the alternative with easy to use features is InShot, otherwise, you may try Powerdirector by Cyberlink, a Taiwanese brand.
ES File Explorer is a file manager packed with a lot of features, but it was under the radar of security researchers for quite some time. Now, it has also been banned. In most cases, smartphone makers ship phones with their file manager preinstalled on the device. In case you're not fine with those, you should try Solid Explorer. Or else, there is Files by Google.
Clean Master & DU Cleaner are apps that gather a lot of data under the promise of cleaning phones by removing cache and deleting junk files. However, such apps are not required. On some phones, mostly from brands like Xiaomi, Realme, Oppo, Vivo there are preinstalled apps for this task. Better to use those.
CamScanner is a very popular app that many people use to scan documents. Even I was using it for quite some time. However, recently the app was found to be not that secure and now the app is banned in India. However, the good news is that there are some pretty good alternatives to CamScanner from trusted developers like Microsoft and Adobe. So, it is better to use these apps. However, I prefer Office Lens by Microsoft as it lets me export the scanned document as an image or a PDF file, whereas Adobe directly converts the file to PDF.
Mi Community is an app by Xiaomi, with the idea to have forums for users of its phones. Right now, Mi Community has stopped working in India. The app is no longer accessible, nor the website is working. So, if you have any queries regarding your devices or need help with Custom ROMs or mods, you may try XDA Forums.
Lastly, among the banned Chinese apps, there is a DU Recorder, which lets users record their screen. Though the app is quite popular, there are many alternatives. Also, most phones these days are coming with this feature i.e. recording the screen directly without installing any third-party app. So, in case your phone doesn't have such a feature, you may consider trying these apps.
There are many other apps on this list of 59 banned Chinese apps. There are beauty and photo editing apps like YouCam Makeup, Beauty Plus, New Video Status, Wonder Camera, Photo Wonder, Sweet Selfie. These apps aren't that good. There are quite a few apps from QQ in the list which aren't required. Here, I just tried to give everyone alternatives to the banned Chinese apps that are popular. However, if you are having a hard time finding alternatives to any of the banned apps that you need to use, let us know in the comments section below. Also, share this article on Facebook and let your friends know about some of the great alternatives that exist.