In the last month or so, we suddenly realized that we need to minimize the use of Chinese products and promote indigenous products. On Twitter,  Boycott of Chinese Products was trending frequently.
Most of the Indians are tweeting from a Chinese phone on banning Chinese products? Isn't that an irony? Well, boycotting products like phones is not possible at this moment. Sonam Wangchuk, an engineer, innovator, and education reformist has said this again and again, "Software in a week and hardware in a year", which means that for software, we have alternatives for most of the popular Chinese apps but in terms of hardware, we need to build products that are equivalent to those from China. Just to give you more clarity on how terrible we're in terms of making phones, let's look at the downfall of some of the Indian mobile phone brands.
The downfall of Indian Mobile Phone Brands
Let's face reality. Though there have been efforts to promote Indian products from brands like Micromax, Karbonn, Lava, etc. but they were not making phones. Most of them were just rebranding phones made by Chinese companies and making minor changes to sell these devices in India. 
One interesting example I could think of is Micromax Canvas Nitro A310. I know that it's a huge hit and a direct competitor to Moto G but here is why the brand couldn't stand-off. If you observe, it's a re-branded Coolpad F1.
Besides, the

software updates on Canvas Nitro aren't regular and the

phone had adware installed

which would show explicit ads in the notification shade.

Another interesting thing is there was huge support from the developer community for making ROMs for Coolpad which also works on Canvas Nitro A310. It was a little relief, but at that time, not many can install custom ROMs, mods, etc. so, they just had to tolerate the phone with no software updates.
I know that these things are from the past but these are not the only issues with brands like Micromax, Lava, Karbonn, etc. The major problem was with the after-sales. Most of the Indian brands have very few service centers, and their representatives are pretty harsh on customers. No wonder that the Indian mobile brands couldn't cope with the changes in the market and failed miserably. It gave a good momentum to Chinese mobile brands, and they quickly captured a huge audience base. Let's also look at their rise.
The Rise of Chinese Mobile Brands in India
After officially made its entry into India, Xiaomi introduced many cheaper phones with better hardware and that immediately captured the consumer base of most Indian mobile brands. Xiaomi was crunching big numbers in terms of sales and market share, and many other Chinese brands made their debut in India. Currently, we have almost all the Chinese smartphone brands operating in India and the top brands all come under 4 major firms.
Xiaomi Inc. owns Redmi & POCO,
BBK Electronics owns Vivo, Oppo, OnePlus, Realme, IQOO,
Transsion Group Holdings owns Itel, Tecno, Infinix
and lastly, Huawei Consumer Business Group which owns Huawei & Honor smartphones
It's not just their tactical pricing that made them successful. It's mainly because of their efforts in pushing different marketing tactics and better sales strategies. Let's deep dive to understand that better. 
Chinese Mobile Brands and their Tales of Marketing & Sales Tactics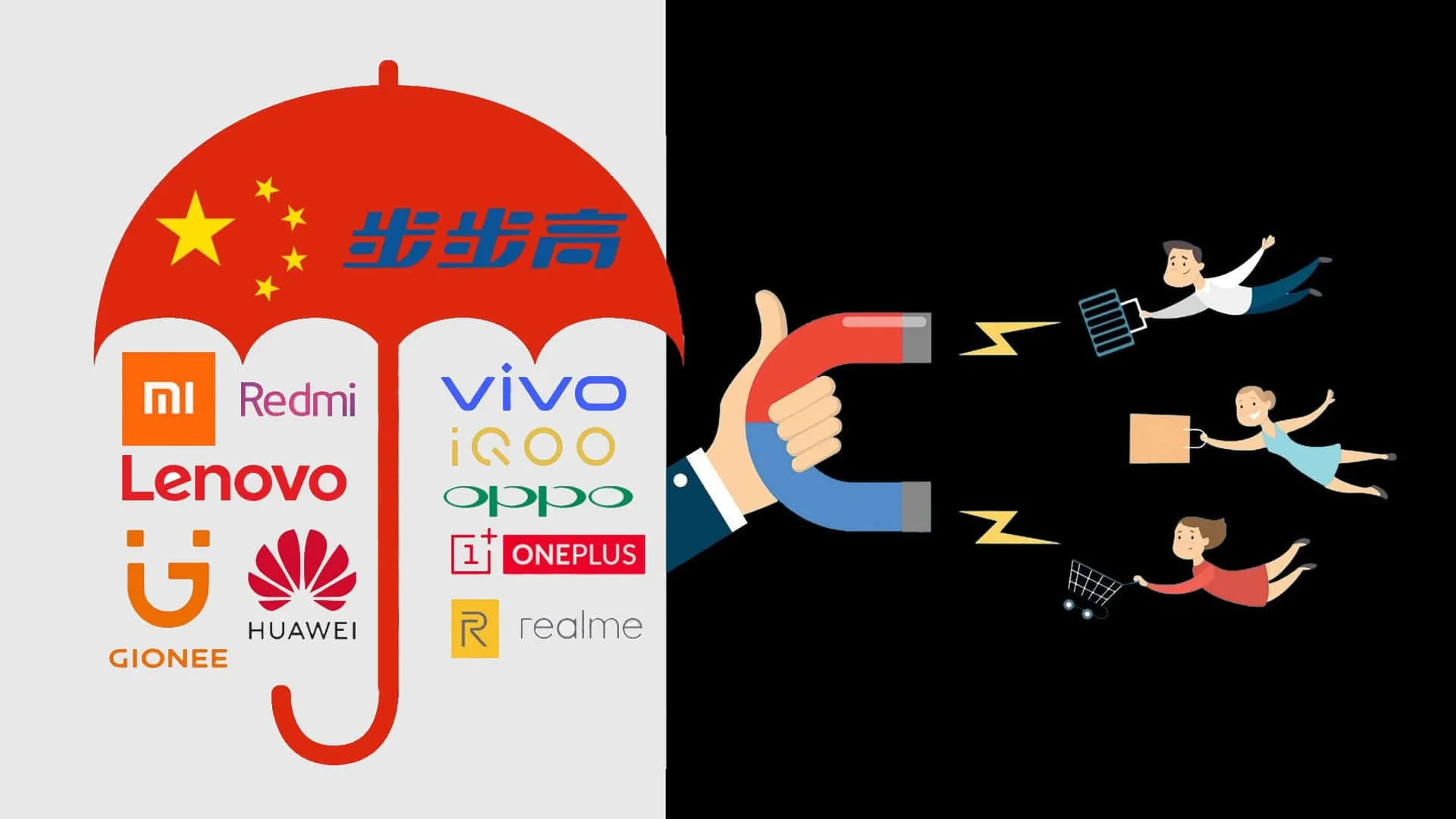 Playing with Consumer Ignorance
Since their entry to the Indian market, Oppo and Vivo built a strong offline presence, and all their devices were overpriced. The reason for their strong presence is because they used to reward the retailers heavily. They were offering a large amount of commission which was between 14-16% while brands like Samsung used to pay just around 5-6% of the price as commission. In addition to that, if retailers placed hoarding and boards, they could get ₹30,000-40,000 per month without even making a sale. If they made good sales, they'd be rewarded with holiday packages.
The other interesting thing is that Consumer ignorance was used as a tactic by the sales executives. They would pitch these phones to consumers saying they run two operating systems- Android and Color OS (Oppo) or FunTouch OS (Vivo). On digital, the tactics are at a different level. 
Both Oppo & Vivo become synonyms to misleading consumers and dumping their money on celebrities and influencers. They used to heavily emphasize selfies and it was their key USP. It was also the time when Gen-Z & Millennials have become active on social, sharing millions of selfies, that eventually made them get attracted to selfie phones with features like 'Moonlight Selfie Cameras'.
Celebrity Endorsement & Influencer Marketing
Brands like Xiaomi and OnePlus used to make less profit subsidizing their products for the Indian market, and when Realme entered the market it did the same. In the beginning, Xiaomi and OnePlus spent close to nothing for offline ads and celebrity endorsements, but now they are mostly relying on celebrity endorsements and influencer marketing. Even here, they play with consumer ignorance as these brands make them believe that celebrities use the products they endorse, but the fact that even the big executives of any smartphone company don't use their products.
Likewise, we have seen screwed up social media posts from celebrities and influencers where they posted a photo of a product by let's say OnePlus or Xiaomi or Oppo, but either they were spotted using iPhones or it was found that they even posted that photo using an iPhone.
The fiasco of Influencer Marketing in India
Influencers [Bloggers & Youtubers] have been using clever ways for marketing products. As per my own experience, I've seen some YouTubers/Bloggers suck up to brands for devices and they'd just make a negative video if they don't receive it. There were others' who'd share a positive review on social media, as well on platforms like YouTube & Twitter without even using it. I can understand that everyone has his reasons for favoring a device but they always make the claim that they are unbiased.
How can someone recommend a device blindly and won't understand that it makes or breaks the consumers' pockets?
Besides bloggers and YouTubers, some social media influencers paid heftily for posting a picture on their social channels like Instagram. I'm not saying it's wrong to endorse or get paid as these particular people have 1000s or lakhs of followers but the problem I see is when many people blindly take their recommendations…seriously.
As it's quite evident that the Indian mobile brands were not in the picture at least for the past 5 years, so the competition is majorly between the top 4 Chinese companies & their brands. At one point, Xiaomi was competing with itself as the frequency of their phone launches has increased drastically. These bloggers & YouTubers have gotten so busy making reviews that it becomes so difficult for everyone to keep track of it. It has also become quite hard to suggest alternatives as even the alternatives are from their sister brands or from the rival Chinese brands who are ready to pay a hefty amount for a positive word [review].
People fell prey to these brands due to such influencer recommendations, and lack of knowledge or the wish to reach out for expert advice.
Why Indian Consumers Love Chinese Mobile Brands?
Pricing is probably the biggest factor why Indian consumers want to go for brands like Xiaomi, Realme, Oppo, etc. For an average Indian smartphone user, pricing is a big factor and the sweet spot is the price range between ₹12-15K for budget phones. It is the most popular price segment full of devices from various brands. For many, adding even ₹1000 over their budget is a huge deal. And who doesn't want a great phone? Some people argue that you can get a flagship phone for ₹50,000 and use it for three years rather than spending ₹15,000 every year on a mediocre budget phone. Well, it is quite a big deal for many to use a larget chunk of salary or earnings on a phone. Also, Under ₹20,000, brands like LG, Sony, don't even exist and other non-Chinese brands don't offer the same features.
Now, Indian brands like Micromax and Lava are claiming that they will move their R&D team to India to focus on making phones, but corporate statements are either diplomatic or political and they are probably again ready to rebrand Chinese phones and sell those in India, who knows? Nevertheless, let's look at the current situation now. Banning or boycotting Chinese-made products and use non-Chinese is the agenda.
Affordability matters to Indian consumers
Pricing is probably the biggest factor why Indian consumers want to go for brands like Xiaomi, Realme, Oppo, etc. Oppo has quite fixed the pricing part by releasing quite a few fair-priced devices recently. For an average Indian smartphone user, pricing is a big factor and the sweet spot is the price range between ₹12-15K for budget phones. This is the most popular price segment full of devices from various brands. Even I have been buying phones for myself, but I have never gone beyond ₹17K and I'm probably more privileged than thousands of consumers. For many, adding even ₹1000 over his budget is a huge deal. And who doesn't want a great phone? Like if I had like ₹50,000 cold hard cash right now I could get rid of the terrible Realme 5 Pro because of the various issues it has.
Also, phones from other brands like Samsung aren't great either, especially the ones priced between ₹15000-₹20,000. Samsung's Galaxy M Series was interesting, but those phones also have issues. I just recently witnessed the frustration of my friend who bought the Galaxy M30s due to issues. So, apart from Samsung what else do we have? Some people are suggesting Nokia 8.1, which is like a one and half-year-old product. ASUS was doing a good job with its Zenfone Max Pro Series. But even though ASUS makes great hardware, the company simply doesn't have a good team for working on the software I guess, because of the issues users faced with software updates. I had bought Zenfone Max Pro M1, and I still use it after flashing a custom ROM. So, at this moment there are either no good alternatives or the alternative products can't match up with the Chinese counterparts. Again in 2020, Motorola has come up with a phone called Motorola One Fusion+ which is priced perfectly and it is manufactured in Tamilnadu, India. But then also, some people are arguing that Motorola Mobility is owned by Lenovo, which is a dumb logic because due to local manufacturing or assembly, it is helping local people get jobs and earn a living.
When someone talks about the unavailability of good non-Chinese alternatives in the budget smartphone segment or terms of smartphones, under ₹20,000 some people also argue that you can get a flagship phone from a well known Non-Chinese brand like Samsung or LG or Apple for ₹50,000 and use it for three years rather than spending ₹15,000 every year on a mediocre phone, but it is quite a big deal for many to use a larget chunk of salary or earnings on a phone. Like, if I'm earning ₹30,000 and even if I don't have any liabilities like loans or heavy investments into a mutual fund or SIP or insurance, it is still very hard for me to just spend a month's earning on a phone! Not everyone is as privileged as you and me. Steve Jobs, the creator of the iPhone himself, in his commencement address at Stanford University told three stories from his life. Here are a few lines from his speech.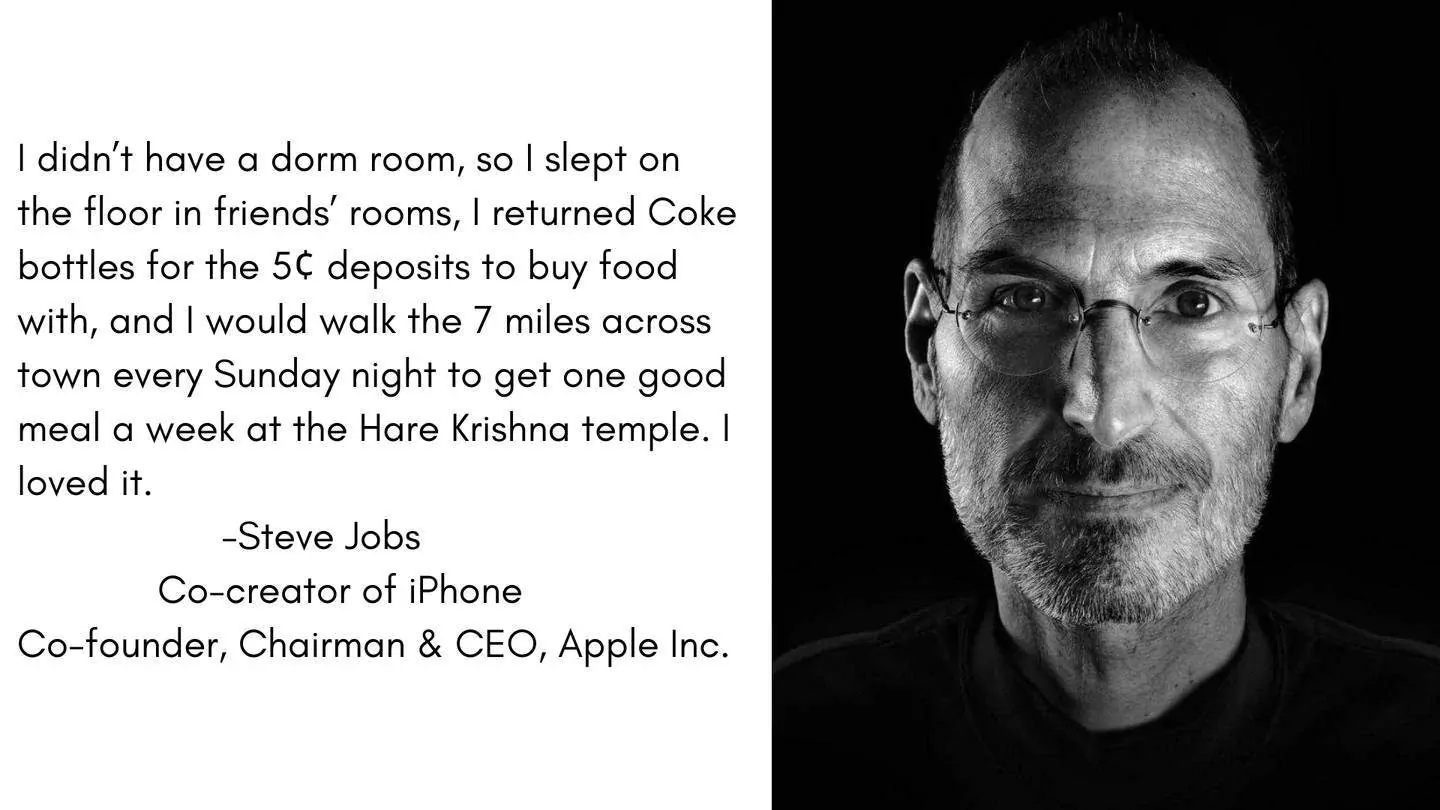 I had to draw him here because I have seen that some people on social media are mocking others for having a Chinese smartphone. But they won't buy iPhones for others, isn't it? So, why is it required to mock or bash someone just because he wanted to know how Indians can boycott Chinese products if we rely on China so much for even smartphones? If you are privileged enough, buy non-Chinese phones and gift them to the less privileged people around you or stop lecturing people about how they should stop buying Chinese smartphones. It's as simple as that- Lecturing on social media and trending hashtags on Twitter from the comfort of an AC room while having beer and pizza is easy, especially when there is an infinite amount of knowledge in various study groups of WhatsApp University.
Let's Boycott Chinese Products & Use Non-Chinese!
Many people with some half-baked ideas & opinions on the matter are busy screaming on social media that Samsung and Apple are making their phones in India now. Just so you know, Apple makes a very small portion of their iPhones in India. Most phones assembled in India are still relying on importing major components from China.
People need to understand that for phone manufacturing, India isn't the first choice for most big names; it is either Vietnam or Indonesia. Until and unless the country promotes R&D and is ready to remove bureaucratic hurdles and long process for establishing businesses in India while ensuring safety and security, no big names in the industry will be ready to completely shift to India. Till then, we need to import products.  
Talking about imports, American President Donald Trump accused India of imposing high tariffs on products made by American companies.
I look forward to speaking with Prime Minister Modi about the fact that India, for years having put very high Tariffs against the United States, just recently increased the Tariffs even further. This is unacceptable and the Tariffs must be withdrawn!

— Donald J. Trump (@realDonaldTrump) June 27, 2019
When the iPhone 11 was launched, it started at ₹64,990 in India. The same phone was priced at $699 which translates to around ₹49,700 in the US. In countries like Japan, China, and Hong Kong, it was around ₹10,000 cheaper compared to India while in the UAE, it was around ₹7000 cheaper. Now, I'm not an economist that I can decode how tariffs may or may not affect the pricing of iPhones in India, but I'm sure that if the iPhones get cheaper, many people will opt for an iPhone 11 rather than the most hyped OnePlus 8 Pro.
How Can We Support the Cause?
We understand that the idea behind banning or boycotting Chinese brands could eventually help us in many ways. But we don't have any choice to use them at least for the time being. Just to sum up the reasons –
Almost all Indian companies manufacturing mobile phones are dead now. They either pivoted to accessories or still looking for ways to re-brand Chinese phones
The Indian mobile phone market is completely occupied by Chinese brands and they are competing with themselves and with others too
Influencers, bloggers & YouTubers may claim that they're providing an unbiased opinion but it isn't true in all cases. Even now, they are not making efforts to suggest alternatives but indulge in making rant videos. There's a big difference between recommending a product and suggesting a product, and all these influencers always recommend Chinese mobiles and they're still doing it.
Alternative brands like Nokia, LG, Sony, Asus aren't making a big impact. Many of their phones don't fall under budget and are little overpriced for the Indian market.
Samsung is cashing this opportunity by launching too many devices, but in the end, they are not durable and made just for the sake of launching
Big Companies like Apple, Samsung cannot move their manufacturing units completely to India because of the problems from the government and even importing costs a lot of money and so their phones can never be cheaper
So, how are we going to deal with the situation? What can we do to support it?
Well, as mentioned in the beginning, let's focus on using alternative apps rather than ranting about the hardware.
We should stop taking recommendations from the so-called influencers who just keep the fire emoji in every video thumbnail or posts a selfie on social media flaunting products.
Rather than ranting about some Chinese brands, not just the Government or big shots in the industry but everyone, including me and you, should start a discussion with the alternative brands like Nokia, Sony, Asus, etc. on social media for launching better-priced products. If Samsung could cash-in the situation, I'm sure other brands will too.
 About the manufacturing plants, we have to insist on our government in relaxing some of their rules and provide flexibility for foreign investments. Make In India campaign is helping, but it hasn't shown a significant impact on mobile manufacturing.
I'm sure there will be many other ways to support, but these give a head start. As you can see, we had our eyes since these brands started capturing the market. If you have known a thing or two from this story, consider sharing it. We will truly appreciate it because Vamsi and I have spent sleepless nights to write and publish it.