Asus, the Taiwanese brand has recently completed its 30th anniversary and is drifting towards occupying a significant market share in both mobiles & PC/laptops segment. The company's latest flagship Asus 6z was officially launched into the Indian market recently. To figure out their growth & success rate, I wanted to look at the company's history in terms of launching their Zenfone flagship phones in India. Umm…Remember I did the same for OnePlus a few days back?
Nonetheless, until now, Asus hasn't occupied a significant market share in the mobile phone segment, and it's right in both cases of flagships as well as budget-end. Even though their business has risen since the Zenfone Max Pro M1 happened, that doesn't help to achieve the goal. I'm writing this article to explain the reasons and also talk about the brand's history in India. It's also about looking at the past and showcase how the Asus Zenfone flagship smartphones have evolved. So, why late? Let's get started.
History of Asus Flagship Phones in India
1. The Beginning – Zenfone 2 Series [2015]
In 2014, Asus launched 3 smartphones, namely, Zenfone 4, Zenfone 5, and Zenfone 6, for a price of Rs. 6,999, Rs. 9,999, and Rs. 16,999 respectively. It's to give a competition to Xiaomi, which was a new entry to the Indian market. Anyway, did you notice the series' names? I know this creates confusion, but a unique model number follows the names. However, none of them is a flagship-level phone. So, why am I talking about it? Because they were all powered by Intel chipsets.
Zenfone 2 & Deluxe
Yup, Asus was one of the few to make use of Intel chipsets rather than Qualcomm. Even in 2015, the majority of Asus smartphones launched in India were powered by Intel chipsets. Speaking of which, Zenfone 2 was indeed an entry-level flagship phone that was the world's first 4GB smartphone. Yeah, it was a thing back then, and Asus was the first to feature it. I had a chance to try out the Zenfone 2, and to be honest, it was one of the first review units I ever received from a top brand. So many memories! [happy tears]. My colleague Kedar had also tried recording a video, and we did upload it on our channel.
Zenfone 2 has got good reviews, and I was also satisfied with its performance, but it was crushed by OnePlus 2. As the former was an Intel-chipset based phone, there was uncertainty about its performance in the longer run. On the other side, the OnePlus 2 has the flagship chipset and was available at almost the same price. Truth to be told, even with the deluxe edition with nearly the same specifications as Zenfone 2, Asus couldn't cope with the OnePlus 2. Then entered the Zenfone Zoom.
Zenfone Zoom
Zenfone Zoom was a powerful device that I feel was more of an experimental device. Now you've seen Huawei P30 Pro, Oppo Reno, and several other OEMs offering loss-less Optical Zoom. Well, Asus offered a 3x optical Zoom back in 2015 itself on Zenfone Zoom along with OIS. In addition to that, there was 128GB onboard storage and a microSD card slot! My colleague Jay has gone for the event and got himself a unit to test around. We did post a review, and he's also pretty much satisfied using it.
Even with so many positive reviews everywhere, it hadn't got a broader appeal, and it may be because of its price, i.e., almost 38K. Just like in the Zenfone 2 series, the long-term performance of Zenfone Zoom was uncertain as Intel chipsets also powered it. I don't know if I can say this – Asus failed marketing a good phone even though they dubbed it as a pocket DSLR. [Fact check – it's not a pocket DSLR, but it was marketed as one]
2. New Design – Zenfone 3 Series [ 2016]
Leaving behind the failures, Asus has changed everything with its Zenfone 3 series. It was the first time that the company has moved to Qualcomm chipsets for all the phones instead of Intel.
Zenfone 3 Deluxe
In the entire Zenfone 3 series launched at Zenvolution 2016, the Zenfone 3 Deluxe was the flagship phone, which was powered by Snapdragon 820/1 [a flagship chipset back then]. Just so you know, it initially announced with Snapdragon 820, and after a couple of months, another variant with 821 chipset also launched. Allegedly, Zenfone 3 Deluxe was also the first phone to feature Snapdragon 821 SoC. Coming to other specifications, it has got everything you'd look for in a flagship. It has a whopping 23MP primary camera sensor, 6GB of RAM, and whatnot, but its pricing killed it.
The 820 SoC variant was priced at Rs. 49,999, whereas the 821 SoC variant priced at Rs. 62,999. Overpriced right? It was the time when Google launched the Pixel series, iPhone introduced a dual camera set up in the 7-series, and the flagship killer OnePlus was dominating the sales with 3 & 3T. You can read my top 5 best high-end smartphones list launched in 2016 here! I didn't add the Zenfone 3 Deluxe there.
It was faded in clouds in just months after the launch, but there's one thing that I should mention in the Zenfone 3 series is the Zenfone 3 itself. Even though there are other smartphones like Zenfone 3 Max, 3s Max, 3 Laser, etc. the Zenfone 3 has become a popular smartphone and might be the first big hit for Asus.
Zenfone 3
I know Zenfone 3 is not a flagship-level nor even near to it, but it has everything you'd look for in a budget-end phone. The moment I got my hands on it, I started loving it and made it a daily driver for almost 2 years until I moved to Pixel 2 XL. I still have the phone, and use it as a backup. Anyhow, speaking of Zenfone 3, it was initially announced for a price of Rs. 27,999 for a 4GB/64GB variant, but then reduced to near 13-14K [what I remember] after gaining wide popularity. Why don't you read my review to know why I'm praising a lot about this phone?
Also, along with Zenfone 3, the company has seen success with Zenfone Max too. I remember receiving the mystery box that has the Zenfone Max in it.
3. Downfall – Zenfone 4 Series [2017]
I bet no one remembers Zenfone 4 series as it was a big failure from Asus. If there's one thing, Asus couldn't get, it is keeping an optimal price tag for its flagship phones.
Zenfone 4 Pro
Zenfone 4 Pro has indeed got everything to be called a 2017 flagship phone. It uses a Snapdragon 835 chipset, 6GB RAM, 128GB storage, dual camera [one of them is telephoto], hybrid SIM slot, and much more. But it didn't take off even with a pricing of Rs. 38,400. It could be because of the old design, and the competition from OnePlus. Also, Asus hasn't got a workaround with the flagship phones, and it had an impact on the brand value to be chosen for a flagship. Anyway, the brand did saw marginal success with other Zenfone 4 selfie smartphones.
My colleague Kedar had tested the Zenfone 4 Selfie and the Pro, and he's pretty satisfied with it. But to be honest, 2017 wasn't a big year for Asus. Their previous smartphone Zenfone Live also turned out to be a flop, which gave the necessary inspiration for the Zenfone 4 Selfie series. Anyhow, moving out from this series, another flagship phone that's worth mentioning from Asus that launched in 2017, was Zenfone AR. It was more like an experimental phone as it was a Project Tango device. Let me break the news here itself. Project Tango was dead in 2017 itself.
Zenfone AR
Zenfone AR was launched between Zenfone 3 Deluxe and Zenfone 4 series. It was one of the first Project Tango phones that are made available in the Indian market. The hopes on the phone were so high as AR & VR was a big trend at that time. Zenfone AR is powered by a flagship chipset [Snapdragon 821 SoC inside] and a whopping 8GB of RAM. Zenfone AR is allegedly the world's first 8GB RAM smartphone!
The reason why I liked the phone is not only because it's a future-ready phone that supports AR & Daydream VR, but also subtle changes that Asus made to make it more appealing. The first is adopting the AMOLED display for the phones. They've been using it in the past too, but this one was special. It's because of introducing backlit keys for the navigation keys. Honestly, this has been my most requested change for Asus, and it has finally launched it in Zenfone AR. So did it sold out a lot? I'm not sure as the phone costs almost 50K INR. As mentioned before, Project Tango was dead already, so the future of this phone was uncertain. So, I might have to dub this as a failure too.
4. Resurgence – Zenfone 5 Series [2018]
With the most complicated year behind, Asus wants to prove itself that it can regain credibility in the flagship market. Then entered the Zenfone 5 series. 2018 was the year of 'Notch' phones, and Asus has taken it to the extremes in Zenfone 5z as the notch was way smaller than the iPhone X's. In addition to that, there were unique gestures on the 'Notch' area.
Zenfone 5z – The First Success
Speaking of Zenfone 5z, it's genuinely an underrated flagship phone of 2018, in my opinion. It was correctly priced, and it sold at less than 30k INR. Right now, it is selling at an even lesser price with all the additional discounts and cash backs, but the main thing that I need to mention is that Asus has finally delivered a good phone for the perfect price. Talking about the pricing, it was way better than what OnePlus usually offers. However, OnePlus phones sports an AMOLED display, and Asus ditched it for obvious reasons. [cost reduction]
Zenfone 5z has got every feature that you look for in a flagship phone. It has 500nits brightest display, powered by a flagship chipset [Snapdragon 835 SoC], and runs on ZenUI 5.0, which is perfect skin. I was impressed with the phone, and I bet you'll appreciate it too once you read my review. Even with the flagships from OnePlus, Google Pixel, and the Huawei, Asus was able to keep up with the competition, but the Poco F1 killed it [to some extent].
Zenfone Max Pro Series
Besides Zenfone 5z, the company was supposed to launch the smaller brother Zenfone 5, which I was hoping to buy, but then they surprised by launching Zenfone Max Pro M1. It was the very first device from Asus that doesn't use the ZenUI, and at the same time, it's not a part of Android One. It made a significant change in the budget-end segment, which was dominated by the Redmi Note series. The success was continued even in the second iteration – The Max Pro M2.
Umm, is that it? Any experimental devices like AR & Zoom? Well, there's one, and that's named ROG Phone.
Asus ROG Phone
2018 was also the year of Gaming phones as Razor, Xiaomi's Black Shark, has launched its phones into the market. Asus has showcased the ROG Phone, and it made its entry into the Indian market in November '18. I had a chance to explore the device even before it got launched, and man, I loved playing PUBG in it.
It has got a fantastic display with a 90Hz refresh rate, powered by Snapdragon 845 SoC, and got the proprietary ROG skin that changed the way the phone looks. The best part about gaming on ROG Phone is it has got Air triggers which are pressure-sensitive and can be mapped manually. In addition to all these, the ROG Phone has unique accessories that change the way you play games on mobile. I've enjoyed testing it and shared the experience in my review, but again, the one thing that bothered many is its pricing. It costs almost 70K. Right after the launch, many OEMs have launched limited edition phones of their flagships where the specs are maxed out. I'd say it was a bold attempt from Asus, and who knows, the next ROG Phone would be priced much cheaper.
5. The Next Chapter – Asus 6z [2019]

If there's one thing that Asus has been showing is innovation. It can be either their laptops or the phones, you'd see a lot of design changes, while the other OEMs are stuck with the same old design aesthetics. After introducing a smaller notch on Zenfone 5z, the next iteration, Zenfone 6 now Asus 6z is notch-less and an all-screen, bezel-less phone.
Unlike the OEMs like Huawei and Samsung, who introduced Hole Punch displays, Asus has adopted the rotating camera in its way. At first, the leaks suggested that Zenfone 6, aka Asus 6z, would also adopt the slider mechanism, but it turned out to be false. In some old news, the Zenfone 6 found using a hole punch display too, but it debunked once it revealed to be using a controllable rotating camera.
Just so you know, the rotating camera was first introduced on Oppo N1, but it hasn't got a wider reach. The majority of the flagships in 2019 were using a pop-up selfie camera, which was introduced in Vivo Nex first. Even the recent flagship OnePlus 7 series has a pop-up selfie camera. The uniqueness of Asus 6z is that the selfie camera rotates, and can be controlled at any position. It can also be used as a periscope, and yes, the panoramas can shot without moving the phone too — no wonder why they called it a Flip Camera. The phone officially launched in India for a starting price of Rs. 31,999, which is quite a deal-breaker. It's priced even lesser than the OnePlus 7, but the problem I see is the Redmi K20 & Realme XT which launched at a lower price.
ROG Phone II- Gaming Phone Made Better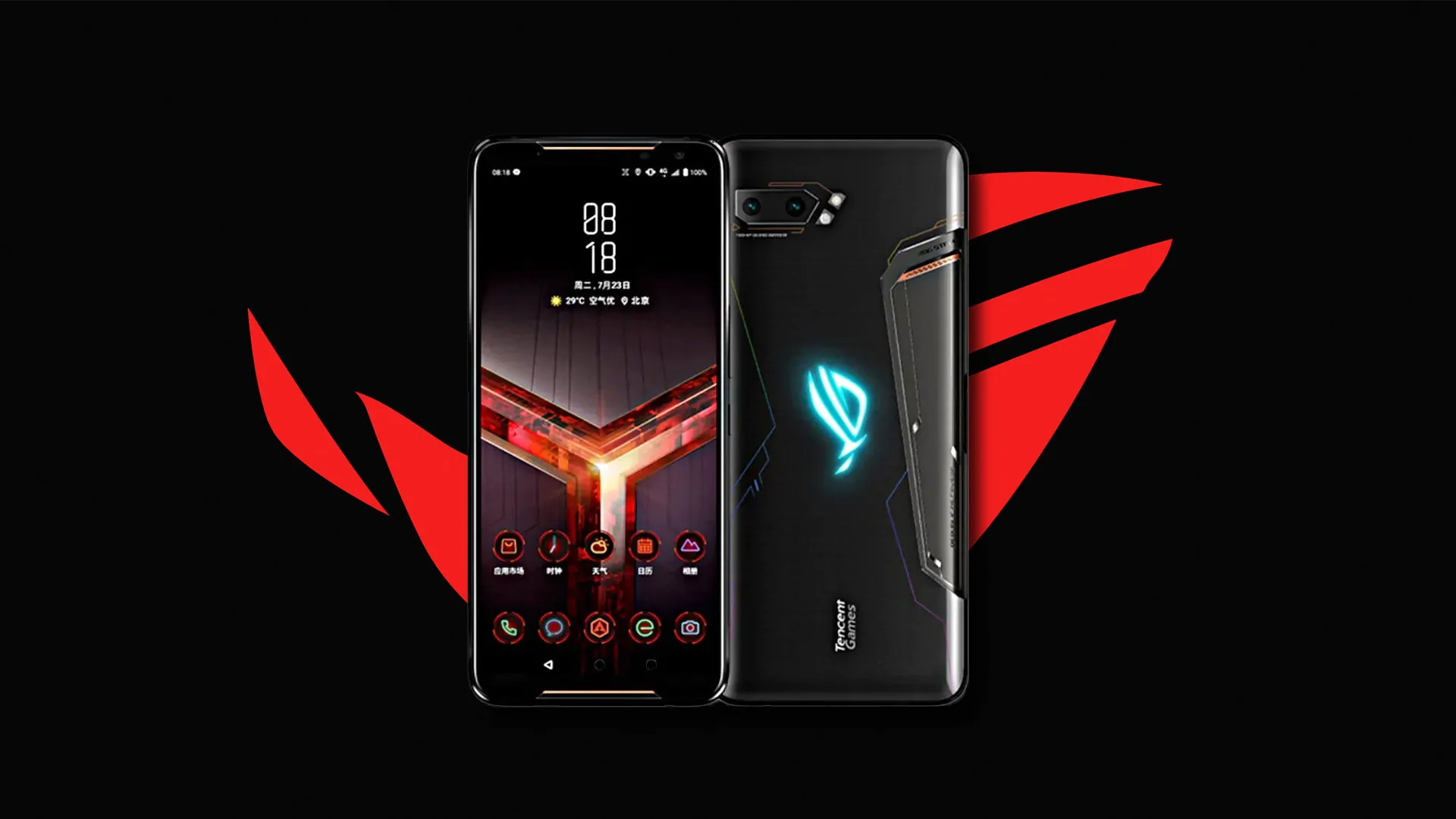 ROG Phone was a proper gaming smartphone in every way, but it wasn't perfect. ASUS has improved many things on the ROG Phone II. Better hardware, bigger battery, better thermals, and many more improvements. The ROG Phone II is the first smartphone in the world to feature a display with a whopping 120Hz refresh rate, making it a perfect choice for hardcore mobile gamers. It also brings the convenience of switching between UIs- Stock Android vs. ROG UI. Users get the ability to switch between them anytime or can use one of them. It also comes with gaming accessories like Dual-screen Handheld TwinView 2 Dock, Kunai Gamepad, and more, making it an ideal choice for those who want to play games and stream. Of course, the accessories sold separately.
Ultrasonic Air Triggers are fantastic on the phone as they are programmable and accurate. These triggers worked perfectly with games like PUBG Mobile and Modern Kombat, making it much easier to aim and shoot, and avoiding unwanted taps on display. Priced at Rs. 37,999, the phone is competing against phones from the OnePlus 7 series. OnePlus may be the boss of software in terms of Android flagships, but OnePlus phones still lack proprietary gaming accessories and features that are a must for gamers. It is expected that ASUS will continue bringing more ROG Phones with improvements in every aspect of the future.
Future of Asus Flagship Phones in India
Asus always wants to show innovation in their phones, but pricing is where they go wrong. Last year, with the Zenfone 5z, they proved that they could produce a fantastic phone that is quite affordable. Priced at even lesser than the existing competition. In short, their flagships are evolved to a stage now that they're going head-on-head with OnePlus and Huawei Flagships. Hoping the future flagships & the experimental devices will help to achieve a significant market share in India.